This post may contain affiliate links that, at no additional cost to you, I may earn a small commission. Read our Disclosure Policy.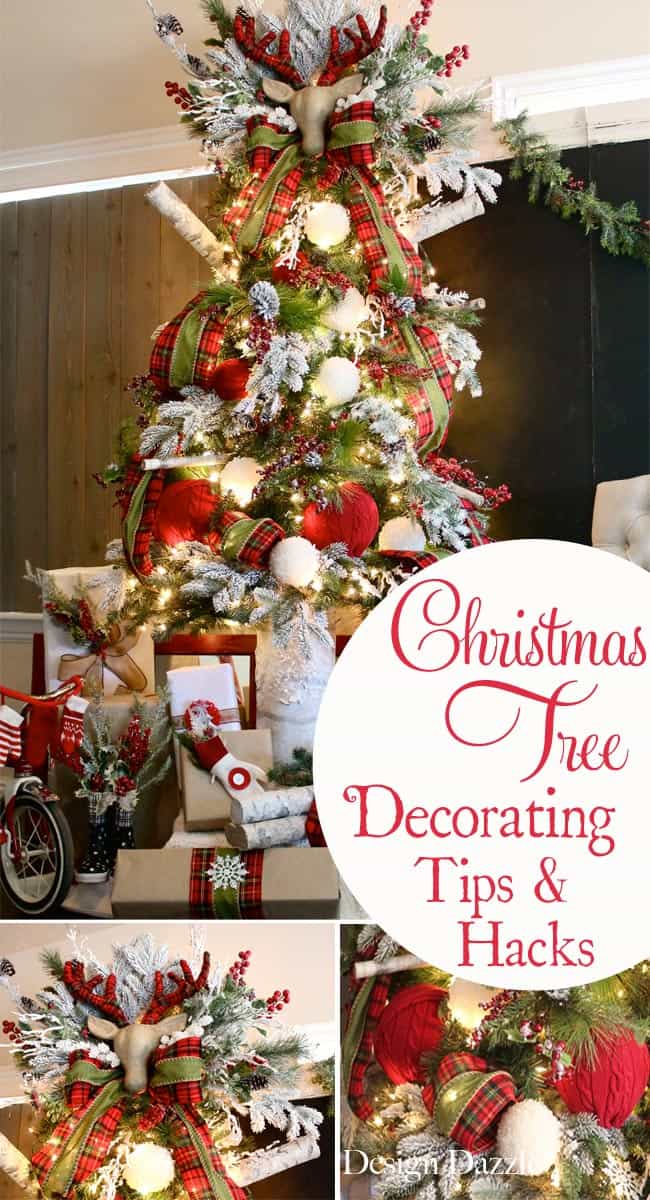 I am sharing part 2 of the Michaels Dream Tree Challenge. If you haven't seen my Christmas Dream Tree check out this years theme "Santa's In The Woods Christmas Tree".
If Santa and Mrs Claus had a cabin in the woods what would there Christmas tree look like? Well, it would have all their favorite things – cozy sweater knits, birch logs, snow, reindeer, plaid and Santa's favorite red tricycle when he was a kid.
I have been decorating trees for a very long time and have learned what works best for me. So, I am sharing some of my Christmas Tree Decorating Tips & Hacks with you!
If you haven't seen all the Dream Trees yet, stop by The Glue String to see all 30 – they will blow you away!
Christmas Tree Decorating Tips & Hacks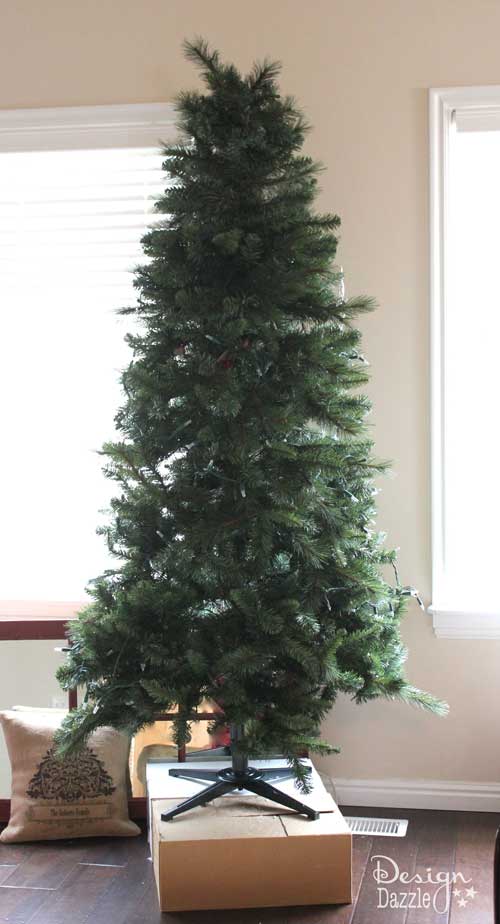 1. Fluffing the Christmas Tree
This post contains affiliate links at no additional cost to you. For further information, please see our disclosure policy.
Pulling the artificial tree out of the box – you will have a completely flattened out tree. The tree that Michaels sent us has three sections to put together. So it is EASY PEASY. Starting with the base of the tree which has the stand attached.
Fluff out all the individual branches by bending and twisting to get it just right. Find the light plugs before adding the next section (just so you will know where they are when you need to plug-in the lights).
Add the next section of the tree and do the same fluffing.
The last step is to add the top portion of the tree. I love how easy it is to set up an artificial tree with only 3 sections that stack on top of each other. It takes all of about 10 – 15 minutes to fluff the tree.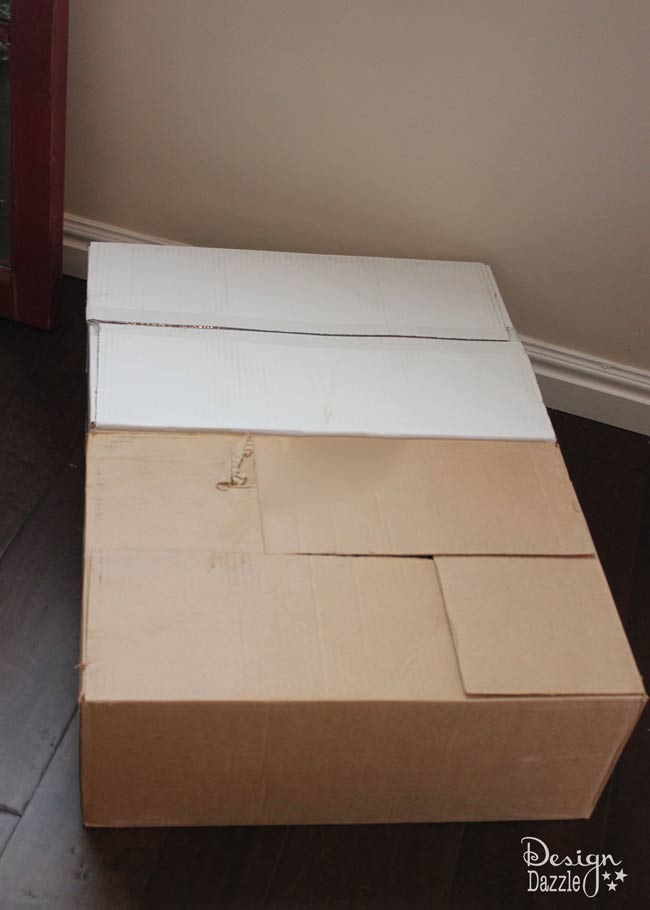 2. Elevate Your Christmas Tree

I always add a base for my Christmas tree to sit on – even if it is only 8-10 inches high. It really makes a difference! The tree has a bigger presence in my home since we have high ceilings. And larger presents sit directly under the tree instead of only around the tree. I use boxes (shown above) that have cans in them – so they are heavy duty and very sturdy. You could also build a simple base out of wood.
3. How To Keep Your Tree From Tipping Over!
First I want to say this artificial tree has a very wide and safe stand that is much easier to use than a real tree. Unless I put the tree in my front window, I only decorate about 3/4 of my tree. The other 1/4 is against a corner/wall and you can't see it.
I also usually use tree toppers on my tree that can be a bit heavy. So my trees tend to be heavier on one side and I don't want to risk them falling over.
My secret to making the tree more secure: a BAG of RICE. Yep, I purchase a 10 pound bag of rice and place it in a pillowcase. I put the bag on top of the tree stand brackets in the very back. The rice bag ends up laying flat and hides very well under the tree skirt. You would never know it's there. Of course, I use the rice after Christmas and there is no waste!
4. Lights, lights, lights!
I'm so HAPPY the Michaels tree comes pre-lit! It is easy to find the light cords on the inner part of the tree and plug-in. Lighting on the tree is very important. I really despise putting lights on the tree. With that said, I always add extra lights.
Only one extra strand of lights was added to this 7 foot tree. Because the tree already has lights wrapped very nicely on it, I just PLACE a set of lights on the tree. It takes about 5 minutes to do it this way. I also don't wrap the lights around the tree I wrap in sections so it is easy to remove.
TIP: I purchase larger bulbs than what is on the tree. It makes a difference with how the tree shines and just looks great!
Now on to some of my decorating tips: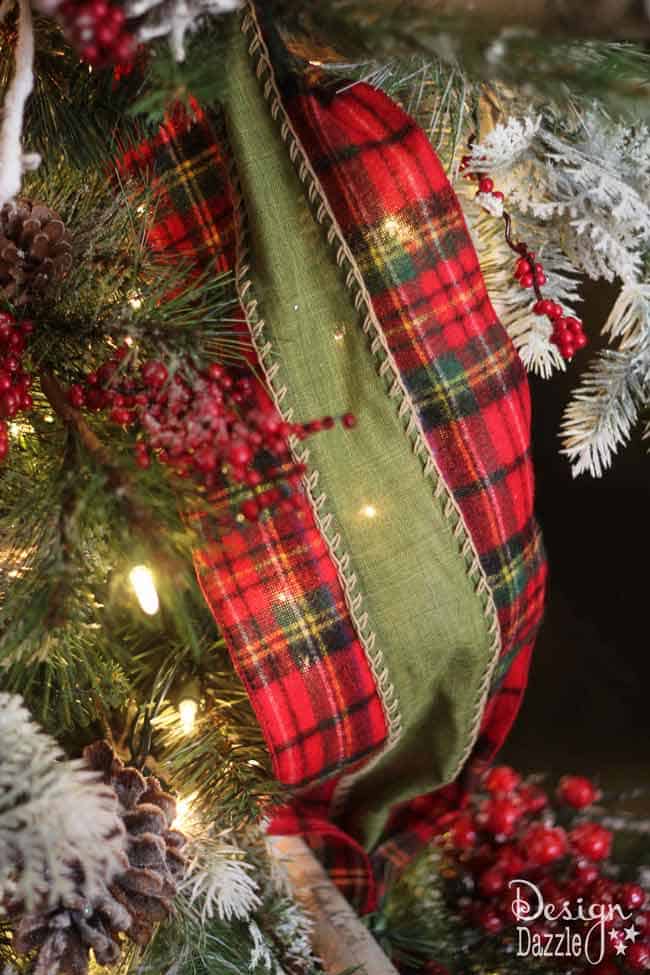 1. Ribbon is my FAVORITE to decorate with!
I like to decorate with wide ribbon and sometimes it is tricky to find. And if you do find it – it's very expensive! This ribbon looks like a high-end designer look and the entire roll cost about $12.
I happen to go to Michaels on their Labor Day Weekend sale in September and purchase my ribbon at that time. It's 60% off. So each roll of ribbon cost about $4 each. For the details on how to make this designer high-end look ribbon.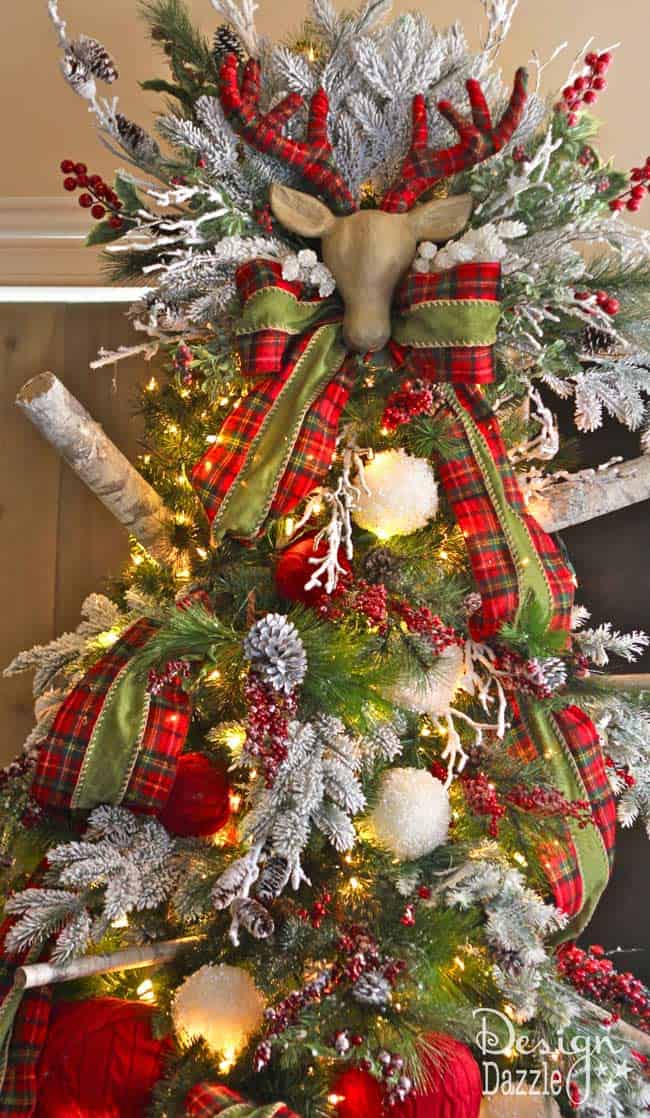 2. Add the unexpected to your Christmas Tree!
Various textures on a tree are important. On this tree I have: beaded snowballs, birch branches, knit sweater ornaments, "snow" branches, pine cones, twigs, etc. I like to add the unexpected items to my Christmas Trees. This year it is birch logs/branches.
Birch logs go perfectly with my Santa's Cabin in the Woods Tree. Now one thing I know about birch logs/branches is they are heavy. Adding them to the tree would be very difficult due to the weight. So I created FAUX BIRCH LOGS using wood dowels for the smaller branches and pool noodles for the larger branches. I've shared the step-by-step tutorial how to make faux birch logs.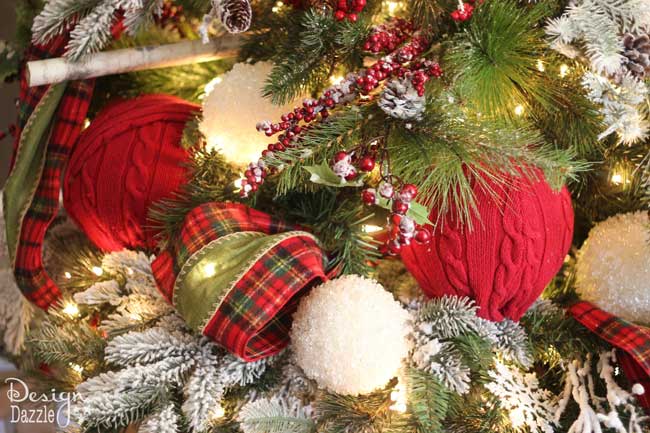 3. Create Ornaments With Items You Have At Home!
I love the red wool sweater knit ornaments on the tree. Do you have a favorite sweater that somehow got snagged and isn't wearable anymore but would make a great repurposed craft?
What about turning the sweater into ornament balls or even a gift sack? You can use Styrofoam balls or clear plastic ornaments to cover the sweater around. It is simple and you only need scissors and a glue gun. Look here for the tutorial repurpose sweaters into ornaments.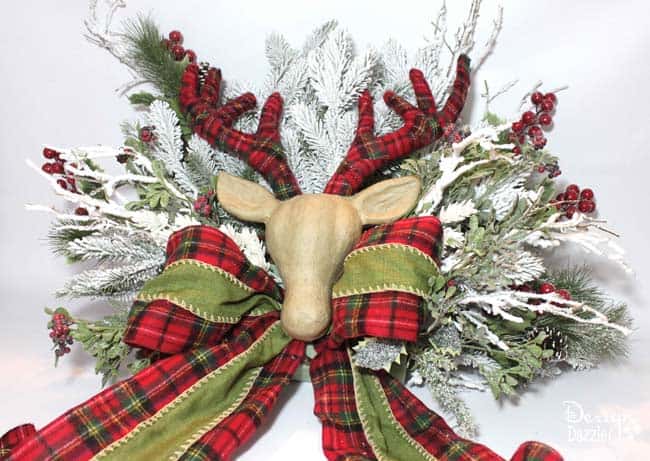 4. Make a Beautiful Tree Topper

I love this tree topper and especially how the reindeer head and plaid antlers turned out. For this type of tree topper I use foam to attach the deer head and all the floral Christmas picks to.
In the past, I've used a birdcage, an elf, snowman and lots of unusual tree toppers. Check here for the tutorial on the large deer head tree topper.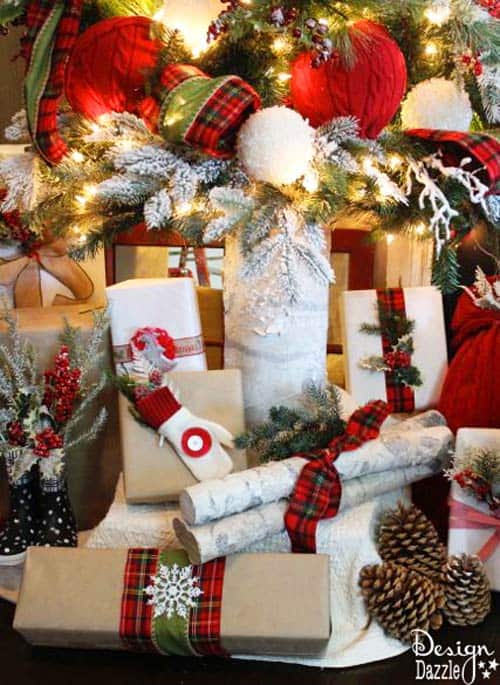 5. Beautiful Gifts Under The Tree

When your gifts are wrapped beautifully and match your tree decor it makes for a stunning Christmas look. I enjoy having presents wrapped early and placed under the tree – it makes my home seem to have a little more Christmas cheer!
Check out my past two years of Michaels Dream Tree's. Out of the three trees which one is your favorite?
My Shabby Chic Vintage Dream Christmas Tree!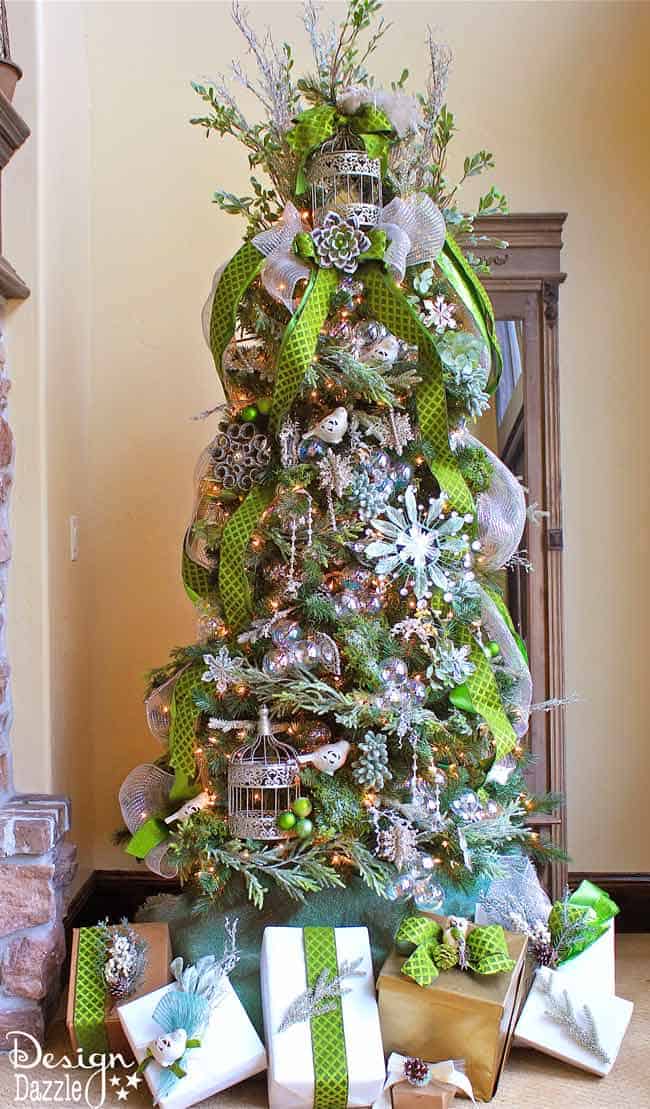 My Emerald & Jeweled Forest Christmas Tree.

I really enjoy decorating my home for Christmas. Check out the link to see DIY ideas for Christmas.
Have you checked out my Christmas eBook, Making Christmas Magical? It's 134 pages of Chrsitmas traditions, recipes, and tips just like the information in this post!
Thank you to Michaels for the gift card and Christmas tree. All opinions and ideas are my own.