This post may contain affiliate links that, at no additional cost to you, I may earn a small commission. Read our Disclosure Policy.
Learn how to make faux birch logs from pool noodles! Perfect to use decorating for Christmas!
One of the highlights of my Michaels Makers Santa's Cabin in the Woods Christmas Dream Tree was the faux birch logs. Real birch logs are so beautiful and bring a bit of the great outdoors into your cozy home. However, they can be hard to find or expensive.
I wanted to place some birch logs in the tree. And of course, the real logs would have been too heavy. These pool noodle fake logs are lightweight and not as messy as the real thing.
This tutorial is a great alternative to keep your budget intact and get creative in how you can repurpose items from around your house.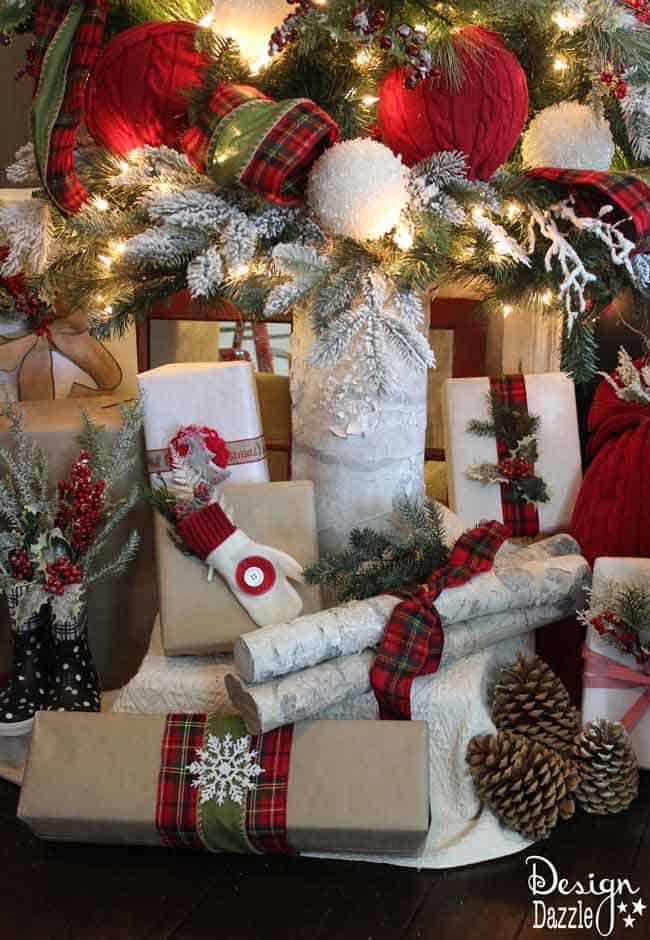 Who knew you could make faux birch logs using pool noodles?! I share an exact step-by-step process to make it easy and a great way to create your own in various sizes that you need.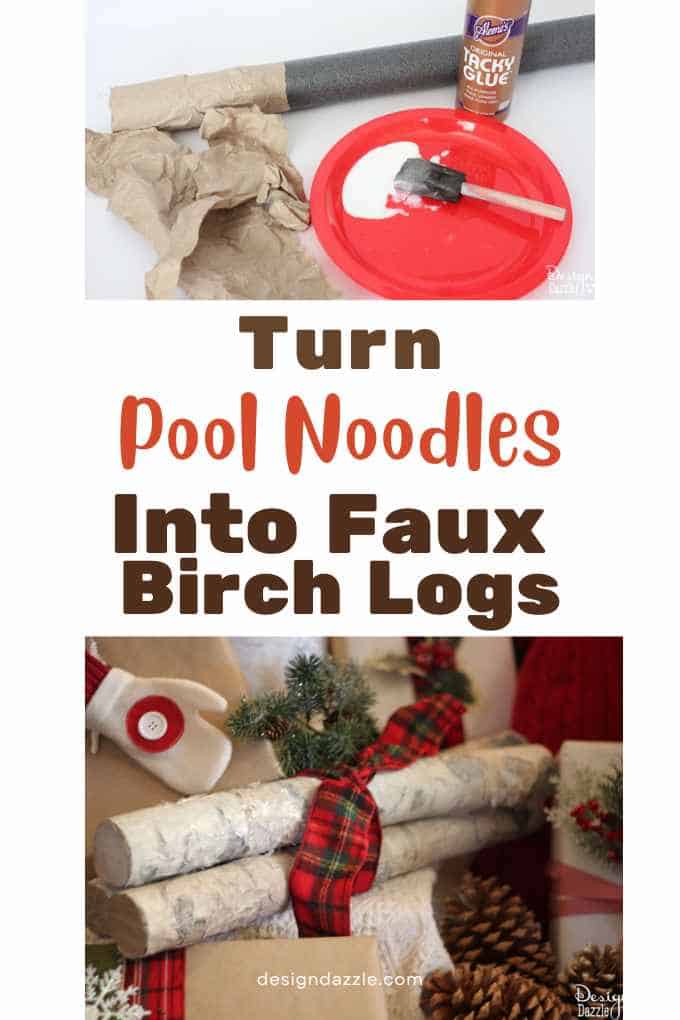 Fake Birch Logs Tips:
If you can't find pool noodles, purchase foam pipe insulation which you can get at your local hardware store. I made some of the fake birch logs out of foam pipe insulation and it's much easier to get year-round.
You don't need to purchase Kraft paper. Just reuse brown bags from the grocery store. Lunch sacks could work too!
You'll be surprised how awesome these fake birch log bundles can look in your home decor!
Christmas decorations can take on a new look with these rustic craft projects using the look of birch logs. Depending on where you live they can be hard to find.
These logs are the perfect addition to any Christmas decor idea that you want for the holiday season!
If you see pool noodles at the dollar store, buy them! There are lots of fun ideas to create with pool noodles and they are inexpensive.
Indoor use only because they are made with paper. If they are sheltered from the rain/elements, they could probably work outdoors.
Faux Birch Log Supplies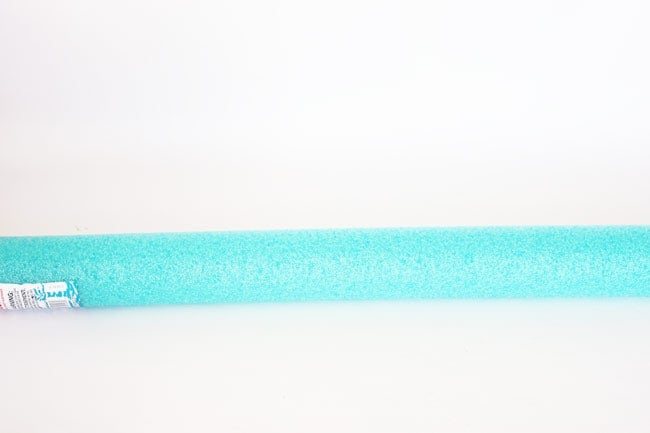 Step 1: This first step depends on how long you want your birch logs. Since I'm using mine for Christmas decor and putting them into bundles and on my Christmas tree, I wanted mine to be about 2 feet tall. To get my birch logs to be about 2 feet each, I used scissors (or a knife) to cut the pool noodles in half equally. For the plumbing insulation foam tube, I cut it into thirds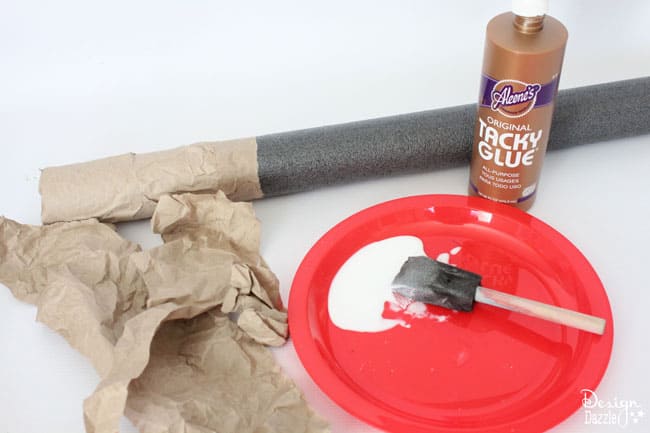 Step 2: This picture shows the foam plumbing insulation. We used both the pool noodles and this insulation. Use what you can find. First, wrap the craft paper around the pool noodle to measure how much paper you will need.
Cut at the proper width, making sure that the whole noodle is covered. Rip the paper into strips horizontally. Crumple the strips into wads so that the paper will be wrinkled. Then, paint the pool noodles with the tacky glue.
Arrange the paper on the noodle, covering the whole thing. It is okay to have lumps and wrinkles, they make it look more realistic!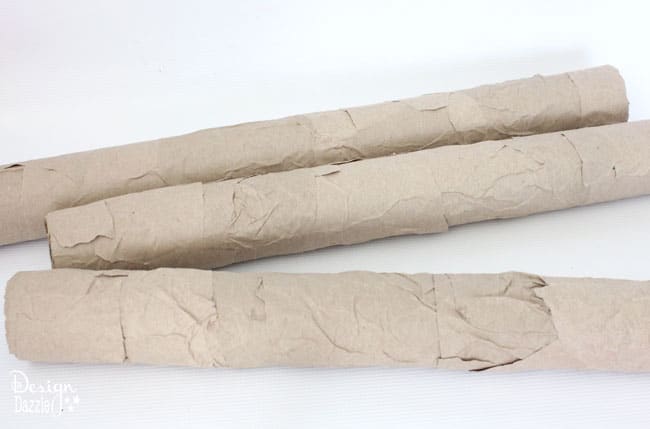 This is what the birch logs should look like once the paper is all glued on and dried.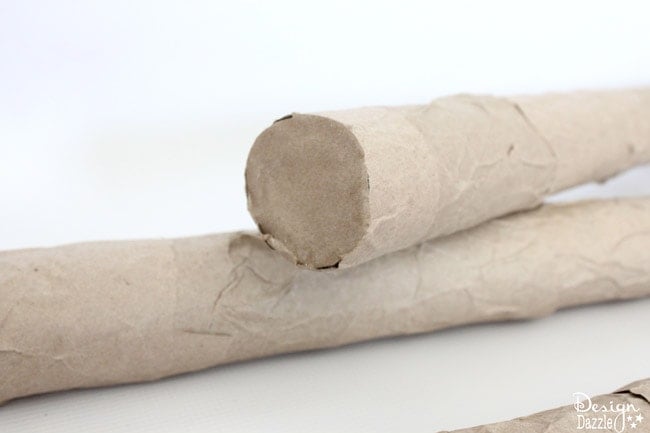 Step 3:
In order to finish the cut edges of the noodle, trace the ends of the pool noodle which creates the outline of a circle. Cut the circle out and glue it on the end.
Step 4:
Take a sheet of tissue paper and rip it into strips. Crumple the strips up and make them into little wads. Glue the wads on, place them spread out on the log.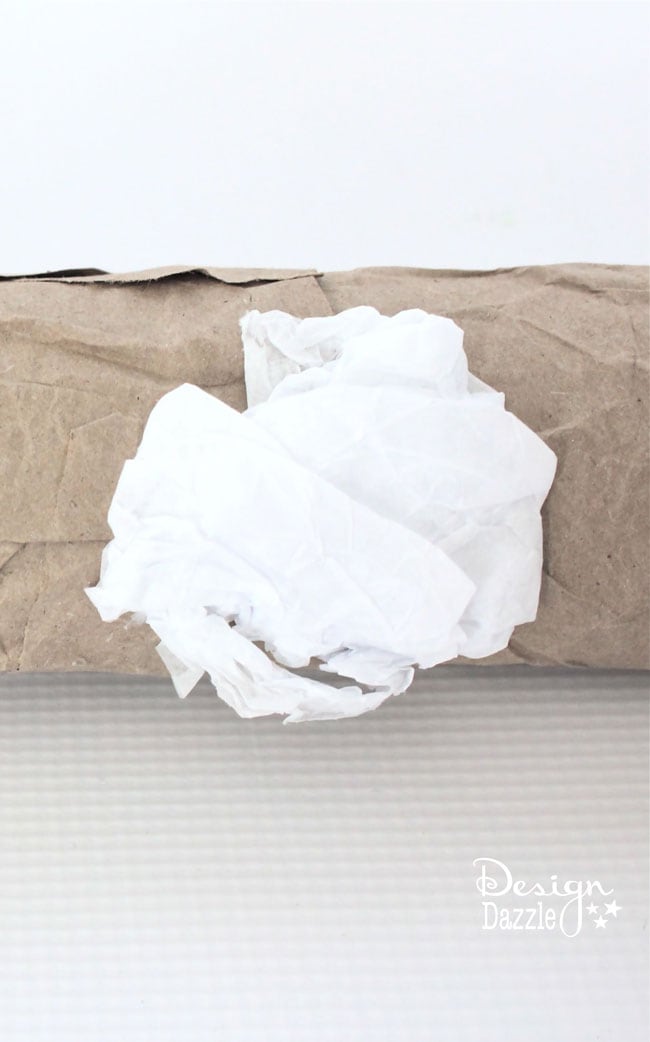 This is what the wads of tissue paper look like up close.
Step 5: Paint the entire birch log with white craft paint, including the tissue paper wads. It is okay if the tissue paper wads do not get covered completely. Let it dry.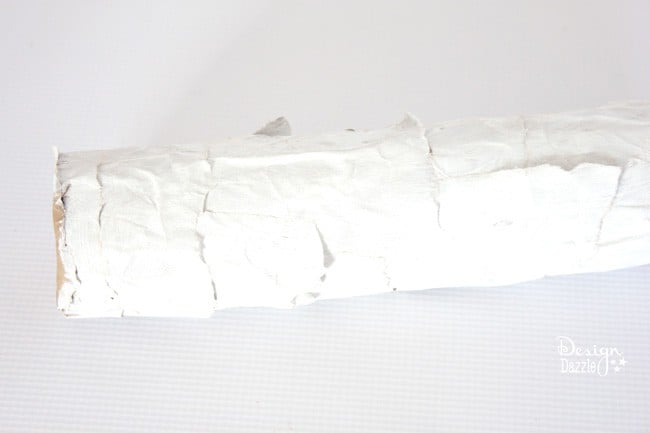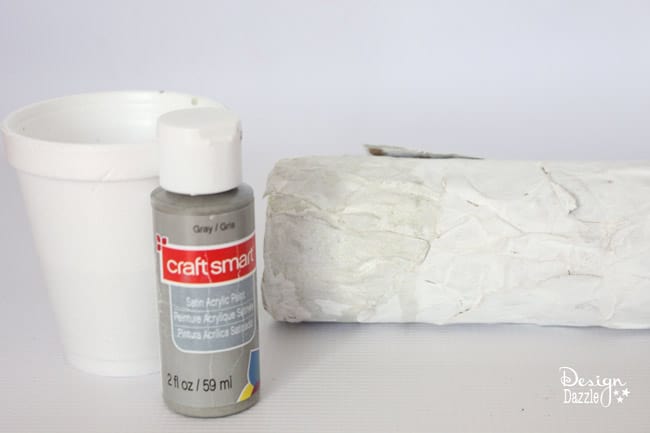 Step 6:
Once the white paint has dried, make a grey wash by mixing grey craft paint and water. I used about a tablespoon of paint at a ratio of 1 part paint to 4 parts water. This combination may vary, just make sure that it isn't too dark. Paint the entire log, including the tissue paper wads. *Save the remaining grey wash! You will use the rest later.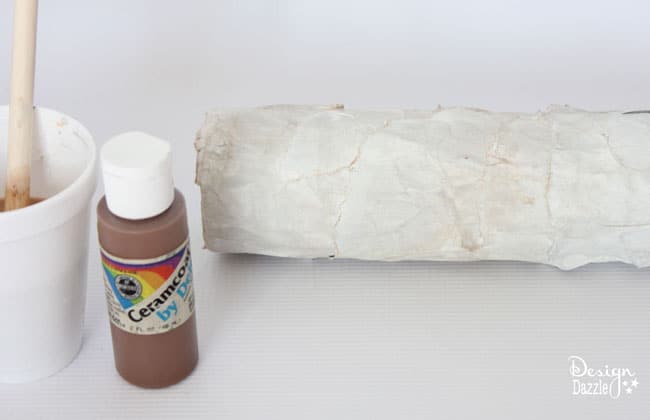 Step 7:
Once the grey wash has dried, make a LIGHT beige wash with the same ratio. Make sure that it is also not too dark. Add water if it seems too dark. Paint the entire log. You can see the image below the when painting the brown wash it is very light in color.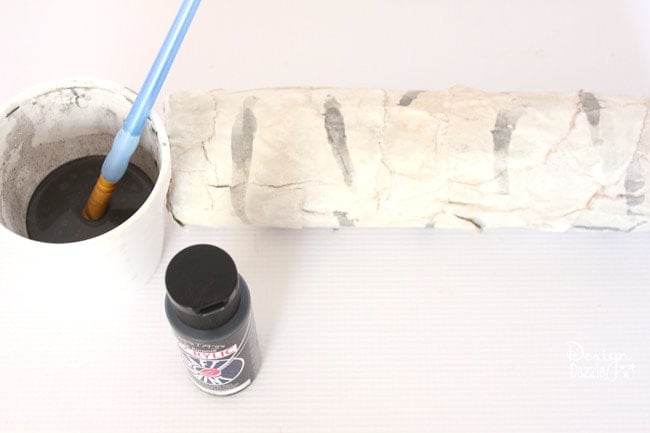 Step 8:
After the beige wash has dried, use the remaining grey wash and add a few drops of black craft paint. You don't want it to be too dark, but you do want it to be dark enough to show contrast. I added about 5 or 6 drops of paint. Paint stripes along the log to give it the birch wood effect.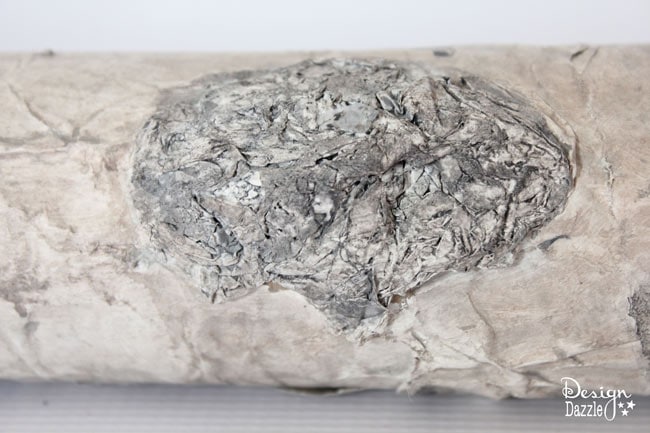 Step 8:
Using the dark wash, paint the tissue paper wads. They will absorb the moisture and crumple up, to create the knotted birch bark effect. You may have to do a few coats of this wash to get it dark enough.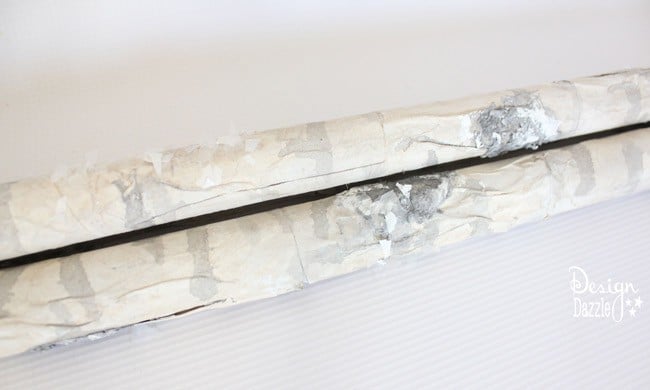 Step 9:
Once your birch logs are completely dry, paint glue on random spots on the log. Press buffalo snow onto these spots to give the logs more texture and a bit of sparkle. If you are going to use spray snow to add more texture, do this before you put the buffalo snow on. The buffalo snow is completely optional.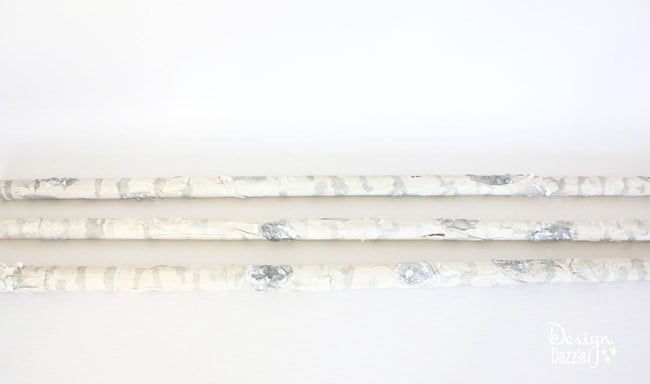 The great thing about this faux birch look is that it is very versatile! I did it on wooden dowels, as pictured above. I also made it on an 8-inch concrete tube form to put over my Christmas tree stand to look like the trunk of a tree, as shown in the first picture of this post.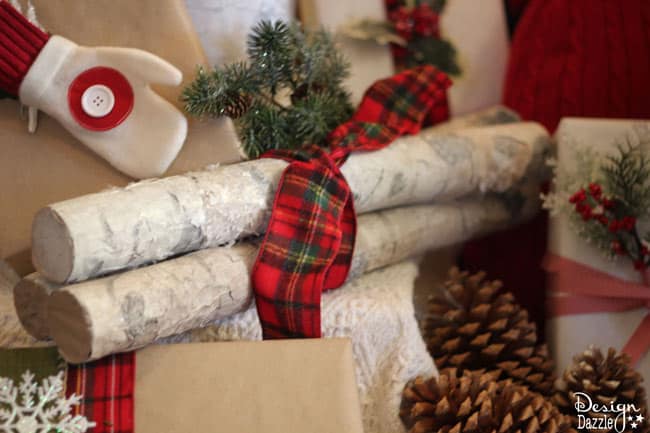 Are you excited to try this faux birch log look in many different ways? How about faux logs in the fake fireplace? These can look great placed in greenery on a mantel. The sky is the limit!
This faux birch log look is easy to achieve and a cheaper and more functional alternative to buying the real deal. I hope this fabulous tutorial will complete your holiday decor!
Make sure to check out…
And for those who want to make Elf Spaghetti