My son has been dreaming of University of Southern California since he was a little boy. What a good day when that acceptance letter came. Our home has been full of proud smiles ever since! Go USC!! Now off to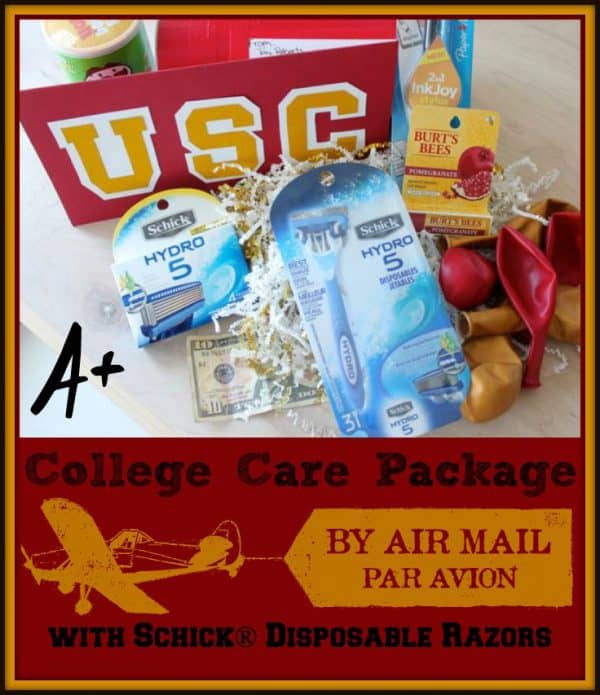 My son and his darling wife!
Hubby, son and I attending a back to school parents event at USC.
As a mother, it is difficult to have my son live in a far away place (Southern California)! I'm glad to see him fulfill his dreams at a University that is pretty hard to get into. I decided to mail him a College Back-to-School Care Package for a fun little surprise. It's always a good day when you get a surprise package in the mail! College is a big change and adjustment. Anything I can do to help him is important to me.
I wanted to send both practical and silly things. So, I filled a box with the following:
a handmade USC card from his mama (words of encouragement, etc)
snacks
chap stick
balloons (USC colors to help him celebrate)
a few dollars – maybe he can buy some snacks or lunch
pens
gum
 Schick® Hydro 5 Disposables Razors
Every college student needs razors. Since he needs to shave almost daily, a good disposable razor can make all the difference. Schick® Hydro 5 Disposables Razors and some refills are the perfect Back-to-School gift. Yes, practical AND some silly items for the care package! I want him to know that I am thinking of him and that I love him more than anything!
Remember when I went to Walmart to buy these razors?
They were so easy to find and priced perfectly! $9.97 plus the package comes with 3 disposable razors! These disposable razors have five blades and a hydrating gel reservoir that lasts up to 2x as ordinary strips. I need to take care of my boy!
Check them out at Walmart!!
Such a great idea if you want to create your own Back-to-School Care Package.
Also check out the Schick Selfie Sweeps. So fun!!


This is a sponsored conversation written by me on behalf of Schick®. The opinions and text are all mine.
N/A
Save