This post may contain affiliate links that, at no additional cost to you, I may earn a small commission. Read our Disclosure Policy.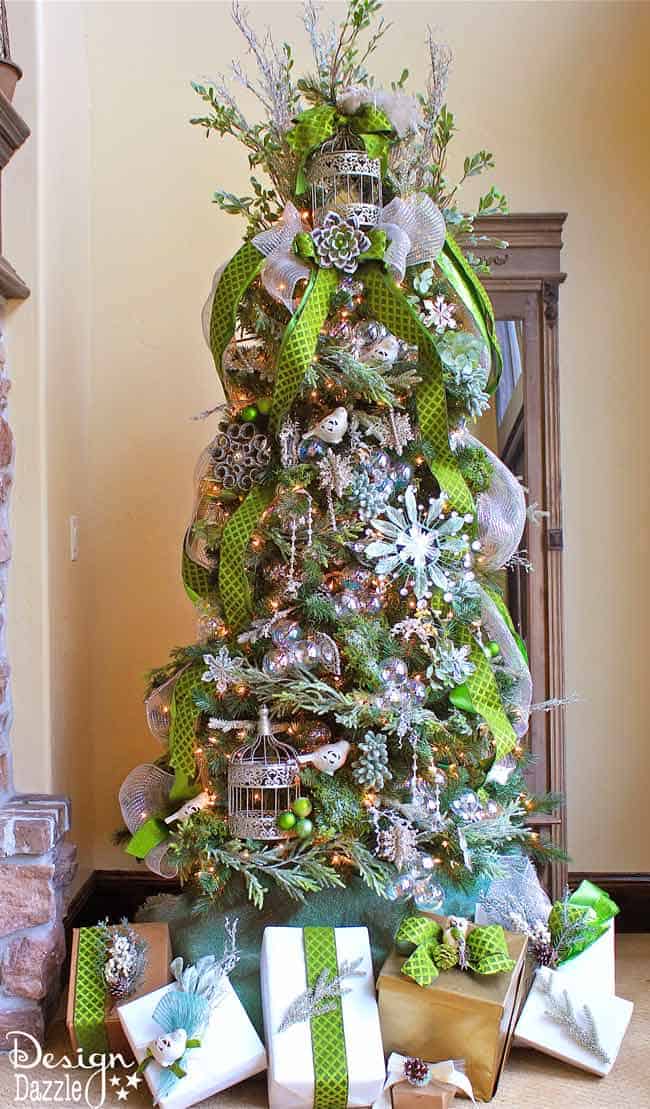 It's the most wonderful time of the year (Christmas). Well not really – but it's coming soon! I already have some Christmas decorating done thanks to Michaels! I was asked to participate in the Michaels 2nd Annual Dream Tree Challenge 2013 to share with you how I decorate a Christmas tree! Not any Christmas tree, my DREAM Christmas tree!! As you can see this years tree is all about green – sage, jade, apple, mint and silvery sage! Iridescent ornaments, silver glittered accents, baubles, birds, moss and more make this tree the JEWELED FOREST Christmas Tree! When I saw all the colors I was going with I decided to create the Jeweled Forest Christmas Tree. The tree and all the decorations including the tree skirt came from Michaels.

I love the greens, sages and all things in this jeweled forest Christmas tree!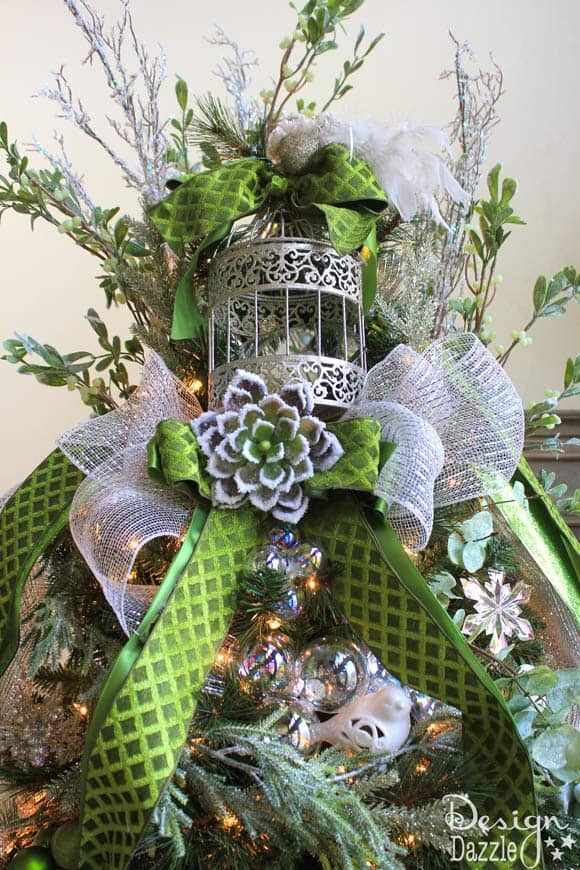 Love the bird cage as a tree topper. It's ok to use unusual items for a tree topper. Stars and angels are great but maybe try something different for a unique look. The ribbon is a favorite!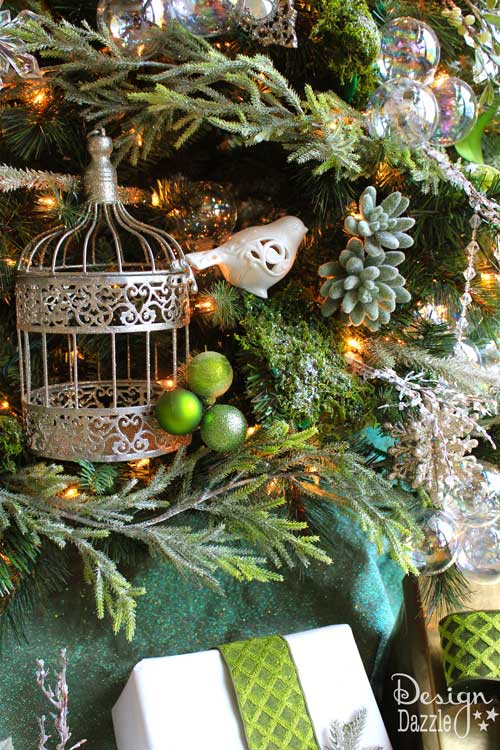 Moss was used as tree decor (sitting under the bird). I'll also be sharing how I made these. The ceramic birds are not Christmas ornaments. You can't have a forest without birds. So I added floral picks to the bottom hole of the ceramic bird so it was easy to attach it to a tree branch. Easy peasy way to create ornaments for the tree with regular decor items.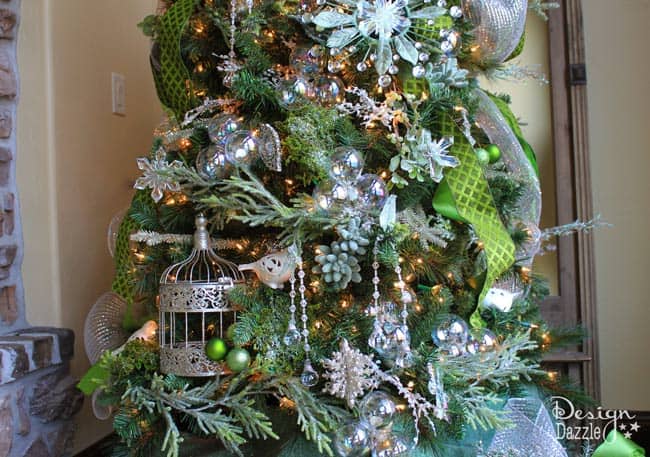 Michaels has a great selection of Christmas garland. Four silvery sage frosted garlands were used to decorate this 7 foot tree.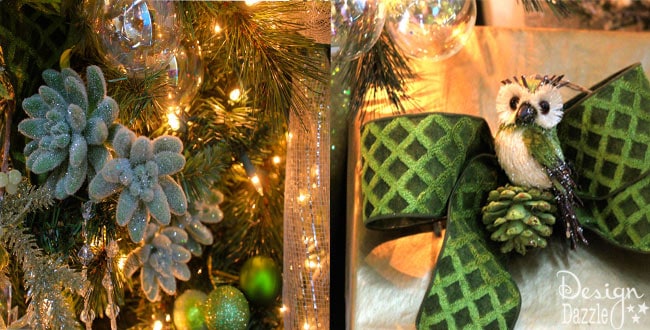 Succulents aren't a forest plant. But I loved the silver sage color with a bit of "frosting" succulents. The owl was placed as a package topper for the present under the tree.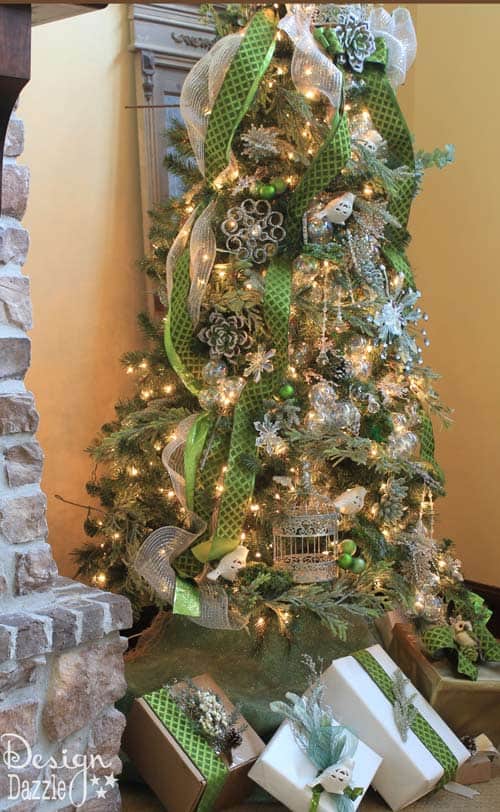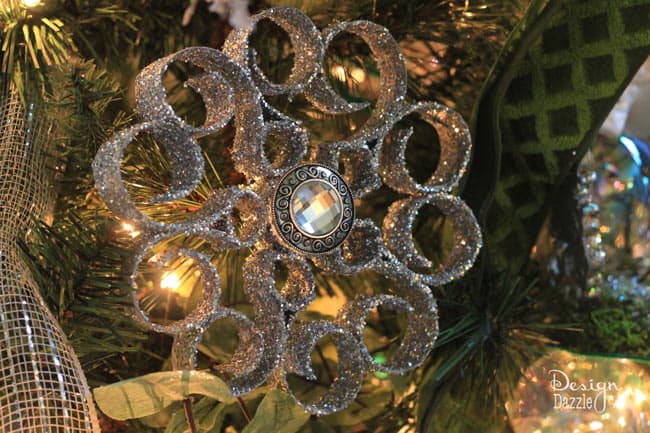 Although I didn't paint and glitter my Christmas tree this year, I did paint and glitter some ornaments. Any guesses what this ornament is made from? You'll never guess?? Go ahead… How about empty toilet paper rolls! Yep!! No kidding! Check back next week for a tutorial on how I made this TP roll Christmas tree ornament. Update: Here is the link how to make a toilet paper roll Christmas ornament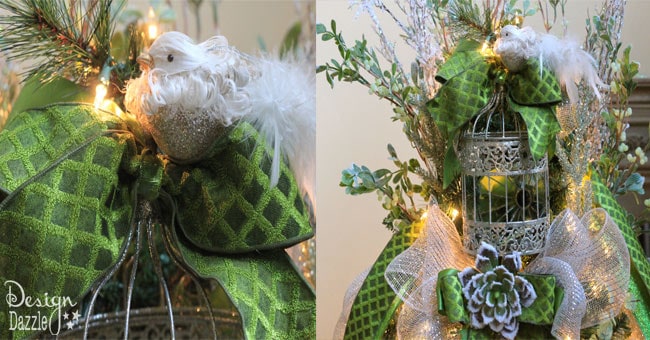 Such a pretty bird that is part feathers and part glitter.
Love the baubles! Iridescent glass bulbs were hot glued together to create the baubles. These really helped create the jeweled forest I wanted.
Inexpensive mirror from Michaels was used to create this sunburst ornament.
 The tree skirt is burlap purchased from Michaels. Paint and glitter was all it needed to create a simple no -sew tree skirt.
I will be sharing a video on "how-to decorate a Christmas tree". In the video I show how I decorated the tree in this post. Keep a watch out – it will be coming soon…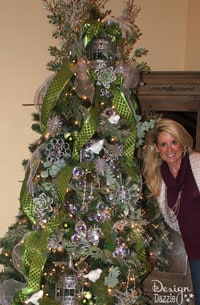 Decided to photo bomb my Christmas tree pic!
Would love to hear your comments about my Jeweled Forest Christmas Tree!
So how cool is this: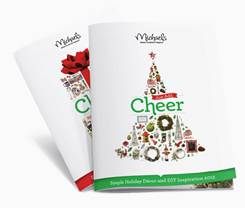 Michaels is offering a holiday helpline this year! Now through Christmas Eve you can call 1-800-MICHAELS Monday through Friday from noon until 5 p.m. CST and be connected directly to Michaels crafting experts. You also can send craft questions via email to [email protected] or by using the hashtag #askmichaels on Facebook and Twitter
Disclosure: This is a sponsored post for Michaels. I was provided with a  pre-lit artificial Christmas tree and a gift card to spend at Michaels to decorate my tree. Thank you Michaels!! All thoughts and opinions are my own.



Save
Save