This post may contain affiliate links that, at no additional cost to you, I may earn a small commission. Read our Disclosure Policy.
I'm sharing how to set a Halloween tablescape! This time of year when the air turns crisp, there's pumpkin spice everything, and I get to decorate for Halloween! I enjoy using my dining table as the highlight of my decorations, no matter the season! It's a favorite thing for me to do every holiday.
Do you look for a good excuse to make your table look cute and festive? I get lots of pleasure in seeing my home decorated for the holidays!
How To Set a Halloween Tablescape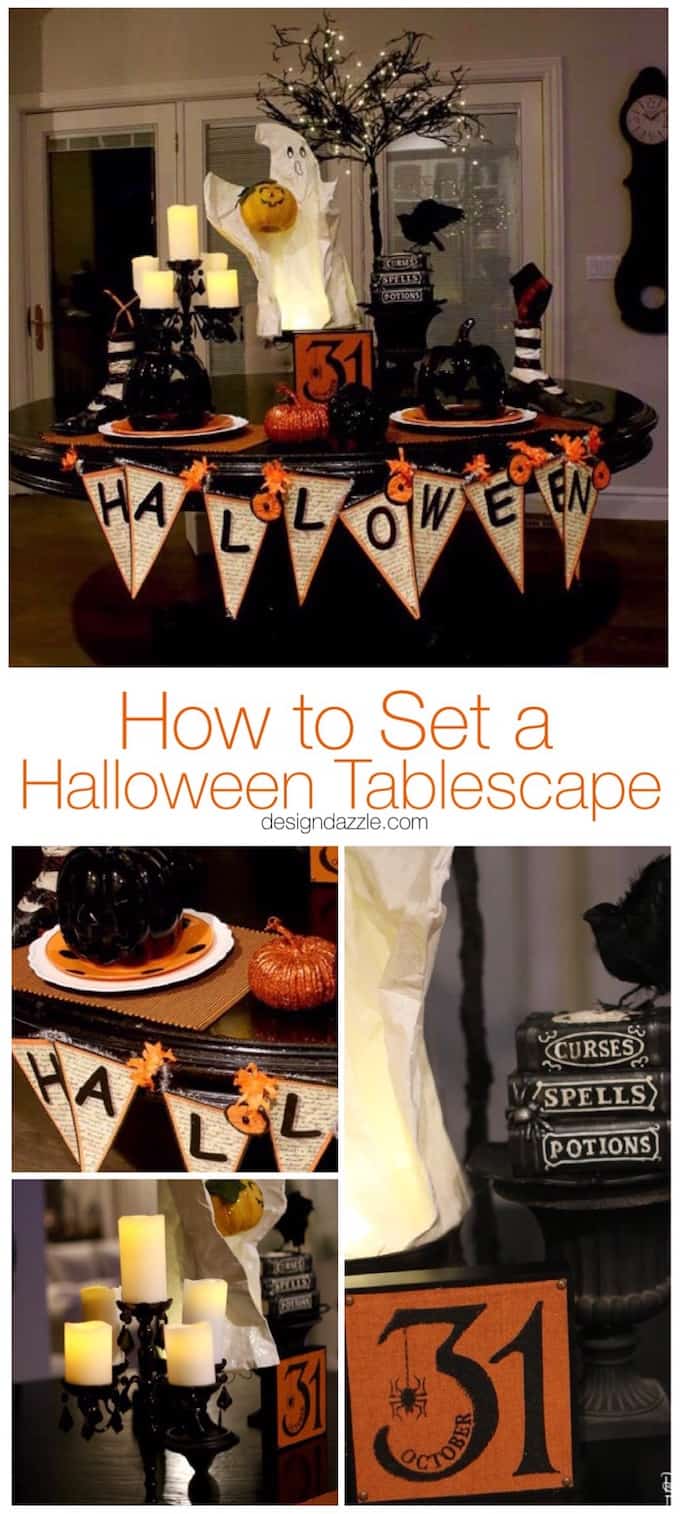 Table Decorating Ideas
First up is to check your stash of Halloween decor. Do you have several containers of Halloween decorations like I do?
This entire Halloween table with the exception of 3 items I've already owned. In fact, there are a few decorations that have been with me for years and years.
What do I do after I get out my Halloween things? I start pulling Halloween items out and placing them on the table.
After I do that I put back what I will not be using in my table display. It is easier if you pull it all out and then start deleting those items that won't work.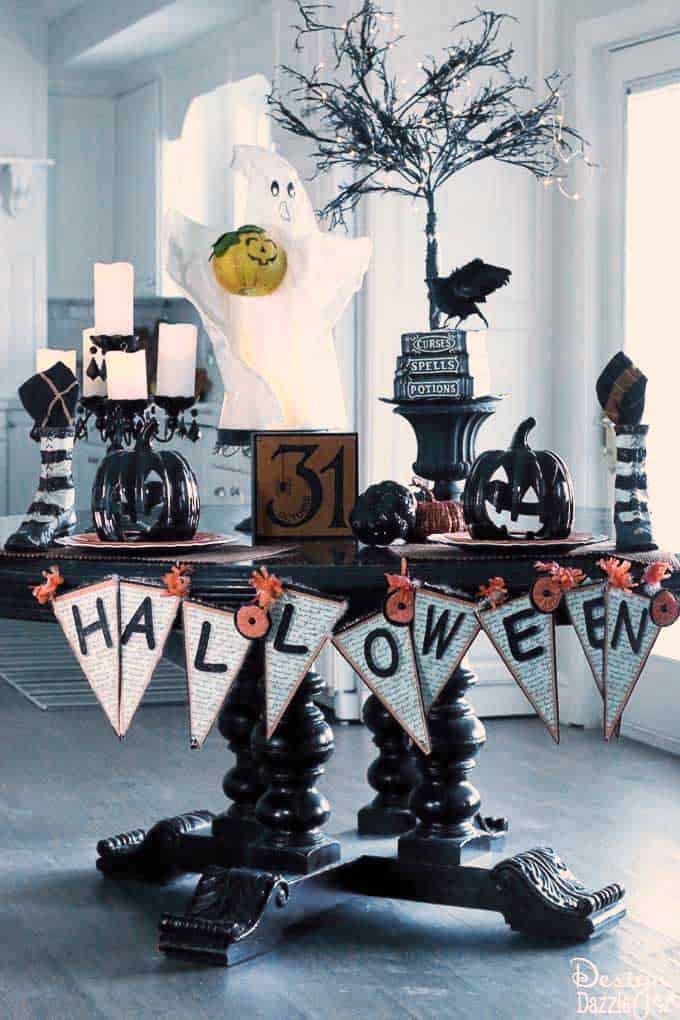 Halloween Table Centerpieces
How do you like the details on how to set a Halloween tablescape? For the Halloween table centerpieces, I used a candelabra and a ghost that I usually use outdoors. Think outside the box when decorating your table.
Halloween Table
One thing I do know is that lit candles and kids do not go together.
This is one holiday that we do not need real candles to cause any problems.
I use my battery-operated candles that are made of wax and look pretty real. To make your Halloween decor lit and looking "Halloweenish" batteries are the way to go.
I have this cute ghost that plugs in and usually goes on my porch. I put the little battery-operated fairy lights underneath and hid the electrical cord. It sure looks fun as a centerpiece all lit up.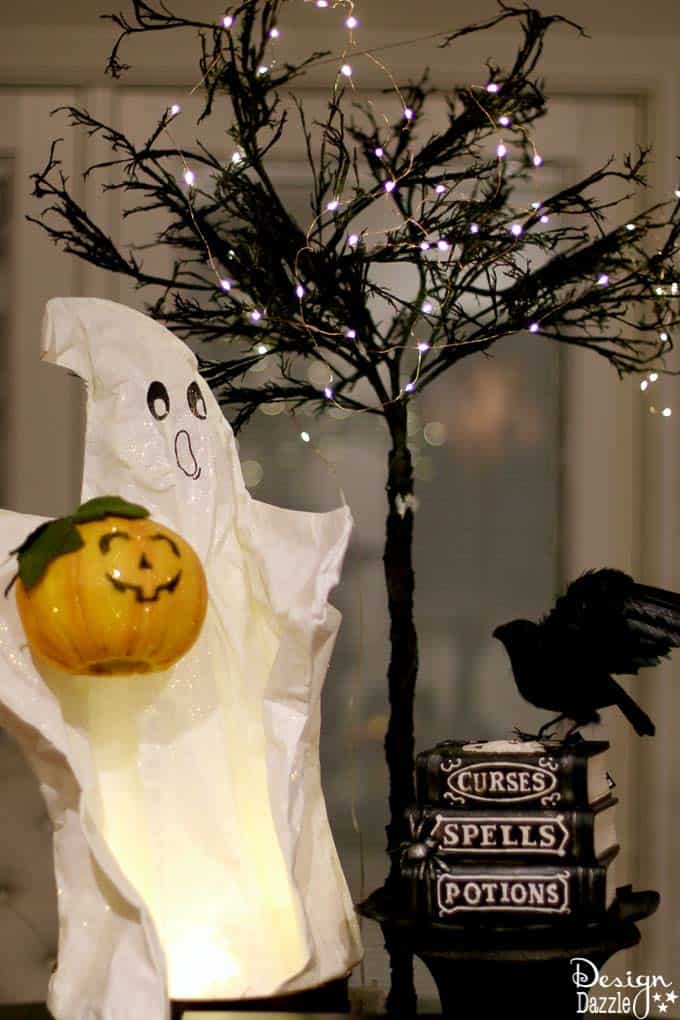 How to set a Halloween table
To set a Halloween table start with the tallest items and see if they work together as a centerpiece.
The tall black feathery tree was perfect to string some tiny fairy lights on. A cake stand was used to raise the ghost and create a height that worked better with the tree.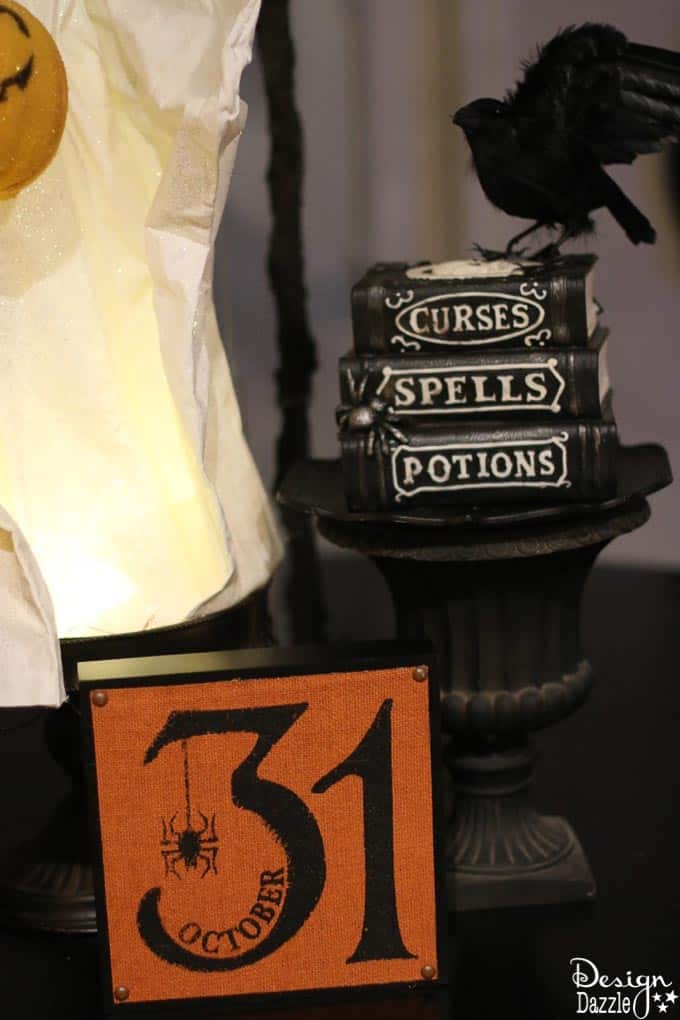 Halloween Table Decor
I placed a plate on top of the small black urn and then fixed a "stack of books" on top.
The black crow creates that perfect addition. Stacking items vertically and horizontally is another way to display your decor. Always stand back and look at your work.
See if there is a spot that looks vacant. If so, see what can be placed there to make it work. The "31" sign made the vignette look complete. Go through your items to see what works.
Halloween Table Settings
The Halloween table setting! Start with placemats or chargers or both! The placemats and plates I've had for a while.
You can find the post on how I painted the Halloween glass plates. I wanted a certain look to my plates and purchased inexpensive glass plates – it was easy peasy.
White chargers were placed under the glass plates. It sure made the plates pop. I had two cute glass mugs out on the counter for the place setting and that is where they stayed. They were forgotten in the pictures. ( :
When I first saw the Witch Halloween boots I thought of many scenarios to use them with. But, the one thing I didn't think of was ways to use them as napkin holders. Isn't that a fun idea?
Think outside the box when setting up a display or table setting. You might be pleasantly surprised.
My Halloween banner that usually goes on the fireplace mantle or entryway table was attached to my dining room table with electrical tape. I've used this tape many times, it doesn't leave a mark and you can find it in different colors. I have black, white and red!
Here is the nighttime version of my Halloween tablescape.
When I'm getting ready for the upcoming holiday season, I like to make sure to put my decorations up nice and early! So when I have things in my tablescape that require batteries I use RAYOVAC batteries that I purchase at Walmart.
Here are just a few reasons why to use RAYOVAC:
They are produced right here in the USA (all except the 9v batteries).
They have a fantastic power guarantee! They hold power for 10 years while in storage.
They last just as long as leading competitors but you can buy them at Walmart for a lower price!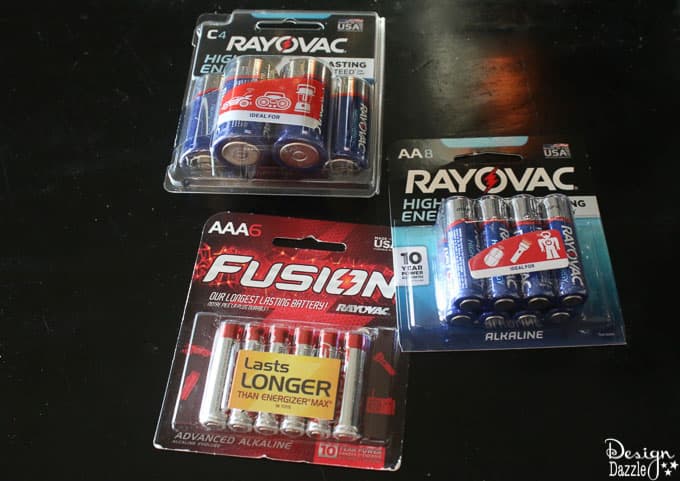 Do you use batteries for your Halloween decorations? Did you learn anything new on how to set a Halloween tablescape?
Halloween Front Porch Decorating
I really love this Halloween entryway. It made me smile every time I walked but it.


Save
Save
Save
Save
Save