This post may contain affiliate links that, at no additional cost to you, I may earn a small commission. Read our Disclosure Policy.
The centerpiece that I created for my Halloween in Paris party was so easy and so cheap I just have to share it with you! I was able to create it with just three items; empty glass bottles, black flat spray paint, and candles (two for $1) purchased from the dollar store. You can also find candles pretty inexpensive here. The bottles were collected after a party, so I didn't even have to purchase any. The bottles were originally natural spring water in glass bottles.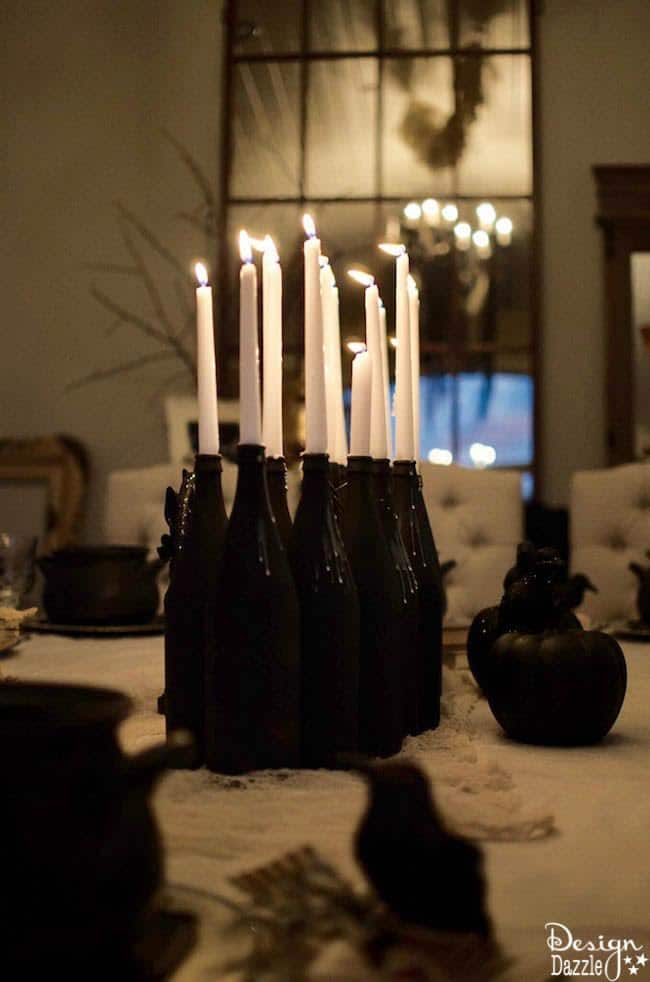 The bottles that I used were empty water bottles leftover from an event. I needed a way to remove the labels on the bottles. So I soaked the bottles in the sink for an hour or two. Then I scrubbed off the label pretty easily. Any glue residue usually comes off with a bit of oil and salt. Just a little bit of vegetable oil or olive oil with salt and scrub it on the glue residue left on the bottle. This scrub really get adhesive off easily. Rinse off any oil residue and wipe dry. I then sprayed the bottles with black flat paint.
To get the candles to fit into the bottles I had to shave them down just a little bit with a knife (just at the bottom of the candle). I firmly placed the candle in the opening of the bottle. I love that when you light the candles the wax starts melting down the sides of the bottles, it gives them a very spooky Halloween feel!
We created a table big enough for 12 people to all sit at by setting up two fold out tables from Costco and placing them side-by-side in my living room. The table cloth was just a big drop cloth.
Quick Tip
After my party was over I noticed that some wax had dropped off of one of the trays that was holding candles and onto the floor. Instead of cleaning it up immediately like you might want to do at first, I let it harden.
Then I scraped it off the floor with a rubber spatula.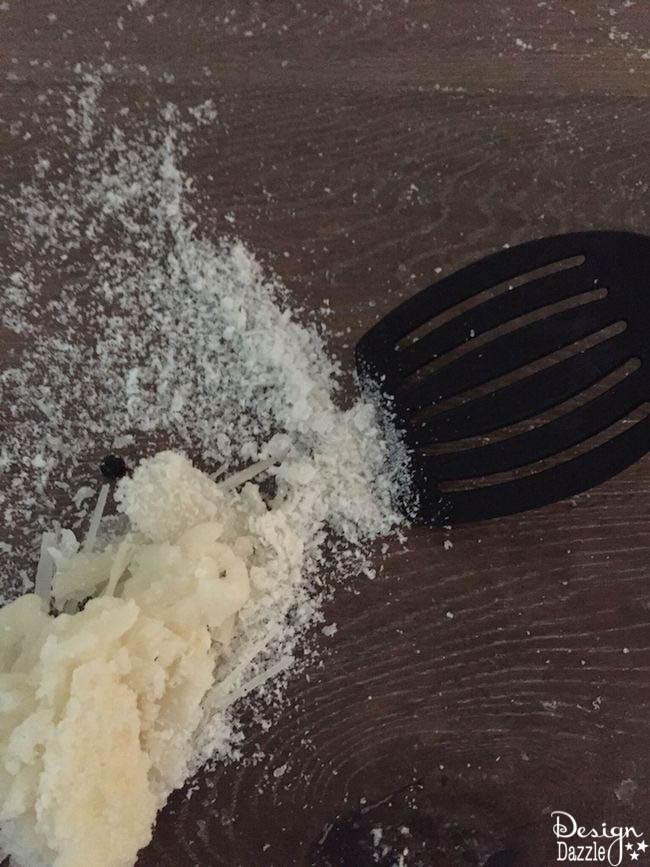 After I scraped it up I was able to sweet it up then wiped up any remaining wax with a clean cloth. If there's any residue you could use a blow dryer to help get rid of any wax that remains.
If you missed my Halloween in Paris party reveal, you can check the posts out below!
WARNING: This would not be a safe centerpiece to have with young children around. The flame form the candle is open and the wax drips down the sides of the candles. Your child could get burned or seriously injured. Always show caution around any type of burning candle.



Save
Save
Save
Save
SaveSave