This post may contain affiliate links that, at no additional cost to you, I may earn a small commission. Read our Disclosure Policy.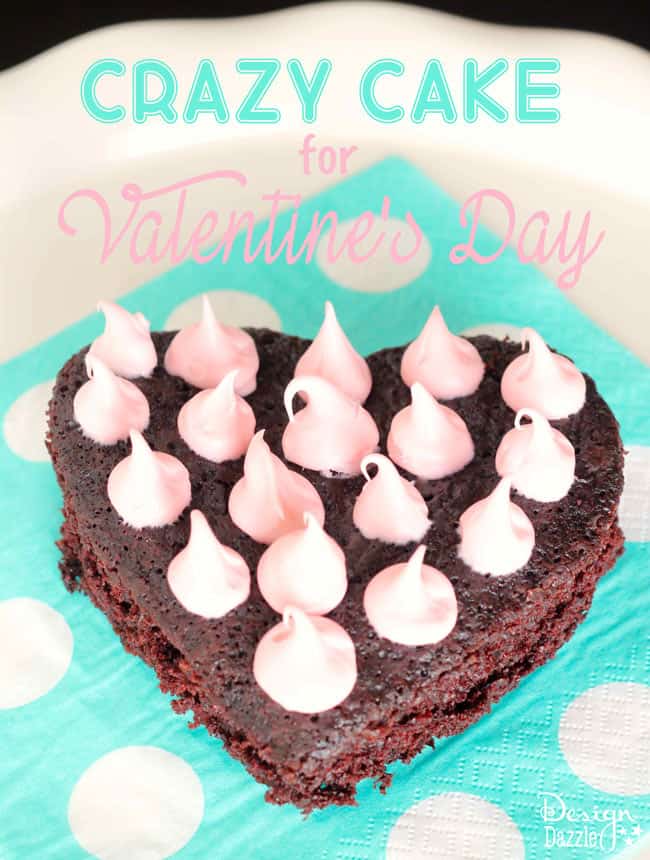 When I stumbled upon crazy cake recipe from a Sweet Little Bluebird, I knew it was meant to be. It is especially fun to make sweet treats to tryout and taste! This cake has simple ingredients that I have on hand and can be mixed right in a greased baking pan?! Not to mention people with food allergies who can't eat a "regular" cake with eggs or milk or butter. Yes, that is correct – no eggs, milk, butter or bowls for this cake. It was love at first sight.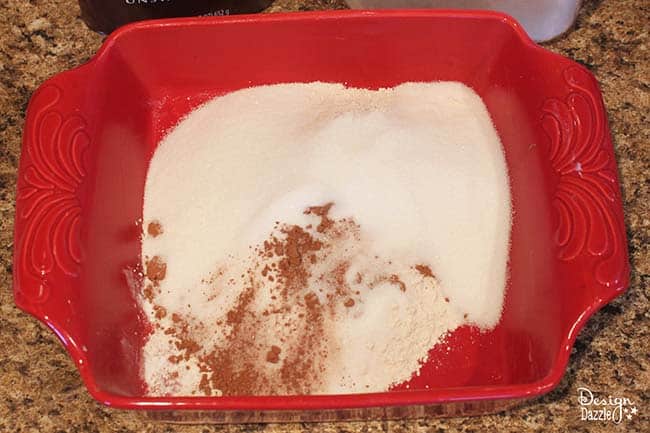 I decided to give it a try, making two batches using the original recipe and also making a gluten free version with a few slight modifications. The only ingredients I switched out differently were to use gluten free flour and use 1 1/2 tsp of baking soda rather than 1 tsp.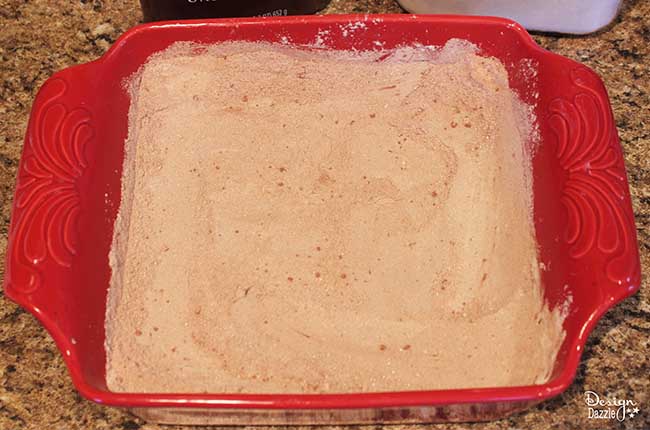 This was my favorite step! I love not having dirty an extra mixing bowl. Less clean up means more time to enjoy cake!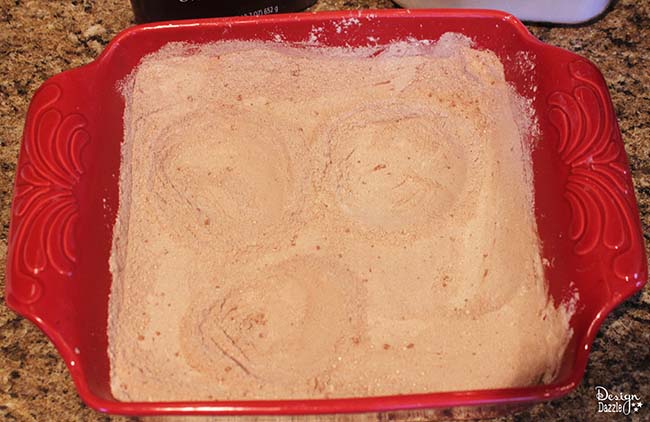 I'm not sure how necessary this step is for the cake to turn out properly, but I do think it is important to make the 3 depressions- one is slightly larger than the other two.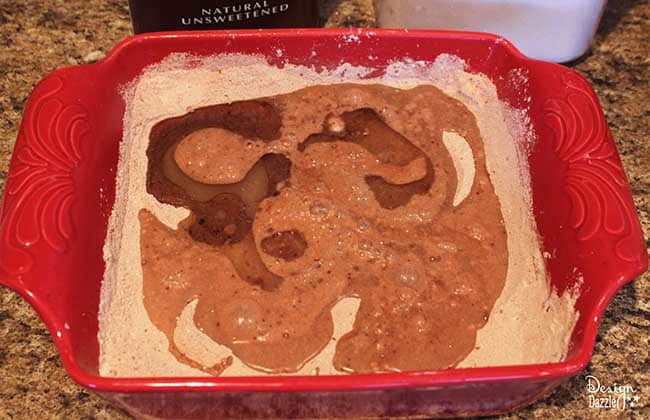 When you pour the water in, it kind of swirls the vegetable oil, vanilla, and vinegar.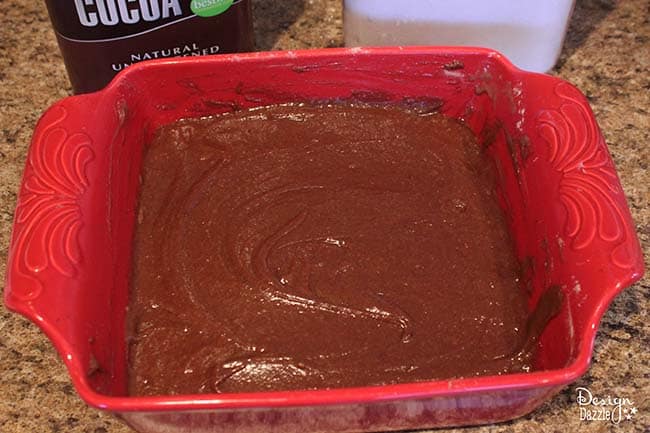 Make sure to mix it all together very well to avoid any lumps!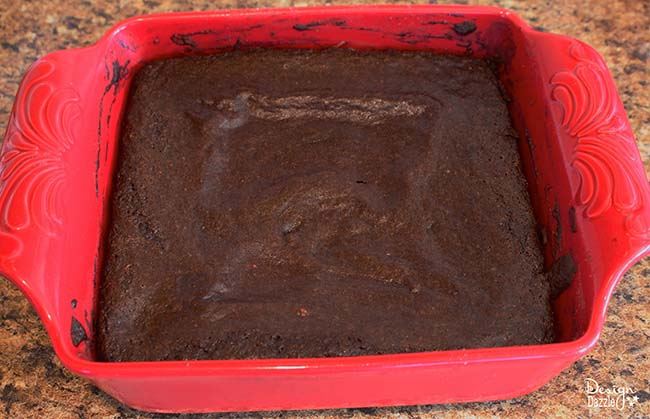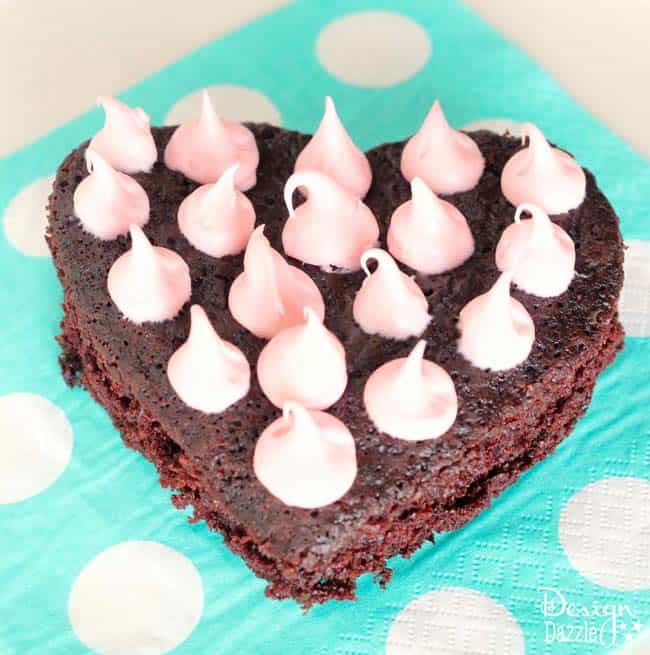 Now you certainly can cut up the cake and serve as typical cake squares. But since it's Valentine season, I decided to use a heart-shaped cookie cutter and cut out heart shapes with the cake. Store bought canned frosting with a little pink added was a cute addition for making little dots with peaks on the heart-shaped cake. Such an easy Valentine treat for loved ones.
Crazy Cake Final Thoughts
This is definitely the easiest cake I have ever made, with the least clean-up. I love simple recipes like this!
This cake tastes good but wouldn't win the worlds most tastiest cake. But due to the fact, with the simple, on hand ingredients, the recipe works with food allergies and it's easy with quick clean up, I would have to say that I would make this again! For the gluten free version, it really needed the frosting to take it up a notch!)
Crazy Cake Recipe
Recipe Type: Dessert
Ingredients
1 1/2 Cups flour
3 Tbsp cocoa (unsweetened)
1 Cup sugar
1 tsp baking soda
1/2 tsp salt
1 tsp white vinegar
1 tsp pure vanilla extract
5 Tbsp vegetable oil
1 Cup water
Instructions
Preheat oven to 350. Grease 8 inch square baking pan.
Mix all dry ingredients right into the greased baking pan. (My favorite step!)
Once the dry ingredients are thoroughly mixed, make 2 small and 1 large depressions.
Pour vinegar in one small depression, vanilla in the other small depression, and vegetable oil in the larger depression. Then pour water all over the mixture.
Mix well until there are no lumps.
Bake for 35 minutes (oven times may vary, be sure to check!).
The gluten free version I used 1 1/2 cups of gluten free flour (Pamela's) and used 1 1/2 tsp baking soda. Everything else was exactly the same.
*I frosted the gluten-free cake with coconut pecan frosting. It was a yummy addition!
A fun Valentine idea…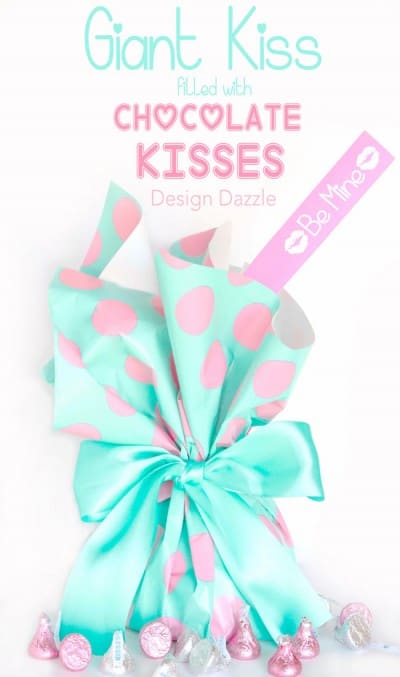 Free printables for a giant kiss filled with kisses!