This post may contain affiliate links that, at no additional cost to you, I may earn a small commission. Read our Disclosure Policy.
How To Clean Floor And Ceiling Vents In The Dishwasher?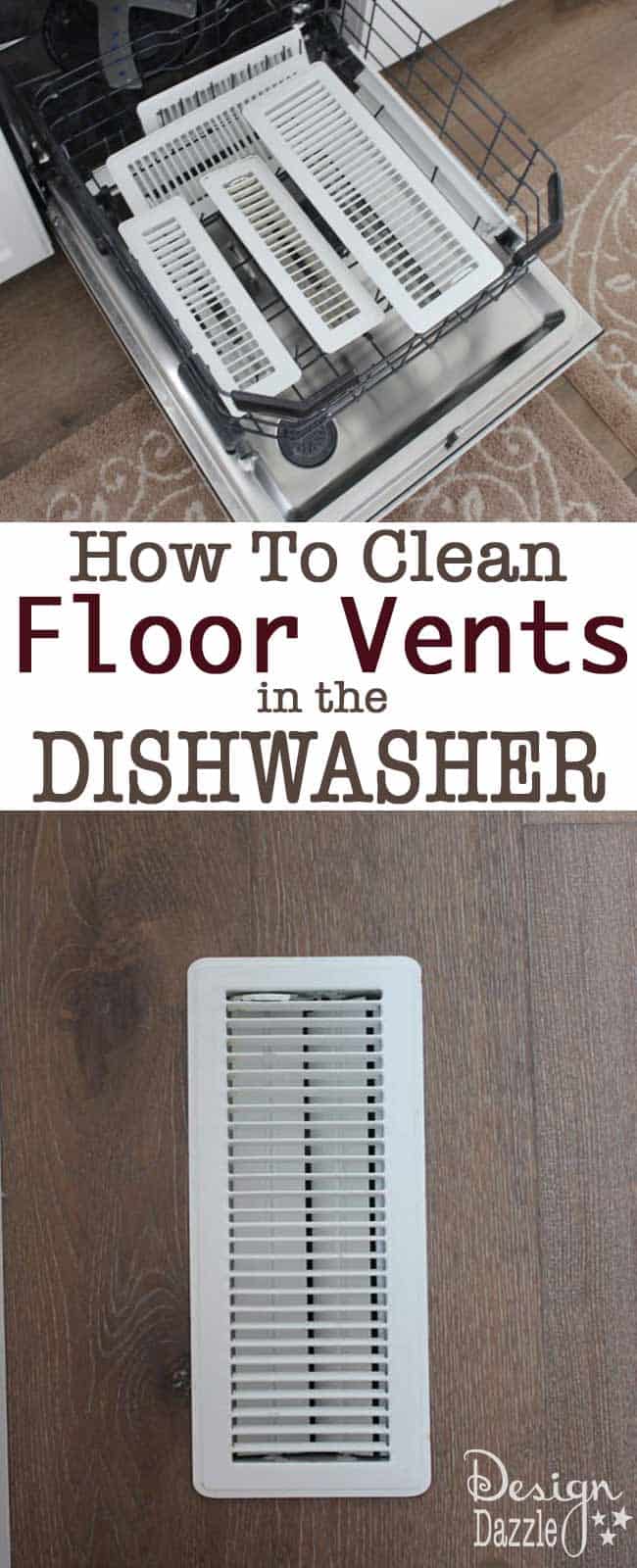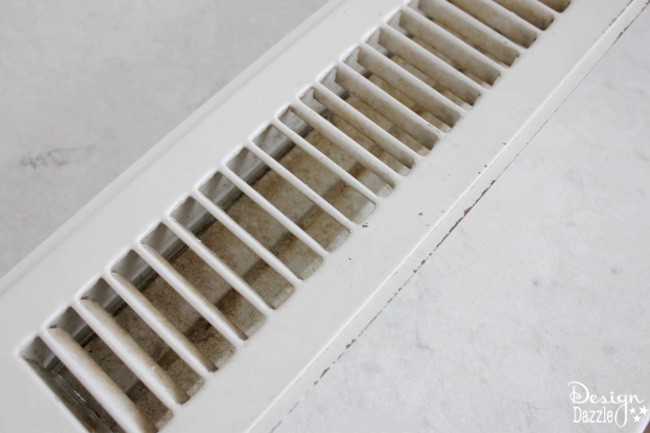 Do you want to know an easy way on how to clean floor and ceiling vents in the dishwasher? Now why would I do such a thing? Keep reading for lots of good information.
When I took a close look at my floor vents, it was not a pretty site. In fact they were pretty disgusting.
Although I had our air ducts cleaned by a professional, I had neglected to clean the covers to the air vents. I'm sharing how to clean floor and ceiling vents in the dishwasher?! Yep, it works great!!!
This is truly a simple, easy and quick way to clean floor and ceiling vents – in the dishwasher!!
This vent shown above is used in the bathroom and is original to the house. It does have some rust because of being installed in the bathroom. Now, of course, this bathroom floor has been cleaned many times – we moved into our house about 6 months ago (the house is about 18 year old).
Some of the vents are brand new due to us installing new floors and some are old because we haven't gotten to that project yet. Although, the floor has been cleaned many times the vent is still quite dirty and gross.
Have you checked your floor or ceiling vents recently for grime and dirt?
To remove a ceiling vent cover use a screwdriver. I also used our stepladder to reach the ceiling vents. My floor vents just popped out (there were no screws holding the floor vents in place).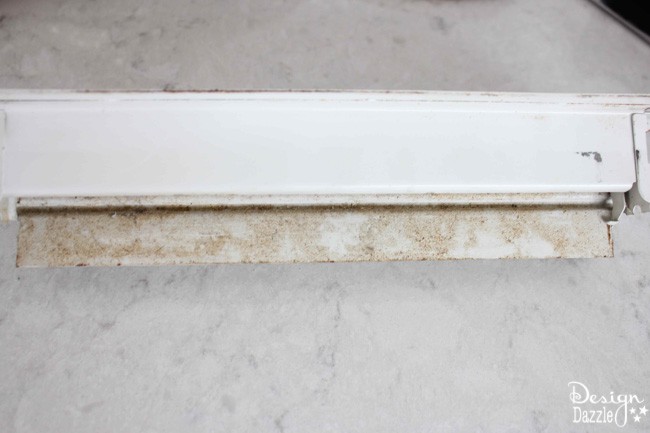 So why clean your vents?
A buildup of dust is not the most healthy thing. The dust gets propelled into the room and dust harbors allergens. This is so GROSS!!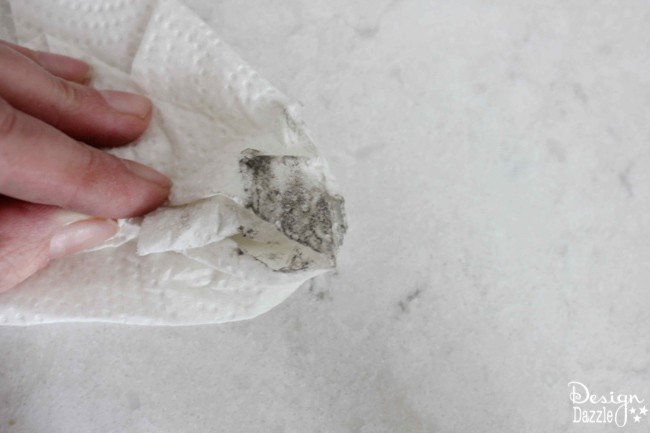 This was two swipes on the floor vent with a paper towel. Quite yucky!!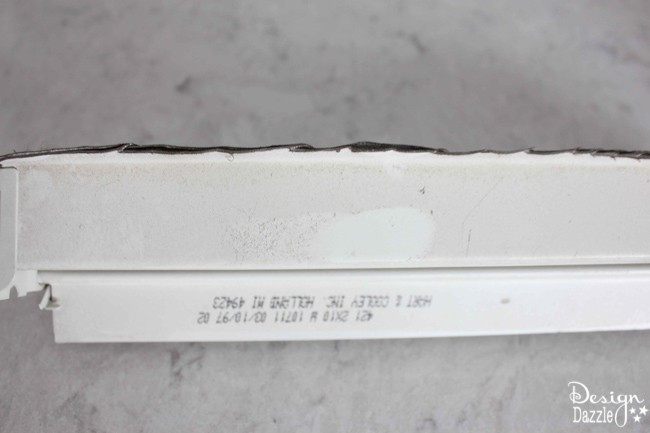 Some floor vents were cut with a saw so the vent could fit under a cabinet better. You can see the jagged metal edge in this picture. Also check for my finger mark wiping away the dust before it was cleaned.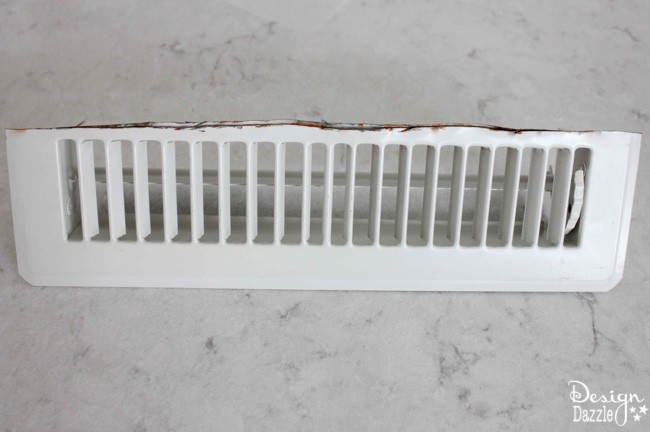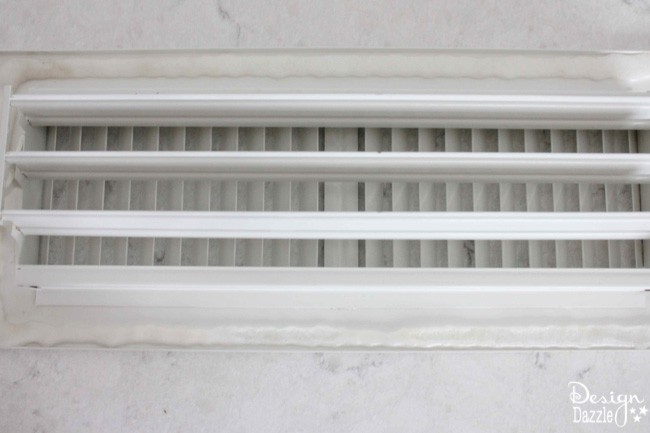 It's hard to see in both of these images but the vents cleaned up really well after washing in the dishwasher! No more dust and grime.
How To Clean Floor And Ceiling Vents In The Dishwasher?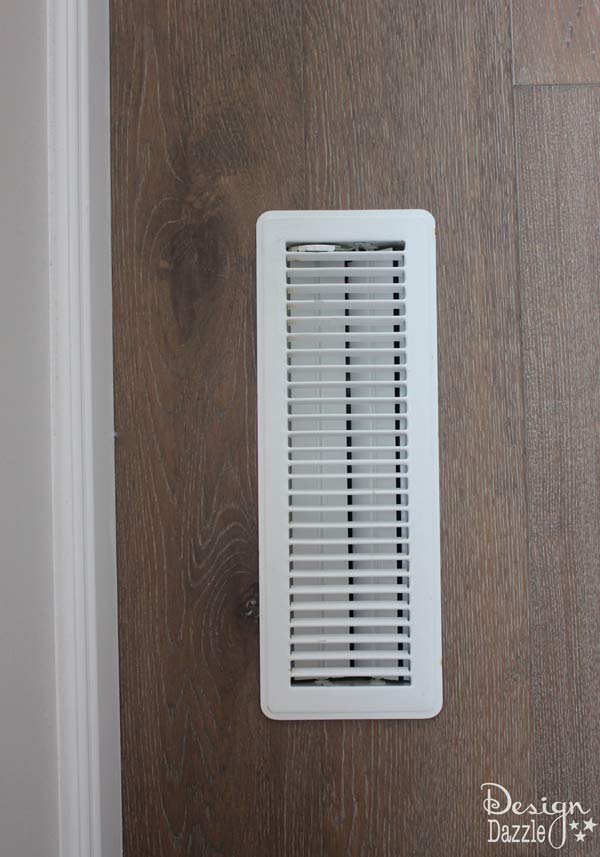 The floor vents looks all nice after being cleaned in the dishwasher.
This post contains affiliate links at no additional cost to you. For further information, please see our disclosure policy.
The Do's and Don'ts of Cleaning Floor And Ceiling Vents:
Make sure the ceiling or floor vents can be washed with water – most are typically made of metal. The vents I cleaned in the dishwasher are metal (aluminum or steel) and cleaned up great.
If you see chipped paint on your metal vents, I would not place in the dishwasher. This would just lead to more chips in the paint.
The first time washing in the dishwasher, place one vent in the dishwasher and do a cycle. Just to make sure they are dsihwasher safe.
Place vents in dishwasher without stacking on top of each other.
No soap. Dishwasher detergent is very harsh. If you hand wash these, liquid dish soap would be fine.
The short cycle of the dishwasher should get the vents clean
Remove and dry with a dish towel immediately after the dishwasher is finished. Letting these sit in water will make them rust.
Do NOT use wood vents in the dishwasher. Wood covers should only be cleaned with a damp cloth and quickly dried.
I also would NOT place plastic vents in a dishwasher.
For vents that shouldn't be cleaned in the dishwasher, you could use a small sponge paintbrush to get into the slats and set up a bucket of warm water with dish soap. Make sure they are dry before you replace the vent cover.
In between washing vents (this could be every 2-3 years depending on your situation of dirt and grime), just use a great microfiber duster with an extension pole – perfect for dusting floor and ceiling vents. See the below image for the one I use.
My favorite duster – inexpensive and easy to use!! As of today's post date this duster is under $20 (free shipping if you're Amazon prime member). What a deal.
Let me know if you have tried cleaning floor or ceiling vents or something unique in the dishwasher.
I love learning tips and tricks like this that makes life easier to get things done quickly (especially cleaning).
Need more cleaning tips? You can check out my post on how to clean a fireplace.


Save
Save