This post may contain affiliate links that, at no additional cost to you, I may earn a small commission. Read our Disclosure Policy.
Hi everyone, my name is Monica. I'm an artist and product designer, photographer, lover of beauty and all things creative.
Join me in the craft room today, so we can play and chat over tea and cake, glue and glitter, while listening to Christmas carols 🙂
What about making pretty, warm and Glittery Yarn Ornaments this year?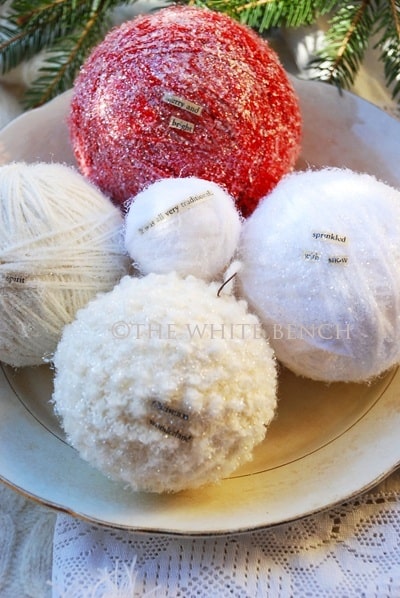 I created them especially for our Christmas tree, and they sum up my love for wool, old books and mixed media! I opted for traditional red and white, but you can virtually choose any color.
They're very easy to make and the supplies needed are really inexpensive (and maybe you could have them already on hand!). You may consider making a batch together with your kids, to give as Christmas presents to their buddies and teachers, and your neighbors as well.
Tools and materials:
– Styrofoam balls (assorted sizes)
– wool yarn of different types
– dressmaking pins
– vynil glue
– old books
– scissors
– brush
– clear glitter or mica crystals
– (rusty) wire
– pliers
– disposable plastic plates
– skewer
– (mason jars)
Step by step instructions:
1. Without cutting the wool yarn from the ball, pin the loose end on the styrofoam ball with a dressmaking pin.
2. Start covering the whole ball, wrapping the wool yarn in one direction, and then turning the ball and wrapping diagonally and so on, covering the whole ball without overlapping the yarn too much. Spread it with your fingers if needed, so that you cover the entire surface of the ball.
3. When you're done, cut the yarn, tie a knot and secure the loose end with another pin.
4. Cut a small length of wire, make a loop with pliers and then insert in the styrofoam ball exactly where the pin is. You may need to help it enter the ball with a skewer.
5. With the help of the brush, spread the whole yarn ornament with vynil glue. No worries about making a complete mess, because vynil glue becomes transparent when dry. Attach a Christmas inspired sentence or word cut out from old books, and finally generously sparkle with glitter (do that over a plastic plate, so you'll save glitter!). If you want, you can remove the pin now.
6. Let dry overnight onto plastic plates or mason jars.
7. Add a length of wool yarn to hang your ornaments.
8. Smile looking at them 🙂
Thanks for having me over once again, Toni- it's always a delight to be part of 100 Ideas of Christmas Wonderful!
Have a wonderful Holiday Season everyone!
Monica x
Meet me here:
Life is a Painting (my main blog)
The White Bench (my craft blog)
Thanks for sharing, Monica!
Christmas Wonderful runs until mid-December. Check back for more great ideas like this one. 🙂