This post may contain affiliate links that, at no additional cost to you, I may earn a small commission. Read our Disclosure Policy.
The easiest way to decorate the Christmas Tree or decorate with holiday decor is to be prepared and organized with the correct Christmas Tree Decorating tools and supplies. I've been decorating for the holidays for many years and have learned what to do and what not to do!
This post contains affiliate links at no additional cost to you. For further information, please see our disclosure policy.
Tools/Supplies needed for Christmas tree decorating or holiday decor:
Floral wire (use green for the typical green tree)
Pipe Cleaners
Pruning shears for fresh greens
Scissors
Pocket apron or container to hold tools/supplies
Step stool (a must)
Ladder for tall trees (definitely a must)
Bag of rice (how to prevent tree from tipping over check post for the details)
Get organized before you set up and decorate the tree or holiday decor. Wire and garland ties are some of my favorite supplies used to decorate with. You can fix a lot of Christmas decor with wire/ties. Drooping branches can be fixed by wiring it to the branch above it or next to it. Some of the other tools and supplies I use are:
Wire cutters to cut wire and to cut wired floral branches and Christmas picks is one of my favorite tools.
Pruning shears are perfect for cutting outdoor flowers, greenery, plants, branches, etc.
The step stool is a must for me to decorate a tree. It is much lighter than a ladder and can easily be moved around. A typical size 6′-8′ tree is a perfect size to use a step-ladder with.
A ladder is a definite must for taller Christmas trees.
A pocket apron helps keep everything organized and in one easy accessible spot – on you! Wear the apron while decorating – you'll love it.
A container also works to place all the tools/supplies in to organize.
Holiday music – is it wrong to decorate without having holiday music playing? Yes!
And don't forget to drink a holiday favorite such as hot chocolate or spiced cider. Make it a tradition to enjoy sipping on a warm drink while decorating.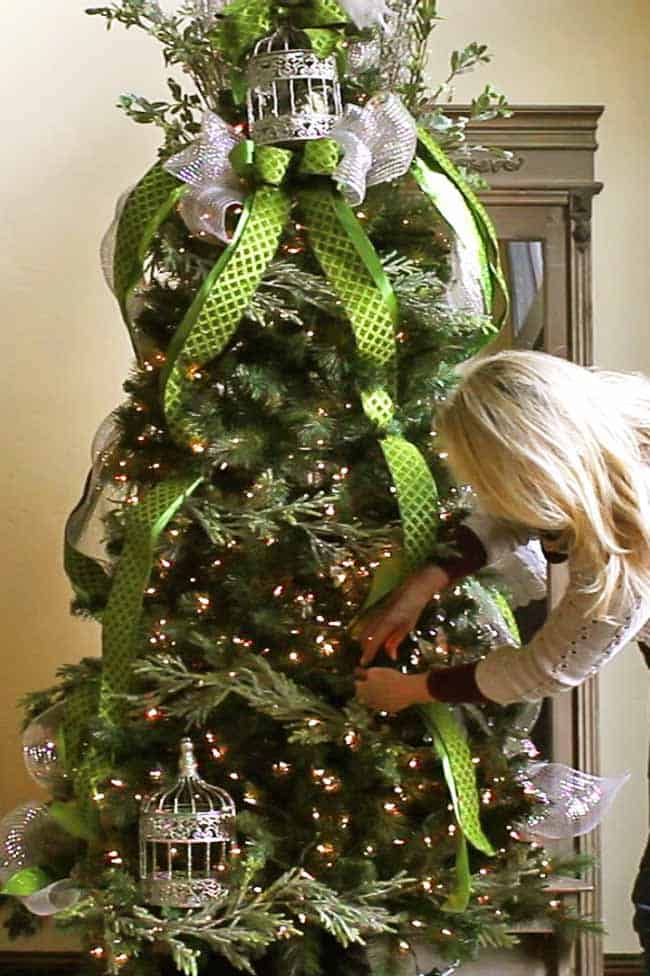 Here's a photo of me using wire to attach an ornament to the tree.
I hope you like my Christmas Tree Decorating Tools And Supplies list. If you need more help with the tree, check my blog post for Setting up the Christmas Tree. You will find the tips and tricks I've learned over the years on how I set-up the tree.
Would you like to see what this Christmas tree looks like completed decorated? Check out my Jeweled Forest Tree.
If you would like more information on Christmas ideas, traditions, printables, how-to's checklists and more check out my eBook!
To purchase the "Making Christmas Magical" eBook visit here.


Save
Save
Save
Save
Save
Save