This post may contain affiliate links that, at no additional cost to you, I may earn a small commission. Read our Disclosure Policy.
Do you need a last minute Christmas gift idea with meaning? Try these printable Christmas gift certificates!

Hi everyone! I'm Michele from The Scrap Shoppe, and I'm excited to be participating in the Christmas Wonderful series again this year.
I feel that there is always at least one person with whom I struggle to come up with just the right Christmas gift for each year. Last year it was my sister-in-law and her husband. I wracked my brain and just could not think of the perfect gift for them! So in the last hour of Christmas Eve I ended up creating these printable gift certificates.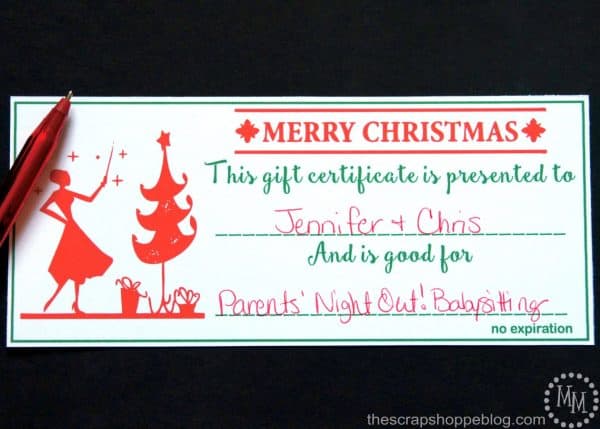 Instead of getting them a physical item, I decided to give them my time instead. I wanted to offer them a night out on the town, just the two of them, with no kids in tow. I would keep my nephews for the evening, and they could go out and have some much-needed couple time! But I needed a way to present that to them. So I created these fun little gift certificates!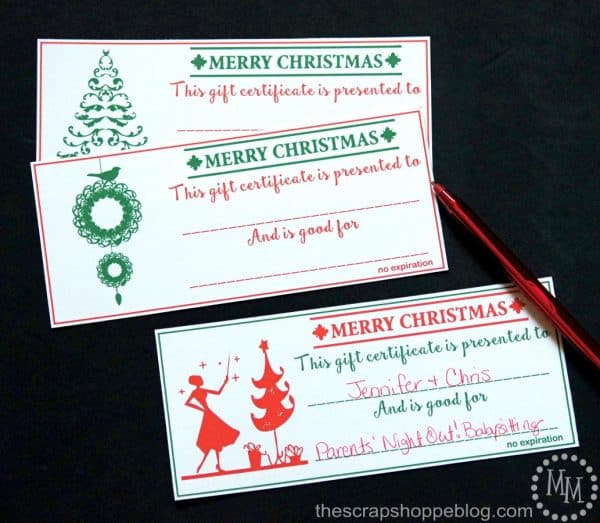 This printable PDF comes with 3 different gift certificate designs that can be filled out by you. They can be anything you want! My sister-in-law said a gift certificate with an offer to babysit was one of the best gifts she received so I think I did pretty well.

One of my biggest pet peeves at Christmas is feeling forced to give a gift just for the sake of giving. I want it to be well thought out and something the person actually would want or need. Any service that you can provide to another that they themselves cannot do or that allows them more time to do things they enjoy is a great alternative to wrapping a physical item that you "hope" is enjoyed.
I hope you can put these Christmas gift certificates to good use!
Happy holidays, y'all!
Find me at The Scrap Shoppe | Facebook | Instagram | Twitter | YouTube | Pinterest