Have you ever tried a taco shell made completely out of CHEESE? Yes, I'm sharing a recipe for taco shells that is all cheese. If you are a cheese lover like me – they are delicious. But then again I think cheese should be it's own food group!
These cheese taco shells are a unique way of serving some of my favorite food which is Mexican food. I grew up in Southern California – where you can find amazing and yummy Mexican food. My parents also opened up a Mexican restaurant in Australia back in the day. I eat this food several times a week. It is definitely my favorite foods.
Using cheese is such a creative twist in making the "taco shell" which is the most fun part of this recipe.
You have the option not to add chili powder and pepper flakes when serving these to the kids.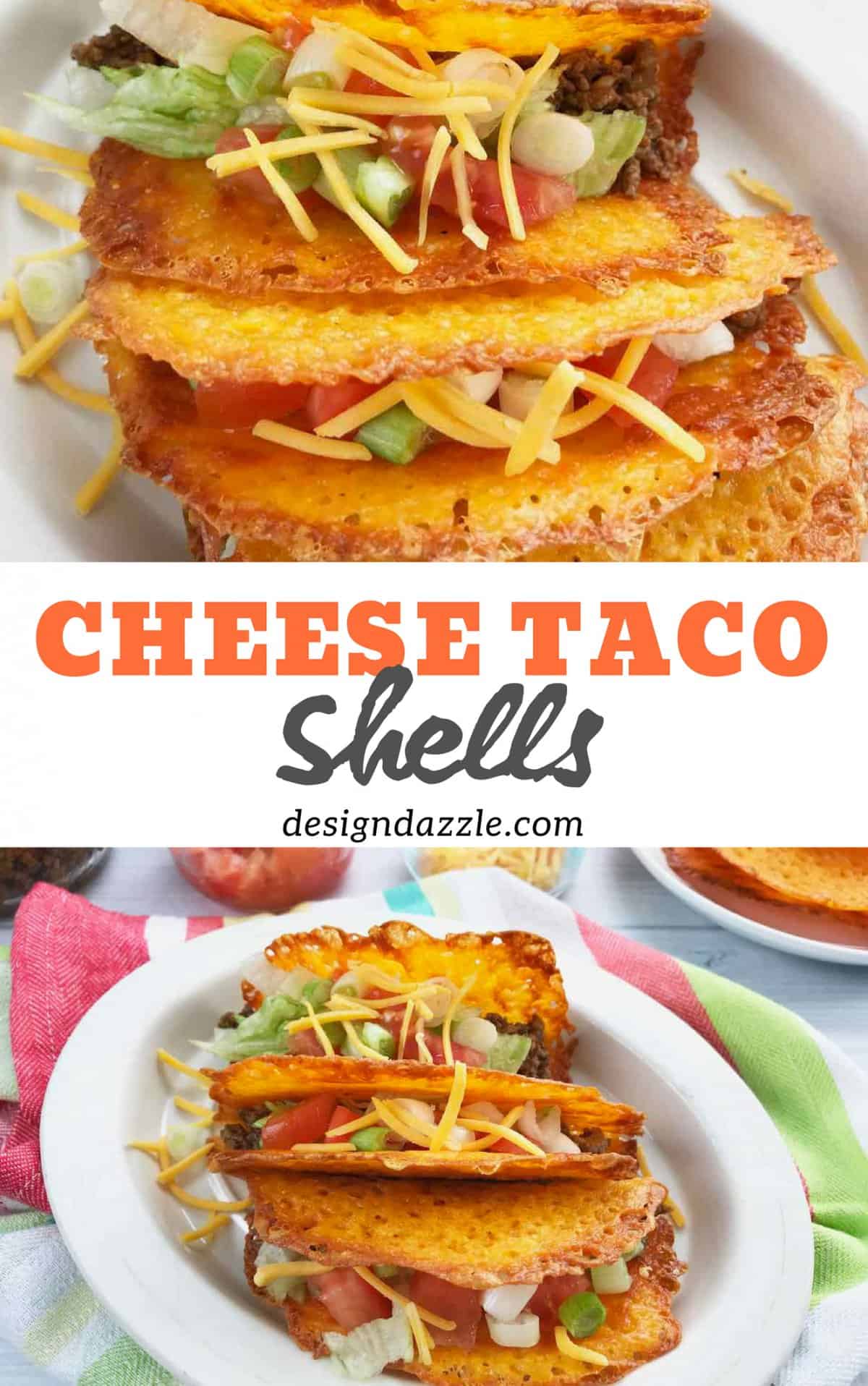 Here are the ingredients and the steps for making these cool cheese taco shells:
Ingredients: 
1 lb lean ground beef (you could also substitute ground turkey if you prefer)
1 small onion, diced
2 tsp minced garlic
1 tsp. chili powder
1/2 tsp. ground cumin
1/2 tsp. pepper flakes
1/3 C. water
4 C. shredded cheddar cheese (makes approximately 8 shells)
Taco toppings: salsa, diced onion, diced tomatoes, shredded cheese, lettuce, sour cream
Directions: 
Step 1
Brown the ground beef with diced onion and minced garlic and drain the grease.
Step 2
Add in the chili powder, ground cumin, pepper flakes and water.
Allow the meat to simmer in the seasonings for 15-20 minutes, if the mixture is thick add a little bit more water.
Step 3
Preheat the oven to 400 degrees and line a large baking sheet with parchment paper.
Step 4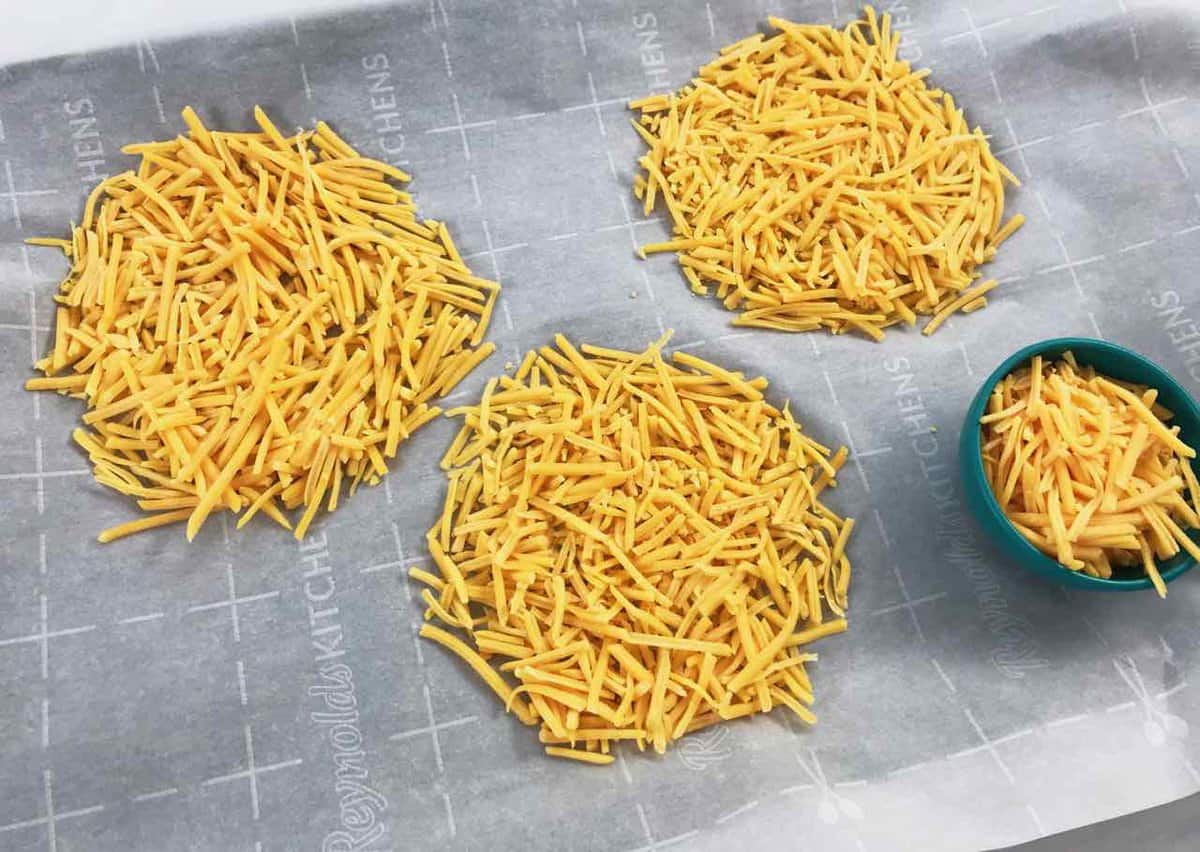 Place a 1/2 C. shredded cheddar cheese 2-3″ a part on the baking sheet and gently spread out in a circular shape.
Step 5
Bake 6-8 minutes.
Step 6
While the shells are baking grab a few tall kitchen items – large coffee can, salt container, etc.
Place a wooden skewers across them. I ended up using a few large spatula handles as we were out of the skewers.
Step 7
Remove the cheese from the oven and use a spatula to gently hang the cheese shells to let them set.
Step 8
Fill the cheese shells with with taco meat and then top with your favorite taco toppings!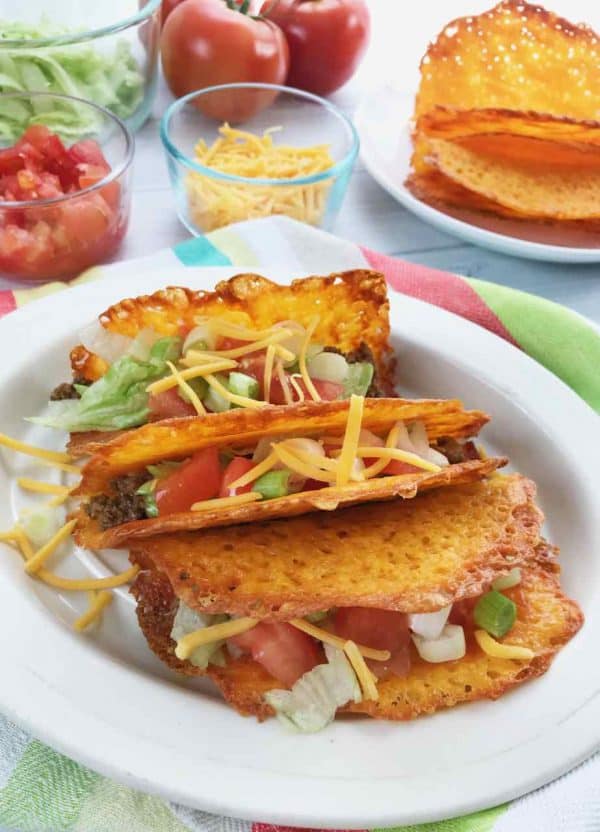 If you don't have the ingredients yet, you can check out the links below: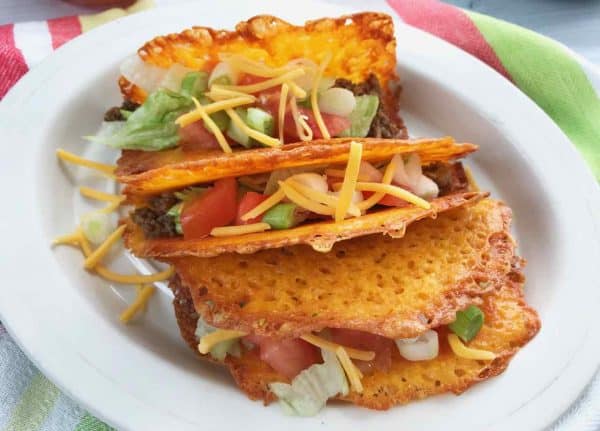 If you're looking for more taco recipes, check out these 22 Ways to Celebrate Taco Tuesday post!
SaveSave