This post may contain affiliate links that, at no additional cost to you, I may earn a small commission. Read our Disclosure Policy.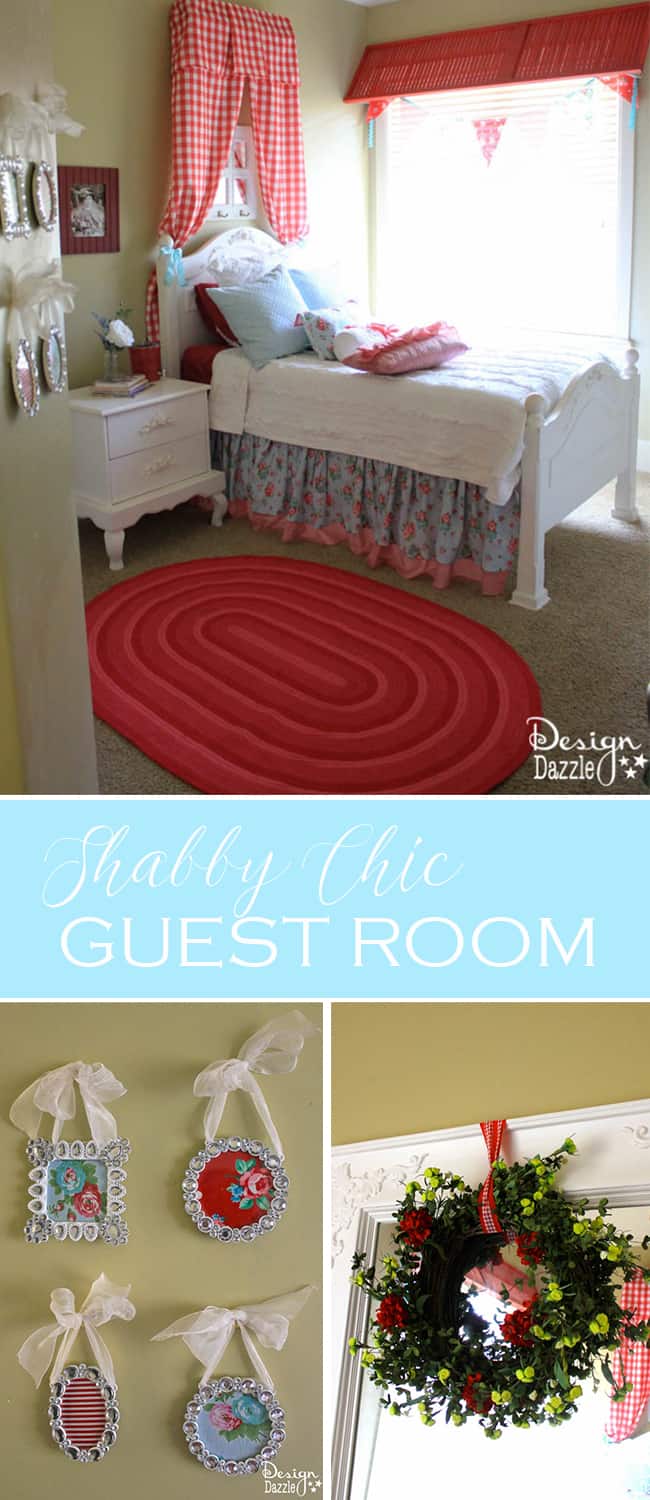 I decorated this cute, cheery girls room in our home a while back. Using our daughter's old bedroom furniture, some pretty fabric, spray paint, and some fun accessories, I created a welcoming shabby chic girls room that my daughter liked enough so it became her main room and also became a guest room my friends loved to stay in. We had an extra bedroom that my daughter was using but after I decorated this room, she decided to stay in here! If guests came, she would go back to the extra room and our girl guests would use this room. For the guys that were guests they would stay downstairs in our basic room that wasn't so girly : )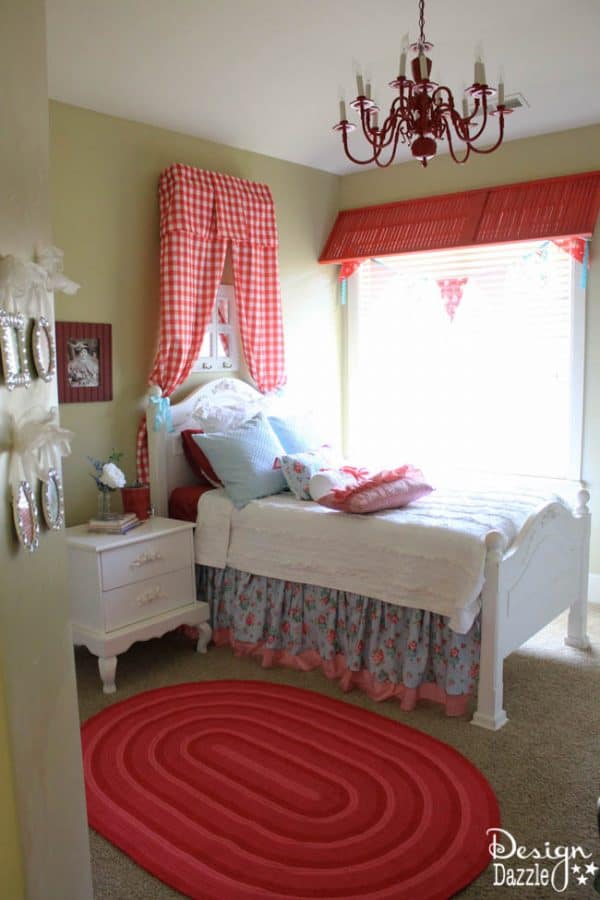 The walls in the room are painted a light sage green. The soft color makes a lovely backdrop for the pretty fabrics and bright red accessories.
The furniture and chandelier originally resided in my daughter's Pink Poodle Room. I love being able to make use things we already have.
We picked up some pretty fabrics and some red paint to get started on the new guest space. The red, robin's egg blue, and white make a very cheerful combination. I took the opportunity to introduce my daughter-in-law to sewing. Note the cute ruffled bed-skirt. We attached it using velcro strips. The velcro was sewn onto the bed-skirt and sticky-backed velcro was applied to the bed.
I love that we created this room with several DIY projects!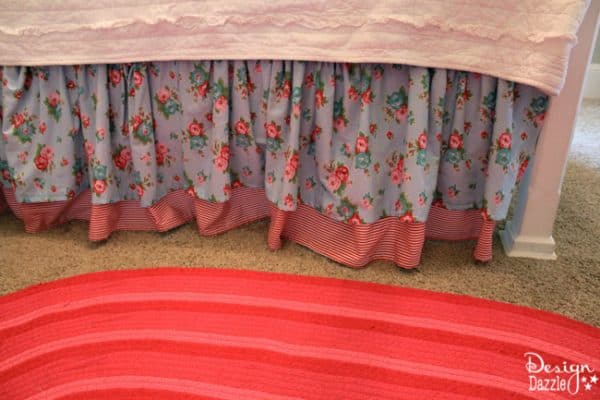 Above the window, a shutter window valance adds a splash of red. You can see how to make your own shutter valance here.
And, above the bed, an No-Sew Headboard Valance adds loads of personality. The secret lies in the flower-box that makes up the frame underneath. I'll be sure to tell you just how it's put together (in an upcoming post:)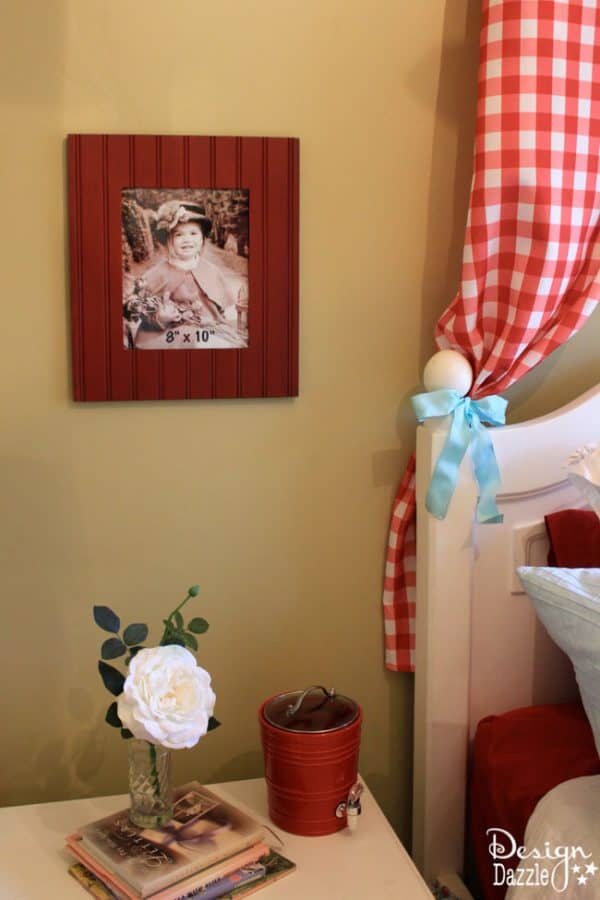 The once-bronze, then-pink, now red chandelier adds even more charm to the space. (I wrote about painting the chandelier pink here. This recent re-do was similar, but I left off the shades this time.)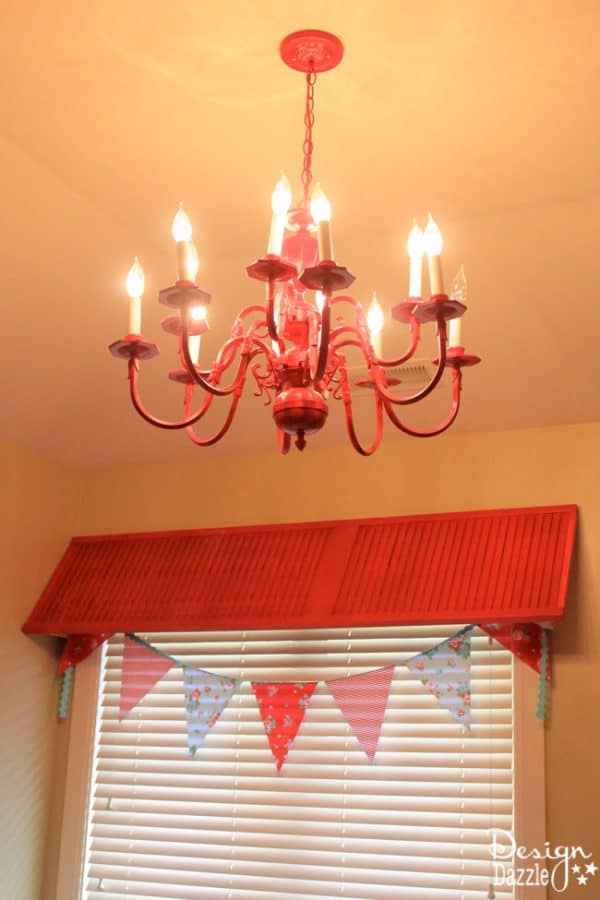 I finished off the room with some darling accessories like the wreath that adds some greenery and the adorable fabric-filled frames hung in a group of four.
I hope this peek inside my shabby chic guest room provided you some inspiration for decorating your own guest space.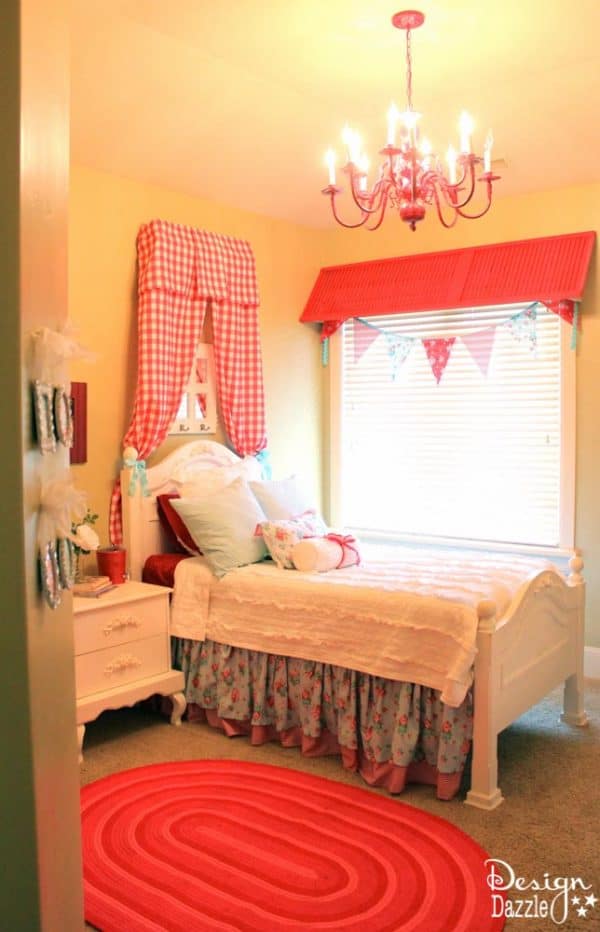 Save