This post may contain affiliate links that, at no additional cost to you, I may earn a small commission. Read our Disclosure Policy.
Are you ready for our awesome series of Bedroom Decorating posts? There is a guest bedroom in my house that has been neglected for far too long! I have lots of company coming to stay with me in the summer so I wanted to give this bedroom a big modern farmhouse makeover! I decided that faux brick and shiplap walls would be the perfect addition to this guest bedroom. Once the walls are completed and painted, I will be decorating the bedroom using ALL Amazon finds. Such as – lighting, furniture, bedding, rugs, wall decor and more. I am a big shopper with Amazon. I love the free shipping (I'm a prime member) and love the pricing and selection. So come along on this challenge with me.
I will be participating in the One Room Challenge hosted by Calling It Home. It's a bi-annual event where lots of bloggers become guest participants and a few designers are invited to make over an entire room. The catch? You have 6 weeks to get it done. This is right up my alley. Not because I like getting a room done in 6 weeks. But, because having a hard deadline helps me complete projects that I've been wanting to do for a long time! I will be reporting my progress every Thursday. Be sure to check all of the other great posts in the One Room Challenge! You can find my previous ORC here when I remodeled my entryway and when I revealed my dream kitchen last year!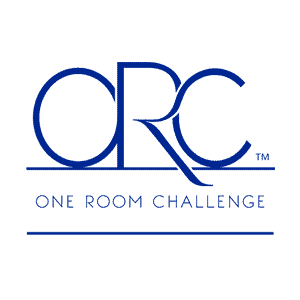 Guest Bedroom Before:
I know that this before picture is horrendous to look at, but this is what the room looked like after my daughter moved out and we turned it into a storage room! The bedroom is a large sized room. It's 13 ft x 16 ½ ft and 8-foot ceilings.
A Great Tip For Making Over a Room:
My husband thought that we needed to replace the carpet but I decided to clean them first. After I had them professionally cleaned it looked like whole new carpet! We decided not to replace the carpet and it saved us hundreds in replacing the flooring. Never underestimate what a good carpet cleaning can do! It's hard to see but we do have a drop cloth on top of the carpet. The carpet was cleaned after all the paneling/shiplap was installed. We had to have carpet in some other rooms cleaned so we got it all done at once. I would have preferred to have done it after the walls were painted in this guest bedroom. But we'll use drop cloths and cover the floors.
This picture shows the drywall being cut. I am adding some gorgeous sconces to this wall so we had to put in the electrical wires before we could glue on the faux brick boards. We cut the holes for the sconces with a hole cutter that attaches to a drill.
How To Make a Faux Brick Wall:
I purchased 4 full sized 4 x 8 faux brick wall panels from Home Depot. You can purchase the same ones here. You can even purchase them online and at checkout choose pick them up at the store nearest you!
The panels were glued on the wall with Liquid Nails,. For the whole project I used about 40 oz. Which is the big container and the small one put together. Three walls were created using the liquid nails. Two planed walls and one fake brick wall. So the glue went a long way.
Then, I used a nail gun several times on each board. I made sure to put nails in each corner and then a few extra on top of it to secure the sheets really well onto the wall.
How To Make a Faux Shiplap Wall:
I purchased 7 full sized, 4 x 8 sheets of underlayment from Home Depot. You can purchase them here. You can even purchase them online and at checkout choose pick them up at the store nearest you!
I had Home Depot cut the sheets for me. They cut them long ways into 6 inch sections (it's actually slightly under 6″). So when finished cutting I ended up with 8 pieces of 6 in.x 8 feet boards. However, there's one caveat to having Home Depot cut your boards. Because they cut your materials with such a big machine, the measurements might be ⅛ of an inch off. on one end It's always worked out okay for me but this is something you might want to keep in mind.
Next, I decided if I wanted the pieces to be in a straight line or staggered. I decided to stagger them. I glued the pieces on with Liquid Nails.
Then I used a nail gun several times on each board. The amount of nails you put in the board depends on how long each board is. My favorite nail gun is the Ryobi.
I want this room to be very clean looking, so as a final result I will be painting the brick faux wall and the planked wall. But you will just have to check back next week to see what I decide to do :).
My goals for bedroom decorating with a modern farmhouse feel:
Purchase the majority of the decor/products/furnishings from Amazon
Add fake brick paneling
Grout the brick paneling
Paint the brick
Paint the planked walls
Add planked walls
Add electrical boxes for wall sconces
Incorporate different textures into the design
Purchase some furniture off of Amazon- I'll let you know what I think about the quality 🙂

Add sconces and various lighting throughout the room
Possibly paint the ceiling a bold color??
Style and decorate the room – rug, pillows, accessories, etc.
Create a peaceful, beautiful bedroom for my guests on a budget
See the other posts on this room:
Part 1- the post you are currently reading
I can't wait to share with you how great this room turns out! Check back here or on the One Room Challenge page to see next weeks progress.


Save
Save
Save
Save
Save