This post may contain affiliate links that, at no additional cost to you, I may earn a small commission. Read our Disclosure Policy.
Summer is the season for firing up the grill and indulging in delicious smoky flavors that make our taste buds dance with joy. If you're a fan of the irresistible aroma and tender goodness of smoked food, then you're in for a treat!
We've gathered an epic collection of 20 smoker recipes to elevate your summer cooking game. So grab your apron, fire up the smoker, and prepare to embark on a culinary adventure that will leave you craving more smoker recipes.
20 Epic Smoker Recipes To Try This Summer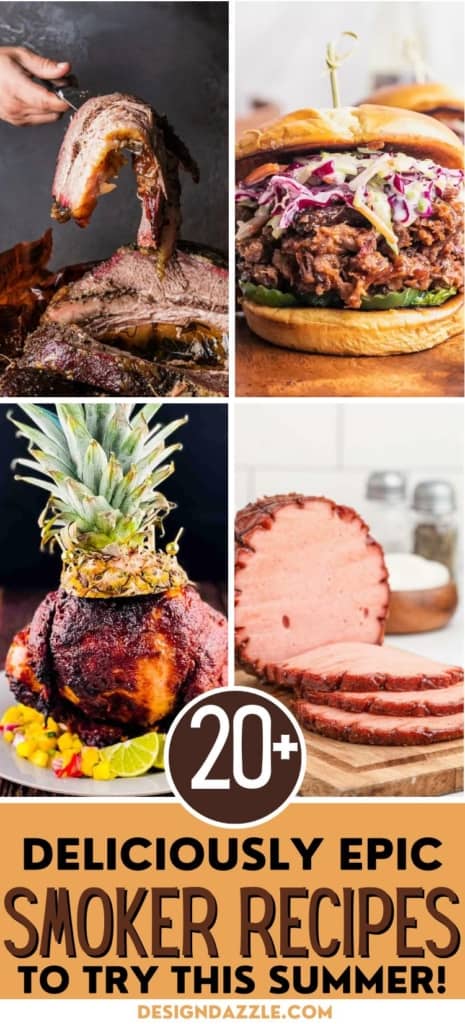 Besides trying some deliciously epic smoker recipes, what about yummy summer mustard-side dishes that are perfect to go with smoker recipes. And nothing is better in the summer than berry good strawberry recipes!
Bacon-Wrapped Beef Tenderloin is the very pinnacle of smoked meat. It's easy smoker recipe for simple to make and fit for a King.
Our Smoked Pork Chops are finished with a reverse sear that makes these chops both beautiful and delicious!
This smoked trout only takes a few simple ingredients and has the best flavor! You won't know it's not smoked salmon!
This smoked pheasant recipe is so full of flavor and makes such a beautiful presentation. Spatchcocking the pheasant makes for a stunning dish but also helps the bird cook evenly.
Don't let that leftover brisket go to waste. Turn it into a mouthwatering smoked brisket sandwich for a delicious and easy dinner recipe for your summer get-togethers!
This guide breaks down everything you need to know to create a delicious pellet grill brisket with a beautiful smoke ring and absolutely amazing flavor. Impress your friends and family with the juiciest, most tender brisket they'll ever have in their life!
This Smoked Pineapple Stand Chicken is a fun and unique way to make the juiciest chicken ever! A whole pineapple is used as a stand to smoke the chicken on the pellet grill, and it's then served with fresh pineapple salsa!
This Traeger Pork Tenderloin Recipe is sure to become a family favorite! Juicy and succulent, this pork tenderloin is marinated first with a delicious blend of herbs and spices and then slow-cooked on a pellet smoker to create an unforgettable main dish.
Discover a fresh rendition of the traditional cashew butter recipe with our unique Smoked Cashew Butter. Elevate your homemade nut butter experience with this effortless upgrade, allowing you to customize it with a touch of sweetness or a hint of spice.
Indulge in the ultimate smoked baby back ribs recipe, utilizing the simple 3-2-1 smoking method. Experience the exquisite tenderness of these ribs as they effortlessly fall off the bone, enhanced by the exceptional flavors imparted by our homemade spice rub and braising liquid.
If you have never tried smoked bologna before, you are in for a treat! This easy smoker recipe creates the most flavorful BBQ glazed bologna for sandwiches.
This smoked pork tenderloin recipe gives you flavorful and juicy pork every time. These tips and tricks for smoking pork tenderloin are so easy and require just a few minutes of prep time.
It's easier to make smoked whole chicken than you think! A wet or dry brine ensures the chicken is juicy and full of flavor. This recipe uses lump charcoal and fruit wood for the perfect smokey flavor.
Make a twice smoked spiral cut ham just like a smokehouse pit boss. This classic ham has an amazing smoky flavor with an apple cider orange honey glaze! The double smoking of this holiday ham cook is great for Summer parties, Easter dinner, Thanksgiving, Christmas dinner, or anytime during the year. You will save space in your oven for other dishes, and be rewarded with a glorious ham.
Smoked brisket is juicy, tender, and full of flavor. It's cooked low and slow in a wood pellet grill with simple ingredients. Learn how to smoke brisket like a Texan!
Though it takes a lot of time to make a smoked pork butt in a pellet smoker, it's worth the effort for delicious shredded pork.
Make perfect smoked ribs with our simple step-by-step instructions for tender, flavorful ribs in a smoker or on a charcoal grill.
How to smoke a brisket in a smoker includes all the best research, experience and tips by guest chef Bob to get you to a tender, mouth watering smoked brisket.
You can season the chicken thighs with BBQ rub, wrap them in bacon, smoke them, and finish them off with barbecue sauce for a delectable treat. They're tender and juicy and loaded with sweet and smokey flavor!
Turn yourself into a backyard hero with this smoked whole chicken recipe. The combination of an easy spice rub, a moisture-infusing brine, and wood chips in your smoker will reward you with the juiciest smoked whole chicken with a nice crispy skin.
Check this out if you want tips on How to Smoke a Brisket on a Pellet Smoker.
As you conclude your culinary journey through these 20 epic smoker recipes, we hope you've found inspiration to experiment, create, and enjoy the art of smoking food. Here's to a summer filled with delicious memories and the warmth of good company. Enjoy every bite and embrace the magic of the season!
Be sure to check out these homemade rubs for summertime grilling as well!