This post may contain affiliate links that, at no additional cost to you, I may earn a small commission. Read our Disclosure Policy.
You don't always have to resort to reds, oranges, greens and browns in order to make your home feel a little more cozy for fall. Some of the warmest, loveliest and coziest fall homes are decorated in a perfect combination of neutrals! As you can see in my Fall Mantel I love decorating with neutrals because they are more subtle, they go with your other decor, and are absolutely gorgeous! Here are 14 beautiful examples of using a neutral color palette to warm up your home for fall!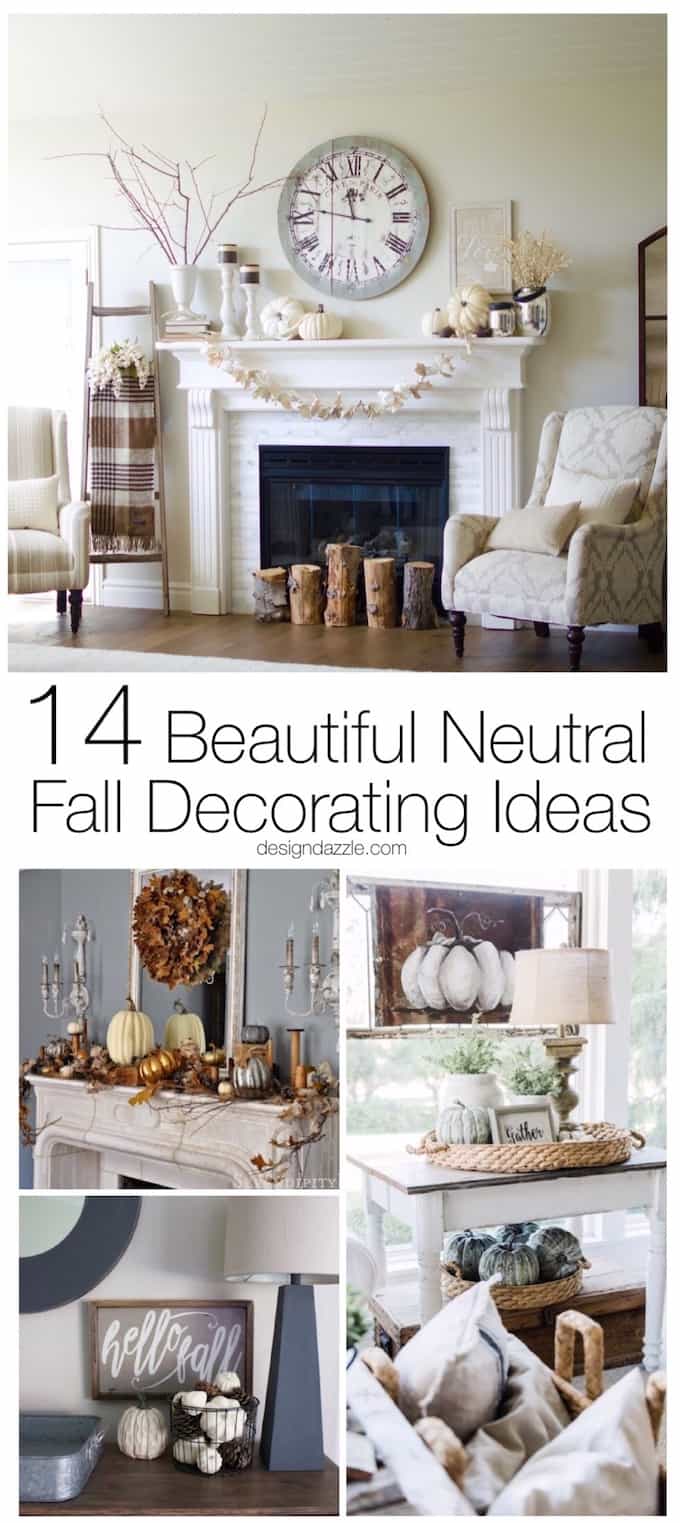 Cozy Sun room 
I love the use of neutrals and natural, rustic elements that help make this sun room come together so perfectly! The pumpkin accents make everything feel like autumn without being too "in your face." See more of the details here. 
2. Neutral Fall Mantel
The natural elements like the antlers, plants and wood help turn this mantel into the perfect fall display. The metal letters aren't too big and overwhelming, which helps to keep everything subtle. See more about this mantel decor here. 
3. Fall Centerpiece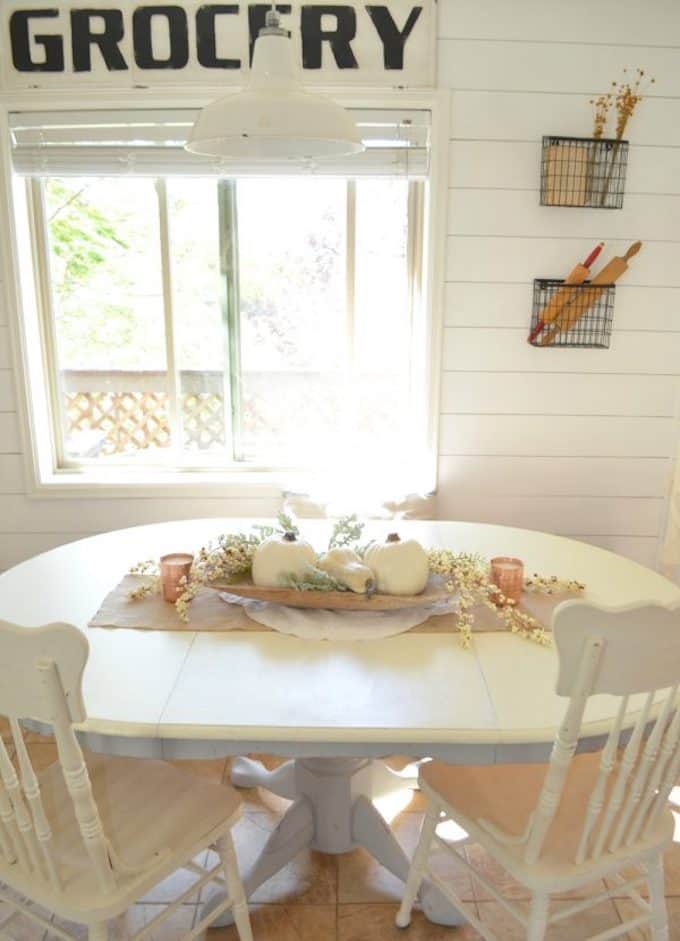 The kitchen and dining area are some of the best places to get creative with your seasonal decor! A good centerpiece can change up the whole feeling of your home, like this great neutral creation. The copper accents and foliage keeps things feeling chic, while the white pumpkins bring that feeling of autumn right into your dining room!
4. Modern Neutral Entryway
The clean shapes in this entryway look great with the round pumpkins and pine cones! It looks modern, but still has just the right amount of fall feeling! You can see all the details about this entryway display here. 
5. Pumpkin Bucket DIY
Little rustic accents like this adorable bucket are the perfect way to tie together your neutral fall decor. The best part? You can make this bucket yourself by following the instructions here!
6. Chalk Pumpkin Centerpiece
Neutral decor doesn't just mean white, black and brown – a neutral color palette can include natural greens and blues as well! I love how simple, yet elegant this fall centerpiece is. Learn how to make it yourself here! 
7. Rustic Toolbox
Get creative with your fall decor and use fun pieces like this vintage toolbox to create some dimension with your neutral color palette! They add visual interest while keeping to the theme. Check out the details of this display here!
8. Add A Fall Pillow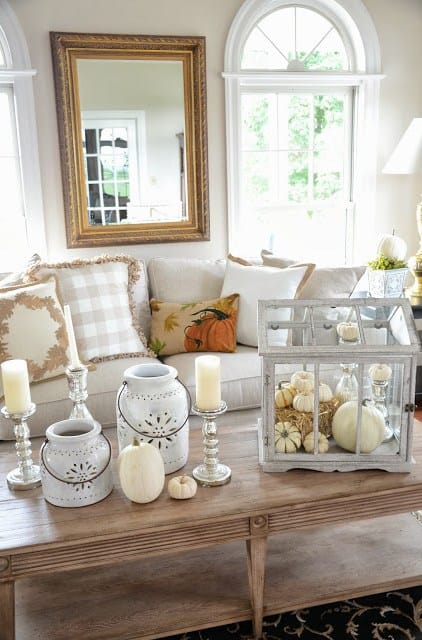 The pumpkin on this pillow doesn't overwhelm the neutral decor, and instead fits in perfect with it's warm tones and neutral background. Decorating with a neutral color scheme doesn't have to be boring! Learn how to make a pillow from a place mat by visiting here!
9. Add Some Nature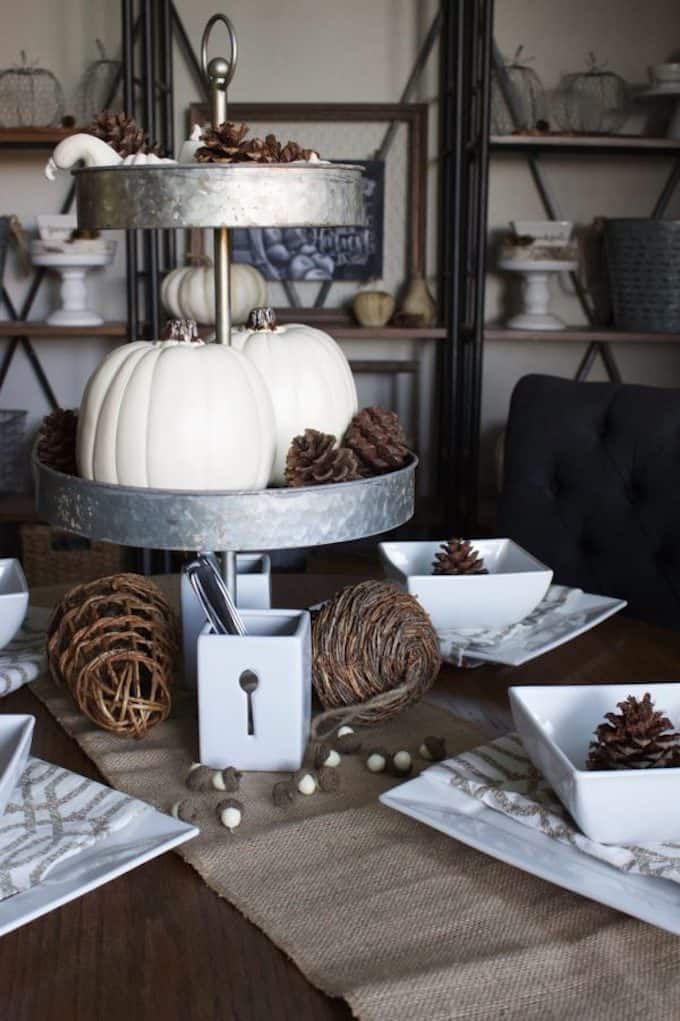 The great thing about neutral colors is that they can be found everywhere in nature! I love the rustic, earthy feel that the pine cones and acorn decor bring to this simple, classic fall centerpiece! 
10. Make it shiny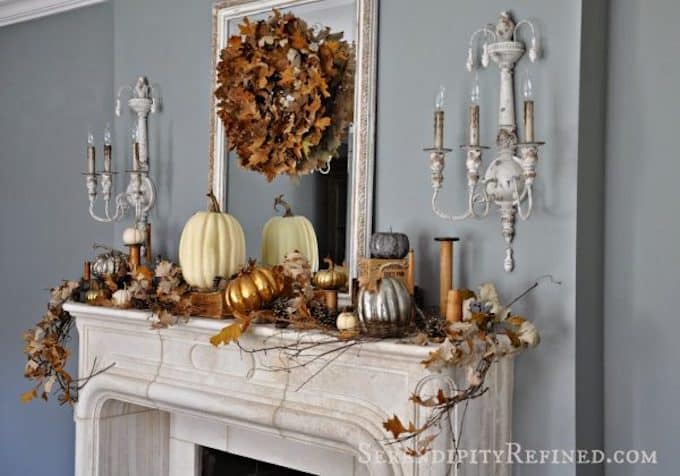 This fall themed French country mantels is still in the neutral palette and works perfectly because of its simple colors and nice touches of metallic pumpkins as accents. It makes the whole display a little more classy and fancy, but still feels welcoming and warm. View the details here. 
11. Minimalist Wreath
Sometimes it's the little things that makes all the difference, and if you're taking a more minimalist approach to your fall decor, this little wreath is perfect for you! You can even make one yourself by checking out here. 
12. Decorating with Burlap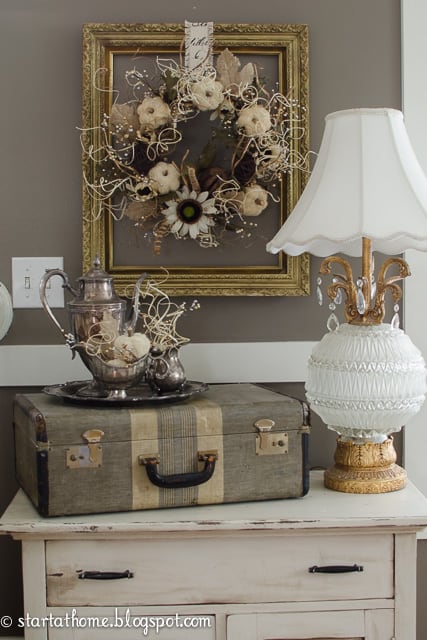 Burlap is a great textured neutral that can add a lot of dimension to your fall display. This vintage inspired decor looks great with the little burlap accents in the wreath and all the different textures from the neutrals that work with each other! See the details here. 
13. A Touch of Summer
Who says you can't add a little bit of summer to your fall decor? These neutral sunflowers look great with the fall pumpkin and the shabby chic cottage decor. It all works together and feels like a cozy fall scene! Check out more of the shabby chic look here. 
14. Fall Themed Mantle
And last of all, the Easy Fall Themed Mantel that I featured on my blog last year. This has been one of my very favorite fall mantels that I have ever done. Not only is is gorgeous, it's also EXTREMELY easy! It took me about five minutes to put together.
Do you think that you could jump on the neutral fall decorating trend? I would love to hear your thoughts!
If you enjoyed reading this post, then check out my other fall decorating posts:


SaveSave
Title:
14 Beautiful Neutral Fall Decorating Ideas
Mentions:
fall, fall decor, fall decorations, fall mantel, home decor, neutral decor
Last Updated:
November 8, 2018