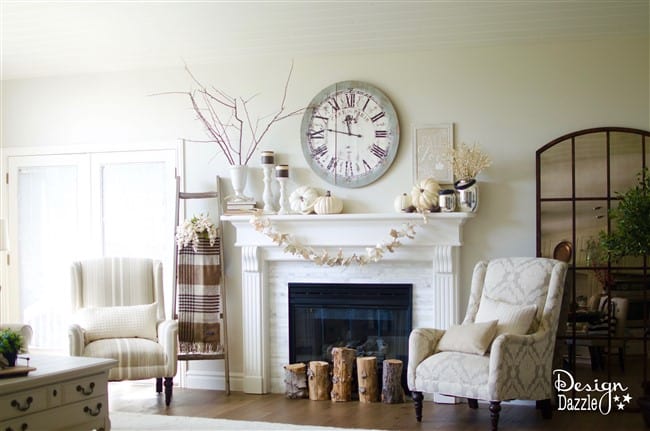 The change of seasons is the perfect time to change up your mantel decor, and with my tips and tricks it's fast and easier than ever to get a beautiful fall themed mantel!
I always tell friends that the first thing you should do when updating your decor is "shop your home." I guarantee that you already have a few items that you can use as a starting point and for some inspiration. When things are out of sight, they are out of mind, too! There might be something you put away for a few months that you love and forgot about, or you might see something you've had for a while in a new, creative light.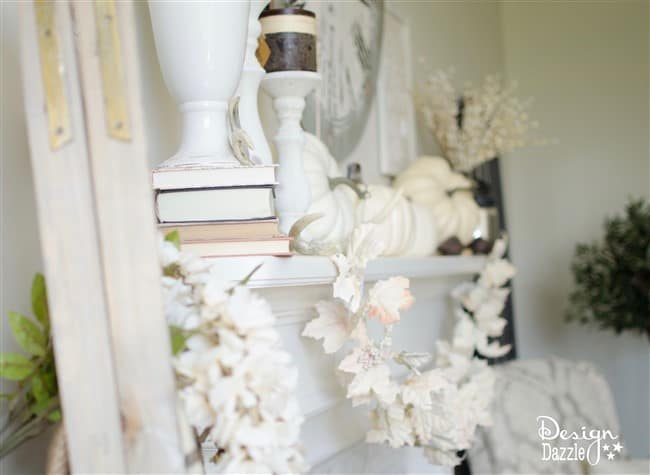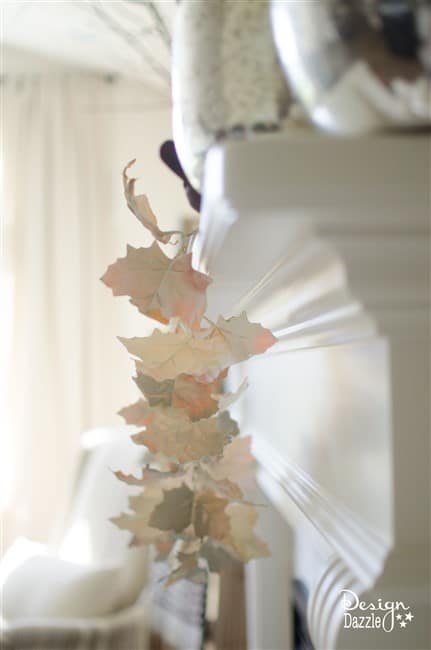 This garland is an example of shopping your home. It was originally the typical orange shades that you find in a fall garland. All I did was spray paint it this creamy beige color for a little bit of a different take. The lighter color is still seasonal and matches the rest of my fall living room decor perfectly!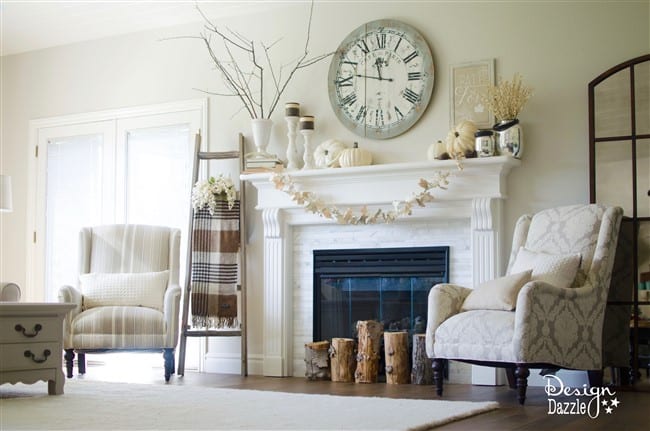 As for the branches, our neighbors had some they had put on the side of the road and were just planning on getting rid of. I made my husband stop the car so I could get out and grab some! Sometimes all you have to do is keep a creative eye out – and maybe take a pit stop on the side of the road!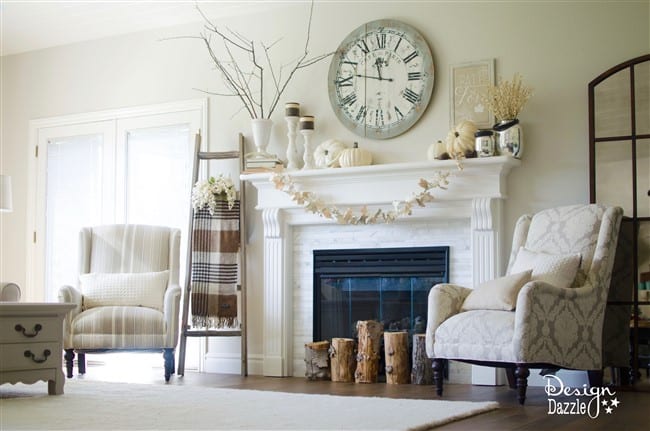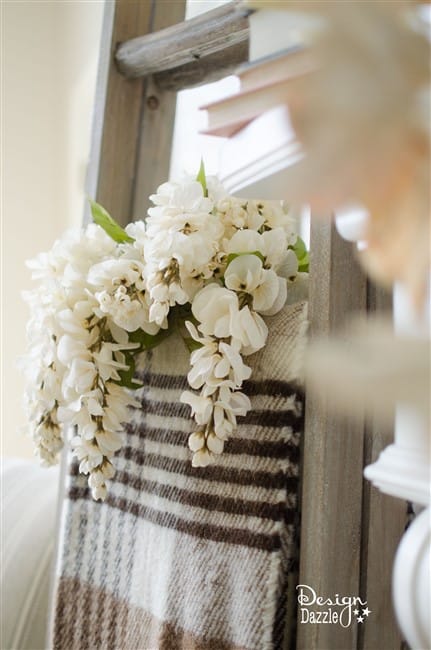 In order to go with the more beige colored theme, I turned the books around so that I could see the color and texture of the pages instead of the spines.
There were only a couple new things that I picked up for this mantel, and none of them were very expensive. The cute "Fall in Love" sign is from T.J. Maxx, and I picked up the cozy blanket from Home Goods.
The pumpkins and antlers on top of the books are from Michael's. I actually found the antlers in the floral section, attached to a stick. All I did was pull them off and they work perfectly for this adorable mantel setup!
As for the little logs, I got a call from my neighbor saying that he had rented a woodchipper. We'd had this old tree in our yard cut down, but still had to get rid of the leftovers. I saved a couple pieces, and voila! Perfect fall decor!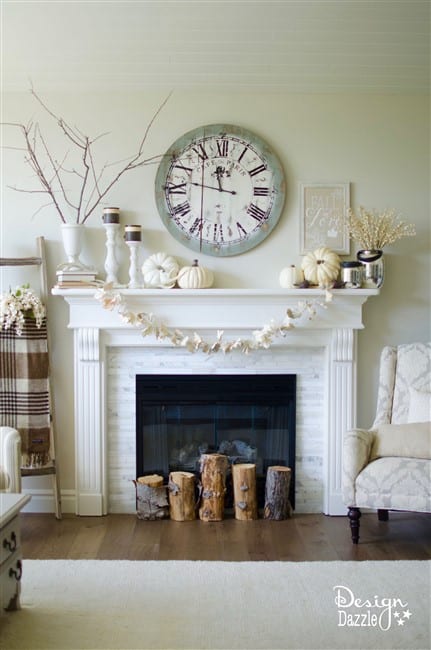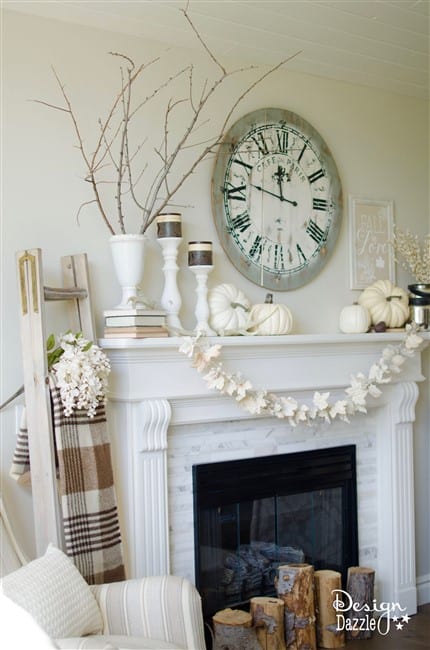 Everyone's tastes are a little different, and when you're up close and decorating it can be hard to tell what's going to look best. Here are my tips for getting the perfect look for your fall mantel:
First, set up everything. Just put everything where you think it will look great, and don't worry about all the little adjustments at first.
Next, step back a few feet and take a quick picture. I just use my phone, but you can use a camera if that works better for you.
After that, do it all over again! Switch some thing around into a different arrangement, then step back and take another picture.
Once you've done this a couple of times, you can just easily slide or click through the pictures and do a comparison. What do you like? What do you not like? Mix and match what you like, arrange it for a final time, and you've got your perfect decor! It saves a lot of time and hassle!
Check out some of my other mantle and fireplace related posts!
. . . and checkout the beautiful face-lift I gave my coffee table!


Save
Save
Title:
Easy Fall Themed Mantel
Mentions:
diy decor, fall, fall decor, fall mantel
Last Updated:
November 25, 2019