This post may contain affiliate links that, at no additional cost to you, I may earn a small commission. Read our Disclosure Policy.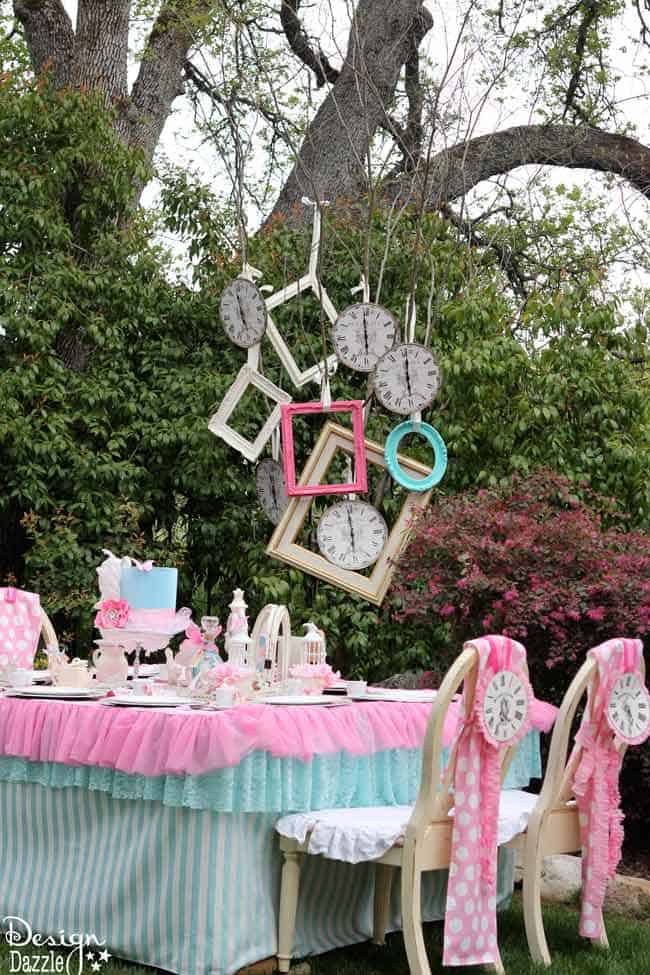 I enjoy creating and designing parties. This party was one of my favorites – Vintage Glam Alice In Wonderland Party with colorful pastel colors and lots of DIY projects and repurposing ideas. Bunco is a game where a group of my friends would get together monthly and take turns hosting a party, eating food and playing Bunco. When it was my turn to host I decided to do this theme. I knew I would be moving soon so I decided to do something a little different – pink, aqua and creams with a Alice in Wonderland feel. The pictures of the party were taken inside and didn't turn out. So I set everything up in my backyard and retook the pictures.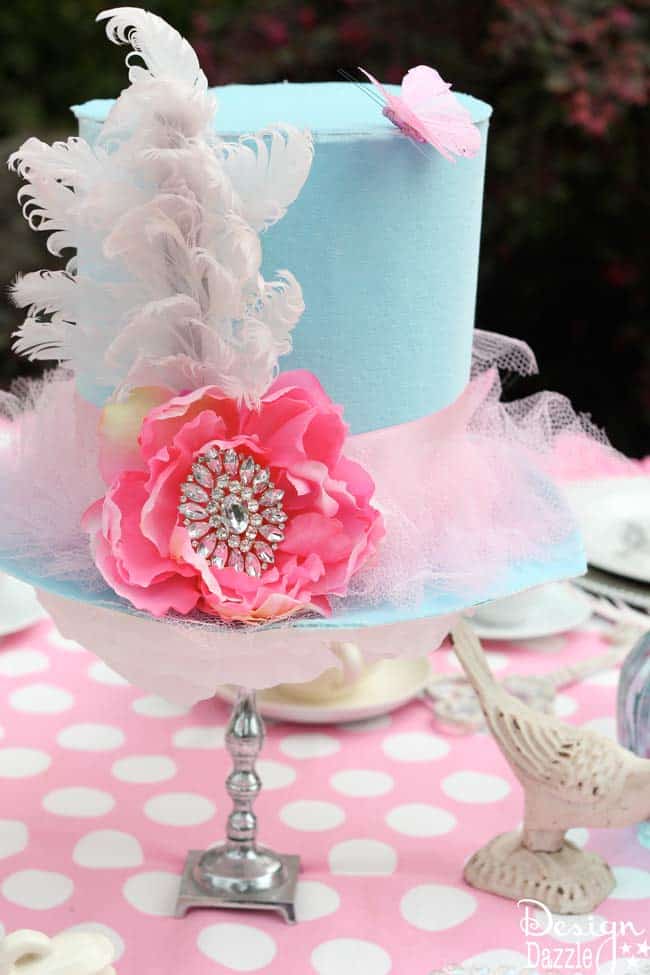 This top hat was made from poster board and fabric with a silver colored candlestick that was used for the base. Feather, a jewel and flower embellishments were added with a glue gun. Check out my post on how to make a top hat.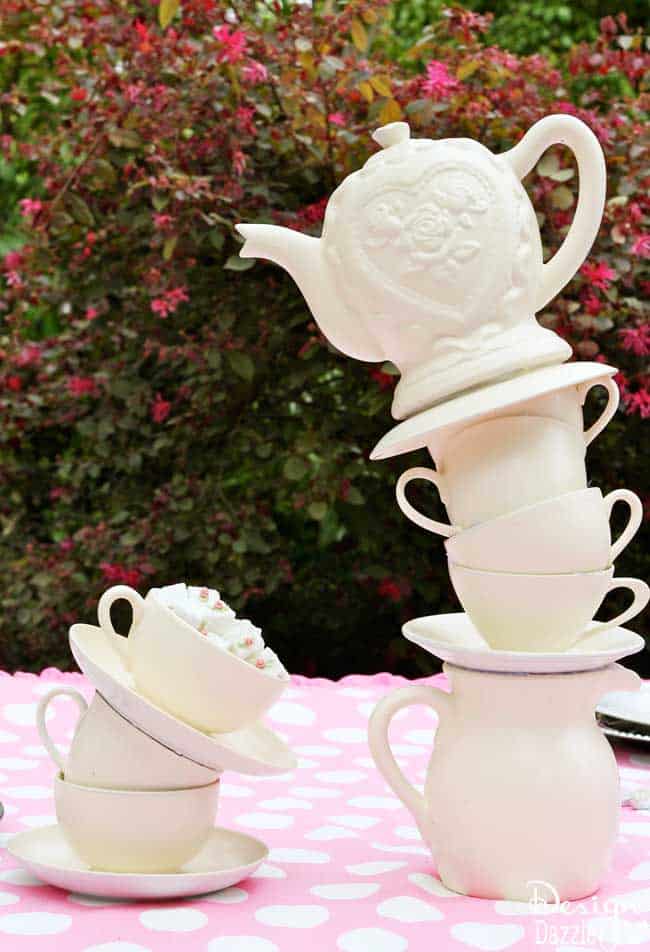 Teapots and teacups were purchased at the thrift store and spray painted an ivory color. I placed them in a topsy turvy sort of way. E6000 craft adhesive
was used to adhere the cups and teapots together.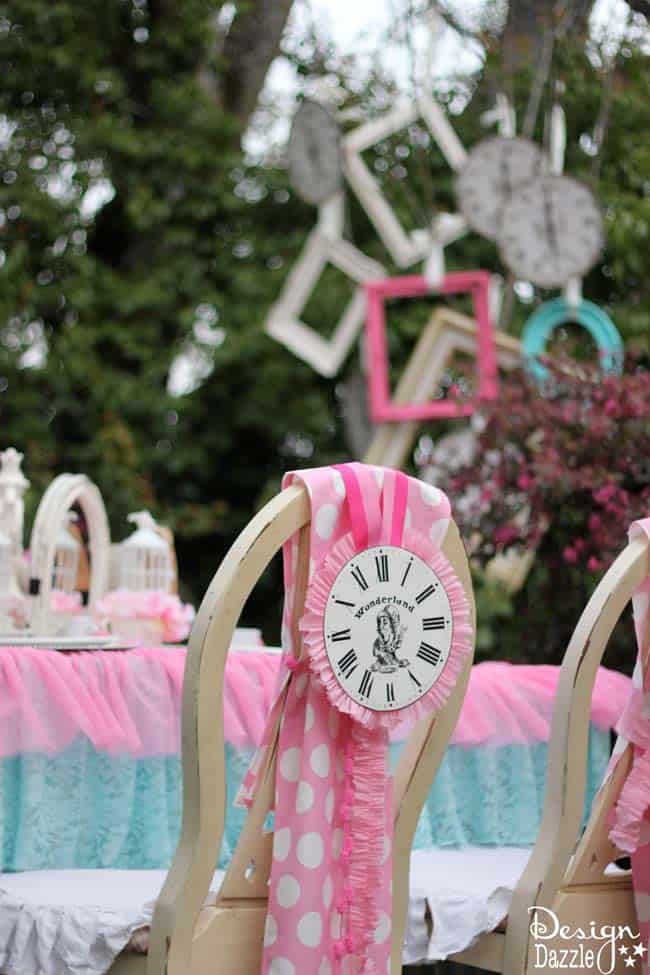 Chair ties using a clock printable and crepe paper to create a ruffle border. This was done using a glue gun. Super easy!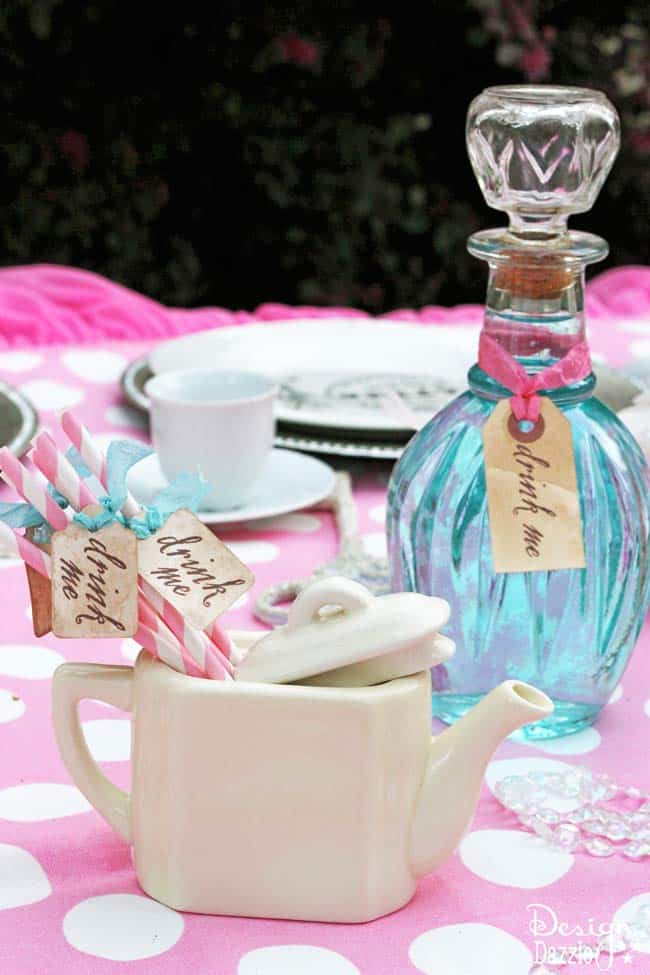 Decanters were filled with water and a bit of food coloring was added. It was the perfect touch of color to add to the table. The drink me tags were purchased off of Etsy. The gal doesn't sell anymore. But don't the tags look cute attached to the pink paper straws
.
The Mad Hatter plates turned out so awesome! I purchased white ceramic plates from the dollar store. I already had the silver chargers from other parties. The Mad Hatter decal is created using waterslide decal paper. Here's how to make a designer plate for your event using a dollar store plate!
Cupcakes were purchased at a local cupcake shop. They don't decorate cupcakes their except for the basic frosting. My daughter made all the fondant toppers. Don't you love this top hat fondant?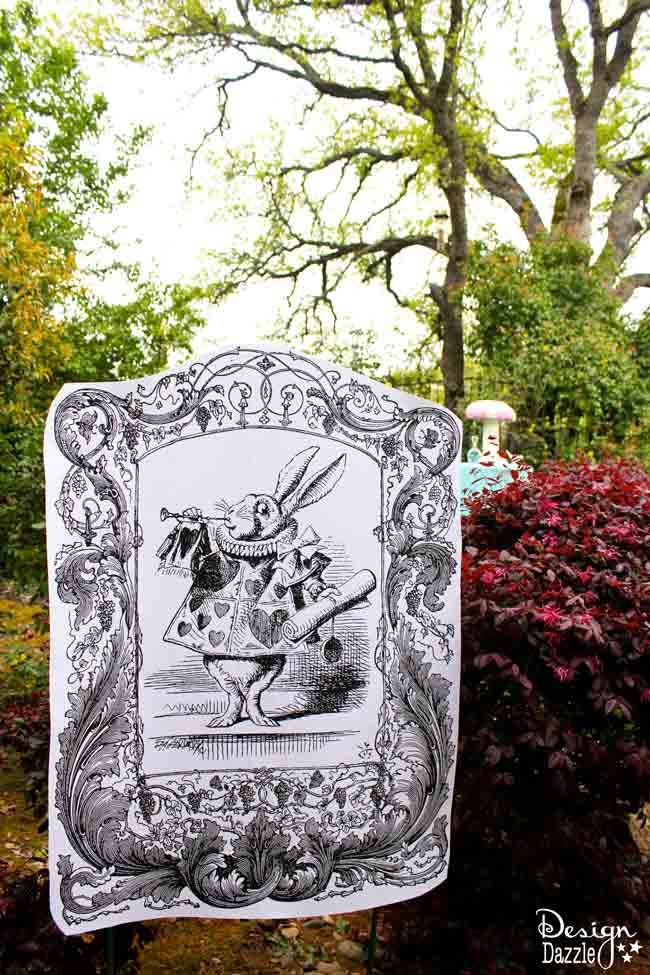 The local print shop printed these huge posters for me using their blueprint machines. Although these are black and white prints they weren't that expensive. I purchased the filed from this Etsy seller Graphique. At the time of purchase, they didn't make the file larger for me. This was their regular sized file and it worked blowing up the image this big on the printer. I'm guessing these are about 30″ wide and 40 inches tall.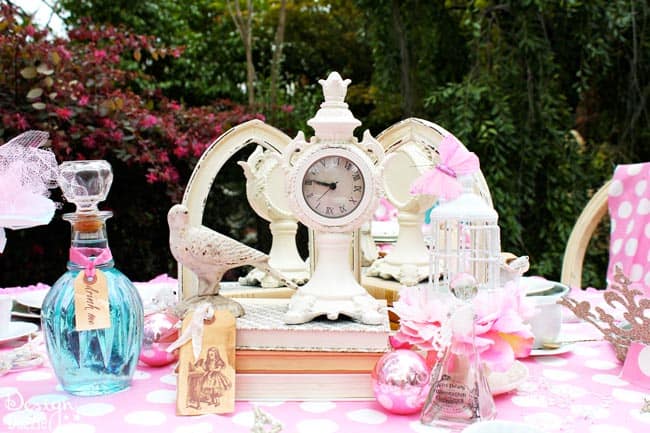 "Shop" your home for items that can work for your theme. The mirrors, birds, and books I owned. The clock came from a thrift store and I painted it cream to match the decor.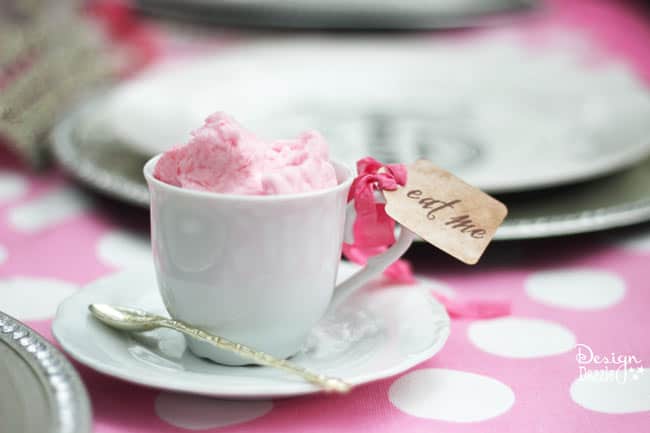 Cotton candy was placed in teacups. Just the perfect touch for an "eat me" tag. Tip: put the cotton candy out right before guests come. Otherwise the cotton candy starts to shrivel up and can get hard.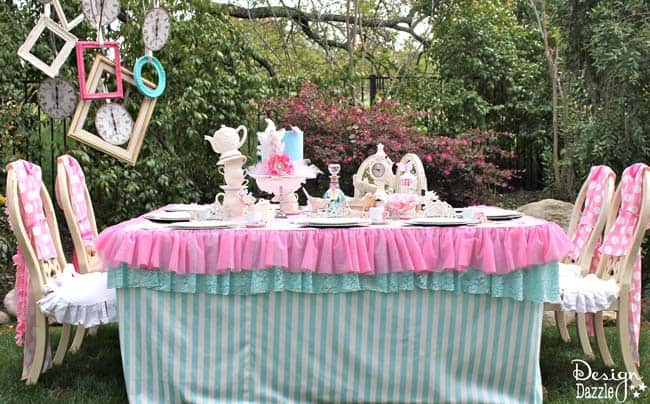 I just love the look of this Vintage Glam Wonderland Party. It was a really fun and enjoyable event!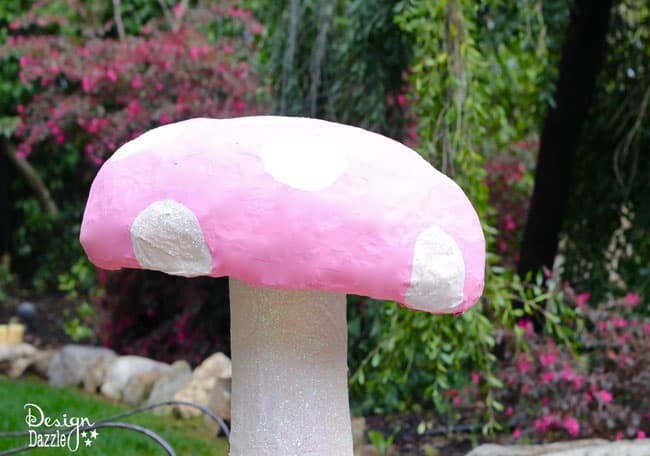 Here's how to make a giant mushroom party prop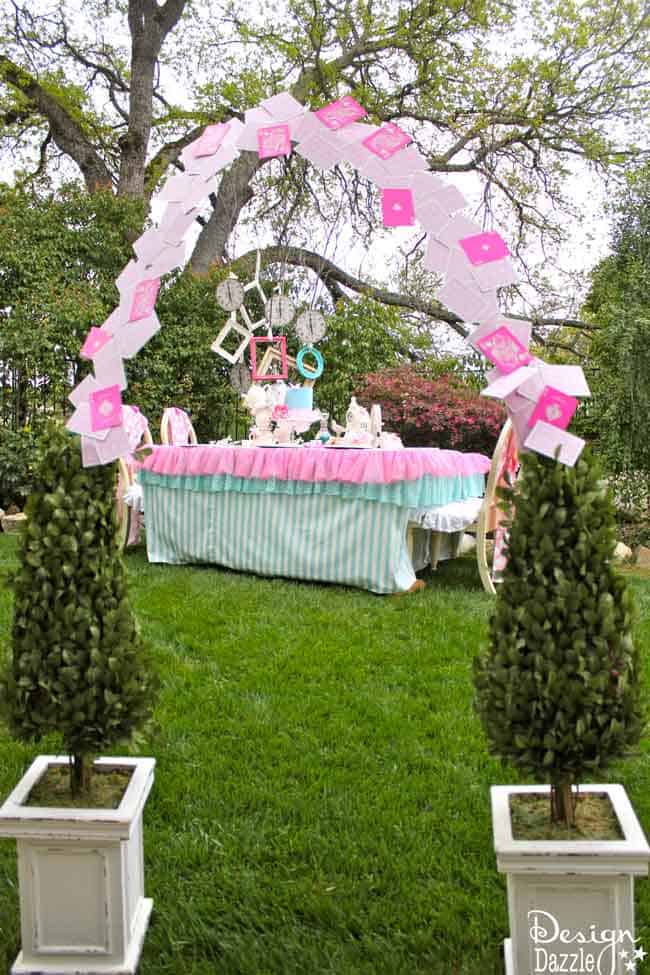 Such a fun entrance using silk topiaries (I already owned), rebar and a deck of pink playing cards.
Items to purchase for your own Vintage Glam Alice In Wonderland Party:


Save