This post may contain affiliate links that, at no additional cost to you, I may earn a small commission. Read our Disclosure Policy.
It's almost that time of the year! Independence Day is just around the corner. Here we have a super fun DIY project that is perfect for this great holiday! I took an old umbrella and re-purposed it into a fun and festive Umbrella 4th of July Door Decor that makes a great welcome door hanger. We made something very similar to this project just last spring. Check out the DIY Springtime Umbrella!
For this project, I painted an old, black umbrella I had sitting around from a Mary Poppins party I had. I loved how my umbrella spring door decor turned out, and thought that this would be a great idea for a 4th of July decoration too.
This post contains affiliate links at no additional cost to you. For further information, please see our disclosure policy.
 Materials used:
Acrylic Craft Paint of Your Choice (I used Dark Blue).
Foam Brush
Assorted Faux Flowers of Your Choice
Fourth of July Greeting Sign from Michaels (and a scrap piece of wood to support the sign
Metal Star from Michaels (I painted it red)
Two small flags (image shows one large flag – I decided to go with two small ones)
First, paint the umbrella with the dark blue craft paint and a foam brush. I added a little bit of black paint to the mix to get the shade of blue that I wanted. Once the first coat dried, I added a few more coats to conceal the paint streaks. (Make sure the umbrella sits and completely dries before you close it up).
This is the back of the sign. I used a scrap piece of wood and Gorilla Glue to glue the wood on the sign. Duct tape was placed along with a big stack of books (to weigh it down) to help hold the wood in place. This added piece was done to the sign could be placed inside the umbrella – otherwise there is no support for it.
Working with this umbrella bouquet seems to be much easier if you hang it at eye level. I hung it on a wall that had a hook. This was an easier way of working with it. You could also use your top oven's handle (if you have a double oven).
I was now ready to arrange the flowers inside the umbrella. But first you need to tie heavy twine around the middle of the "not-quite" closed umbrella. This creates a "container" with the upside down umbrella. This twine needs to be sturdy and resistant to stretching, or else it won't do its job properly of keeping the bouquet and umbrella all together. Because this is a patriotic project, I chose an array of red and white geranium flowers to go alongside the navy umbrella. I added the cute 4th of July sign and placed that inside as well.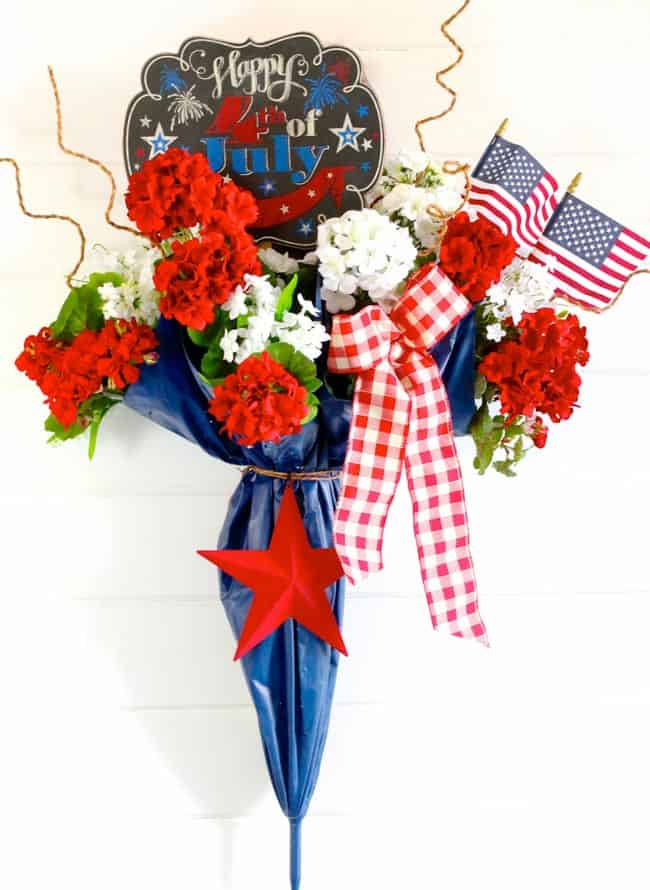 Once everything was looking good, I tied a bow of wide ribbon and added that to the arrangement. This was done by prepping a bow and tying wire around the middle of the bow to hold it in place so that it could keep its form. Then, I added it to the umbrella arrangement along with the mini flags. I had the twine floral branch "thingies" sitting around so I added those too.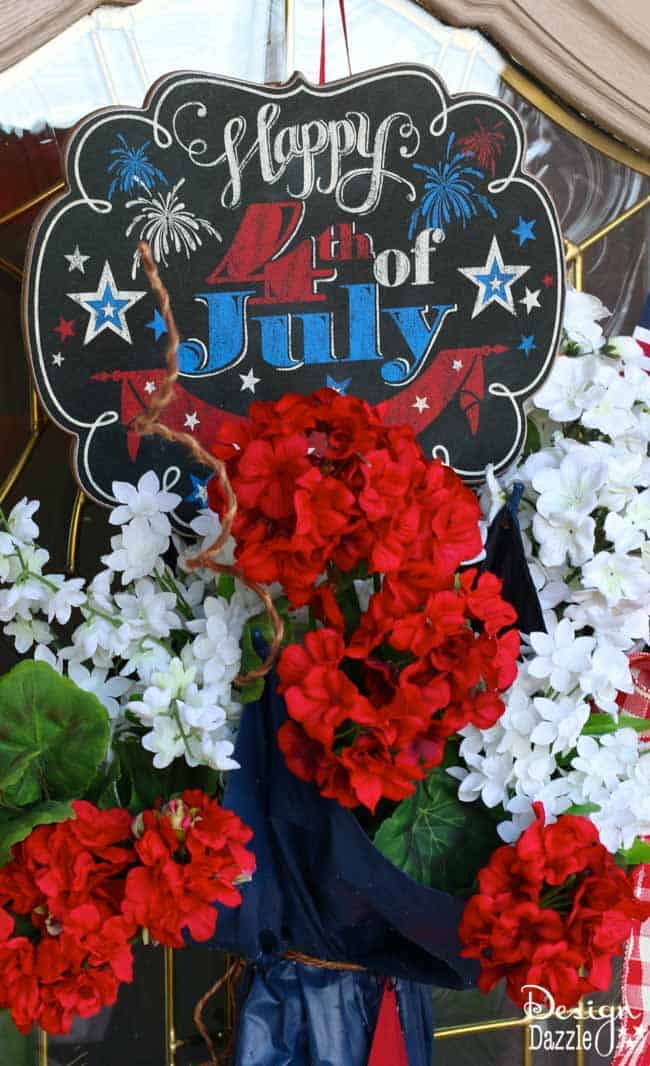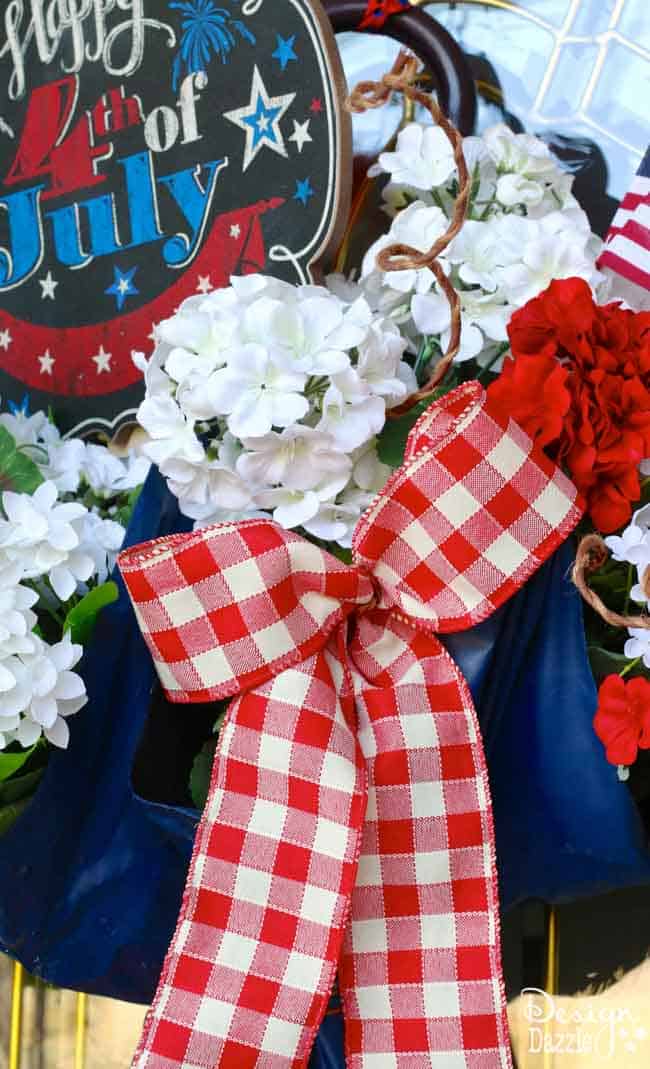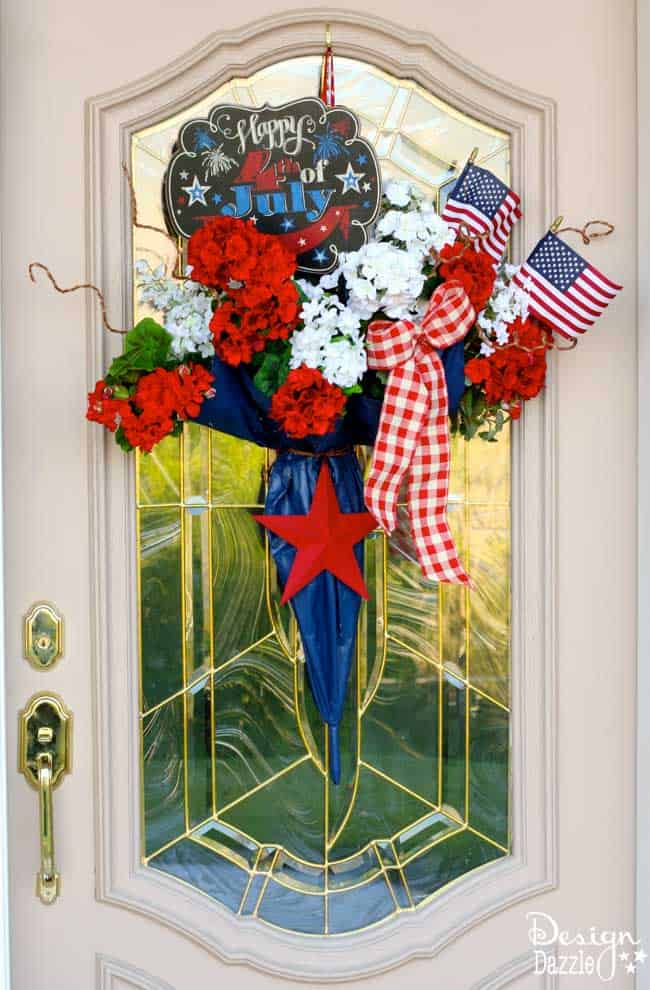 I absolutely love the umbrella door decor look. It is so cute and simple! I love that it has a different look than what most people put on their doors. Happy crafting!

Save
Save
Save
Save
Save