This post may contain affiliate links that, at no additional cost to you, I may earn a small commission. Read our Disclosure Policy.
My hubby and I will be flying to Hawaii from SLC for under TWENTY dollars. We then fly to Australia for a $189 flight in December (high season and that is a STEAL). I will be teaching about Travel Tips and how I find great deals at Pinners Conference Friday, Nov 1 and Saturday, Nov 2nd at Mountain Expo in Sandy, Utah.
I will also be teaching at Arizona's Pinner Conference Friday, Nov 8th and Saturday, Nov 9th in Scottsdale. I will be teaching 3 total classes. Two "Travel Tips" classes and one "Making Christmas Magical"
This is my 6th or 7th year of teaching at Pinners Conference. I've always taught about Making Christmas Magical which I will be teaching in Arizona. But in Utah, I'm only teaching about Travel Tips!
Utah:
I believe both Travel classes in Utah are full, but if you want to attend still try. If you show up at the class, you can usually get in : )
https://ut.pinnersconference.com/2019-Classes-and-Presenters
Discount  Utah code is TRAVEL10 and
Arizona – I still have availability at Pinners in Arizona for all 3 classes
Travel Tips: How To Travel More And Spend Less
Making Christmas Magical
https://az.pinnersconference.com/2019-Classes-and-Presenters
For Arizona use the code  DAZZLE for a discount
Would love to see my friends at Pinners!!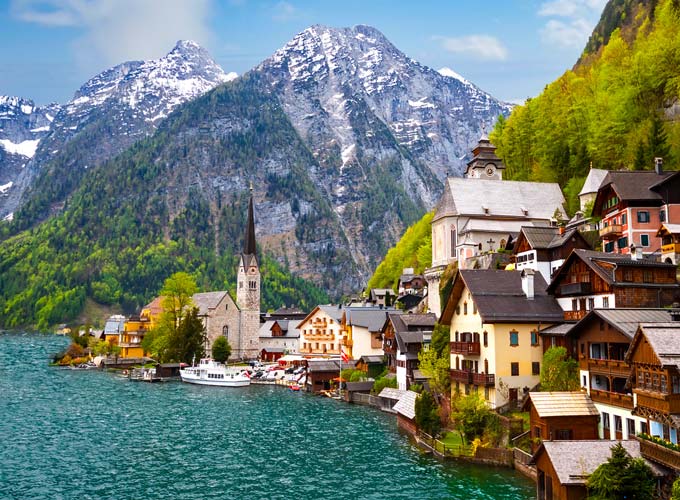 We visited this picture-perfect charming European town in Hallstatt, Austria less than 2 weeks ago. To say it was a magical day would be an understatement! We stayed in the water-front bright yellow hotel next to the church on the left. You can see our balcony in the picture. I have so many pictures of our trip! Yikes. I need mega more storage for our videos and photos.
Join our Travel LOVE Facebook group for more travel tips and deals!
Title:
Teaching About Travel Tips and Deals at Pinners Conference
Last Updated:
November 27, 2019