This post may contain affiliate links that, at no additional cost to you, I may earn a small commission. Read our Disclosure Policy.
Hello Design Dazzle fans! I'm
Mariah and when I'm not chasing around after my 3 kids I can be found at Giggles Galore, where I share my passion for party planning, crafts and of course giggles galore! I am super excited to be a camp counselor this summer on Design Dazzle and have put together a simple but fun project for you to keep your kids entertained while outdoors!
Camping, trips to the beach, hiking and simply spending countless hours outdoors are a big part of the summer for our family. There is nothing better than enjoying nature and watching your little ones learn to appreciate their beautiful surroundings.
We recently went camping and while the kids found lots of things to keep them busy and spent countless hours pretending in the woods there were moments where I heard the dreaded "We're bored."  Since we have several camping trips coming up this summer I decided I better be prepared. So the idea for the Naturally Fun Bucket came to life.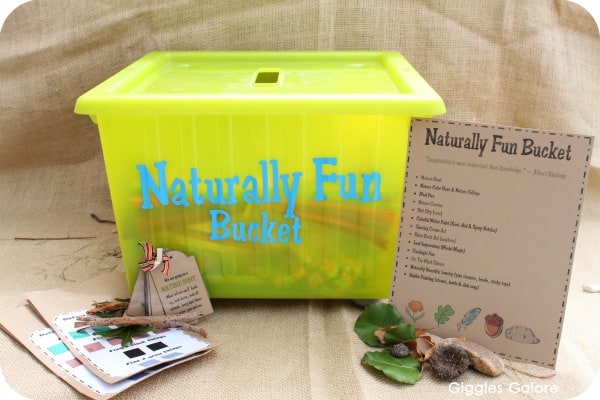 I wanted activities that would incorporate nature and encourage the kids to appreciate their beautiful surroundings. "The most effective kind of education is that a child should
play amongst lovely things." — Plato  
So I came up with a variety of activities and supplies that would encourage the kids to embrace their surroundings, learn something new and just have fun! I filled the bucket (I used one I already had) with a few supplies like glue, paint brushes, construction paper, shaving cream, food coloring, spray bottles, pie tins, bowls and cups, flashlights, paper crowns and toy cars.
Then I created a list of ideas and activities that kids could easily do in the great outdoors. For example the markers could be used to make rock art and brown paper sacks can be used for a nature color hunt. The treasures they find on their hunt could be used later to create nature collages.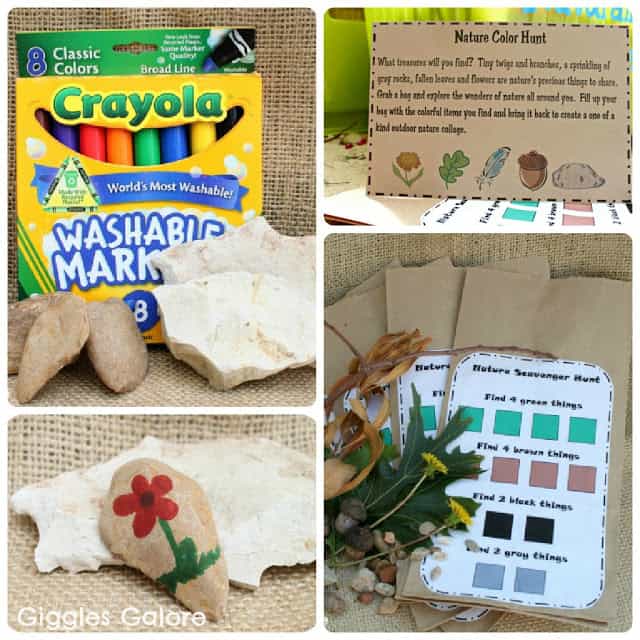 Pie tins could be used to make tasty mud pies
Or we could go on a Nature Scavenger Hunt with the nature cards.
Or they can gather leaves, flowers, sticks and acorns and make nature crowns. I included old paper party crowns for them to glue their nature finds on.
This Naturally Fun Bucket is sure to provide hours of fun and encourage kids to use their imaginations while spending time outdoors. "Imagination is more
important than knowledge." — Albert Einstein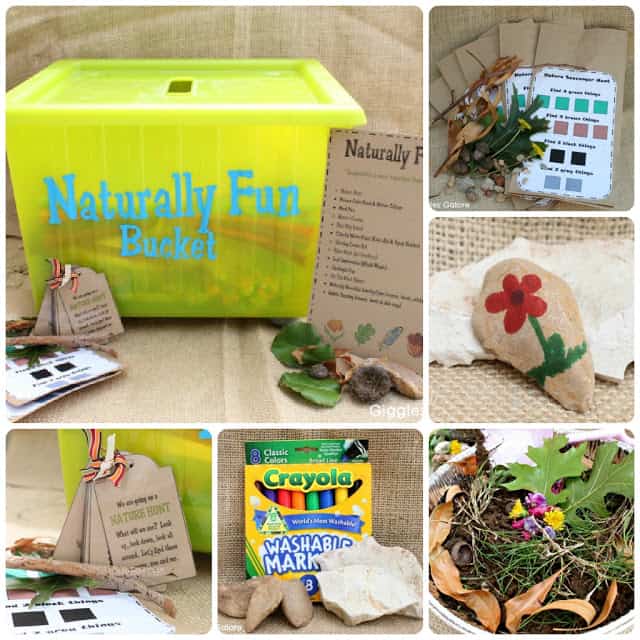 I created several files for this project, which I'm giving away as a free download. Click here to follow me on Facebook and download the free files and make your own Naturally Fun Bucket!

Title:
Summer Camp: Naturally Fun Bucket
Mentions:
naturally fun bucket, nature activities for kids, nature fun for kids, summer camp, summer camp activities for kids
Last Updated:
August 31, 2020