This post may contain affiliate links that, at no additional cost to you, I may earn a small commission. Read our Disclosure Policy.
Hello Design Dazzle readers!
Are you ready for a NEW craft? Well here it is – String Art! I think most of us can say the below String Art pattern is something we don't have anything like. I just love all things unique!
My mom is one of my very favorite people and rightly so. One of my favorite things she does to help make "Christmas Wonderful" is collect and make unique decorations that she hopes all us kids can be excited to get when she passes on. This stems from her mother (who died while my mom was only 8). She used to make Christmas so magical just by having unique things. My mom specifically remembers a trio of red feathered angels that sat on top of the piano. These angels were so special to her and such a major part of her Christmas memories as a child. My baby sister was actually able to find these same angels on eBay last year and we gave them to her for Christmas. This is what makes Christmas Wonderful to me.
This actually sparked my creative process when I started working with string art. I wanted to make things unique. I wanted conversation starters and pieces that meant something more. Pieces that almost seemed to hold magic themselves. Hopefully I can help you do the same. I just think string art has a magic about it that captures and holds your eye. Maybe it's because 3 dimensional. Maybe because of the mixture and balance of the wood, metal, and string. I am not 100% sure but it does hold some sort of magic for your eyes.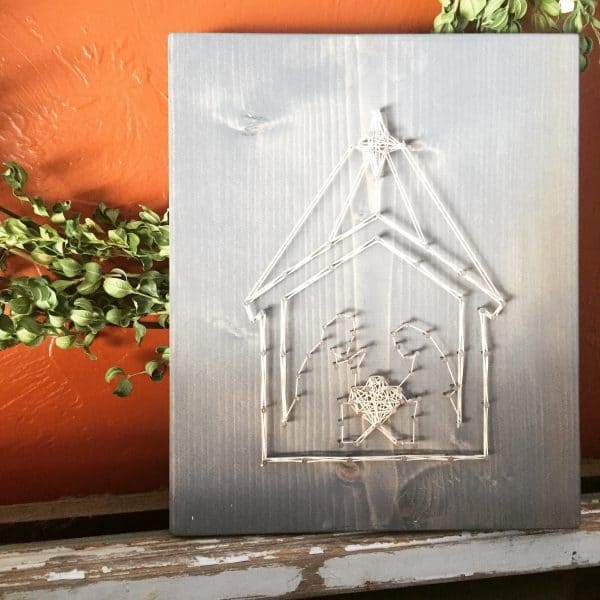 So without any further delay today I am beyond excited to share something fresh out of the shop with you! Many of you, Toni included, love all things DIY so, I have created something especially for you.
Can we get a WOOHOO for – Free pintables!
This string art pattern is simple enough youth can do it
(with some adult supervision of course ;D ).
---
This project would be super fun as a girls craft day. I have to say, our holiday girls craft days are some of my favorite holiday memories. A tradition I look forward to with anticipation. There is just something about "making and crafting" that brings us closer together and gives us tons of laughs!
This project on its own should take about 1 hour.
If it's for a craft day with your loved ones or close friends probably double or triple that 😉
(lot's of chatting and snacking should ensue.)
Also I appreciate and understand all you who are not "super diy". I have relatives the same way, and I know they would be able to knock this project out! I have included every single step so this is SUPER SIMPLE!
More pictures plus oodles of instructions are included in the free downloadable sheets!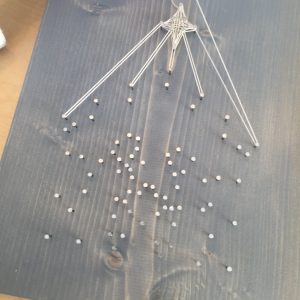 Please enjoy your free download links below and make sure to share your work with us!
I would love to see your finished pieces on Instagram or Facebook!
Just tag @everystringattached
I hope this little project will add to the magic and simple joys Christmas brings in your home for years to come!
Merry Christmas to all, and to all happy stringing.
             Love,
                 Cassidie with Every String Attached
---
Get to know your maker-
Toni and I met at a wonderful womens retreat this last fall and I feel in love with her spirit. Toni shares such a wonderful message and I am beyond grateful to know her. Thanks so much for this fabulous opportunity to share Toni!
For a quick intro I am Cassidie, I have three little ones of my own and I love being their mommy! I also have a pretty handsome husband I enjoy too. I am the face and hands behind my art business – Every String Attached.
I specialize in string art!
Just by following me on Instagram you get 10% off anything in my etsy shop!
Below are some pictures of my work! Click on the pictures for a direct link to them.
Title:
String Art Nativity DIY from Every String Attached
Mentions:
christmas wonderful, DIY String Art Pattern, Nativity String Art, String Art
Last Updated:
February 16, 2018