This post may contain affiliate links that, at no additional cost to you, I may earn a small commission. Read our Disclosure Policy.
Santa has never left wrapped Christmas gifts in our home. Santa Sacks have been a tradition in my family for decades. What are Santa Sacks? They are reusable fabric drawstring gift sacks that are larger in size than a pillowcase. On Christmas Eve our kids leave their very own empty Santa Sack at the end of their sleeping bag (we sleep as a family next to our tree in the family room). Some families leave the sacks under the tree or beside their bed. Santa leaves gifts in the Santa Sacks (instead of under the tree) to be opened on Christmas morning. We do wrap our family and friends gifts for under the tree. By the way, we still hang stockings from the mantel.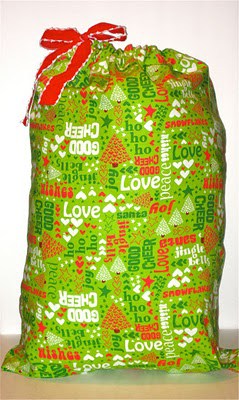 My family is Australian (I'm half Aussie). I've grown up with Santa Sacks and so have my children. This is a Christmas tradition in Australia and in other parts of the world. I'm not sure of the origins – but I was told that back in the day (decades ago) Christmas trees were expensive (they still are). So for the families that didn't have a Christmas tree – the kids would leave their pillowcases at the end of their bed so Santa would know where to leave the gifts on Christmas Eve. The BRILLIANT idea behind these sacks…there's no wrapping of Santa gifts!! Now I know every family does it different – some leave unwrapped gifts under the tree and some wrap each gift from Santa. Maybe this will be a new tradition for your family??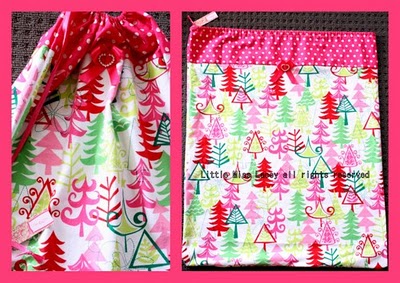 Here's how I simplify Christmas…
Throughout the month of December – I place all of the gifts that will be from Santa into 3 separate trash bags (one for each of my children). I write their name on the trash bag and hide the bags in a special spot. On Christmas Eve after the kids are asleep, I empty the contents from each child's trash bag and place it into the Santa Sack i.e. the contents of Cole's trash bag goes into Cole's Santa Sack (this way it is all organized and ready to go). Who wants to spend extra time on Christmas Eve getting everything figured out and organized?? Not me! Image from
here
.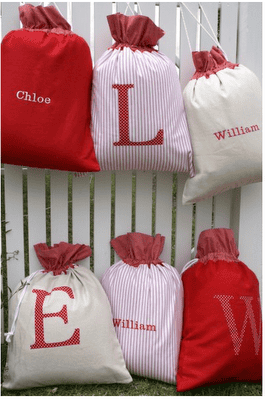 Santa Sack image from
here.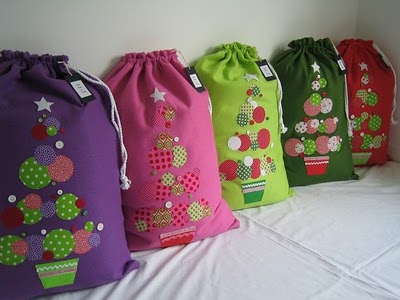 Why I LOVE Santa Sacks…
1. Have you ever found yourself staying up late at night on Christmas Eve wrapping gifts? Well, not with Santa Sacks – place Santa's gifts in the sack and voila all done!! It takes me all of 5 minutes. There is no wrapping of Santa gifts – none, nada, not one bit! Santa Sacks leave a lot less mess to clean-up Christmas morning!
2. Eco friendly. We've reused our Santa Sacks for years. Such a perfect way to prevent waste of money and gift wrap.
3. Do you have odd sized gifts? Those can be so difficult to wrap! Santa Sacks make it easy : ) Our Santa Sack measures 21″ x 32″
4. Each child takes turns "opening" their Santa Sack and pulling out one gift at a time. Since it is a drawstring sack you don't see all the gifts at once.
5. My children LOVE their Santa Sacks. They talk about how they will carry on this tradition when they have kids. My mom made their Santa Sacks for them when they were little – so they are very special to them.
Ideas on how to introduce the Santa Sack to your family:
Leave a package on your doorstep (from Santa's elves) with the Santa Sacks and a note inside. Explain on the note that these are special Santa Sacks from the North Pole and for the kids to leave them at the end of their bed (or under the tree) on Christmas Eve. On Christmas Eve Santa will deliver all their toys and leave them inside their very own Santa Sack. This will make the elves job easier since they are so busy making toys – there's no time for wrapping gifts this year! Besides Santa and his elves would like to encourage us to reduce gift wrap waste : )
Instructions to sew your own simple Santa Sack. I would definitely add a drawstring or drawstring with elastic. I highly encourage Mom or Grandma to make these Santa Sacks. It will be a wonderful family treasure for many, many years.
Update: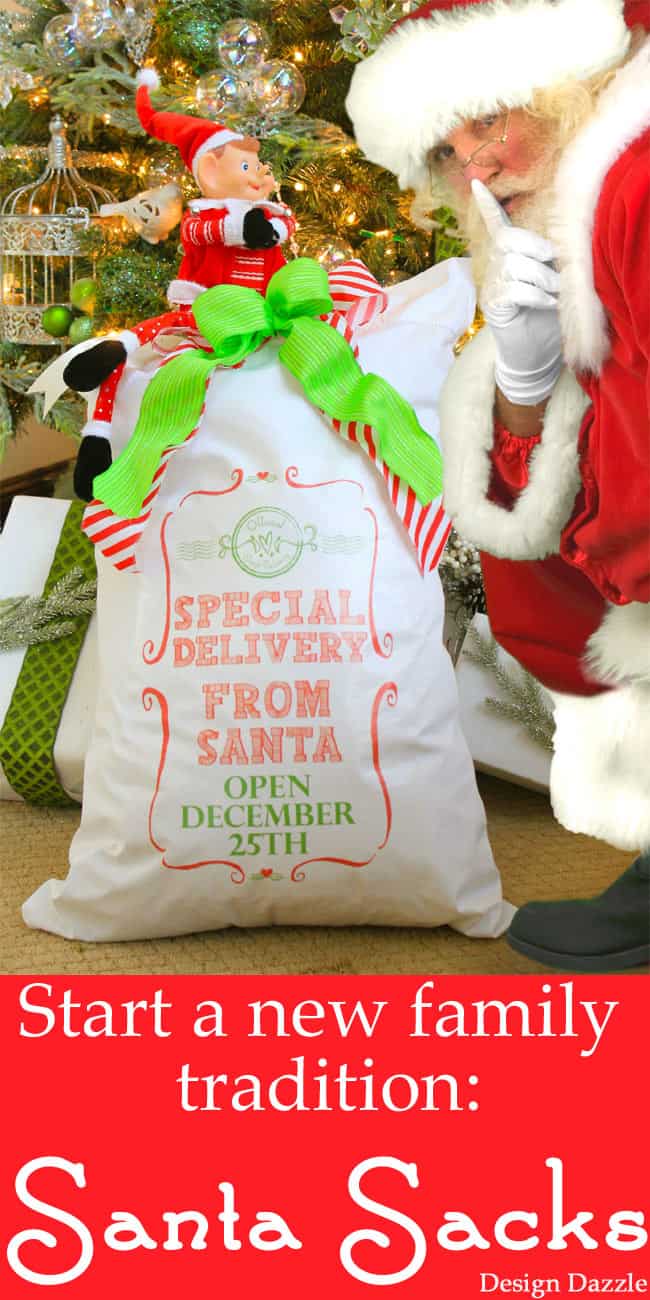 Check out our Santa Sack printable to use as an iron-on decal for a pillowcase. Super cute and easy!
Make sure the Santa Sack is large enough for what you need. Here are a few S.S. for those who don't want to make their own…
Polka Dot Santa Bag
Santa Sack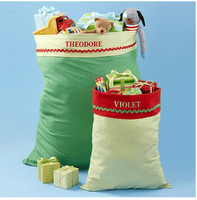 Christmas Santa Sack
Santa's Bag
Velvet Toy Bag
I would love to know how your family does Santa presents. Please leave a comment on what works for your family. Who knows maybe you'll want to give Santa Sacks a try…
Save