This post may contain affiliate links that, at no additional cost to you, I may earn a small commission. Read our Disclosure Policy.

IKEA has some really fun products! And lots of amazing furniture that is perfect "as is" for your home or maybe you want to try a hack on a piece of their furniture!?! I was contacted a few weeks back to be part of a Rast Hack challenge sponsored by Hickory Hardware and PPG Voice of Color. The challenge?: Do pretty much anything I wanted to to the Rast dresser. So I thought about what I needed and decided to create a Rast Hack Ribbon Organizer. I need a place to store my rolls and rolls or ribbon. I didn't want to just throw them in the drawer. I NEEDED the rolls to be on a dowel so I can keep them better organized.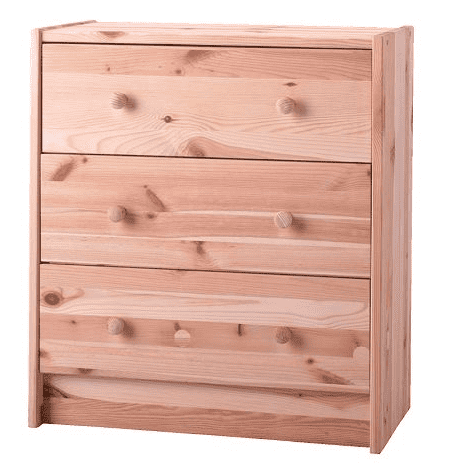 The Rast dresser in all it's glory (which isn't much ; )) is made of all wood and is only $34.99 Dimensions are 24.5 inches wide x 27.5 inches tall. So it's a pretty small little bugger. This Rast dresser was shipped to me unassembled. Not very big on design, is it?? The hardware was used from Hickory Hardware and paints from PPG The Voice of Color .
I assembled, painted, added industrial caster wheels, beautiful hardware, some dowel rods and rubber chair tips to get: A Rast Hack Ribbon Organizer!
So the outside of the dresser looks pretty much the same except for of course, the paint and new hardware. But inside is where the magic happens: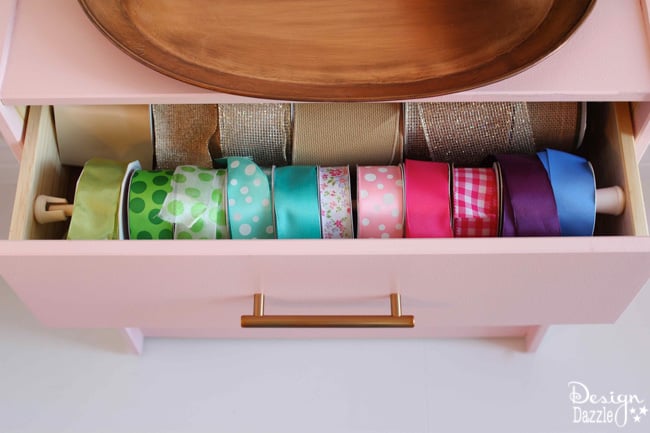 Here are the steps on how I turned this RAST dresser into a ribbon organizer moveable (on wheels).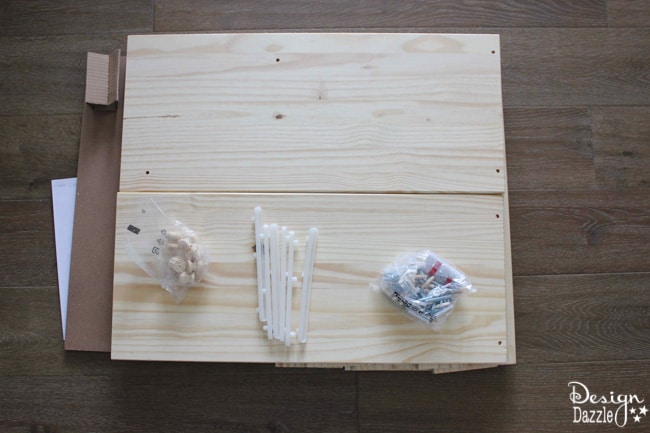 It's pretty simple to put together. All the pieces come in a box and everything is cut and pre-drilled. Assemble the dresser.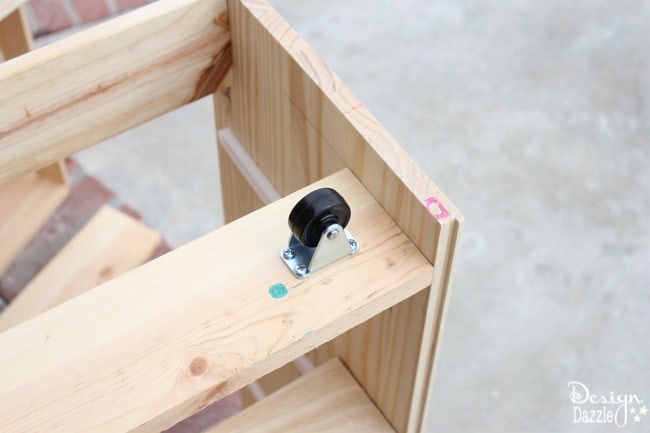 There is a reason why I keep a small pile of scrap wood in the garage. This is one of them! Turn the dresser upside down and add TWO pieces of scrap wood the width of the dresser. The wood screws were screwed in from the outside of the dresser. Two screws per each end of the wood. Four industrial caster wheels were added to each corner. The reason the wheels can't be seen on the outside – I wanted to make the ribbon organizer short enough to roll under my craft room office table. This way it can be easily accessed while crafting but yet out of the way. So I needed to make sure it wasn't too tall.
Next up – the rubber chair tips. The rubber chair tips are found in the hardware section of your local hardware store. Four total for each drawer was installed. The rubber tips hold the dowel rod.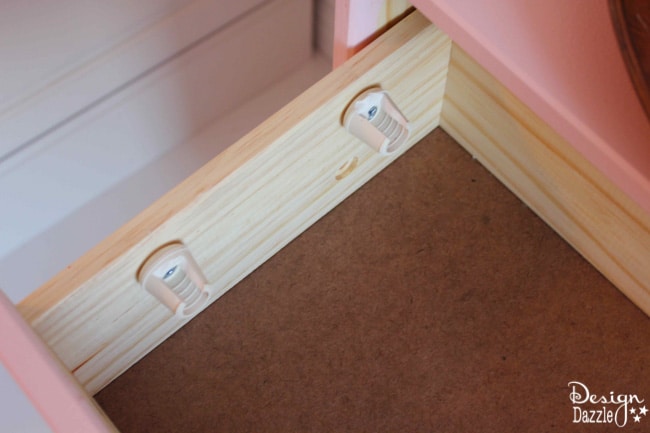 Two of the rubber tips were cut at the top with scissors so the dowel can easily be installed. These tips were screwed in with wood screws from the inside of the drawer.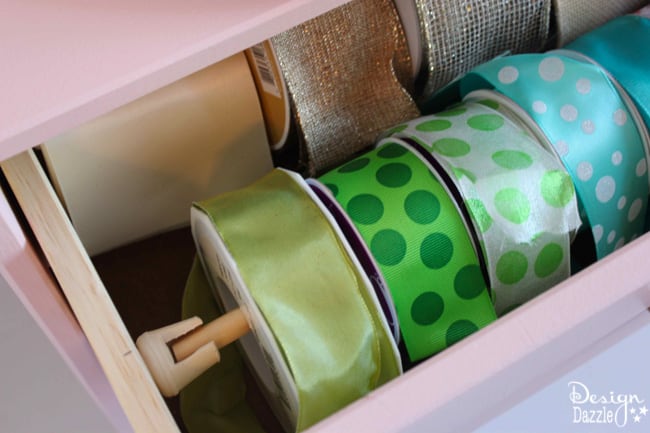 Here is a close-up of the wood dowel installed in the rubber chair tip. Just cut a wood dowel the length needed to fit easily inside the chair tip.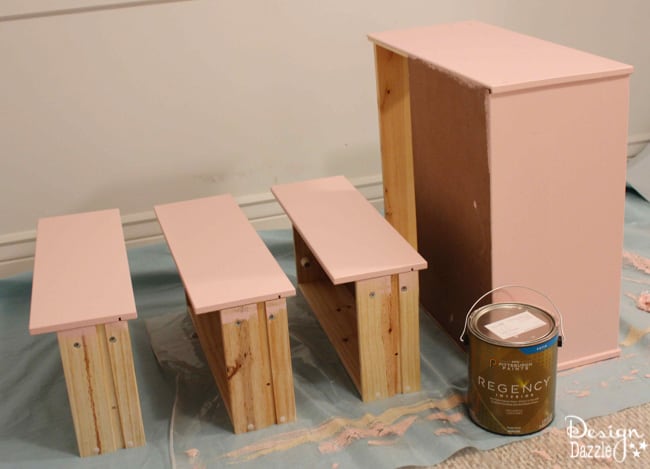 The Regency® Paint + Primer in One Interior Latex Paint is what was used to paint the dresser. Paint and primer in one – needs no priming beforehand! Always love a paint that requires NO priming beforehand. The paint went on really smooth and took two coats to cover well. One quart would work in painting this dresser. I purchased a gallon because I have future plans for more of this paint. Do you love this color?? I do!! It's called blushing Senorita PPG1186-2.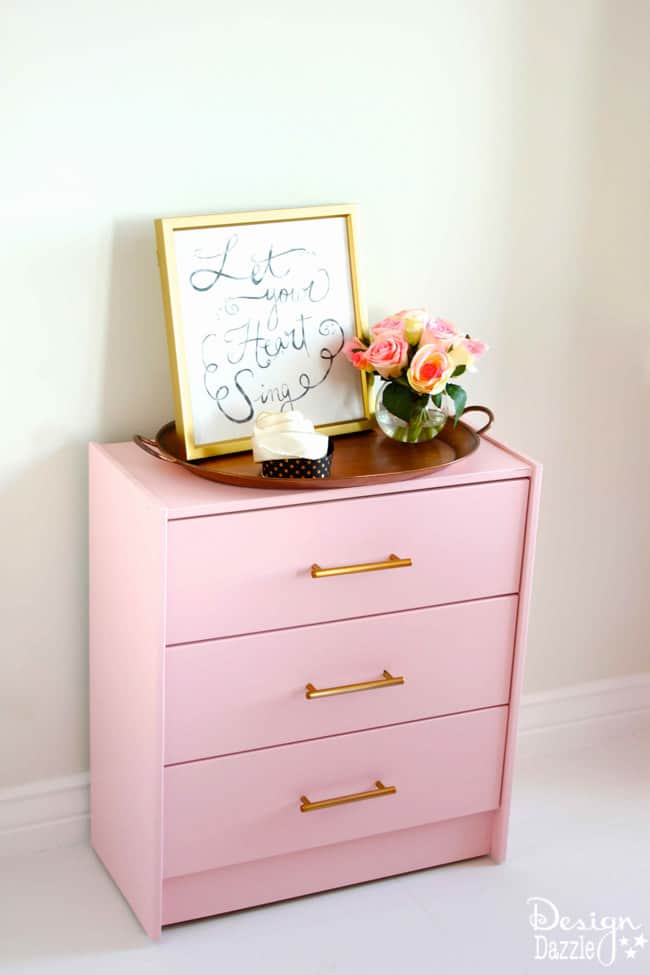 Look how beautiful the rose gold colored hardware looks with this dresser and paint color?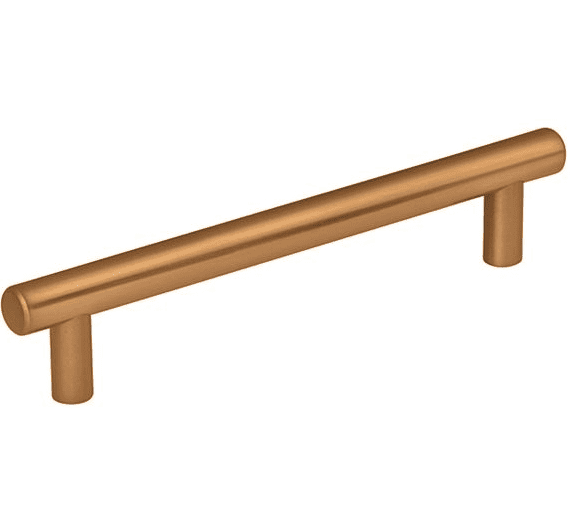 The hardware is from Hickory Hardware.I ordered the 128mm Metropolis Satin Rose Gold Cabinet Pull item # PA0225-SRG.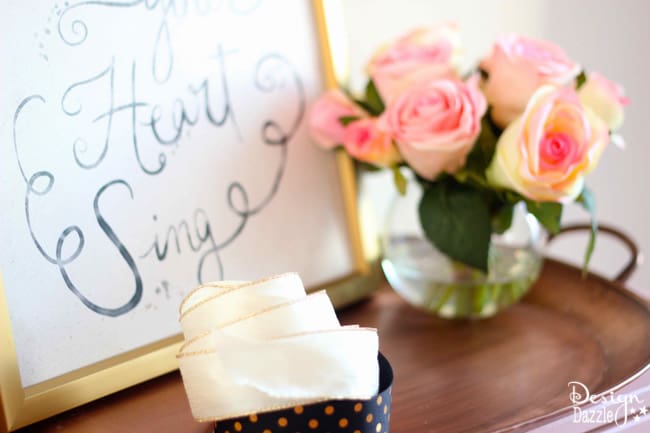 Now, why do I have an extra handle on the side of the organizer? Because I will eventually place the ribbon organizer under my craft table. This will be an easy way to pull it out with the handle (and since it's on casters).
Thank you Hickory Hardware and PPG Voice of Color for sponsoring this post and giving me this fun opportunity.


Save