This post may contain affiliate links that, at no additional cost to you, I may earn a small commission. Read our Disclosure Policy.
It's my favorite time of the year! I'm sharing my Christmas tree for the Dream Tree Challenge from Michaels. This year I was assigned the Shimmer & Shine Collection. And guess what? I'm pretty sure it's my favorite tree so far! I've been a Michaels Maker for a few years and have been doing the Christmas tree decorating for Michaels since the beginning of their Dream Tree Challenge- so this is my 7th tree. The pink florals and gold metallics Christmas tree is so pretty. It's magical, romantic, has lots of shimmer and shine and is stunning!! Gold metallic Christmas tree is a classic style.
The tree I used was the 9ft. Pre-Lit Quick Set™ Slim Willow Pine Artificial Christmas Tree. As the tree name states, it is pre-lit and a quick set. So very easy to set up. In just a few minutes, you have a tree that is ready to decorate. How awesome is that? I ONLY use pre-lit trees but I do add extra lights. I just like LOTS of lights. Over the years I've used 7 different Michaels trees and have never had any problems with them. I love them!! My shabby chic white, tan with a touch of pink tree is from 7 years ago and it still works great.
I decorated around the bottom of the tree and also decked out the floral metallic Christmas tree with lots of:
ribbon – 3 different styles (gold, ivory/gold and linen)
rose gold balls on stems
pink rose floral spray
twigs and greenery
Michaels holiday décor collections make it easy to find your holiday style and bring your vision to life! From the perfect tree and trimmings to creative gifts and DIY supplies, Michaels has all the ingredients to create wonder-filled memories for family and friends. Shop the whole Shimmer & Shine collection here!
Part of the Shimmer and Shine collection is the gold balls and the glitter snowballs. I added a few snowballs to the gold lantern (with some rose petals) for a pretty touch under the tree. Gold shimmery florals and a pink rose were hot glued onto the lantern.
Michaels has a great selection of Christmas signs – in various styles. These two signs are from the Shimmer & Shine collection. I've had several friends tell me they've found some awesome Christmas finds at Michaels!
How do you like the tree topper? I have a tutorial I will be sharing soon. It's a step-by-step on how to create the tree topper.
Birds and bird nests from the Shimmer & Shine collection are the details that work perfectly for this floral Christmas tree.
White and kraft paper are my go-to for wrapping paper. I add ribbon to the gift packages that match my Christmas tree. I really love how it looks. You can purchase white and brown kraft paper on rolls at Micheals. I occasionally will add a print gift wrap but really like this look.
I try to have a mirror near my Christmas tree display. Doubling the lights reflected in the mirror makes it a bit more pretty and magical!
Rose gold balls were found in the floral section on stems. Very quick to add sparkle and place in the tree for an elegant affect.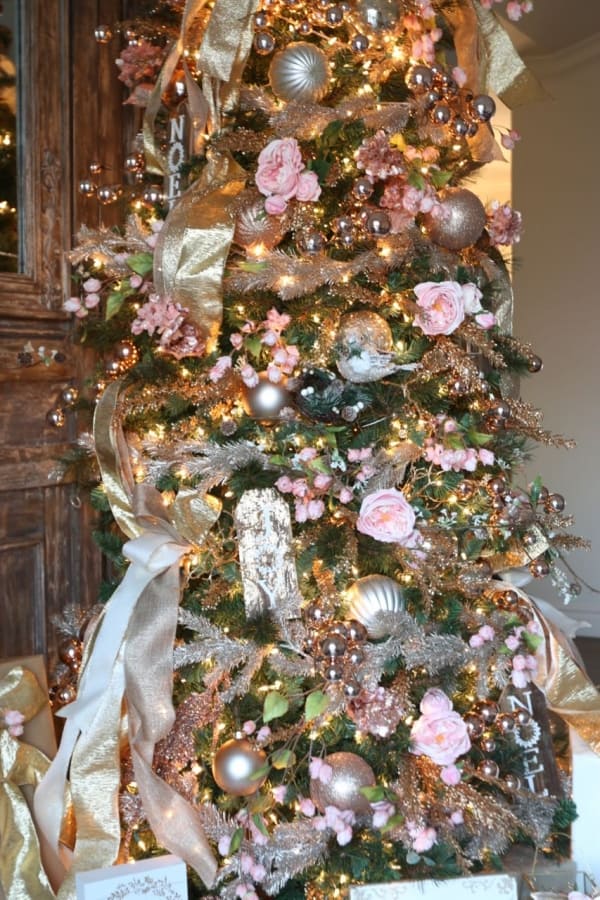 Thank you for stopping by for a visit. How do you like the Pink Floral And Gold Metallic Christmas Tree? Leave me a comment with how you will be decorating for Christmas this year?
A huge thank you to Michaels for sponsoring this Dream Tree of mine. All opinions are my own.
It really is a dream tree for me!