This post may contain affiliate links that, at no additional cost to you, I may earn a small commission. Read our Disclosure Policy.
Pumpkins are a no-brainer for fun carving activities and/or fall-inspired front porch decor, and delicious homemade pumpkin pie. I really enjoy pumpkin flavored food. The name "pumpkin" comes from the German word "pepon," meaning "large melon." With that in mind, here are some delicious pumpkin pasta recipes to try this fall!
20 Minute Pumpkin Spinach Pasta by The Oregon Dietician
You only need 20 minutes to whip up a batch of this delicious and healthy pumpkin spinach pasta! This is a great busy night meal.
Pumpkin Bacon Pasta by The Healthy Epicurean
Pumpkin and bacon are the perfect flavor combination for this pasta. It might become a new fall favorite.
Pumpkin and Ricotta Stuffed Shells by It's Not Complicated
Pumpkin and ricotta are nothing short of a dreamy combo to stuff into shells. You are sure to love this dish.
The Best Vegan Pumpkin Pasta by The Banana Diaries
This vegan pumpkin pasta is a great fall meal to share with friends. Everyone will want seconds!
Zucchini Pumpkin Sage Alfredo by Vegan Vigilante
Sage and zucchini are such great flavors to introduce to pumpkin in this pasta dish. I think these flavors will have a beautiful friendship in the kitchen going forward.
Fusilli with Pumpkin and Sausage by Christina's Cucina
This is such a hearty fall dinner idea. Everyone will love filling up on this dish.
Spinach and Pumpkin Pasta by My Chef's Apron
Overall Spinach pasta is always nice but adding pumpkin to the mix takes it over the top!
Baked Pumpkin and Sage Mac and Cheese by Frolic and Fare
This mac n cheese is baked to a cheesy, pumpkin-y level of perfection.
Spicy Thai Pumpkin Ramen by The Forked Spoon
This dish takes ramen noodles to a great new place. This dish is spicy, savory, and will be a favorite going forward!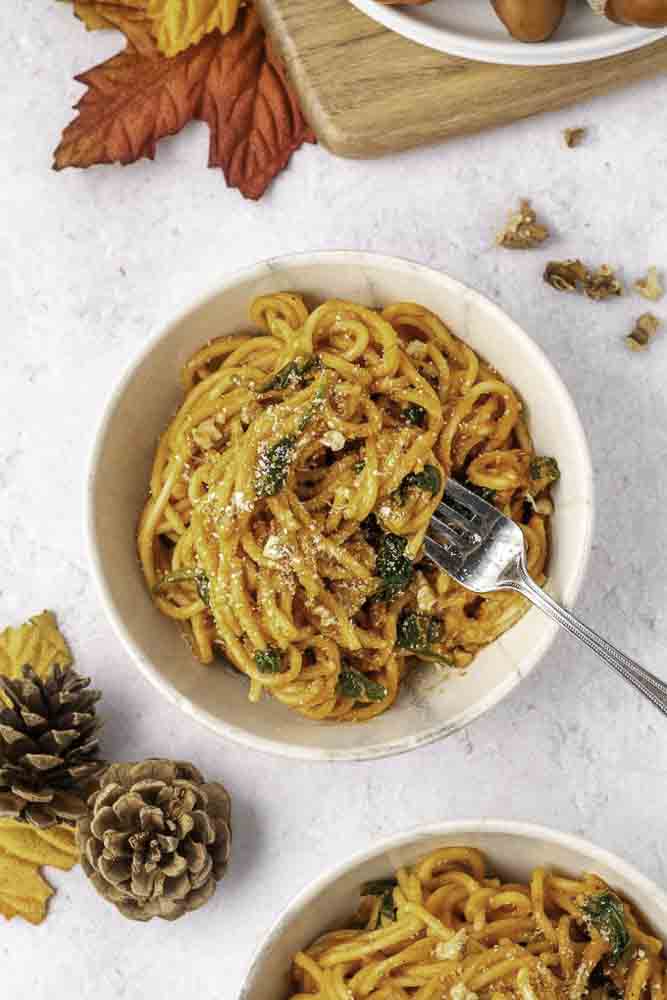 Pumpkin Pasta Sauce by Liv Gluten Free
This recipe makes pumpkin into an unforgettable pasta sauce. You are going to want to make this several times this fall!
Pumpkin and Ricotta Stuffed Manicotti by Sense and Edibility
Manicotti gets a fall flavor fix with the addition of pumpkin. You are going to want a second helping of this dish!
Vegan Pumpkin Alfredo by Through the Fibro Blog
Alfredo gets a seasonal upgrade in this dish. Adding pumpkin is pure perfection!
Pumpkin Kale Mac and Cheese by Wallflower Kitchen
Can we start by saying, Mac n cheese is always a comfort food. Adding kale and pumpkin to the mix makes it healthier and heartier for sure.
Cheese Tortellini with Pumpkin Gorgonzola Sauce by Life's Currents
This is such a sophisticated dinner idea. Cheese, pasta, pumpkin and gorgonzola will have you making room in your heart for a few favorite at home date night dish.
Pumpkin Ravioli with Browned Butter Sauce by What a Girl Eats
I love everything about this dish. From the perfect ravioli to the decadent brown butter sauce!
Which one are you going to try first?