This post may contain affiliate links that, at no additional cost to you, I may earn a small commission. Read our Disclosure Policy.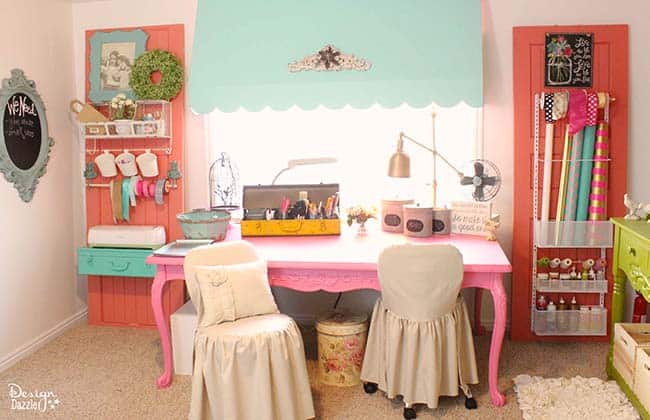 For this month's Michael's Makers project, they asked to take a peek into my craft room and to share a project I've been wanting to make. I think this is a great way to start off the new year! I also share a few must-have ideas of my craft room. I have moved a few times in the past few years, and sometimes my craft room is the last to get organized with moving (5 times in 8  years). I needed an extra little push to get organized and put some things together that I have wanted to do for a while, but haven't taken the time to do. While craft rooms need to be a practical place to keep supplies and get work done, it's important to me the room is pretty! Although my craft room may not always look this clean and orderly, I love creating a space I love – a place of my own where I can be creative, keep all my supplies, and make a mess while working. The wood valance I've had for years. The valance started out in my daughter's pink poodle room. I have used a couple of times since and painted it a pretty aqua. Check the end of the post for all the paint colors used in this room.
The Must-Haves of a Craft Room
Fire Extinguisher – Safety first! You never know what could happen, especially when using hot tools like hot glue guns, heat guns, or any kind of electrical tool. It's always a good idea to have a fire extinguisher near by.
Burn Cream – We all have hot glue accidents, some worse than others. It's nice to have a little first aid kit handy with burn cream in it for any accident.
Dollar Store Baking Pan for Hot Glue Gun – I love to have a few of these laying around for many different reasons. One reason is that it's nice to have a thick, sturdy place to put your hot glue gun. A dollar store baking pan is perfect because it doesn't matter if it gets spilled on or even ruined –  it is easily replaced!
Dollar Store Baking Pan for Glitter – When I use a baking pan for glitter, I pour glitter onto my project over it to keep the glitter contained. Then, I pour the glitter from the pan to a paper plate. I fold the paper plate in half to create a funnel to pour all the excess glitter back into the container. This keeps glitter from getting everywhere and reduces the mess. Another bonus- you can store it underneath your hot glue gun baking pan!
Curling Iron –  No, not to curl your hair! This isn't something you would normally expect to see in a craft room. Curling irons are great for heat sealing cello bags. It's great to have one handy- specifically for crafting and separate from the one you do your hair with!
Chalkboard Lists – I love making lists on chalkboards. This makes lists very pretty and visible, yet I can erase and change it whenever I need to. Supply lists on chalkboards are great because you can jot down whatever you need, when you run out of it. Just take a picture of it on your phone before you go out to do your errands! I also like to make to-do lists on chalkboards. The to-do list currently in my craft room makes me happy because it's all of the fun projects I have been wanting to do or finish up for a while!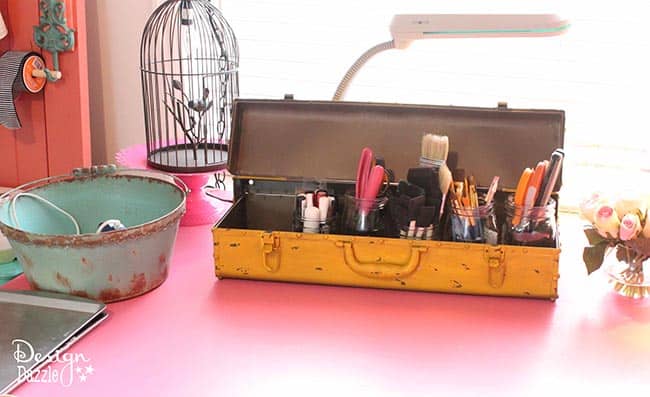 It's important to have the crafting essentials- scissors, hot glue gun, markers, chalk, paint brushes, etc. within reach. I like to keep these nearby on my crafting table, having designated containers to organize each of the supplies.
Here's the project I created… Craft Room Organization Using Doors!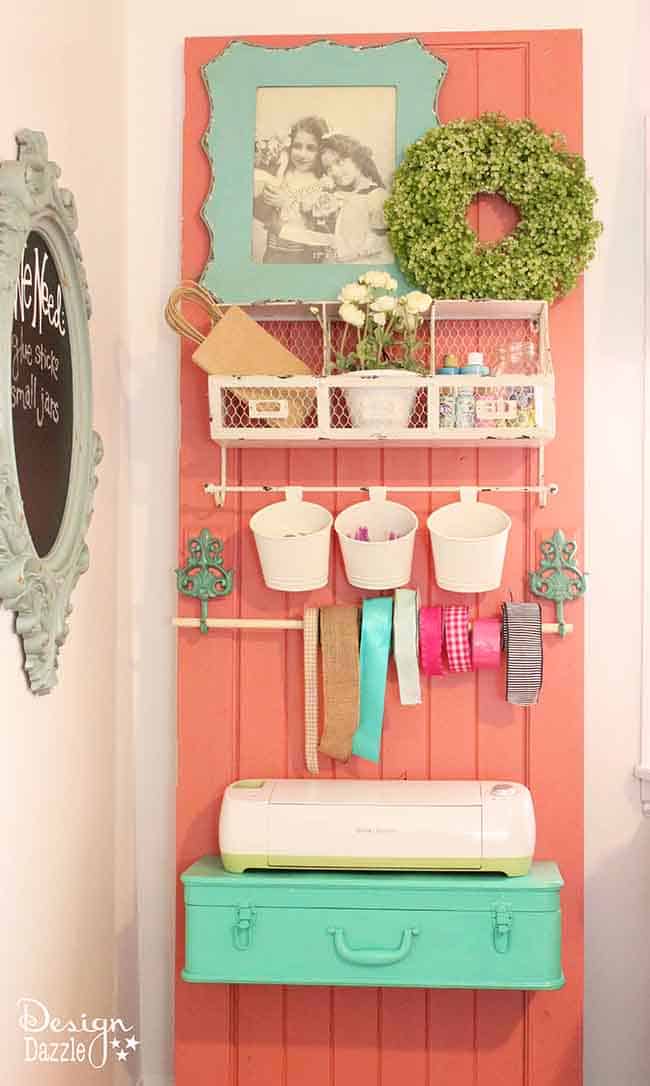 I purchased the doors (unpainted) online for $20 each. I love having these doors to use for hanging storage. This is a great option for anyone who doesn't want to put a bunch of holes in the wall. What's great about these doors is that they can be temporary. You can paint them bright colors, even when you don't want to commit to bright colors on your walls. They are also totally portable! They can be moved around easily and still keep all of your things contained.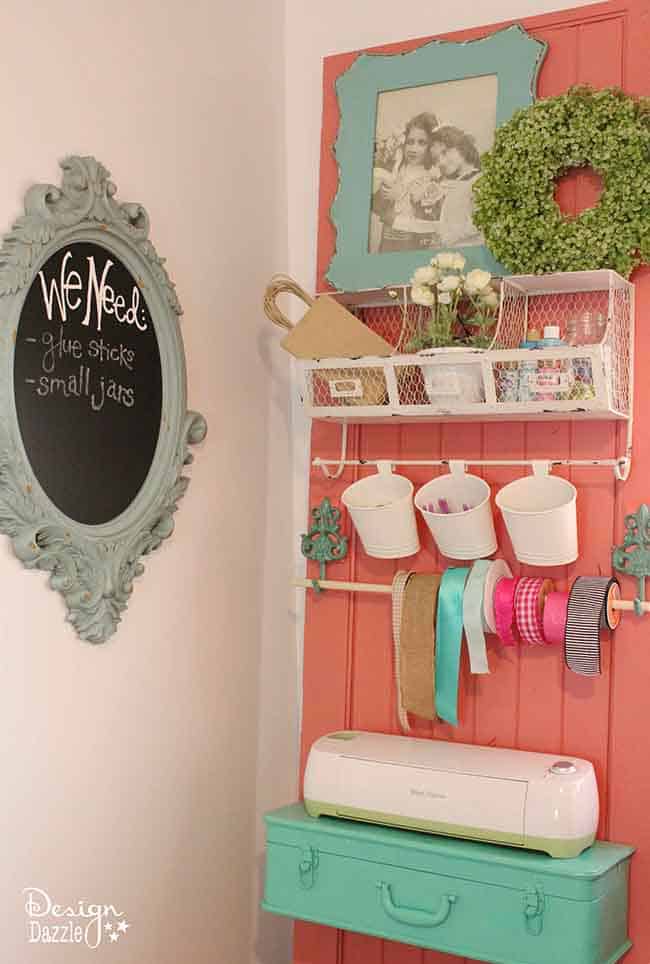 I love having a set place to keep my Cricut machine. I also LOVE having a place to put all of the accessories –  in the shelf trunk that the Cricut sits on! It's so nice having all of those things together, in one place.
On one of the doors, I used this metal storage hanger from Michaels to store ribbon, wrapping paper, different glues, thread, paint, and other crafting essentials. For those of you that just need a place to store our craft materials and organize our scrapbook paper, paint, markers, and yarn, you must check out these nifty craft storage systems.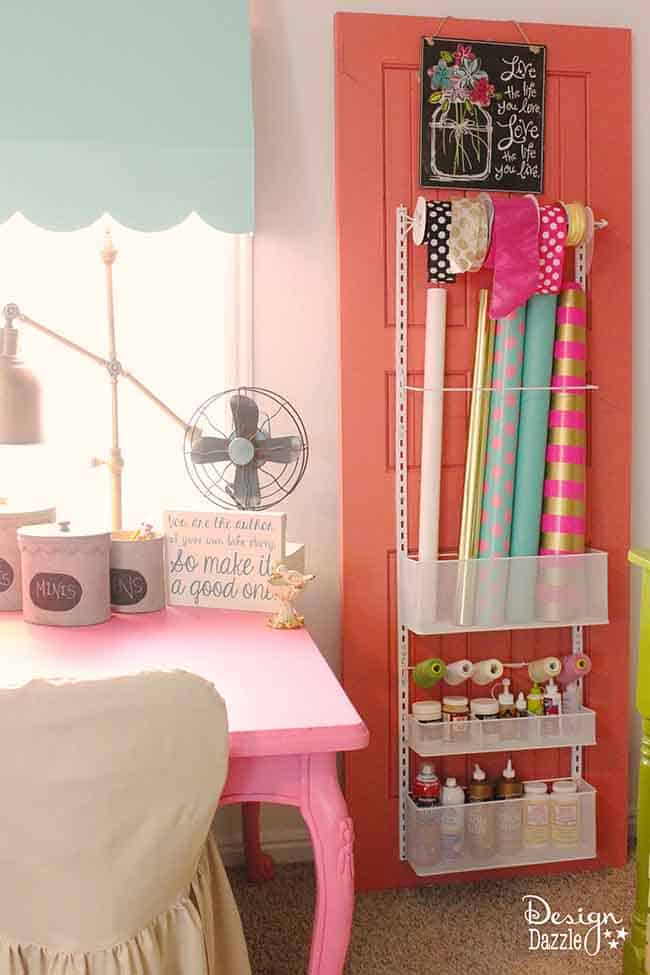 One of my favorite tips is to have a pretty trash bin in your workspace. This trash can came from my last craft room.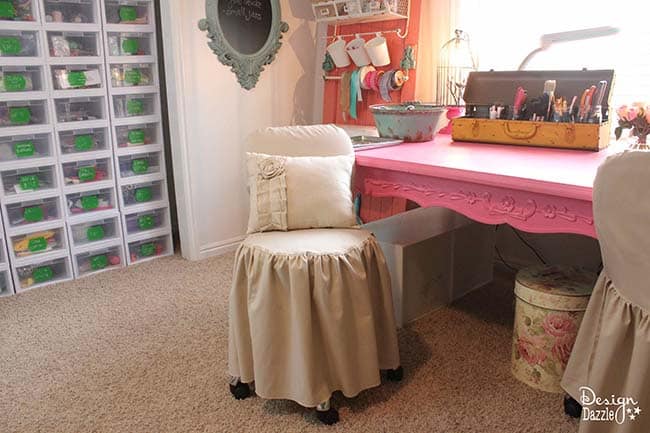 I have had these office chairs for many years. The slipcovers cover the dull and boring look of the office chairs.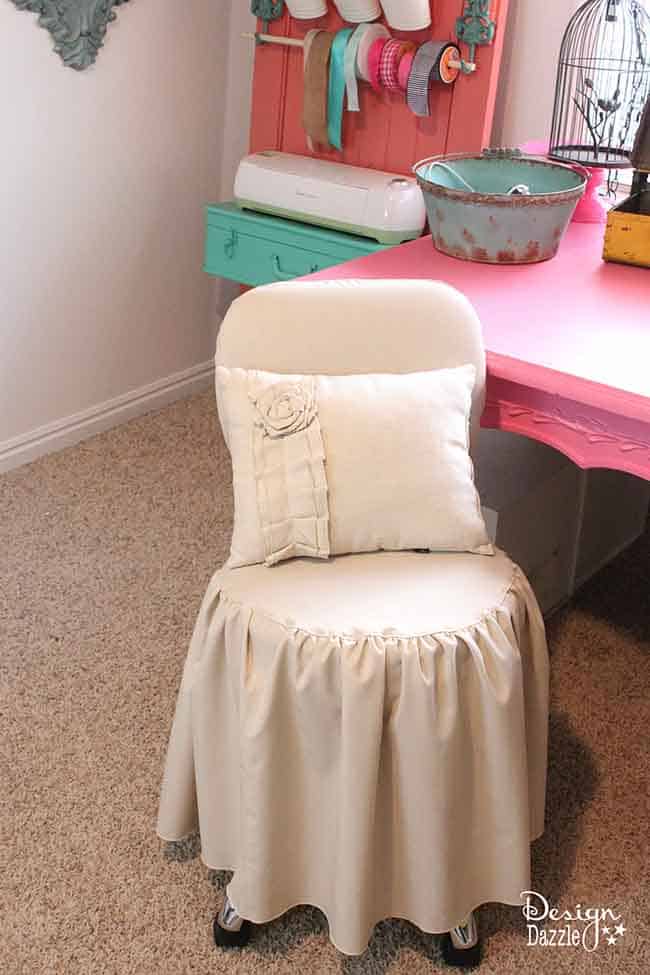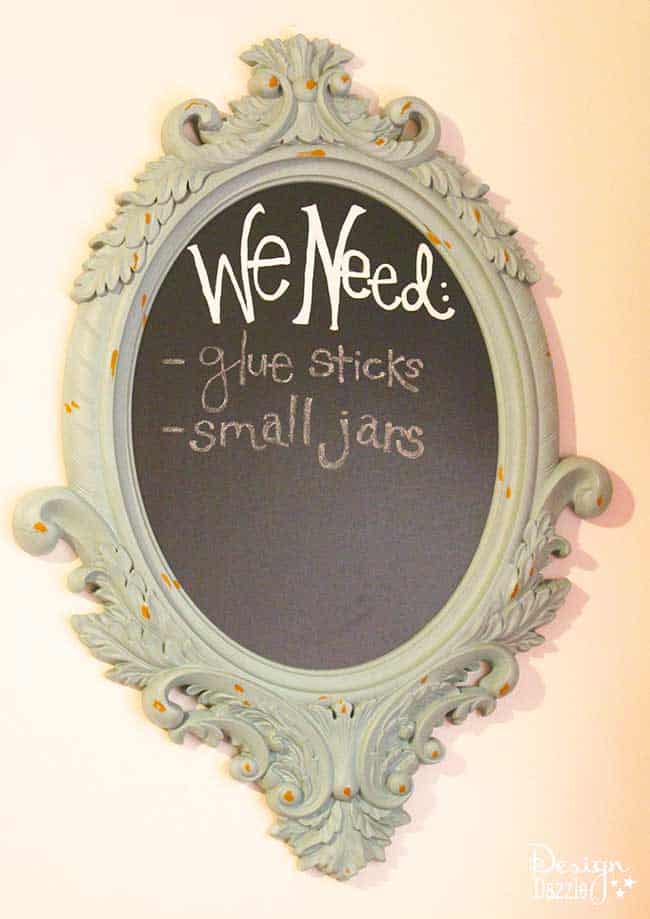 Like I mentioned before, I am all about chalkboard lists. I love keeping track of what needs to be restocked or is on the to-do list this way!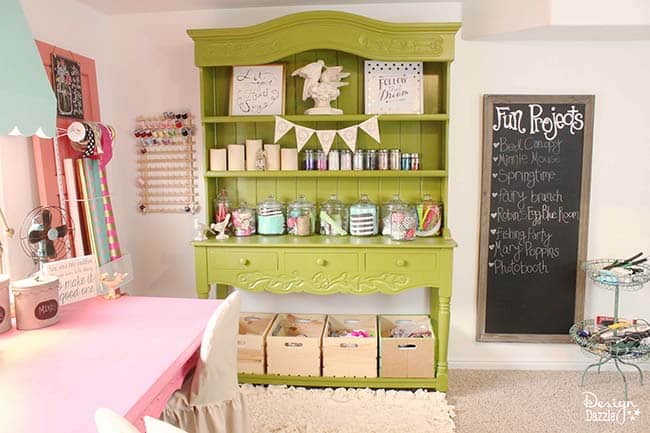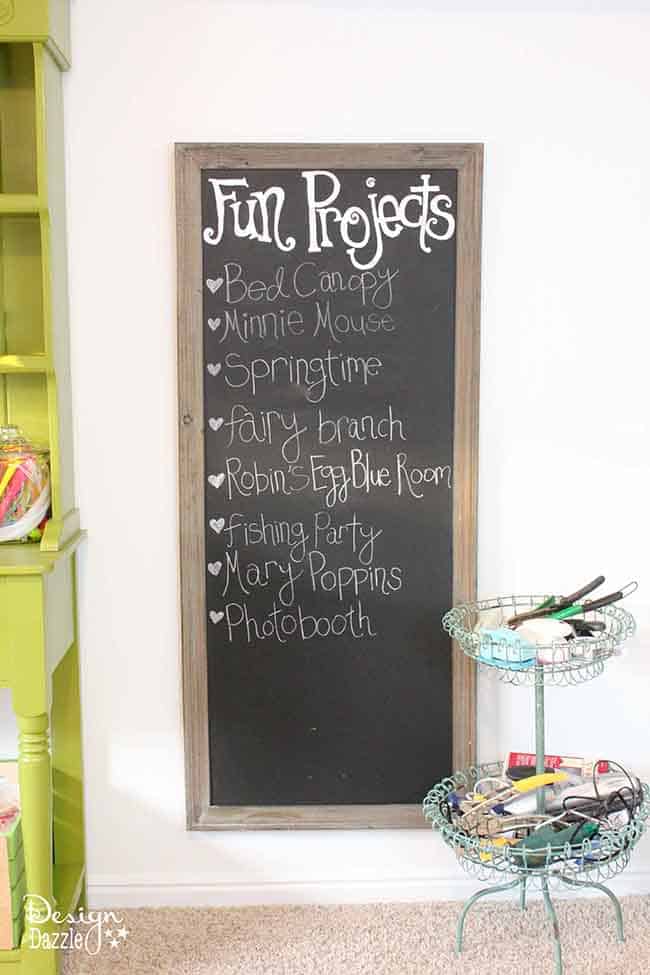 I like to keep bigger, more heavy duty tools in this tiered wire basket so that they are easily accessible. This is where I keep hole punches, heat gun, curling iron, etc.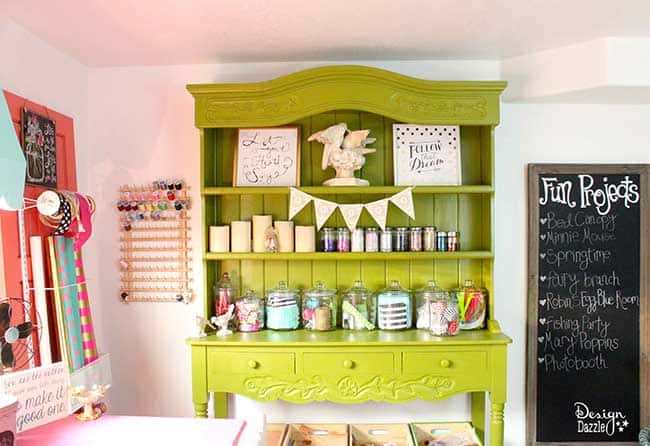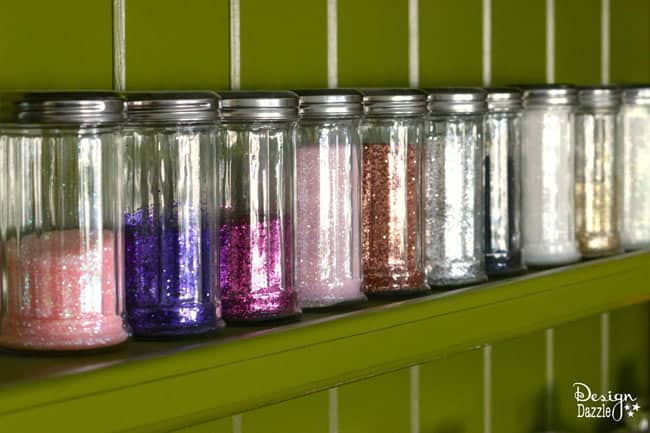 I do use glitter in lots of my projects. Because I purchase glitter in bulk, I needed to find a great way to store them. Bulk containers are ugly and sometimes bulk glitter comes in plastic bags. Which is not convenient to store. So my solution…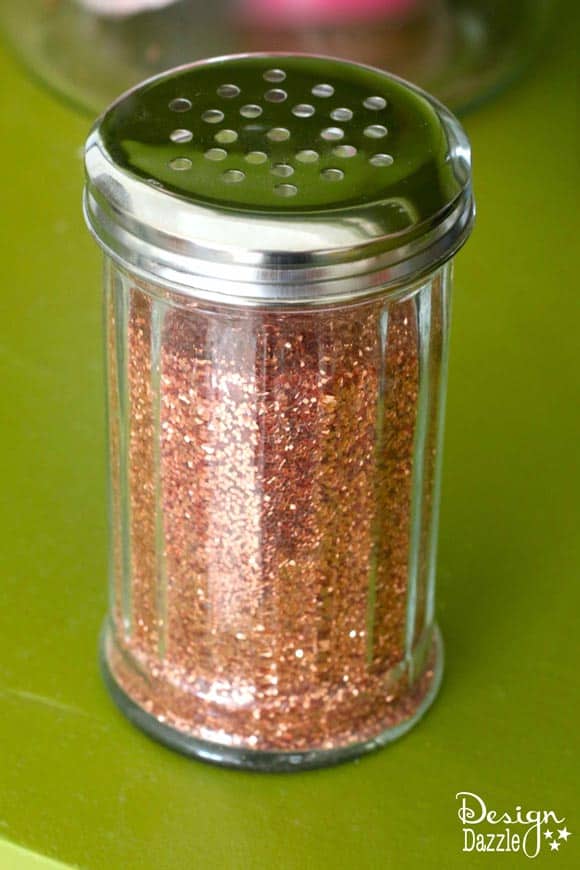 Cheese shakers from the dollar store. They're cheap and look great!!
Paint Colors: 
The green hutch is Sherwin Williams Verdant, the pink craft table is Sherwin Williams Impatient Pink, the coral doors are Glidden Temptation Rose and the teal window valance is Sherwin Williams Tantalizing Teal. I love to add bright pops of color and fun anyway I can! The furniture used to be our family dining table and hutch. I've had it for 20 years. When I got new furniture, I painted it a couple of years ago for my last craft room.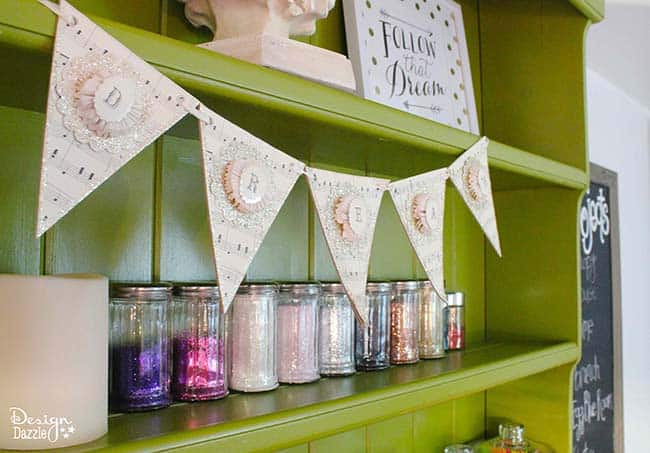 I put glitter into shakers for convenient use. I love how pretty they look, too!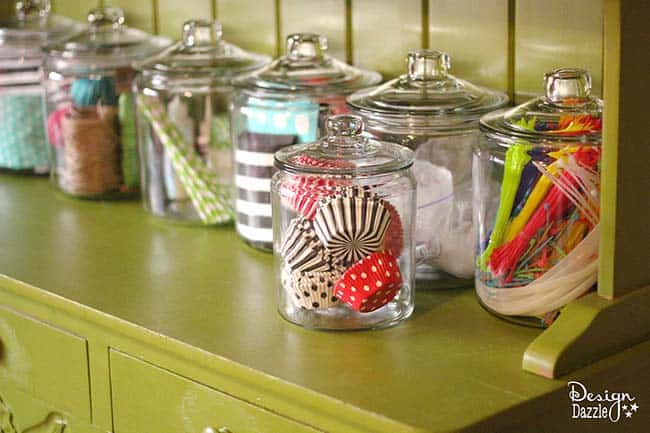 Storing random supplies in canisters is great because you can see exactly where everything is and it looks so neat!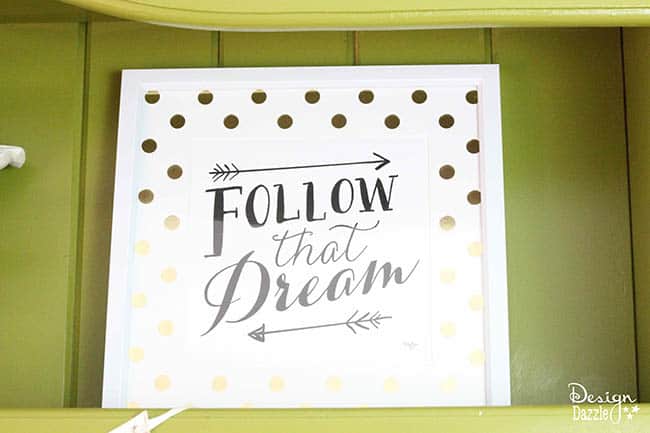 I love having inspirational quotes around to motivate me as I'm working!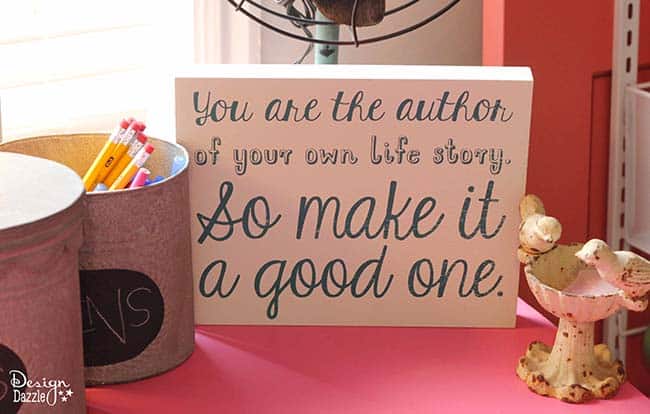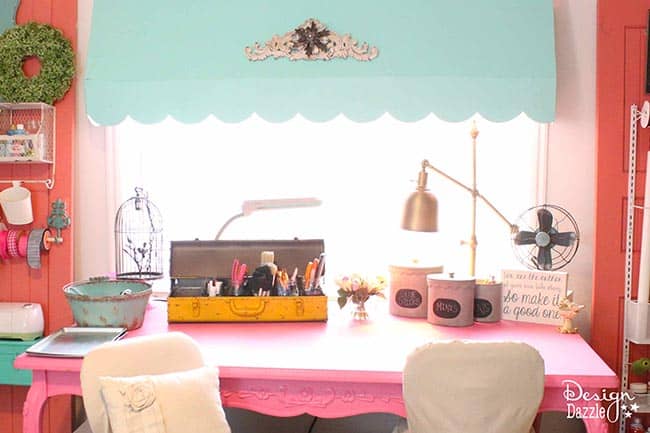 This post is to be continued….
Here's a little dose of reality for you! Having moved recently, the mess you see in the photo below is the other half of my craft room that hasn't been set up yet. It's become the piling station! I can't wait to organize the rest of my projects and storage. Check back to see the updates in the near future!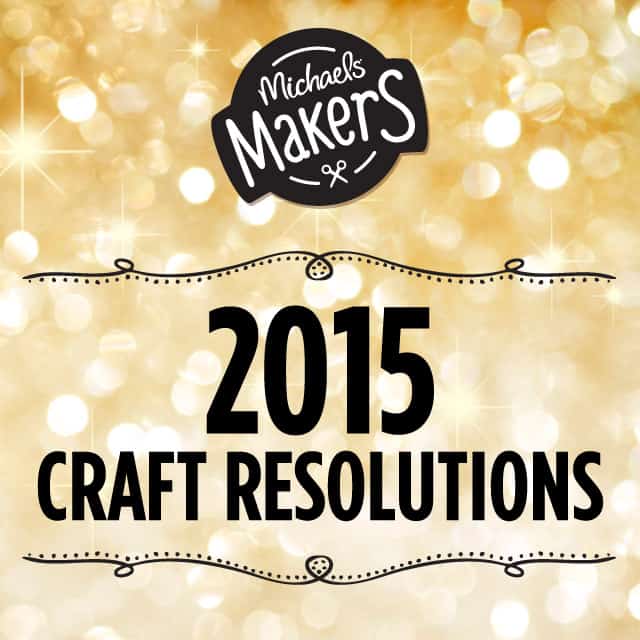 While my craft room may not stay this clean for long, I'm glad it's organized and can't wait to get to work on my next project to mess it up again. I hope you enjoyed a peek into behind the scenes of my workspace and are inspired to organize and put together your own craft room!
Please be sure to check out what all the other Michaels Makers did for their projects:
Thank you, Michaels, for sponsoring this post. As always all ideas and opinions are my own.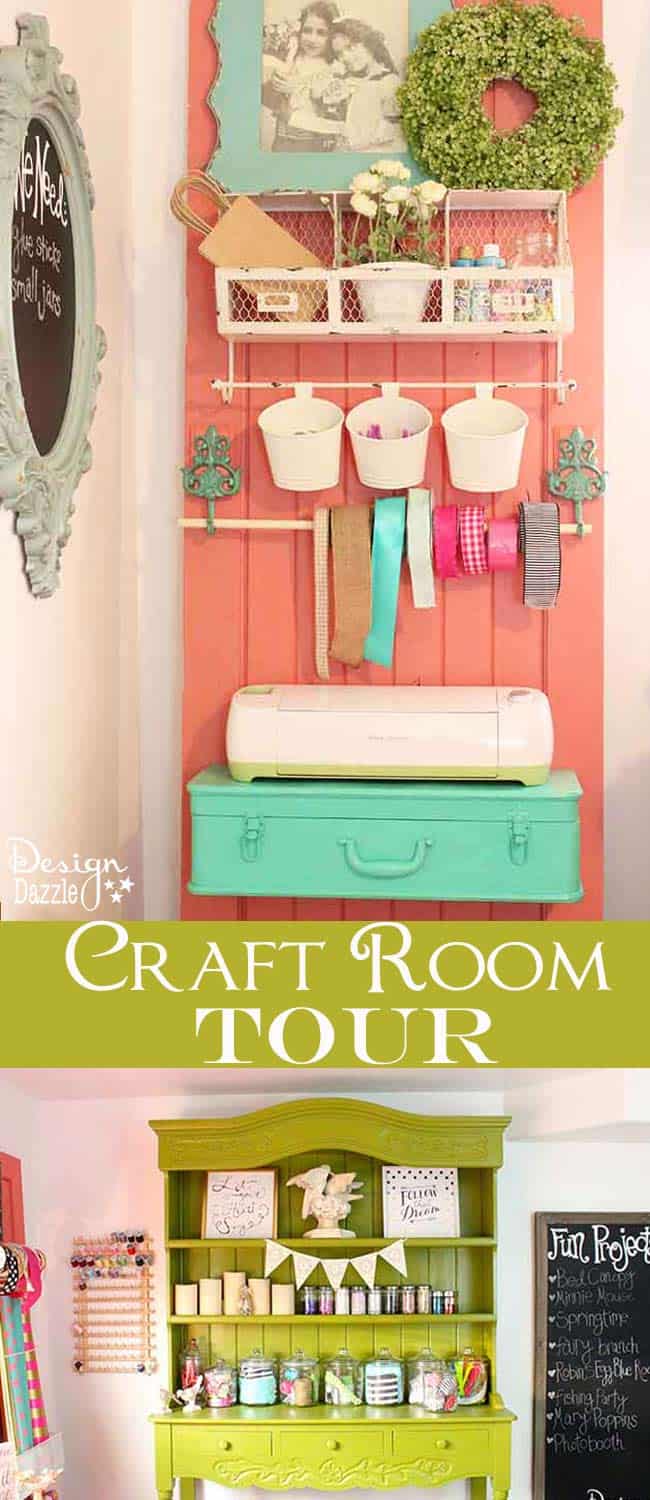 Save
Save
Save