This post may contain affiliate links that, at no additional cost to you, I may earn a small commission. Read our Disclosure Policy.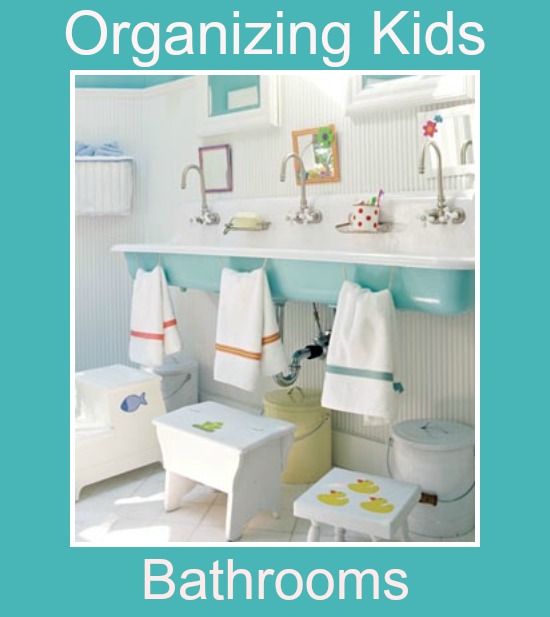 Having an organized kid-friendly bathroom is all about accessibility. Kids need to be able to reach what they need and (more importantly!) put things away when they are done. Easy clean-up is key. Love that each child has their own mirror, towel, step stool and metal trash can in this bathroom.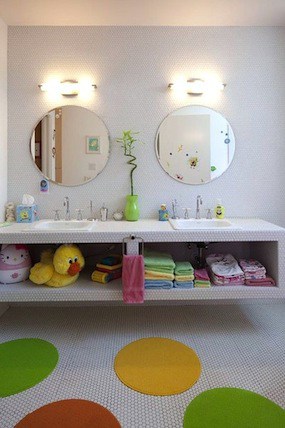 Easy clean-up is key. I think every bathroom should have a rubber ducky! Picture from here.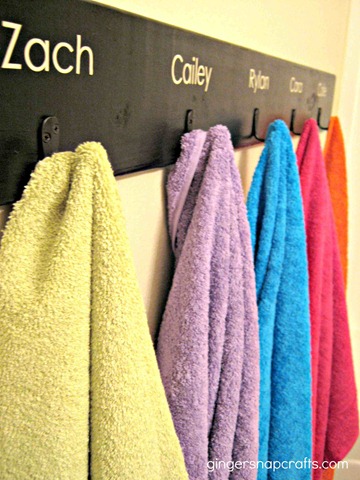 This is a genius idea! The mom behind Ginger Snap Crafts made a personalized towel rack with a spot for each child. The best part? She assigned each child a color so that each child has a matching towel, toothbrush and cup. It helps the children stay organized plus she now knows  exactly who didn't put their stuff away!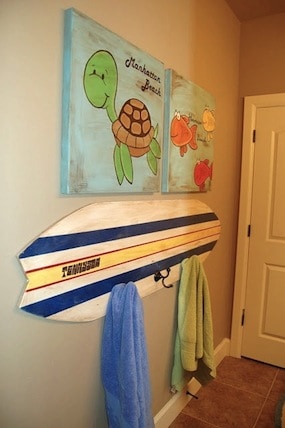 Towel racks don't have to be boring. Younger children have better luck hanging towels up on hooks. How about hooks on a repurposed surf board?
Freestanding shelves or "trees" work well for hanging towels or bags of toys. Just make sure the base is sturdy and tip proof. Picture from here.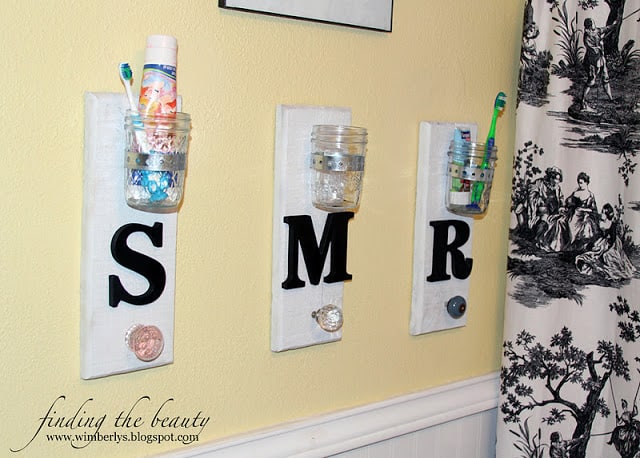 If counter space is at a premium, consider moving toothbrushes and toothpastes off. This combo toothbrush holder/towel holder can be made using inexpensive supplies from any hardware store.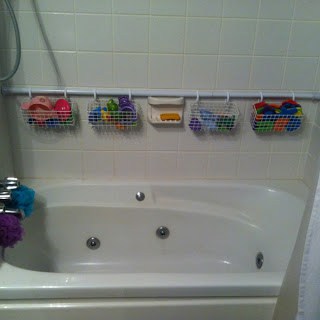 How cool is this? You can add drainable toy storage that can easily be moved up and out of sight by using a tension shower rod, some shower curtain rings and a few bins. Picture from here.
No bathroom would be complete without cleaning supplies. While I don't think younger children should be handling chemicals, I do believe that children should help with cleaning their bathrooms. I love these colorful little cleaning kits put together by City Girl Gone Coastal. She even included a chore checklists with pictures!
Come back tomorrow for more great organizing tips!