Planning a party can be pretty daunting and expensive. With this no-sew paper napkin banner you can make a quick and inexpensive banner for any party. Check out the dollar store for some cute napkins in the colors you are using for your party. The napkins we used for this Minnie Mouse party banner were found at Target. This project really takes only minutes so you can get back to other party details in no time!
All you will need are an assortment of napkins, ribbon and glue dots.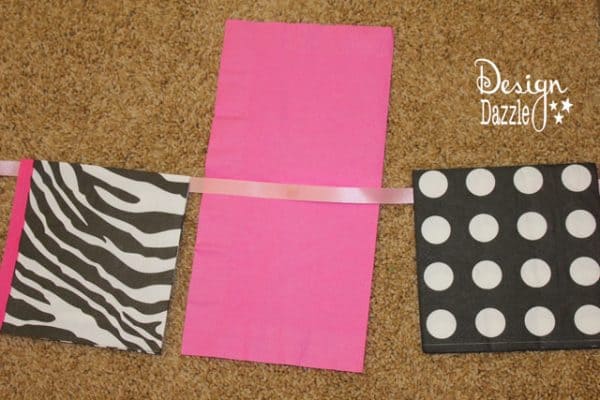 The first step is deciding what pattern you want your napkins to be in. We went with the zebra print, solid pink, black with white polka dots and then solid pink again.
Next we laid out the napkins evenly apart about 3/4″ in between each napkin.
Unfold each napkin and line up the ribbon you chose with the fold of the napkin.
Then we placed a glue dot on the ribbon and folded the napkin back over, the napkin naturally hangs on the ribbon but the glue dot was to secure the napkin in place. Make sure to secure each napkin with a glue dot and fold the napkins back over.
To jazz up the banner a bit we added some ribbon tassels at the ends of the banner. Just pick a few different patterned ribbons and some tulle and tie it in half around the ribbon. Just follow these quick and easy steps and you will have a party banner in minutes!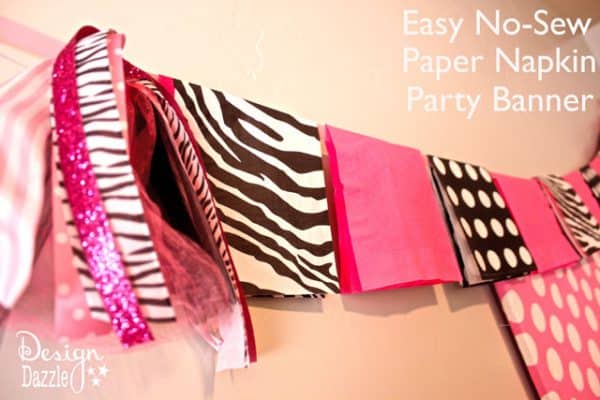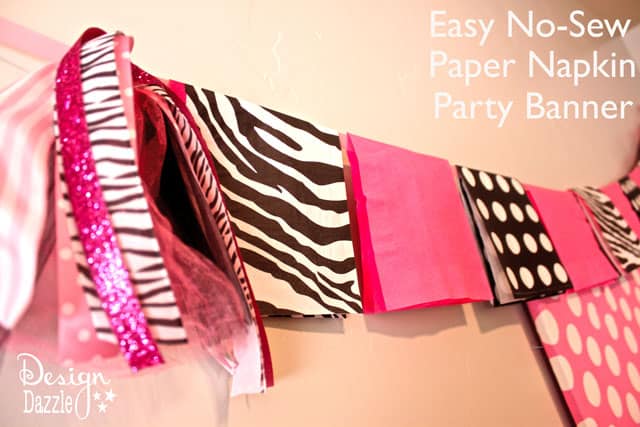 This banner is so cheap and it adds such a fun decoration for a dessert table or fireplace mantel. Your party guests will be impressed with your crafty skills. How fun would this be for a boys pirate themed party with solid red napkins and black striped napkins? You can really make one for any occasion and the best part is it doesn't involve any sewing. Be sure to check back later on the matching Minnie Mouse back drop for another quick decoration idea!

Author:
Toni - Design Dazzle
Mentions:
minnie mouse banner, no sew party banner, paper napkin banner, party banner
Keywords:
No-Sew Paper Napkin Banner
Last Updated:
August 13, 2020