This post may contain affiliate links that, at no additional cost to you, I may earn a small commission. Read our Disclosure Policy.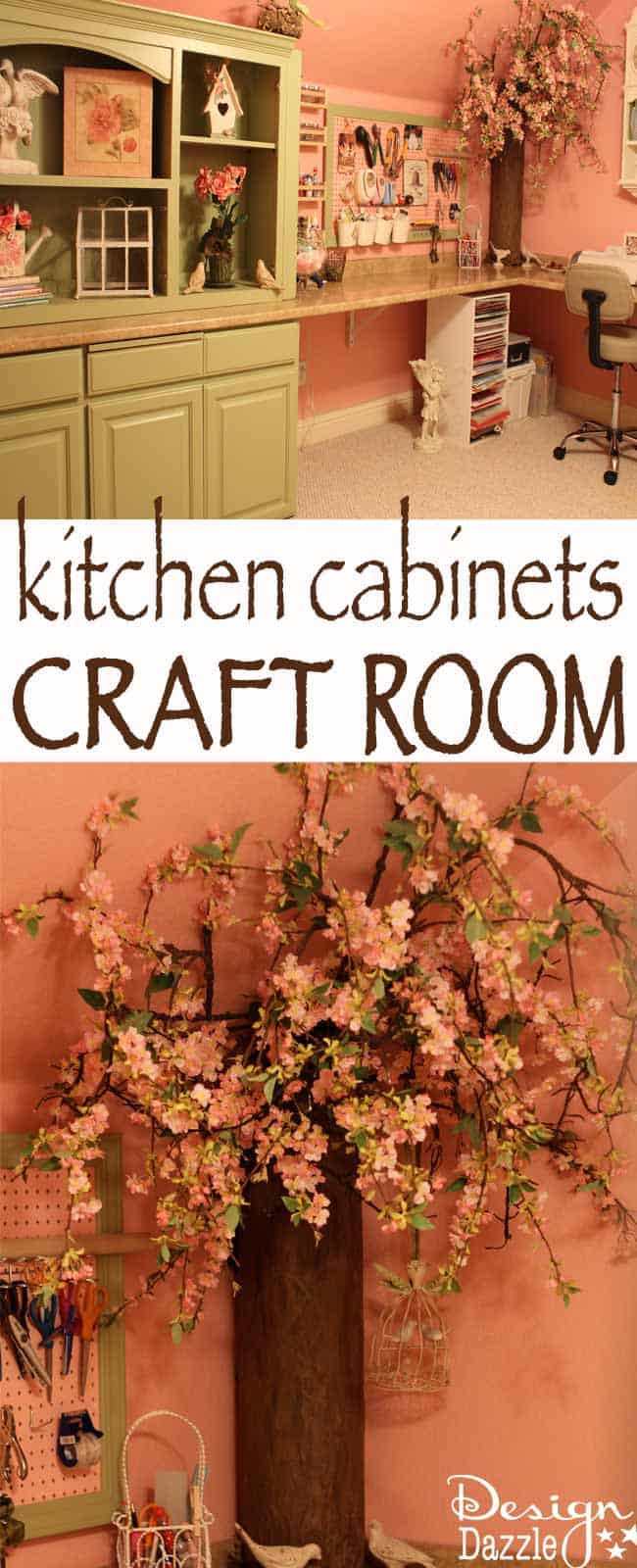 This craft room is one of my all-time favorites! This was my tiny workspace in our previous home in California. Although the room was very small, I made great use of it and utilized every nook and cranny! I had to be smart and creative about storage, which was a fun challenge. Here are a few of my ideas for small space storage and decor solutions in my tiny craft room complete with a tree. And a beautiful, blooming, flowery tree. Why a tree? I couldn't do much with the corner and I love pretty, flowery things (as you can see). So, I thought, "why not"? It was easy to make and added much visual interest to the room. I really love that I used my old kitchen cabinets to create this darling craft room.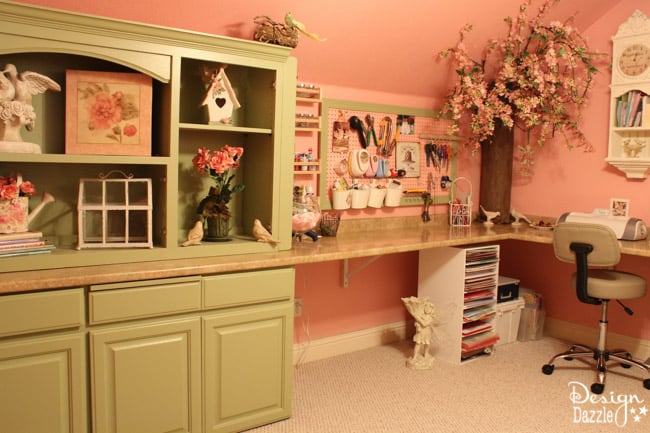 By the way, this craft room build was designed and started in 2008, and completely finished in 2009. Yep, I forgot I never shared it until I came across a folder of images on an old computer. Yikes! We have since moved and I'm currently working on my new craft room (in a different home) which is 3 times the size!
The cupboards used were my old kitchen oak cupboards, painted Sherwin Williams Ryegrass Green. I loved that my old kitchen cupboards could be repurposed. I designed and remodeled my  kitchen and wanted to make sure I used the old cabinets somehow. They provided great storage and looked very pretty, too! I still love the color.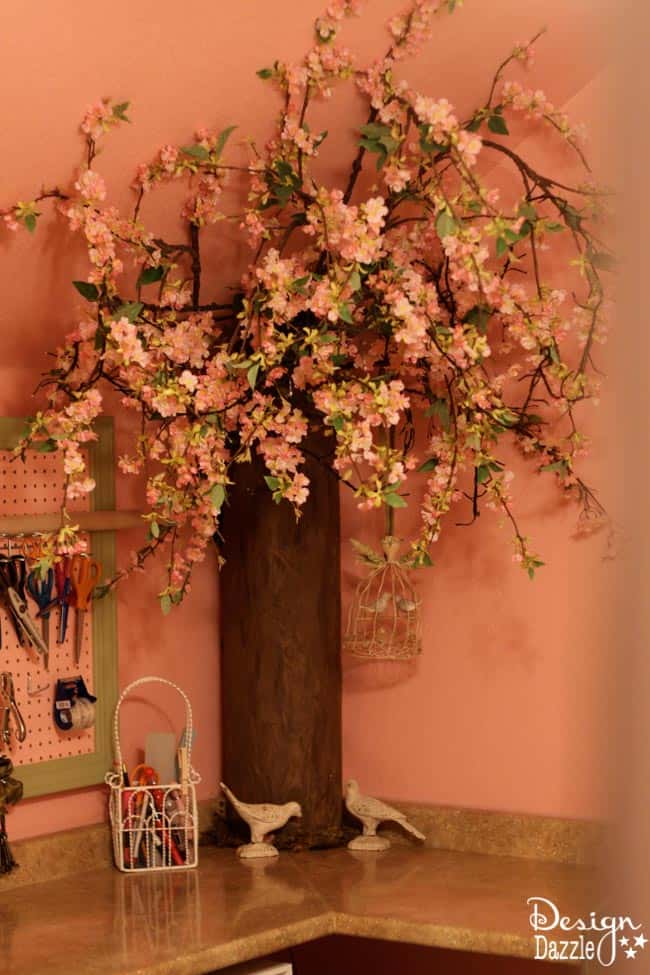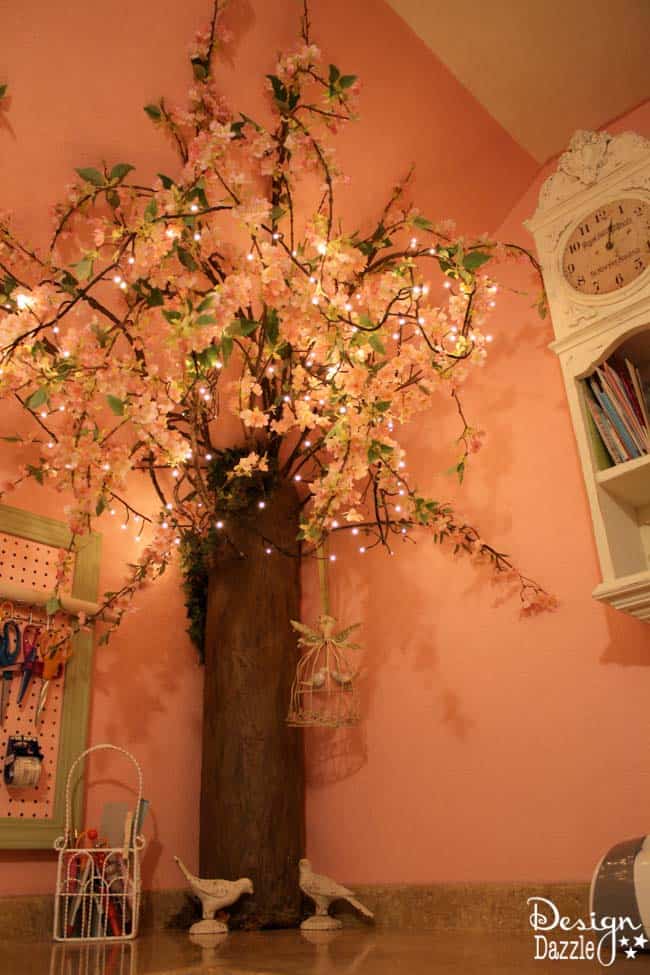 I decided to add some life to my craft room by making the tree in the corner. It was so simple to make! I used a cardboard concrete tube form, applied plaster of paris to give it some texture, and then painted it brown to look like a tree trunk. I got flower vines at Michael's and simply stapled them to the ceiling and tree trunk. This was a beautiful way to add texture, beauty and life into my workspace!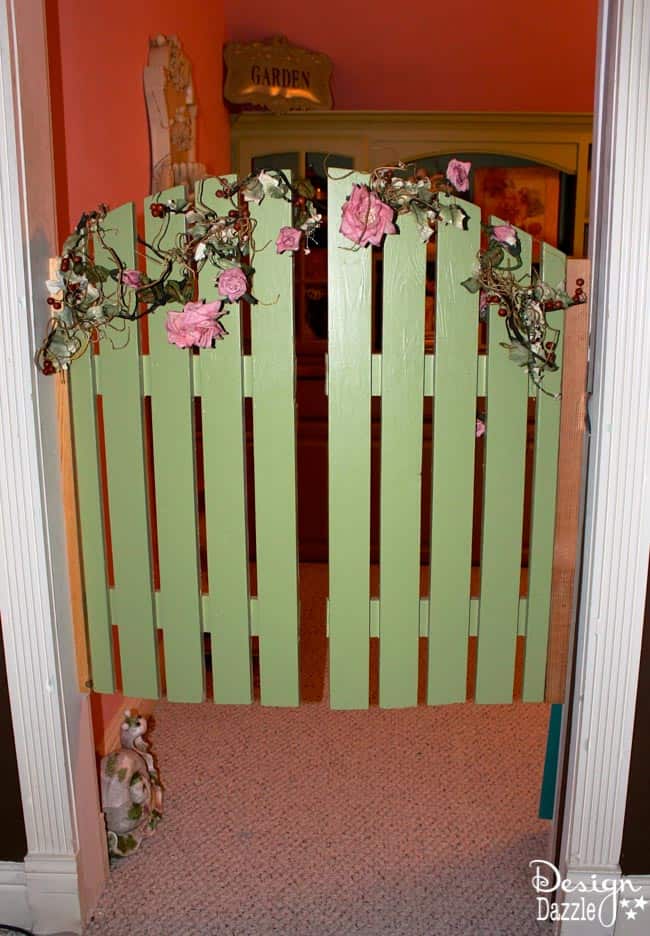 One of my favorite parts of this craft room was the gate. My dad built these gates for my girls' bedroom years ago. Once my girls grew up to be teenagers, I loved the gates so much I decided to use them! The craft room had a sliding pocket door, so the gate worked perfectly with the pocket door inside the wall. It was also nice to be able to close the pocket door on the mess when I needed to, though.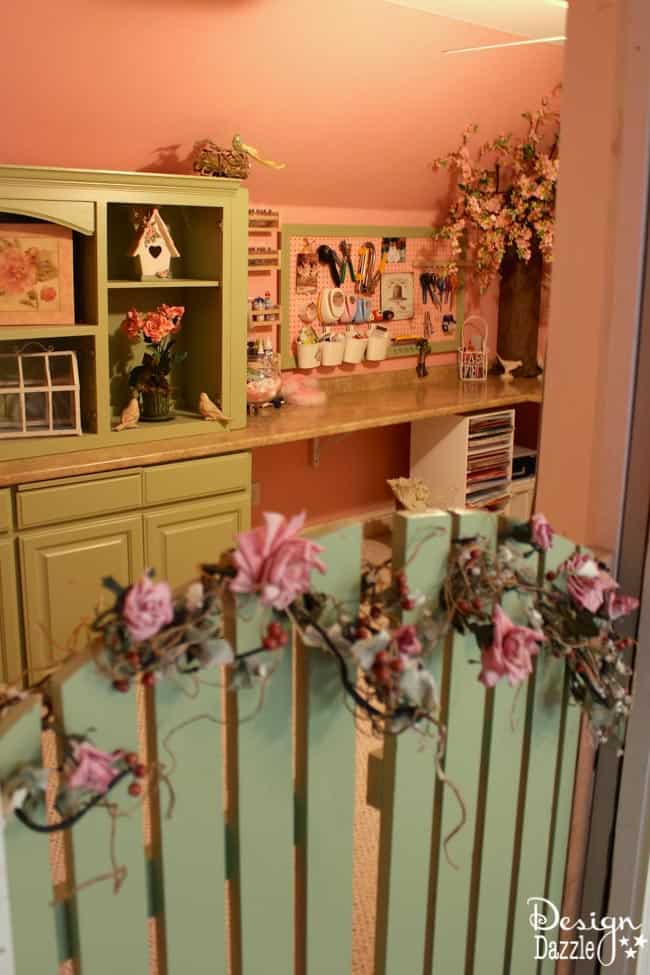 Peeking over the gate into the craft room. You can see the pocket sliding door to the right.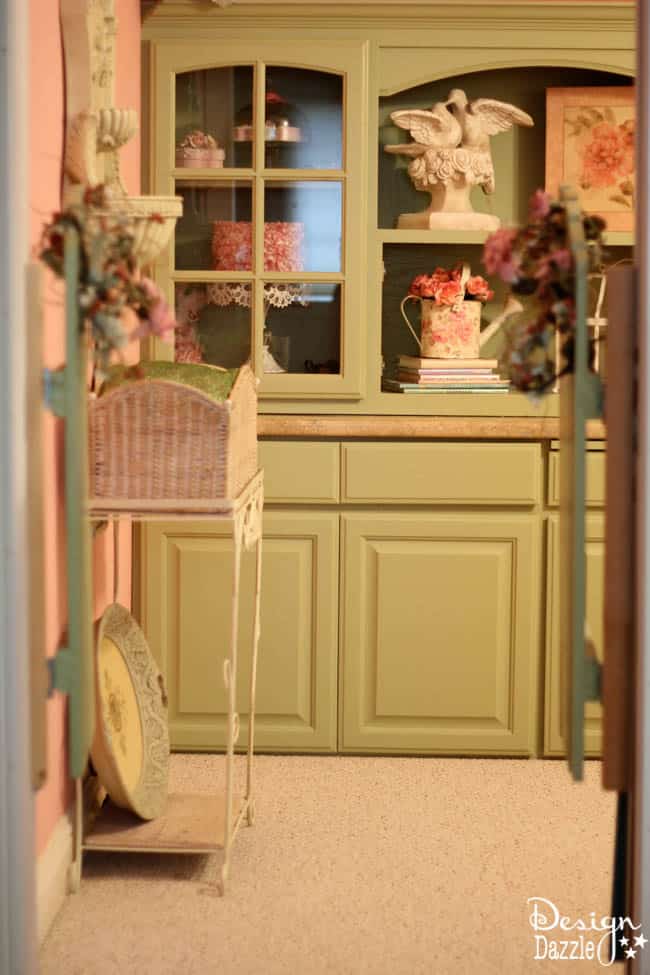 With the gate open!
Disclosure:  This post contains affiliate links at no additional cost to you. For further information, please see our disclosure policy.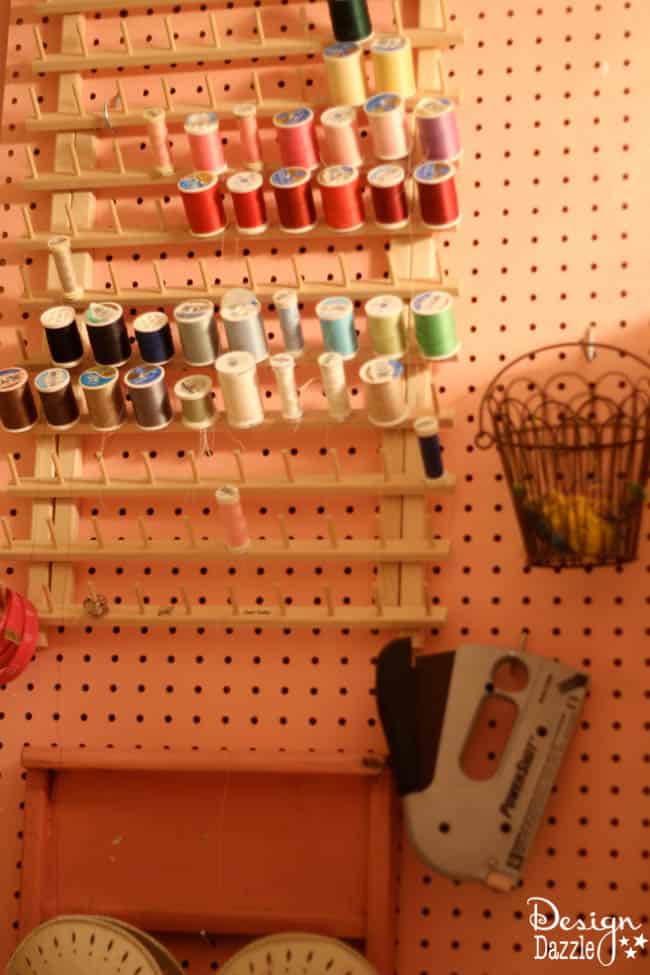 One small space storage solution is to use pegboard to hang tools and supplies. I decided to beautify my peg board by painting it coral and framing it with trim that was painted green to match the cupboards. I also hung little storage bins from IKEA on the peg board to hold small tools and supplies. Purchasing pegboard hook organizers was a must!! The pegboard image with the thread spools was the second peg board in the room.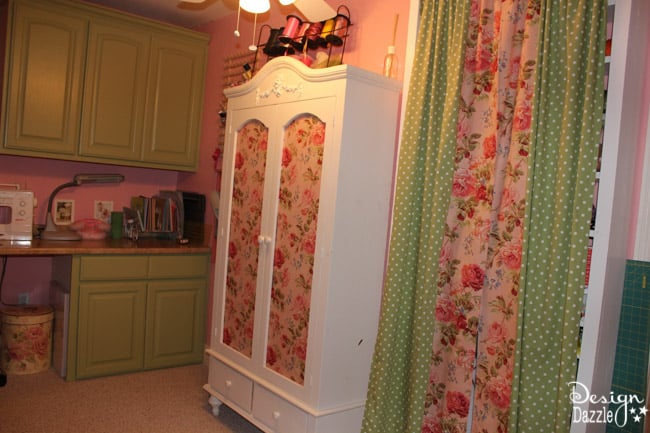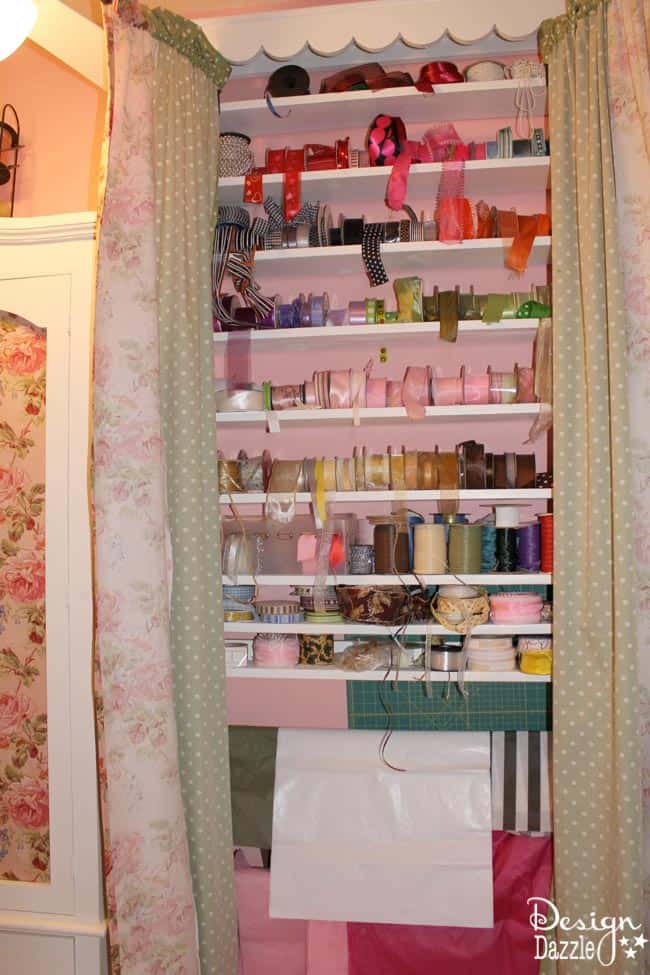 I love ribbon and had this "ribbon case" (just like a bookcase) built years ago. Curtain swing arm hardware was added to the top of the ribbon case to hang the fabric curtains that hid all the mess. These is a great way to "OPEN" the curtains. You can see at the very top how the "swing out".
At the bottom of the ribbon case,  dowels were installed 3 across so I can hang tissue paper.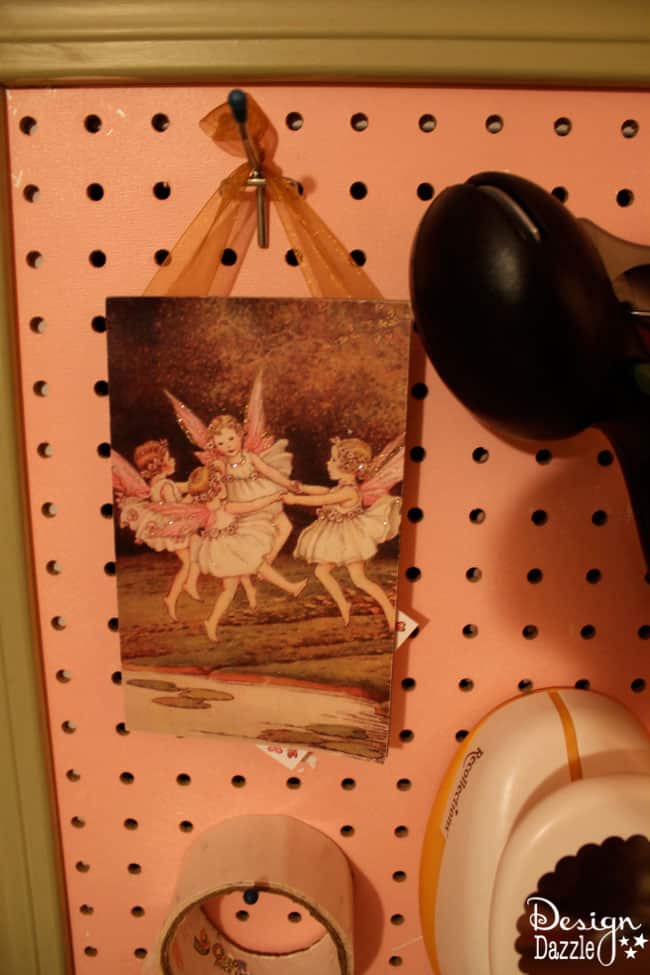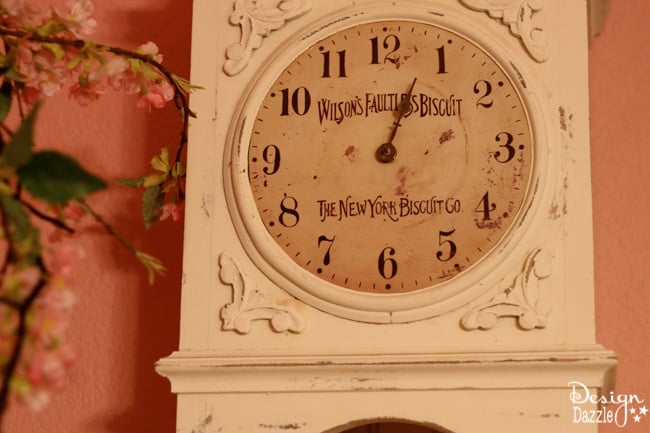 Sharing some close-up details of the space.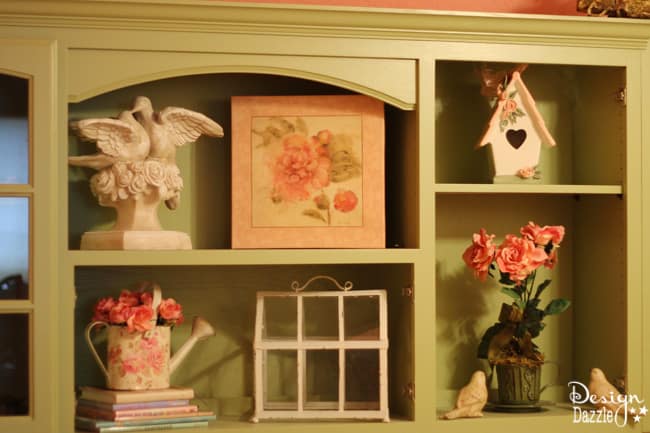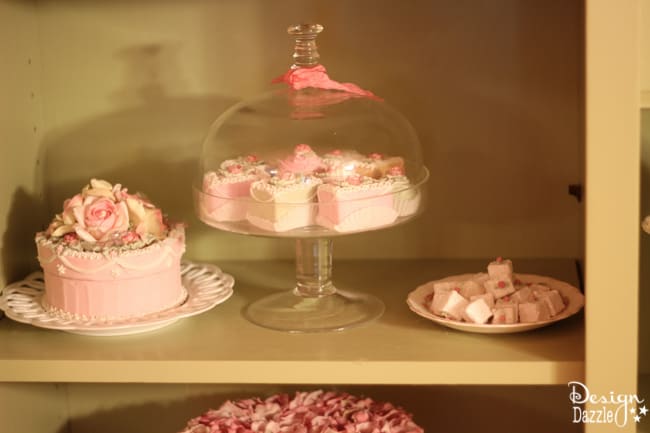 Whenever I decorate, I do it with items/decor I love. I saw these pretend sweets and had to have them for my craft room. Sweets, tea parties, flowers, birds. Love it all. The ceramic birdhouse I purchased for my daughters room when they were toddlers. It sat up high on a shelf.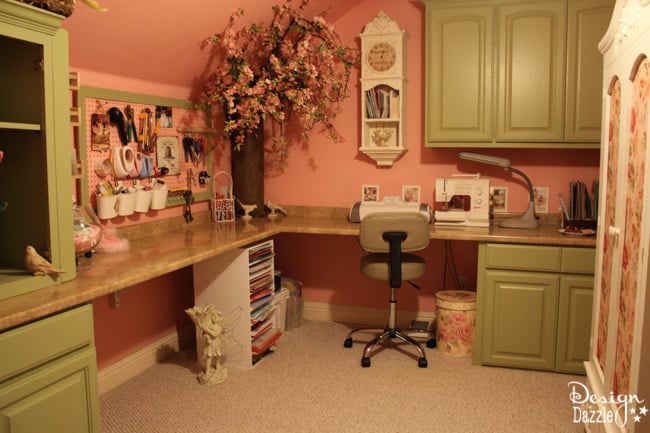 Some of my favorite crafting must haves:
sewing machine
I always like to have a pretty trash can – it is a must-have in my craft room! I think a craft room needs to be practical, but it should also be pretty! It is nice to keep even the messy things like garbage pretty, too 🙂