This post may contain affiliate links that, at no additional cost to you, I may earn a small commission. Read our Disclosure Policy.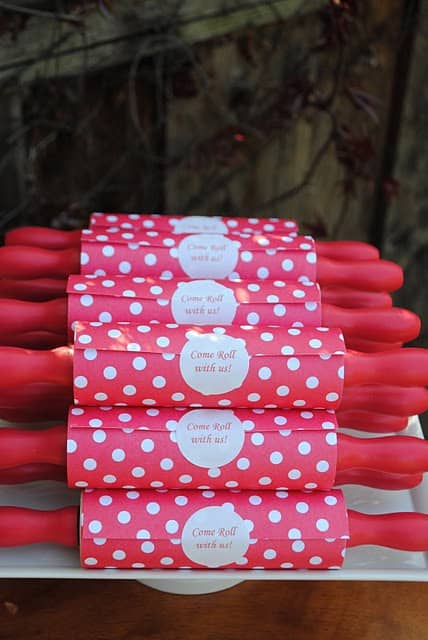 The CUTEST invitations ever! Rolling pin invitations for a baking party. Created by the talented Alexis of Jac o' lyn Murphy.
Thank you everyone for linking up. As always YOU inspire ME!!
Toddler toy
made from an empty baby wipe container. Clever idea.
Somewhere over the rainbow embroidery art would be darling in a playroom, art center or kids room – created by Lines Across My Face. Sweet!
Our Link Up Party is all about design and decorating ideas for kids. It now will be double the fun – tonight through Oct 31st we will be adding our Halloween Link Up Party – so there are TWO parties. I'm also allowing Etsy sites to join our Halloween Party!! If you are an Etsy seller and you sell darling Halloween items, you can link up to our Halloween party ONLY. Anyone can join our Halloween Link Up – costumes, decor, favors, anything kid-related. Can't wait to see what you share!
TWO PARTIES = DOUBLE THE FUN!!
DESIGN DAZZLE LINK UP PARTY
Share your nursery, kids room, kids party, baby shower, kids crafts, DIY projects, anything kid-related!
No linking to selling sites or giveaways. ETSY sites can link up to our Halloween party with Halloween items only.
Have fun and leave some love (comments) and visit some amazing bloggers.
All link ups should be related to design and decorating with kids (babies, kids or teens)!
Please link back to Design Dazzle so others can share in the awesomeness!
Each week I will choose several of "My Favorites" from the link up party. "My Favorites" will be featured on the following weeks link up party. Your post needs to be linked to Design Dazzle to be considered for the "My Favorites" post.
By entering our link up party, you are giving Design Dazzle permission to use any part of your post including pictures.