This post may contain affiliate links that, at no additional cost to you, I may earn a small commission. Read our Disclosure Policy.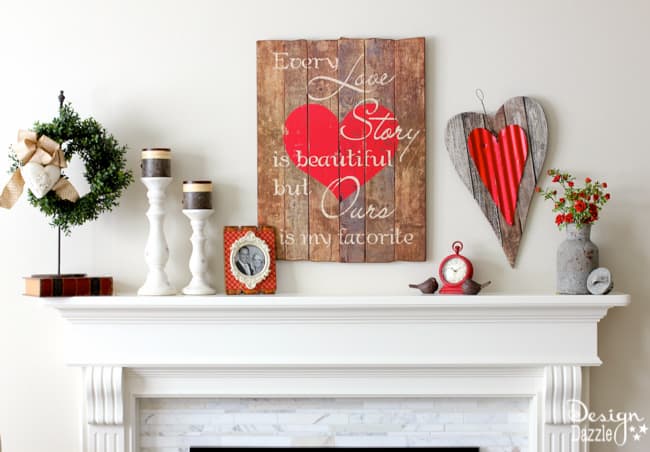 Decorate your mantle for Valentine's Day using rustic decor, candles, a beautiful sign, tin heart, some greenery and a couple other fun items to create a beautiful mantel scape. Of course, don't forget pictures of your Valentine! I had an awesome time shopping at a local store called Rod Works. It is an amazing place that you can spend a very long time in. Their store carries vintage, eclectic, and rustic styles. There are a variety of woods, metals, resin and patterned styles, so many possibilities and choices.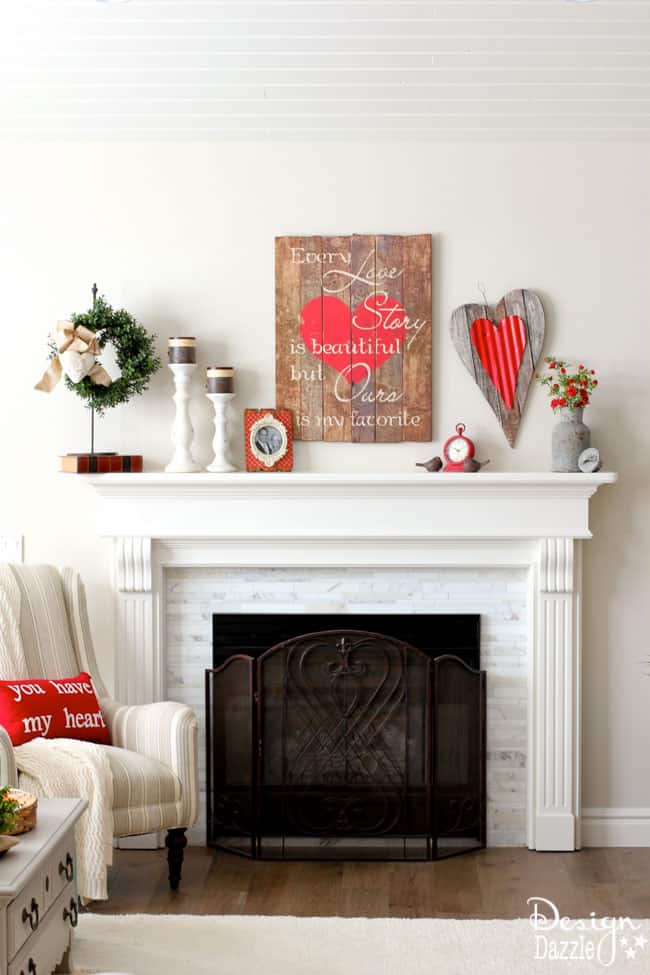 There is also a lot of decor to choose from to decorate your kitchen, fireplace mantel, gallery walls, entryway decorating and much more at their store. Yes, I've been shopping at Rod Works for years in Utah and California, and really love it! They have great every day decor as well as seasonal items like the things I picked up for my Valentine mantle. Be sure to check out their online collection of home and garden decor and accessories or stop by one of their locations where they have an amazing selection to choose from! All the decor on the mantel is from Rod Works with the exception of a concrete vase I already owned.
Don't you love this sign "Every love story is beautiful but ours is my favorite!"??
Loving the heart pallet look with the red heart galvanized tin.
It seems very appropriate to put a photo of me and my hubby on the mantel. Especially a mantel that is all about love! Isn't he handsome? I'm a lucky girl.
Red roses are from Rod Works.
The book is fake and perfect for adding height to decor. There are a couple of faux books to choose from at their locations.
Sweet little love birds.
Rod Works first started in 1996 as an alternative to big chain home decor stores. They have expanded to several locations across Utah, Nevada, Arizona, and California, as well as an online shop. Rod Works started out selling iron decor and curtain rods but have grown to provide all types of unique home decor at affordable prices. Seasonal decor is fun to decorate with. And Rod Works certainly carries a great selection. But they also have an amazing selection of regular home decor items. It's one of those stores that is a must to visit!
Lots of amazingness at their Sandy store.
I featured a blog post about cleaning a fireplace – hiring a professional or DIY? If you need any tips in this area, check out my post.