This post may contain affiliate links that, at no additional cost to you, I may earn a small commission. Read our Disclosure Policy.
A good nights sleep is quite important to me,  But the last several months my expensive mattress has not worked for me or my husband. Good sleep was hard to come by. I knew I needed to do something soon about this lumpy mattress. I also enjoy a beautiful bed. So I will be sharing how to makeover your bed with inviting bedding! It's pretty easy to make a lovely looking bed but you also want comfort!!!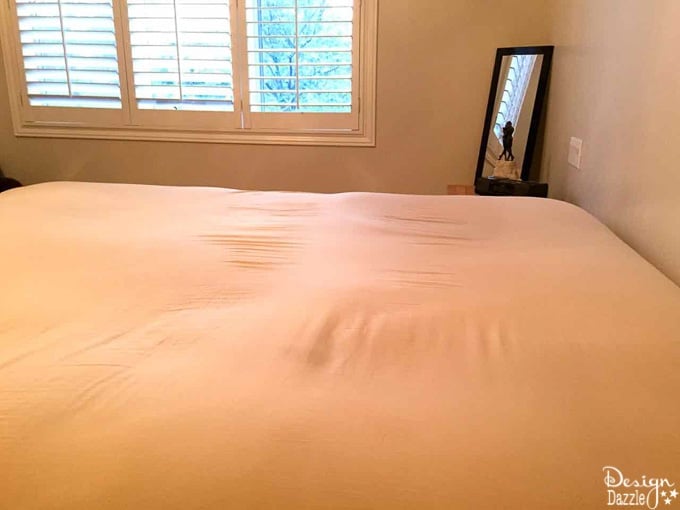 This is my old mattress. As you can see, this ancient thing had many lumps and bumps in it. The old mattress was expensive (originally around $4000) and 10 years old, but still, it was surprising how it did not hold up well at all and was actually falling apart. Besides the fact, my husband was not sleeping well and he was waking up to find his back and neck hurt every morning. We knew we had to do something about this problem. The mattress is quite an important item in our home and a very big investment. And sleeping well is high on my priority list. I would think that it is important in your home too!
So what do I do when I need to purchase something (especially a big ticket item)? I do research!  Voila website and their tagline…
The First Showroom-quality hybrid performance mattress in a box.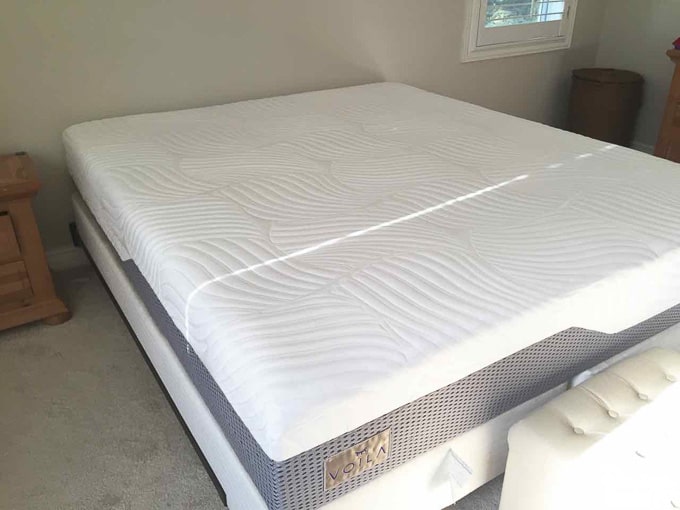 After reading reviews and doing research. I ordered the California King size mattress with Voila. Ordering with Voila was extremely simple. The online order process is super easy. And to receive the bed only after 3 days of ordering, is very impressive. So here is the new Voila mattress!
The Voila mattress is a hybrid mattress that is available in three firmness options (plush, medium and firm), so no matter your sleeping position and how firm you like your bed, the Voila mattress can work for you. Did you know there is temperature control? Keep your cool all night with porous, high-end mesh fabric and gel-infused memory foam.
Voila mattresses are deluxe comfort! The mattress features an indulgently plush surface with high-density foams, latex, and memory foams optimized to contour to your curves.
My video of unboxing the bed.
Be sure to subscribe to my YouTube page for some more fun videos, tips, and tricks!
Do you happen to feel every toss and turn your bed partner makes at night? I'm a light sleeper and know way too much of what goes on at night (sounds, movement, etc). Voila has made it so you don't feel any movement. You can count on not feeling the mattress move for every little and big toss or turn. Now if they can only come up a solution with little kids that sleep sideways – head and feet pointed to the sides of the bed. ; )
How to make an inviting bed?
It starts with a mattress cover. All the mattresses in my home have mattress covers. A good cover protects your mattress from sweat, spills, stains, dust mites and more! I also have pillow protectors on my pillows then a pilllowcase on top. So worth the small investment.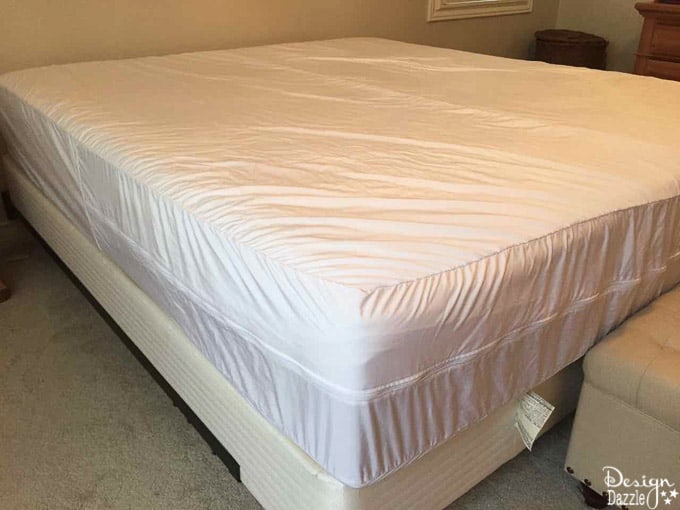 After the mattress cover, place nice comfy, clean sheets on the bed. Comfortable pillows are a must!
Next up is a comforter, duvet, blanket whatever works for you. Make sure the weight works for the season and climate you are currently in. I have a duvet cover with a lightweight duvet insert for spring/summer and a heavier insert for the winter.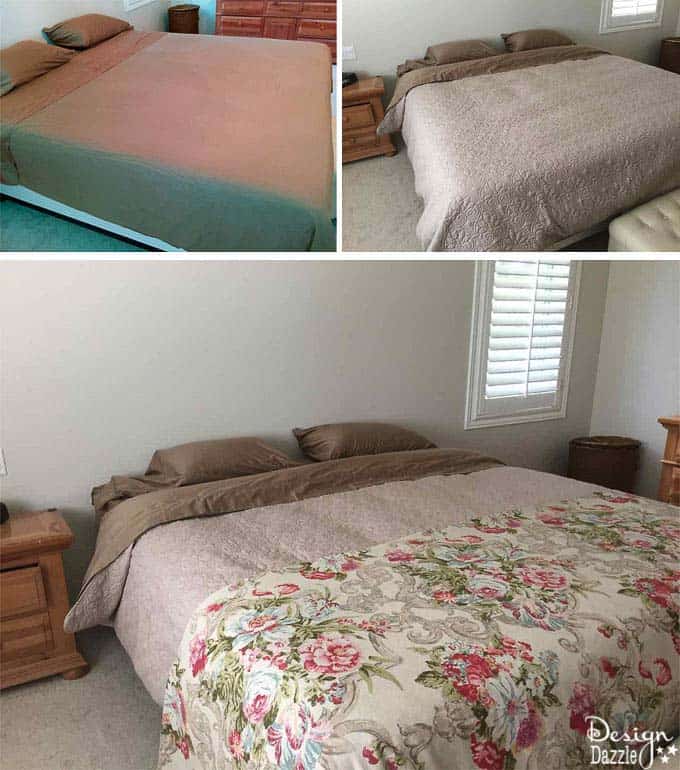 Place a beautiful throw at the end of your bed. This can be just to add color or texture or for cold nights.
Simply place pillow shams on the bed.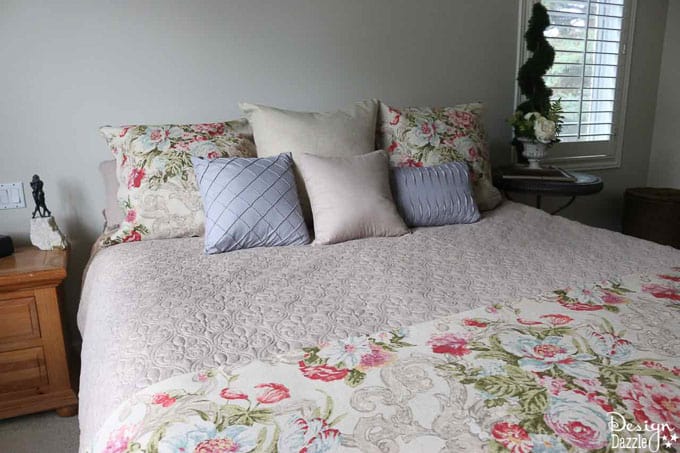 Three square Euro shams were placed in front of the pillow shams and a few throw pillows were added. It's fairly easy to create inviting bedding!
I've enjoyed sleeping on my new mattress! My husband said, "my back and neck don't hurt now after sleeping."
Can you believe Voila has a Free 100 Night Trial??
As stated on their website –
Voila ensures total satisfaction with your mattress purchase with our 100 day comfort guarantee. If you are not completely satisfied we will work with you to arrange a mattress pick up and a prompt refund.
Are there any drawbacks? Well, possibly in the morning trying to get up and out of a comfy bed when the alarm goes off ; ) There is off-gassing when I first unboxed the mattress. I'm pretty sensitive when it comes to smells and off-gassing. I waited two days to sleep on the mattress. There is no unusual or lingering smell. I've slept on the mattress with no problems whatsoever. In fact, I've slept extremely sound and feel very rested when I wake up.
Visit Voila to see for yourself how easy it is to order. If you have any doubts about ordering a mattress online, read about the 100 day guarantee!
Thank you to Voila for providing me with a mattress in order to facilitate this review. All opinions are my own.


Save
Save
Save
Save
Save
Save
Save