This post may contain affiliate links that, at no additional cost to you, I may earn a small commission. Read our Disclosure Policy.
My daughter has been a Harry Potter fan since she was a child. Now that she is grown (cry, cry) and getting married, I asked her if she would like to have a Harry Potter themed Bridal Shower. The answer with a big smile on her face was a resounding, "Yes, Yes!!" To say I have been really busy planning this shower is an understatement. There are so many fabulous ideas I had to narrow them down to my favorites . Instead of the "old world" look and feel of Harry Potter world, I wanted to create a contemporary bright colorful look – with colors that are gold, lavender, pink. light aqua blue with a bit of cream. One of the decorations I decided to create was a Harry Potter Quidditch Bridal Shower Centerpiece complete with Golden Snitches. So a great project to make for my Michaels Makers craft challenge.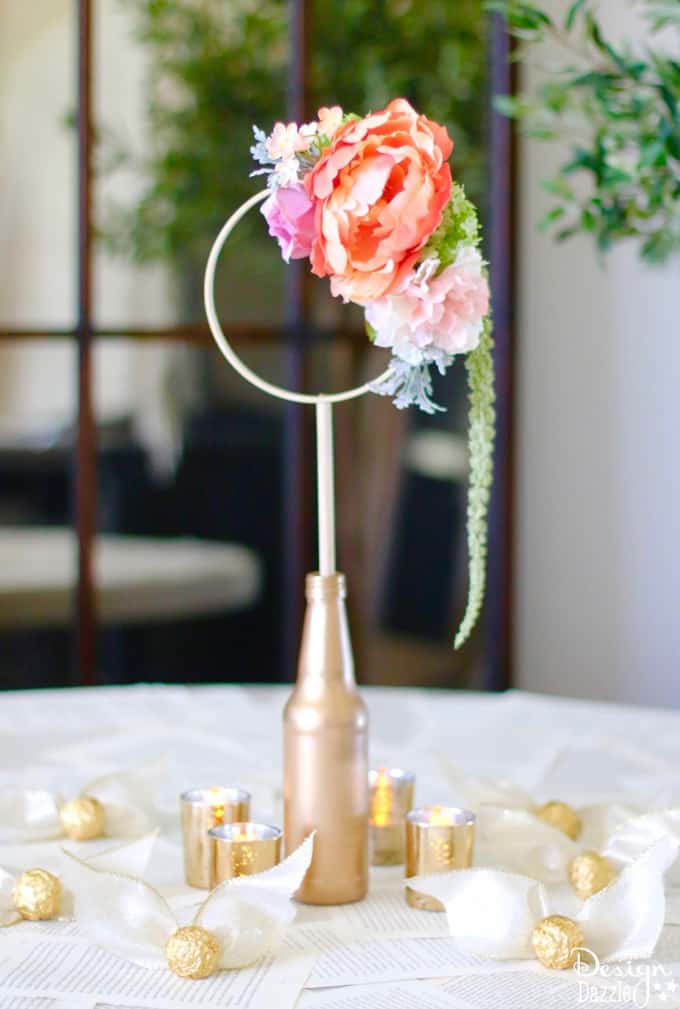 For the Michaels Makers challenge this month I get to work with craft paint. Specifically I purchased Krylon Metallic Gold spray paint, I've been wanting to spray this metallic gold paint on glass for a while. So this was the perfect project to create. With over 800 new styles of craft paint, Michaels has more paints for more surfaces! Check out some of their new finishes including ultra-metallic & watercolor and get started on your next DIY!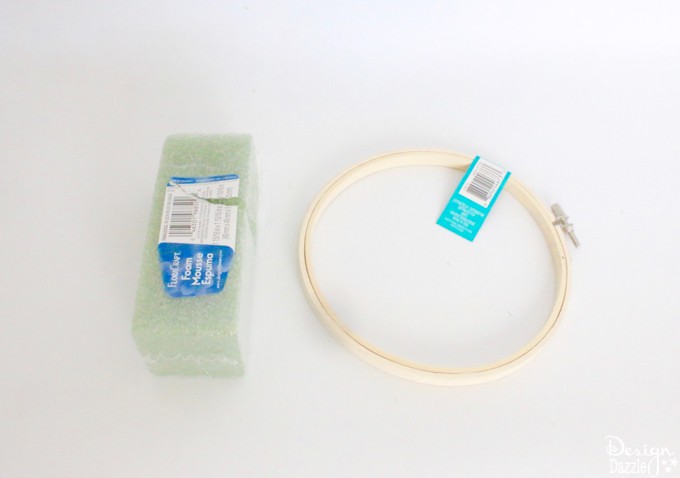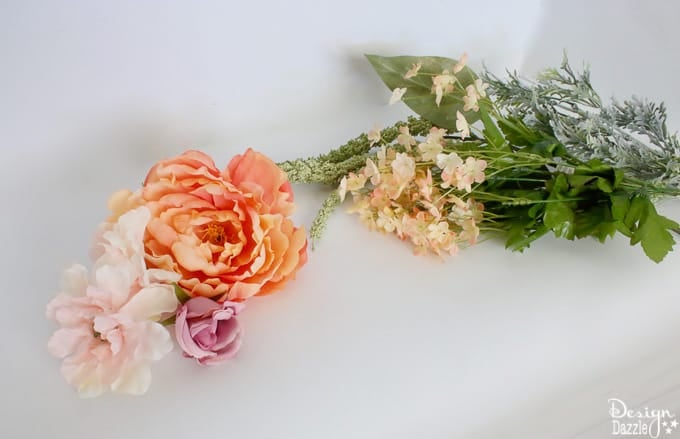 Supplies:
Glass bottle
Krylon Gold Metallic Spray Paint
Embroidery wood hoop
Faux flowers
Craft foam
Wood dowel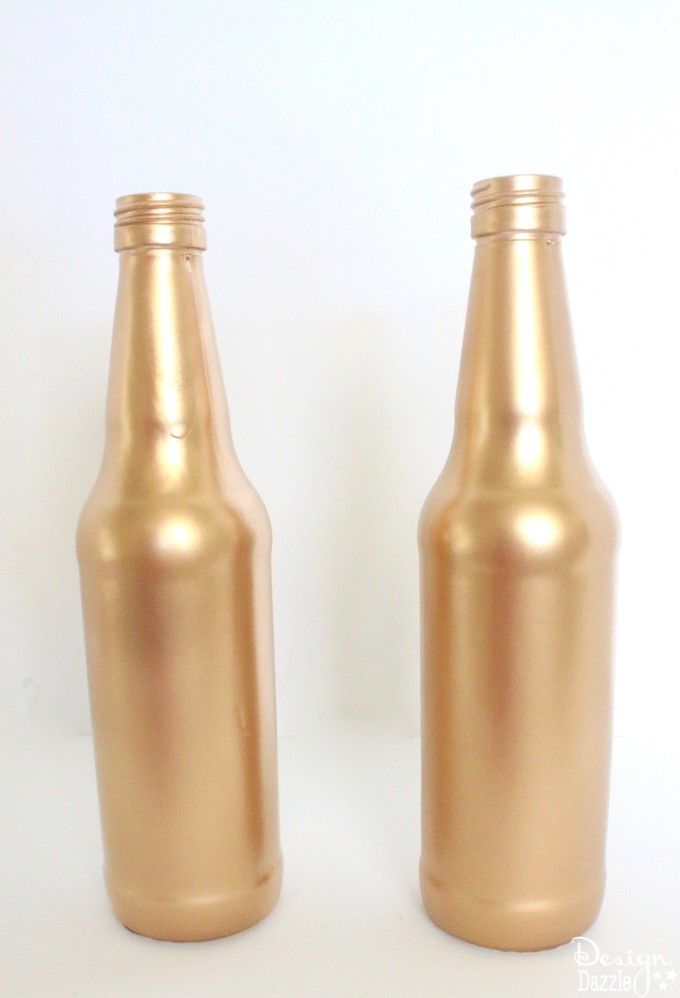 Step: 1
Spray paint the bottle gold. Let dry.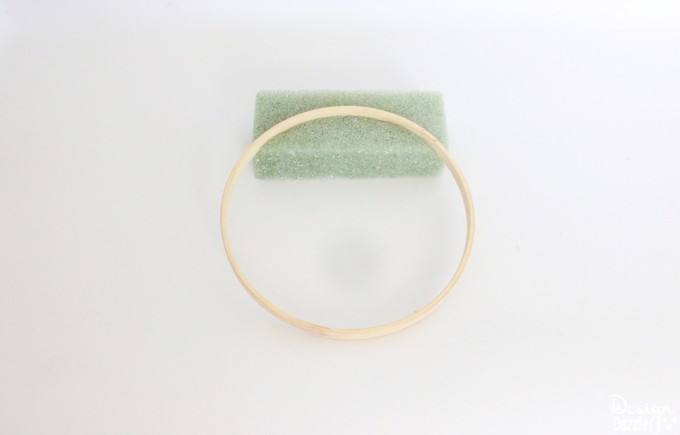 Step 2:
Cut the craft foam to fit on top of the embroidery hoop. Press the hoop on top of the foam so it make an indentation and stays in the foam. You will need to press hard and add pressure. This image just shows the hoop sitting on top of the foam. It hasn't been pressed in yet.
Step 3:
Remove the flower heads from the stems and push into the foam. Make sure to cover all the foam so no foam peeks through. Flowers were added to the front and back. Hot glue was also used to make flowers stable.
Step 4:
Cut the dowel to the size you want. Place a small screw into the bottom of the hoop and screw into the end of the dowel. You now have a Harry Potter Quidditch centerpiece that looks oh so cute!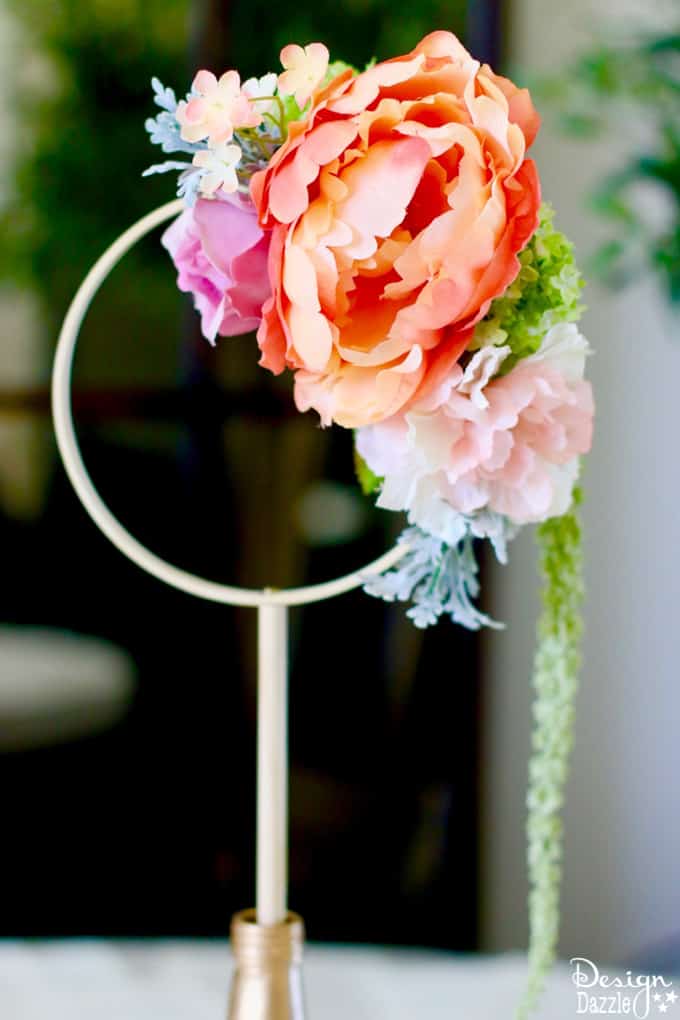 Step 5:
I placed rice in the bottom of the gold bottle so the "quidditch" was stable and not wobbly.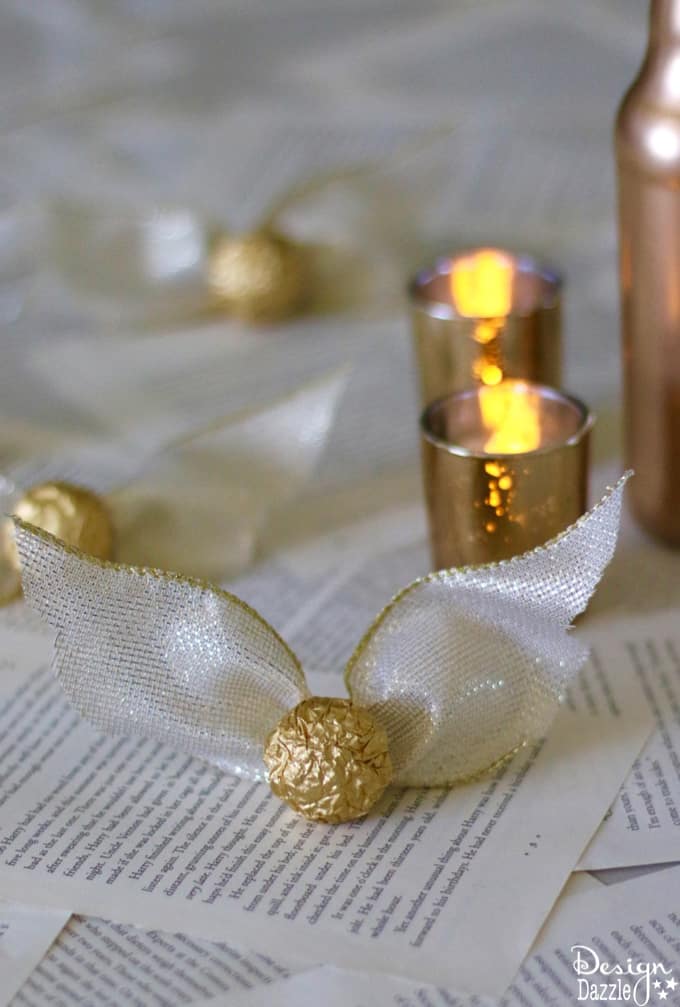 Golden Snitches were used to decorate around the Quidditch Centerpiece. There were so easy to make. Use chocolate Ferraro Rocher and cut ribbon to use as the wings. Cut the ribbon to look like a wing and hot glue onto the chocolate Ferraro Rocher. Pretty easy and simple.
How do you like this Harry Potter Quidditch Centerpiece? I love the look and feel it's perfect for a bridal shower. Need more Harry Potter ideas? Check here for a great Butterbeer recipe and free printable.
Looking for even more inspiration? Make sure you visit Michaels' blog, The Glue String, to see the rest of the Michaels Makers' DIY projects!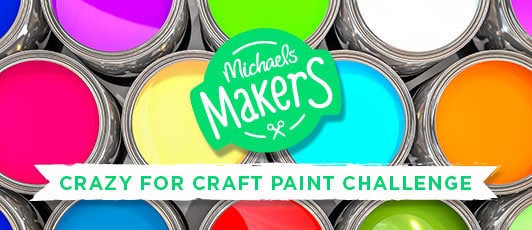 Disclosure: I was chosen to be a Michaels Maker. This post is sponsored by Michaels. All opinions are 100% my own. You can read my dsiclosure policy here.


Save
Save
Save
Save
Save
Save
Save