What to do with all the art your kids bring home from school or make at home? This large focal wall was painted with various shapes and sizes of frames to hold kids artwork. I love the idea of "painted" frames.
"Painted-on frames, clips and the use of different shades of colors all help create the look of this wall, which is meant to feature the rotating artwork of children, as well as be a decorative element in the room. Simple bulldog barrel binder clips were colored to match the corresponding frame and then attached to the wall with Velcro. The result is a magical mural that serves a purpose. Even empty of original artwork, the frames still look full because of the images within them." Images from here. 
Here are a few other solutions to help with the artwork clutter.
Take photos of your kids artwork. Make a special scrapbook of photos of all your childs art. This is such an easy solution to art that takes up a lot of space.
Hang a few wires on the wall and display "rotating" art
Use cork wall tiles to create a mini art gallery. Image from
here.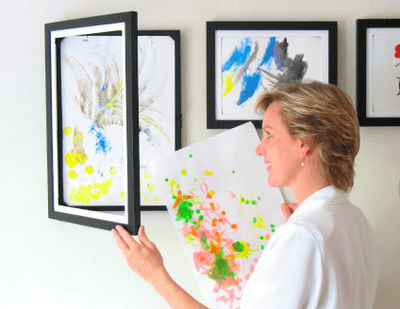 Dynamic Frames 
makes these clever art cabinet/frames. The frame/cabinet opens from the front and can hold 50 pieces of art.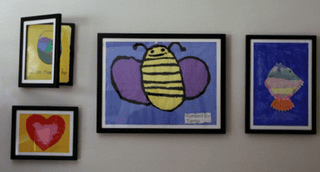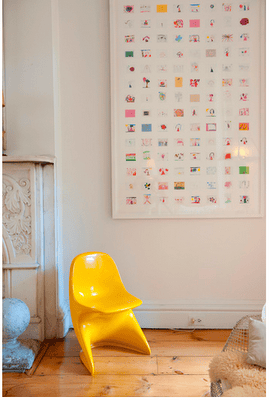 Jan Eleni scans your kids art and creates a one-of-a-kind poster (original art is returned to you). Seriously cool.