This post may contain affiliate links that, at no additional cost to you, I may earn a small commission. Read our Disclosure Policy.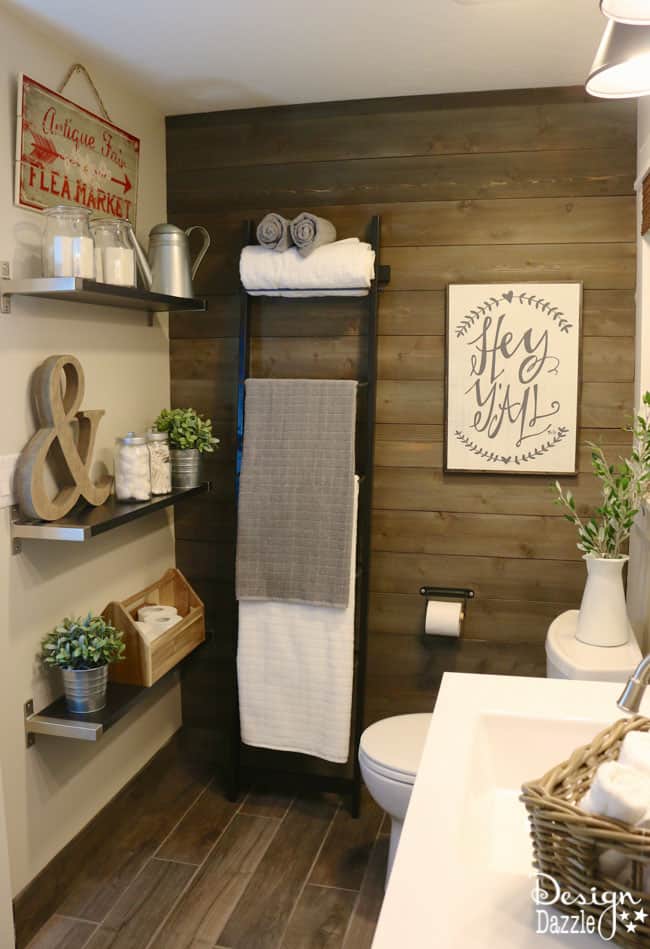 We recently added a completely NEW bathroom to our basement. Meaning there was no bathroom there just an empty storage space and lots of work to do to install a bathroom. It's a pretty big mess cutting through concrete for plumbing and sewer lines. I couldn't wait to get to the fun details like decorating and styling. Since I was the designer and project manager on this room I get to call the shots. So, I decided to do a farmhouse bathroom theme because I love the character and feel of the farmhouse look. Isn't there something about a farmhouse feel that is homey and inviting? I like to think this farmhouse bathroom has a farmhouse-modern look.
I couldn't resist planking the walls with the rustic weathered look using new wood. See the tutorial for the how-to.
Farmhouse Bathroom IKEA Style
IKEA's products were mainly used to decorate and style the bathroom. Walking through IKEA to see what new products they have is always gratifying. To see what can be used for a farmhouse look was just plain fun!!
Details on how I created this NEW bathroom from a storage room will be forthcoming soon.
To create the farmhouse look, I used warm whites, whites, grays, galvanized metals and worn wood decor with touches of greenery.
Modern floating EKBY shelves were installed on one wall. One of the great ideas behind this shelf and bracket is you can cut the shelf (if needed shorter) and the raw edge of the shelf won't show due to the end bracket.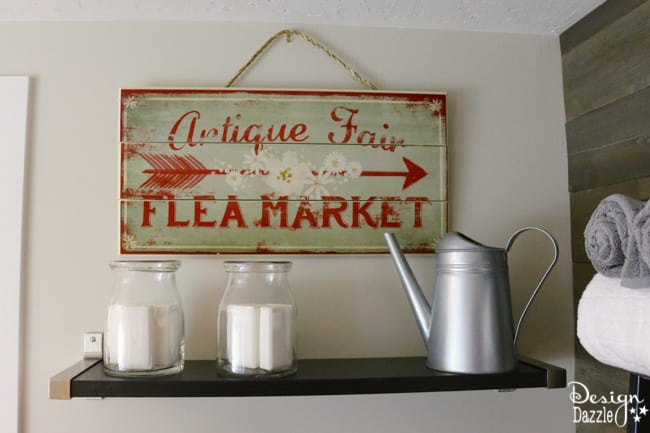 It takes me a while to style shelves. Rarely do I get it right the first time – sometimes it takes several times to move everything around to make it work. Neutrals work well for styling shelves with a pop of color here and there. Eventually it will all come together. My tip: just keep trying!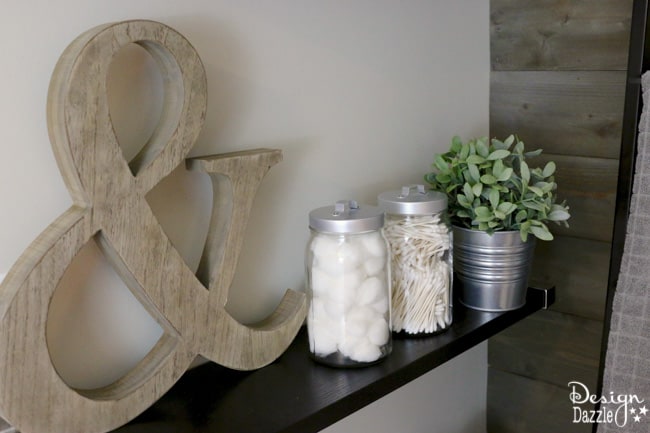 The BURKEN jar reminds me of a glass canning jar which of course, is just right for a farmhouse feel and the perfect storage jar to use for cotton balls, swabs etc. Galvanized metal pots with the FEJKA plants adds just the right amount of greenery.
How does this carpenters looking wood box look holding toiletries. It's new at IKEA and it's called a SKOGSTA box with handle.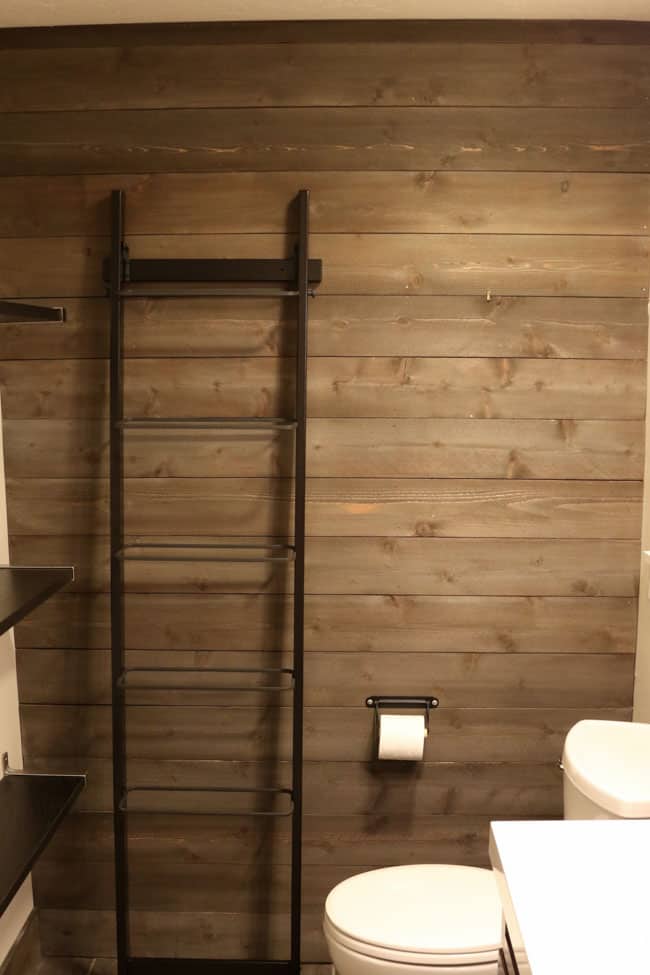 Make sure to visit our post on how to make a weathered rustic wood wall from new wood. It was super easy and inexpensive!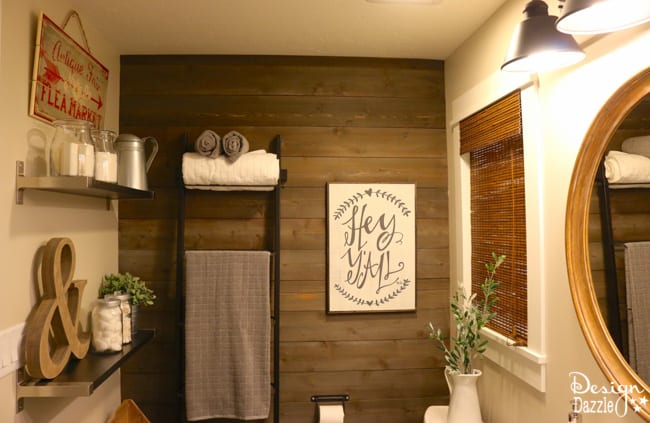 Hanging and storing towels on the HJALMAREN wall shelf is just the perfect farmhouse look! And look at the toilet roll holder – it shouts "old" and "farmy"?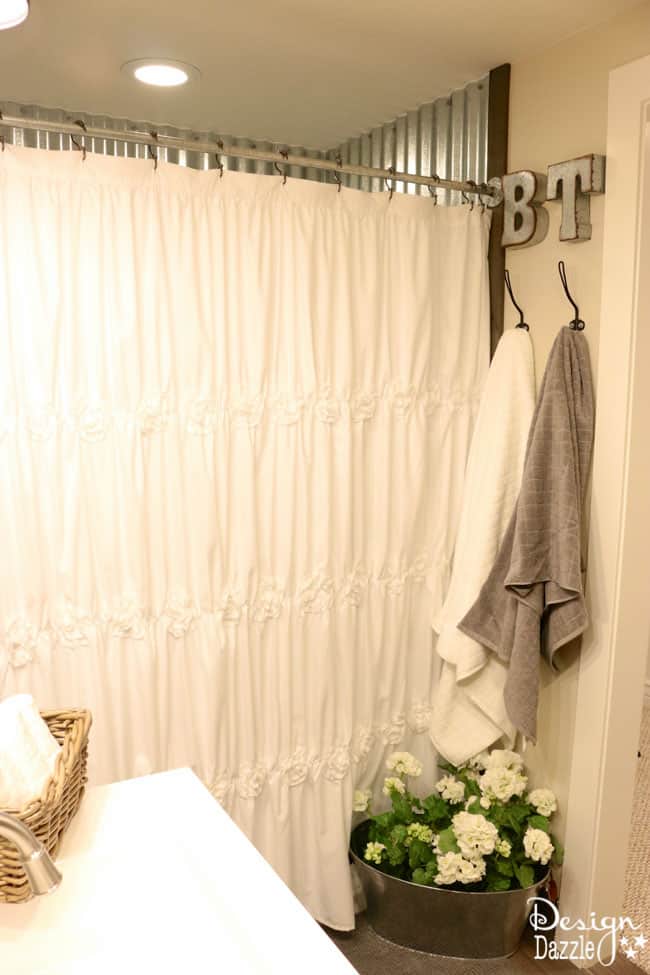 The wicker basket, flowers, galavanized metal pot, towels and towel hooks all from IKEA. I have had a lot of requests about this shower curtain. It was purchased here.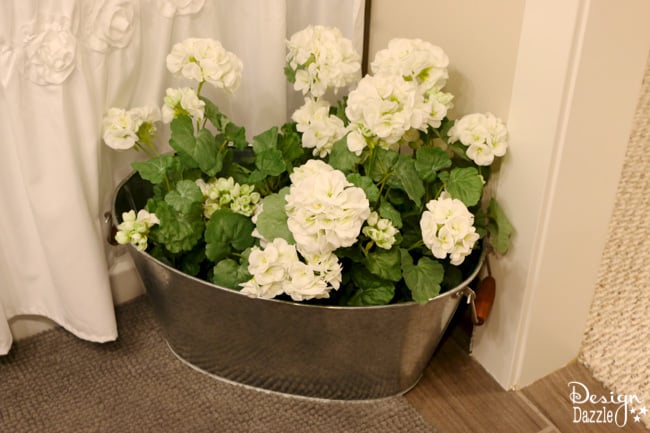 Look close – there is a very soft rug on the floor under the flower pot. It's the TOFTO bath mat and it just looks warm and inviting sitting there – just waiting for someone to take a shower ; )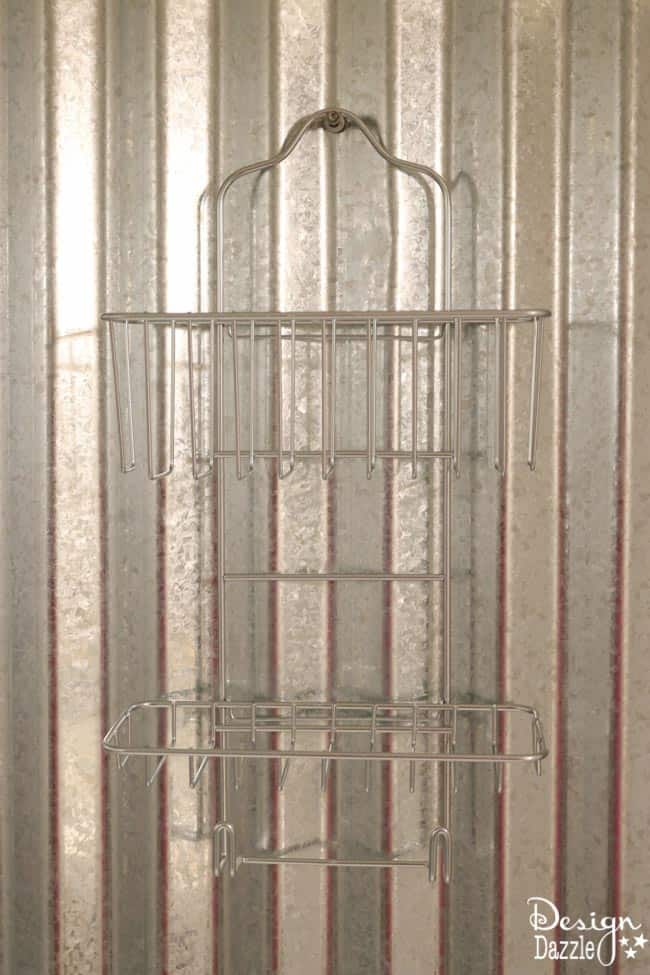 The shower caddy works great with the galvanized steel shower walls.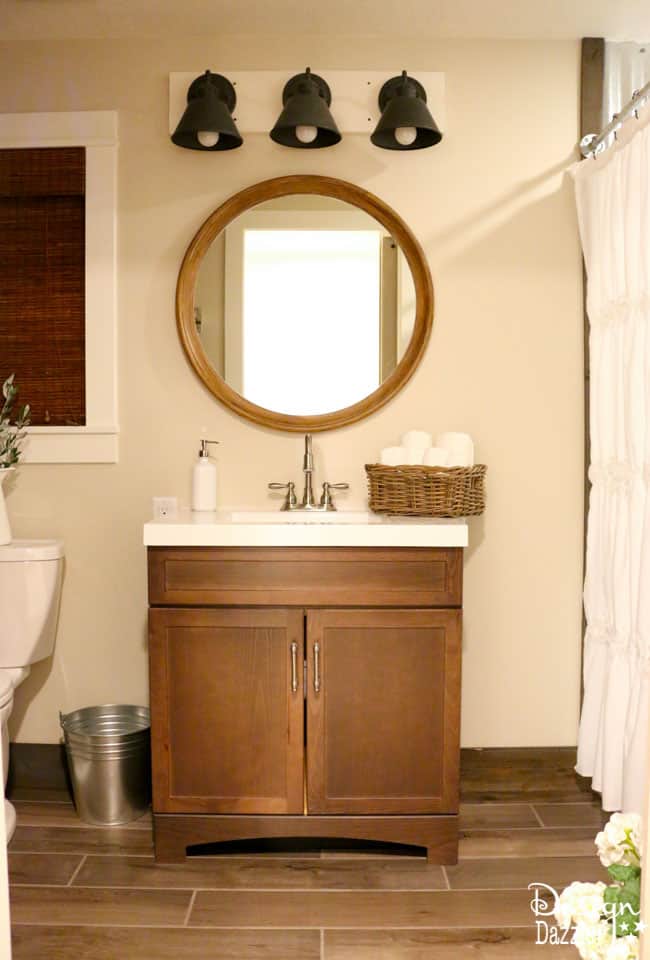 The round mirror was originally a light color (possibly a beechwood). I stained it warm brown/gray to match the interior. Milk buckets are usually found on a farm and this galvanized bucket looks just like an old milk bucket/pail (without all the grime) and it's perfect for a trash can. The sink vanity was purchased at Lowes.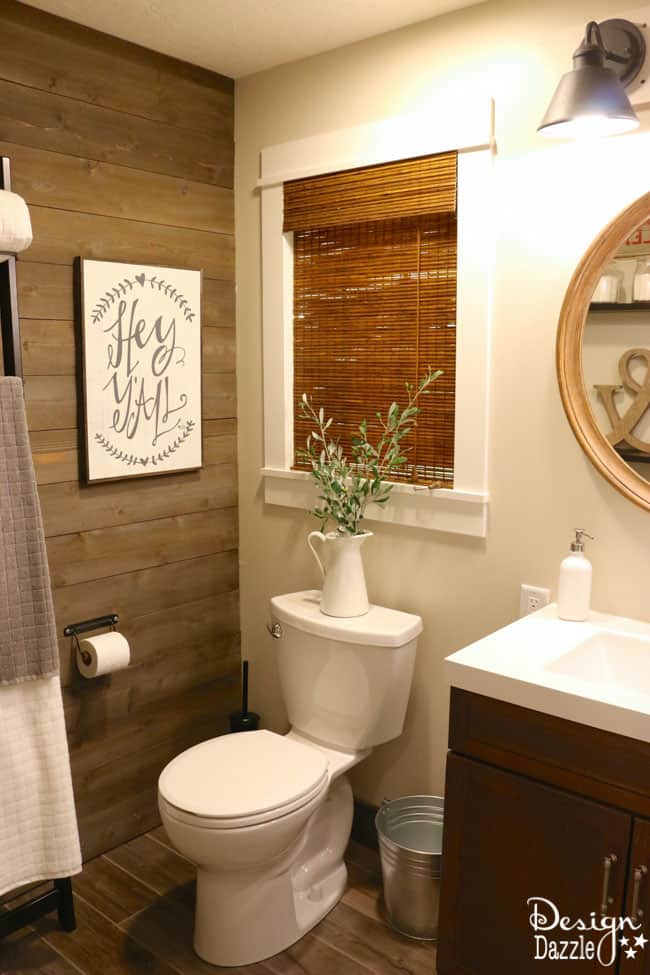 I really, really, really like how this textured weathered wood wall turned out. You won't believe how easy it was to create this wall. I purchased inexpensive new wood and shared a blog post on How To Create a Weathered Rustic Wood Wall.
This post contains affiliate links at no additional cost to you. For further information, please see our disclosure policy.
IKEA products used for farmhouse style:
FEJKA assorted artificial plants
FEJKA geranium artificial plant
BESTAENDE white glass dispenser
If you don't have an IKEA nearby, here are a few items you can purchase that is the actual product (or is similar) online:
White Shabby Chic Shower Curtain – this is the exact one I purchased. I love this shower curtain!!!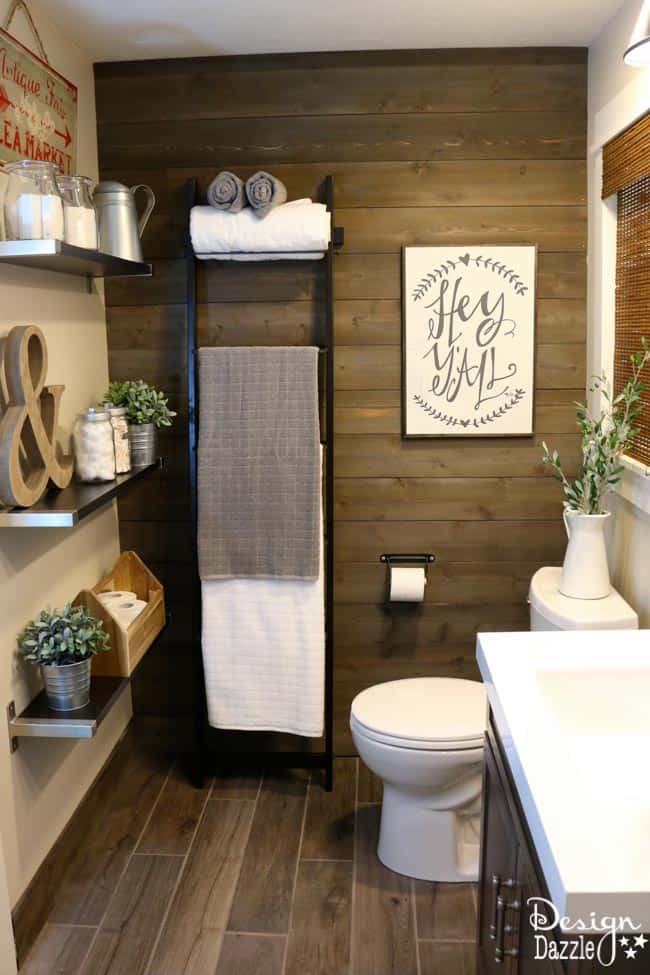 The only items used for decorating this room NOT from IKEA were: two art prints, wood ampersand, white shower curtain and two metal letters. That is it! All other decor is from IKEA!
Here are a few items that are similar to the ones that I have in this post from IKEA but can be found on Amazon if you don't have an IKEA nearby!
Shop This Post: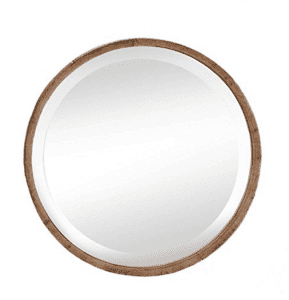 I had lots of fun shopping for these items. As you can see, there's lots of farmhouse decor going on at IKEA! Take a walk around and see for yourself.
How do you like my Farmhouse Bathroom IKEA Style??
This is a sponsored post written by me on behalf of IKEA. All words and opinions are my own. I've been compensated for this post.
A big thank you to Draper, IKEA!


Save
Save
Save
Save
Save
Save