This post may contain affiliate links that, at no additional cost to you, I may earn a small commission. Read our Disclosure Policy.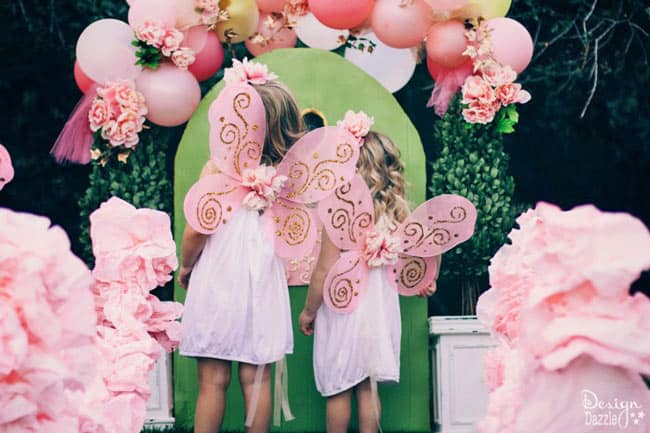 I'm thrilled to share with you this Fairy Tea Party I created for less then $100! Balloon Time asked me to participate in a party contest – Party on a Dime Charity Challenge along with a total of 8 party bloggers. The challenge?? To create a party for $100 or less and use their Balloon Time helium portable tank and any items we already had at home. I did say $100 or less and it's hard to believe but this party cost only $92!!!

If my party gets enough votes, Operation Shower the charity I chose will receive $5000 from the Worthington Industries. Operation Shower's mission is to provide joyful baby showers for military families to ease the stresses of deployment. I appreciate the sacrifices made on our behalf by the nations military and their families (especially expectant wives!). My hubby, father, uncles and an aunt have all served our country. So the amazing work done by Operation Shower is near and dear to my heart.
Voting has closed. Thank you for voting – my fairy party came in 2nd place.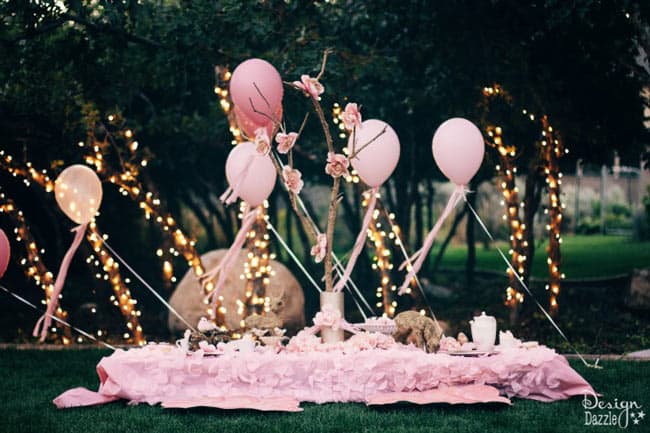 A lot of the items for this party came from the dollar store. There were a few decorations that were free (cardboard for fairy gate and tree branch for centerpiece) and a couple items I already owned or were purchased at the thrift store. I wanted to create a party that most parents could duplicate for their own little girls. I do have a nice supply of decorations that would have gone beautifully with this party but I decided to use just a few items from my home and mainly concentrate on lots of CREATIVE and AFFORDABLE do-it-yourself projects that can easily be recreated.
My hope is to inspire you to create your own beautiful party on a dime!!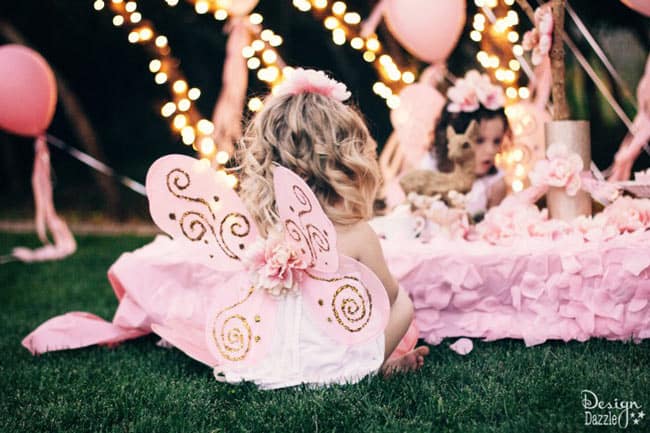 I don't have little chairs for seating at a kids party. So I decided to make fairy flowers that the fairies could sit on. Dollar store placemats were painted to create adorable flower seats. I placed a folding table on plastic storage boxes to lower the table since the guests would be sitting on the ground.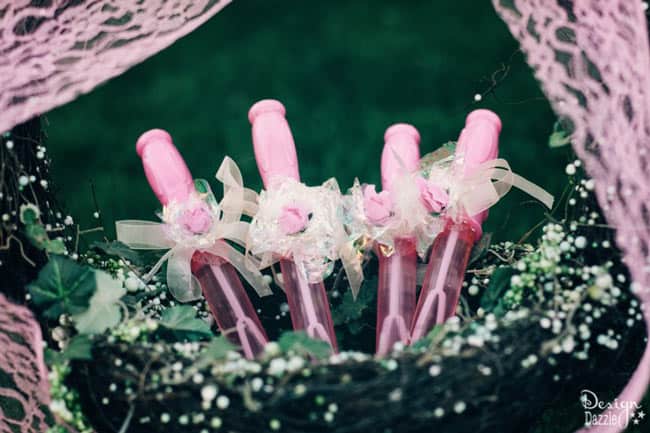 Dollar store bubble wands with a little embellishment makes for a darling favor!
This fairy gate is made from cardboard and so is the sign. The flower bushes in the balloon arch are the Peony bushes from the dollar store. The topiary trees I've had for years. If you don't have your own topiary, borrow some or create this look on an open gate in your yard. Tall metal garden lantern stakes could also work to support a small balloon arch. Look around your home and see what you already have that might work. Anyone can recreate this look.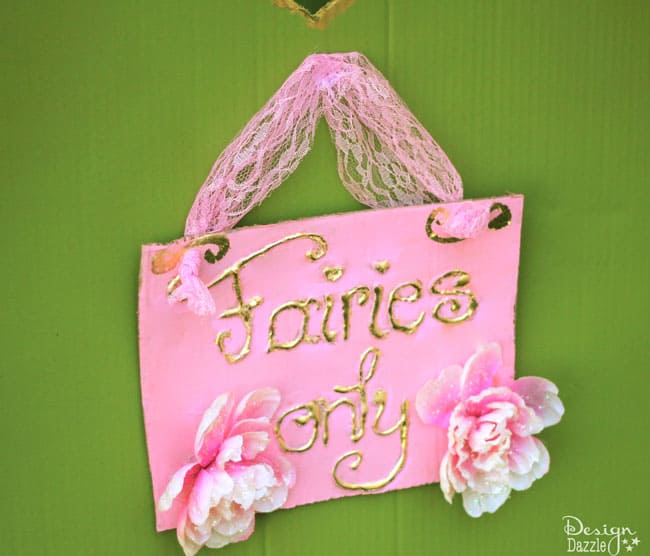 Love this cardboard fairy sign!!
Dollar store chargers and bird were sprayed gold. Gold glitter was added to the thrift store deer.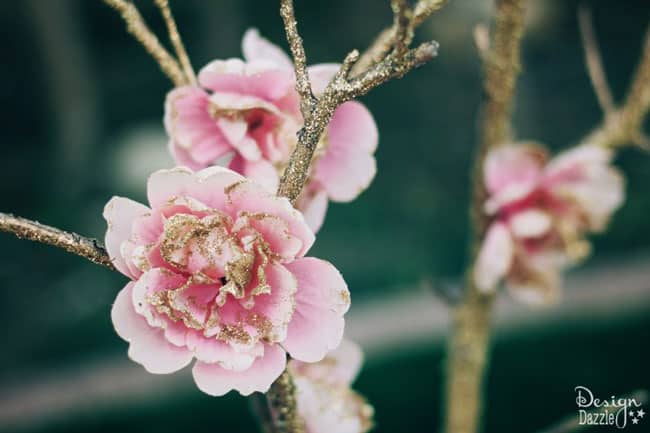 I found a tall tree branch in the yard and glittered it gold. Dollar store flowers were glued to the branches.
Inexpensive plastic rings were used as decoration on the cupcakes purchased from Walmart.
The sweet fairies – Jilly, Jacquelin, Sophie and Paislee enjoying the fairy tea party!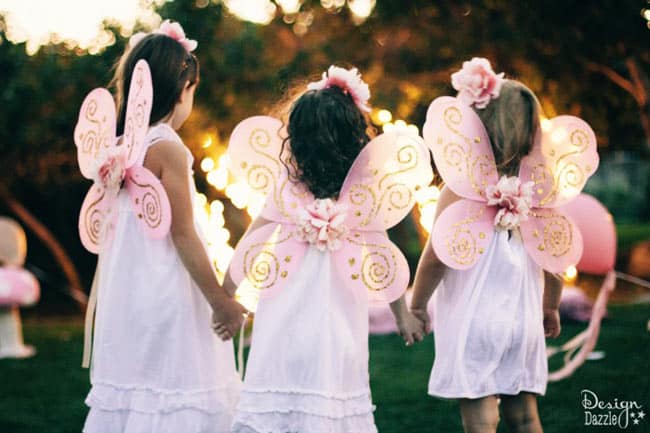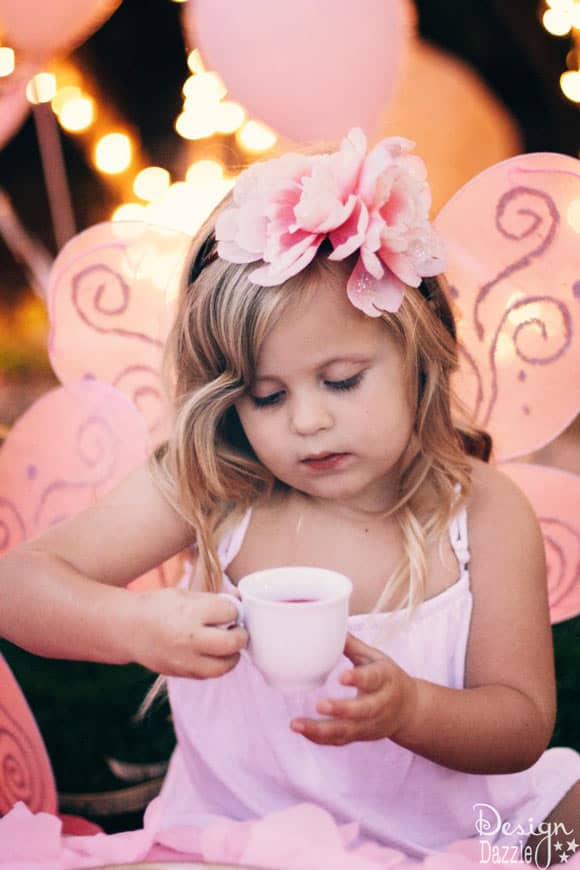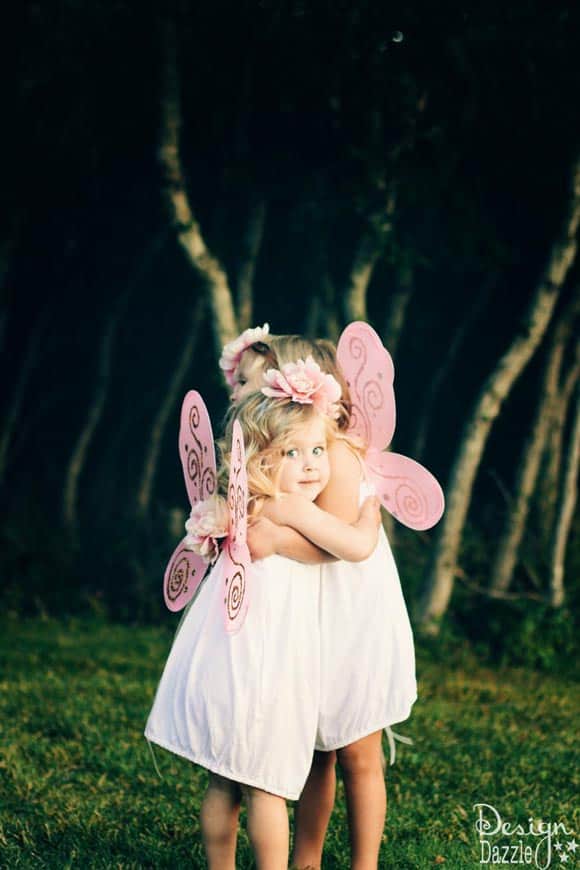 Sweet sisters.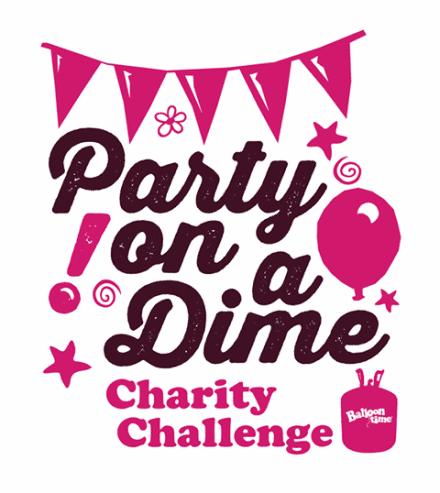 How to Create this Fairy Tea Party
for Under $100
Tutorials:
Look for these upcoming tutorials:
No-bake adorable mini cakes

Fairy flower seating made from dollar store placemats

Rose petal table cover created with dollar store items

How to set a tea party table – complete with tree branch centerpiece tutorial

Embellish favors to create a high-end look

Free fairy printables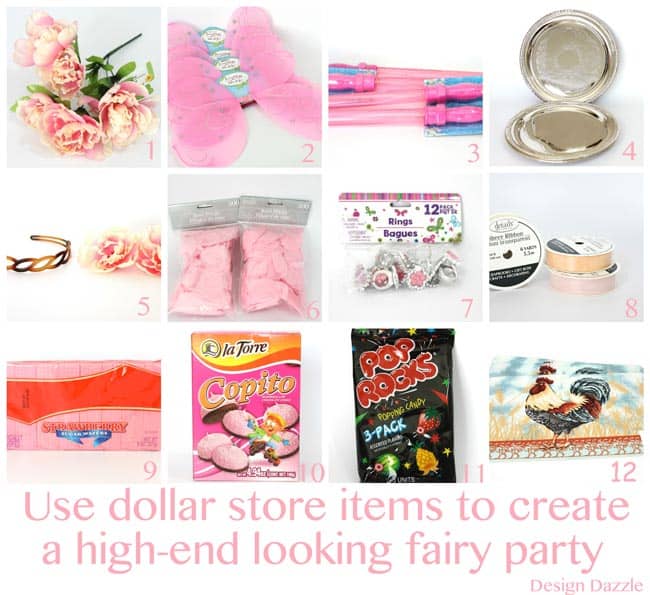 I wanted to share my purchases so you can get an idea how to do your own Fairy Tea Party. First up – are the supplies I used to create the Fairy Tea Party. A lot of the items came from the dollar store. Here is the list:
Dollar Store:
1. Peonies -14 bushes to be exact. Aren't they beautiful? Hard to believe they're only $1 per bush (6 flowers on a bush)
2. Fairy Wings for the guests to wear
3. Bubble wands for a game and favors
4. Small silver platters (spray painted gold)
5. Plastic headbands for the flower headbands
6. Pink rose petals – 8 packages to create a beautiful petal tablecloth
7. plastic rings to use as a cupcake decoration and to wear after eating the cupcake!
8. Sheer ribbon used for the fairy wings and fairy bubbles
9. Pink sugar wafers to make into dipped cookies
10. Mini pink marshmallow cookies
11. Pop Rocks – the perfect ingredient for Fairy Tea
12. Vinyl placemats – painted as peonies and used as flower seating on the ground
other Dollar Store items not shown in picture:
container of cotton candy
2 pink tablecloths
3 rolls of paper towels
curling ribbon
clear plastic plates
$58  Dollar Store total with tax
Free Items:
Tree branch for centerpiece
Cardboard (green fairy gate and fairy sign)
Misc purchases:
1 – wire doo-dad from Thrift Store ($2)
1 – package of gold leaf. On sale at Michaels Stores ($3)
1 – balloons ($7)
1 – piece of gold glitter paper ($2)
1 – package of candy melts ($3)
1 – set of 4 gum paste flowers ($4)
$23 with tax
Wal-Mart
1 – package of Ding Dongs
2 – cans of frosting
1 – package of cupcakes
1 – can frozen lemonade
$11 – Wal-Mart total with tax
$92 total spent on the Fairy Tea Party
Items I already owned:
White Christmas lights
Pink mushroom. I made this for another party using a dollar store aluminum pan. How to make a giant mushroom party prop
2 -Topiary trees – I've used these for several parties. You can see them here on the front porch for this party.
Deer figurines – purchased at the thrift store last year for all of $1.Used glue and gold glitter to glam it up.
Cream colored suitcase – purchased at thrift store and spray painted a cream color. Check how I used it here on a dessert table.
Craft items – glitter, tulle, lace, craft paint
Misc décor – miniature birdbath, foam log, teacups, banner, cupcake wrappersetc.
Thank you to Jenisse for the beautiful pictures!
Professional Photography: Jenisse Forbes of Jenisse Photography
Instagram: https://instagram.com/jenissephotographydesign
Facebook: https://www.facebook.com/JenissePhotography
Website: https://jenisse.com/
Blog: https://jenisse.com/blog.php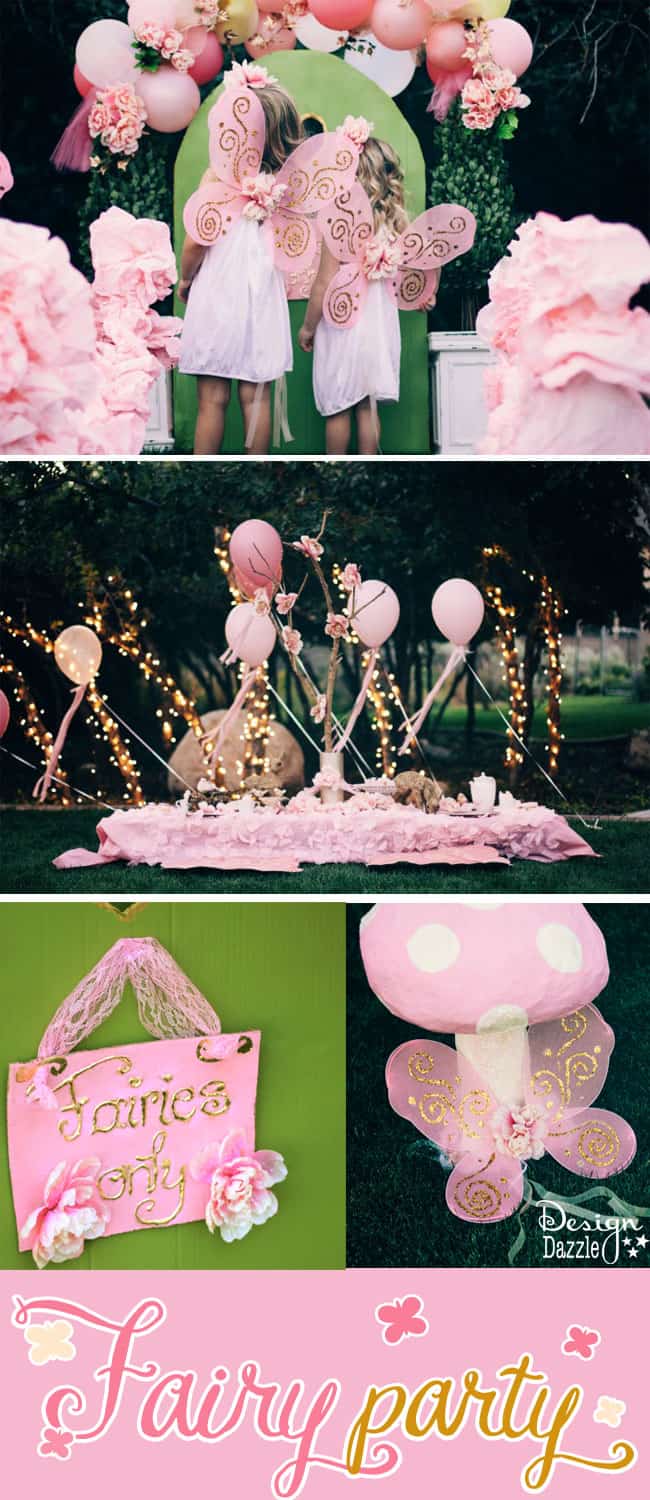 I received a $100 gift card and helium tank to create this party on a budget. I received no compensation for this post but my party is under consideration to win for charity. I'm hoping my party wins because Operation Shower will receive $5,000. All opinions are 100% my own.



Save
Title:
Fairy Tea Party Charity Challenge
Mentions:
fairy party, fairy party on a budget, fairy tea party, party on a budget
Keywords:
Fairy Tea Party
Last Updated:
August 1, 2020