This post may contain affiliate links that, at no additional cost to you, I may earn a small commission. Read our Disclosure Policy.
Remember my beautiful Springtime in Paris party? That was such a fun party to create, and honestly, such a great example of how DIY projects can pull everything together! One of the simplest DIY projects from this party was the tulle tablecloth. This simple table cloth was no sew! It reallly added a certain softness that really tied the whole party together, I love how it turned out.
Supplies:
54 in x 25 yd tulle fabric from Michaels or you can purchase it here 25 yards Tulle 54″
white tablecloth (or fabric, whatever you want to use underneath!)
straight pins
ribbon
Step 1: Remove the whole roll of tulle from the package and the lay it out. Find both ends. I often get asked questions about specific colors and products, so here's a picture of the tulle I used.
Step 2: Using straight pins, securely pin an end of the fabric to either end of the tablecloth. I started pinning the fabric on from either end so that I could be sure it ended up centered and I didn't run out of any fabric.
Step 3: Starting at one end, pull out enough fabric for it to rest on the floor and come back up to the table. Pin the top onto the tablecloth at the edge of the table. Repeat this at either end until the whole table is covered. Make sure to pin each section securely! You may have to use a few pins so that the tulle won't fall. Try to do this as straight and evenly as possible.
***One thing I wish I would've done a little differently was as I was pinning the fabric on, to separate the bunches a little more. This would've created more body and looked more finished!
Step 4: Cut ribbon long enough to cover the front and edges of your table. Pin this ribbon on the top of the tulle (where all the pins are). Make sure to cover the edges of the tulle, to give it a clean finish.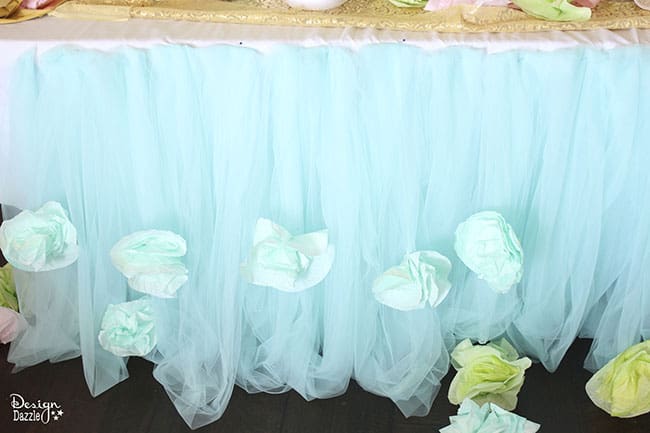 Step 5: If you choose, use straight pins to pin on coffee filters all over the tulle! This adds such a whimsical touch. Learn how to make colored coffee filter flowers.
Step 6: Add a piece of ribbon around the perimeter of the table to hide the straight pins. This will give it a finished look. I used gold ribbon that tied in with the color theme. I used safety pins to pin it on the corners and used the coffee filter flowers to hide the pins.
This beautiful, light tablecloth takes about 15 minutes to do! I love how simple, yet beautiful this tablecloth is!
This post contains affiliate links.


Title:
Easy No Sew Tulle Tablecloth
Mentions:
DIY projects, no-sew, Springtime in Paris, tulle tablecloth
Keywords:
tulle tablecloth
Last Updated:
May 26, 2022