This post may contain affiliate links that, at no additional cost to you, I may earn a small commission. Read our Disclosure Policy.
Make this super cute DIY unicorn wreath for your kid's room or make it with your kids for an easy and darling craft! It's so quick and easy to make!
You'll love the sparkly magical feel of this adorable craft. It's also a nice decor for your unicorn themed party!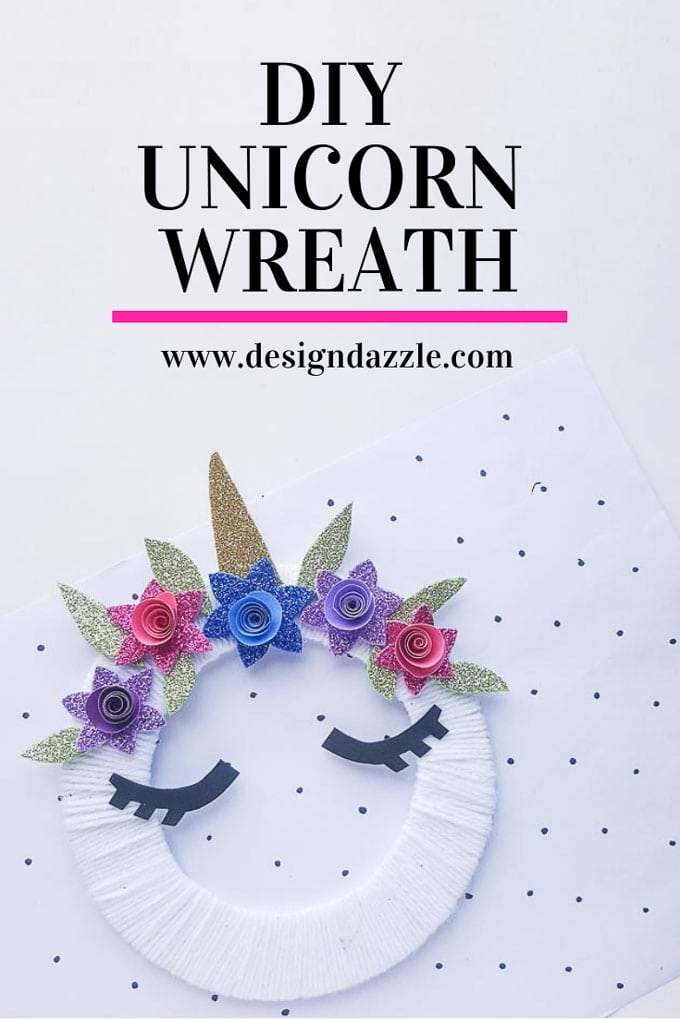 List of Supplies: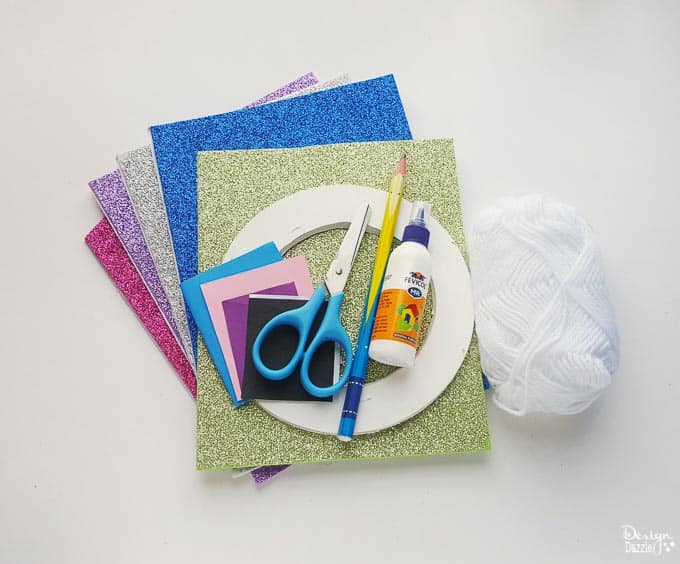 Glitter paper
Colored craft paper
Black cardstock paper
Pencil
Scissors
Craft glue
Round wreath base
White yarn
Instructions:
Step -1: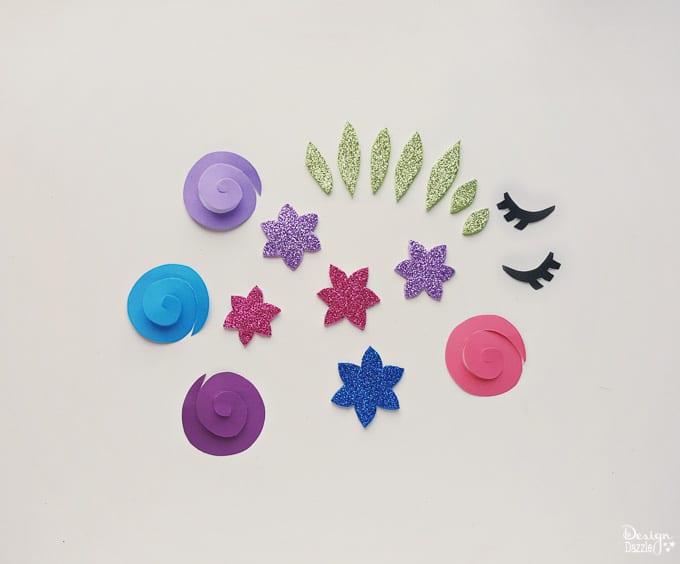 First of all, prepare the template patterns. If you are a subscriber, you can find the templates are on free printables page. If you are not a subscriber, please sign-up at the bottom of the post for access to all of our free printables.
Print and cut them out nicely.
Select different colored craft papers or cardstock papers and glitter papers for the flowers and the leaves.
Trace the patterns on the selected papers and cut them out using scissors.
I'm using glitter paper for the leaves and the flower base.
Step -2: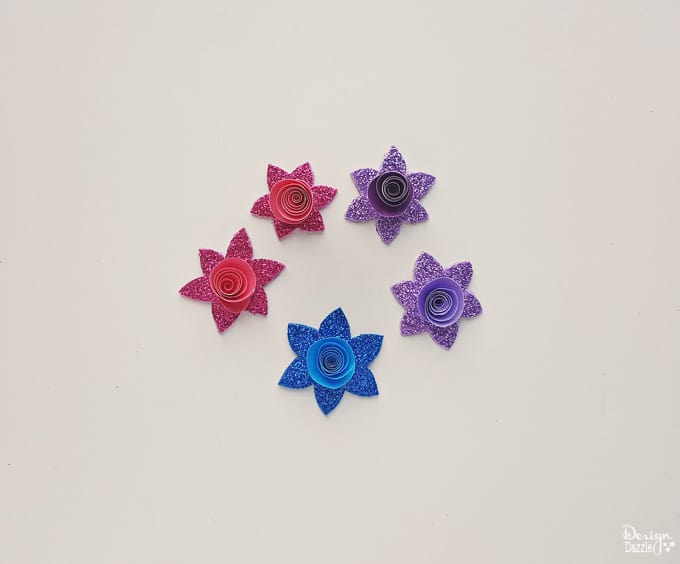 Take a spiral cut out and roll it from the outer edge, all the way towards the center.
Glue the rolled part with the center to secure it.
Now attach the spiral pattern on the center of a flower base cut out.
Similarly prepare the other flowers.
Step – 3:
Wrap the entire wreath base using white yarn (or any colored yarn you want).
Attach the horn cut out on the wreath base, with its pointy end facing outside the wreathbase.
This will be the top side of the unicorn wreath.
Step – 4: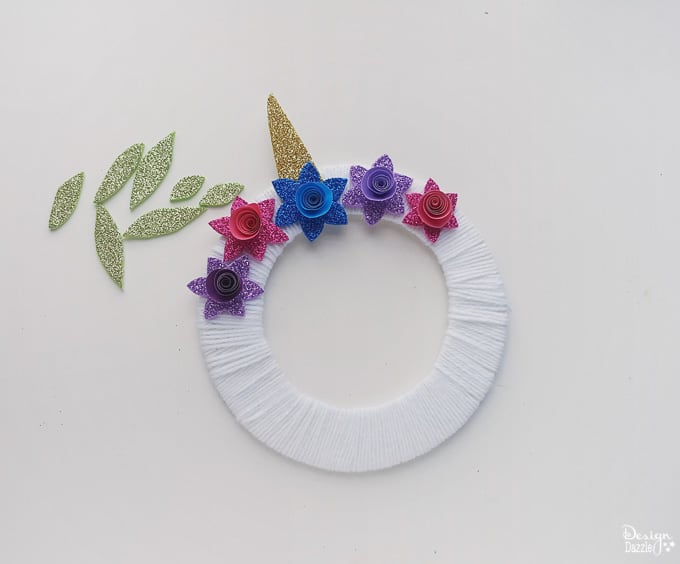 Place and glue the flowers one by one on the wreath base, below the horn.
Step – 5: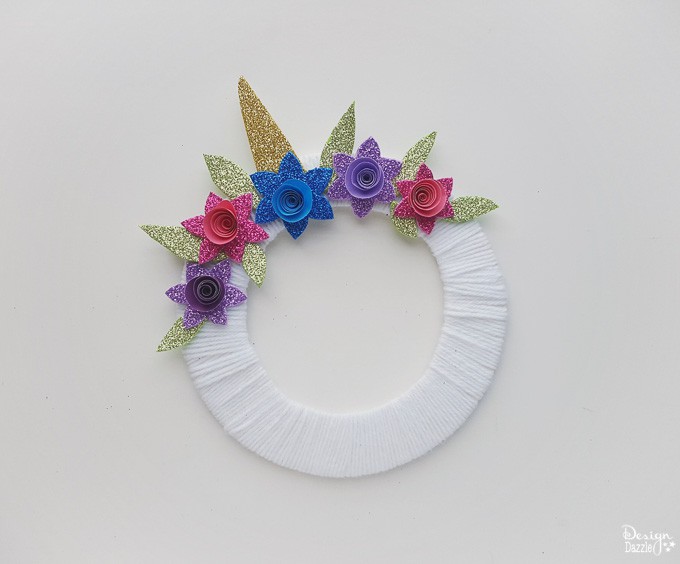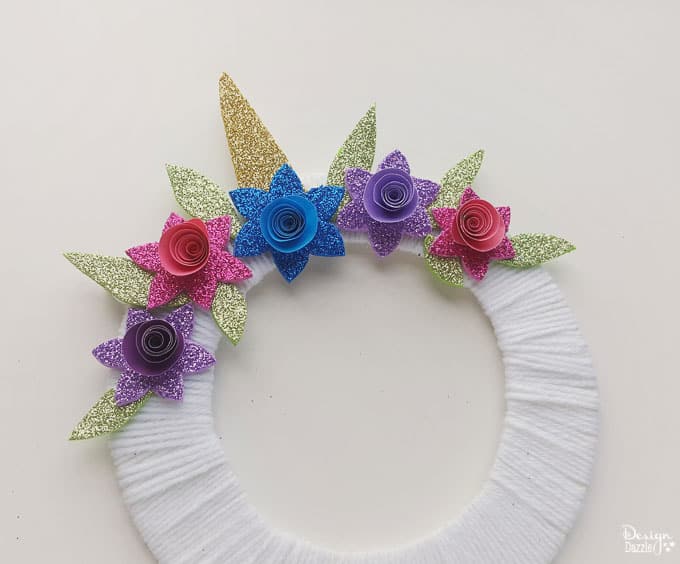 Now, attach the leaf cut outs between the flowers to fill the decoration.
Add more decorating item if you want to.
Step – 6: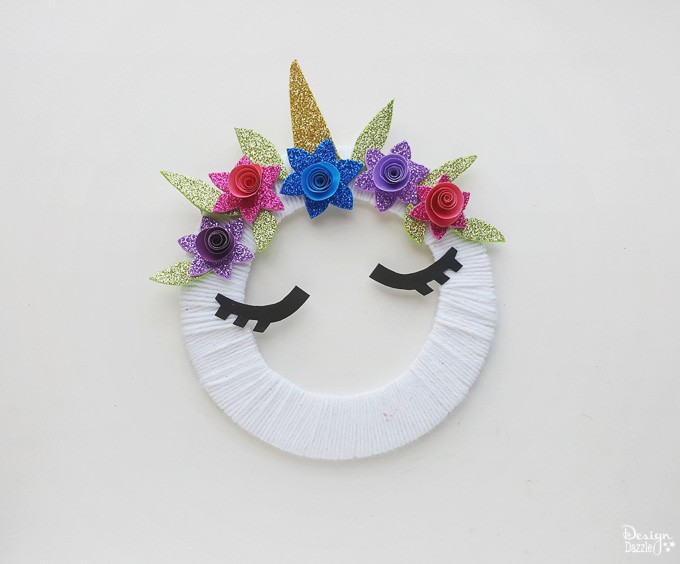 Attach the eye cut outs on the wreath base.
Attach the eyes on 2 opposite sides of the wreath base, below the flowers.
And done!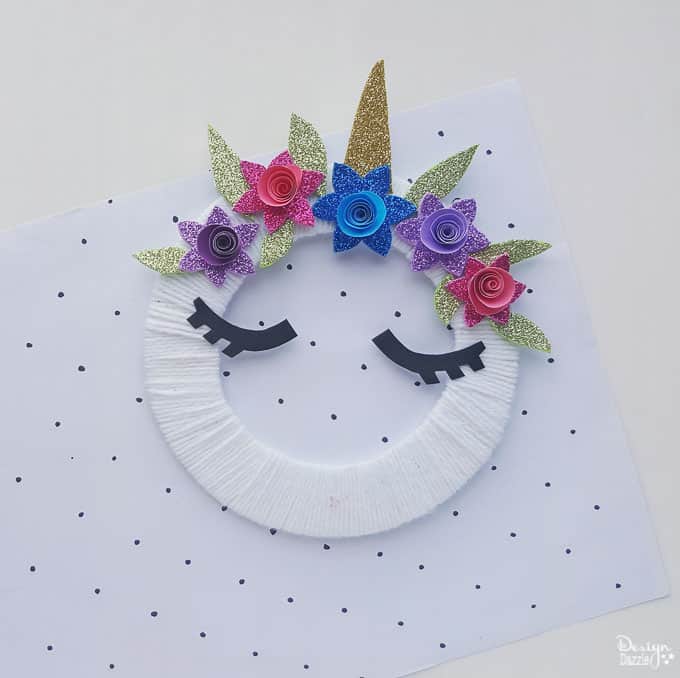 Here are some of the things you'll need to make your own DIY unicorn wreath:
The Unicorn Wreath Template is FREE and available for immediate download by subscribing to Design Dazzle! If you're already subscribed to Design Dazzle, you can access the link to our free printables in your weekly email/newsletter.
To receive this free template – enter your email address in the box below and click submit. Make sure to check your inbox for an email from Design Dazzle. You will need to click on the link in the email and then you will have immediate access to all of our FREE printables and you'll receive an email newsletter filled with lots of great information. Don't worry your email address will never be sold.
Printable files are for personal use only. They are not for commercial use.
If you're looking for more unicorn inspired crafts, check out these super cute unicorn favor boxes: