This post may contain affiliate links that, at no additional cost to you, I may earn a small commission. Read our Disclosure Policy.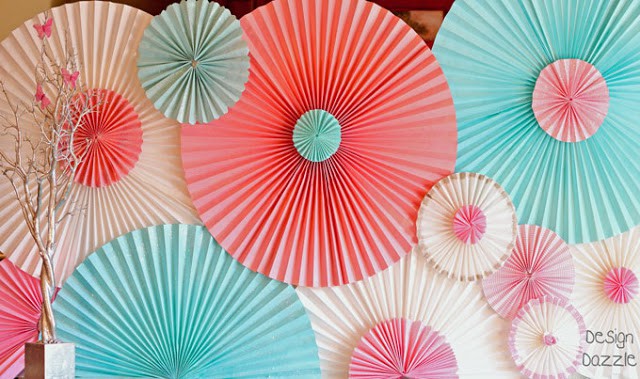 I am so excited to announce that Design Dazzle has been selected as a Featured Content Partner for Kirkland's Pinning Parlor. What's that? You aren't familiar with Kirkland's Pinning Parlor? Not to worry. You're not alone. It's all new. Kirkland's, a chain of home-decor stores that stocks an impressive selection at very reasonable prices, has set up an online community called the Pinning Parlor. It's a special section of their site for sharing projects, entering to win prize packages and finding inspiration for your next project. You have a chance to win $2000 in prizes!!!
For my first Pinning Parlor project, I shared this tutorial for making paper rosettes out of window shades:
I shop more often at the hardware or dollar store for party decor/supplies then I do at the party store. For this DIY party project, I purchased a box of temporary pleated paper window shades 36-by-72-Inch, 6-Pack from Lowes (home improvement store). These were used to create the stunning party backdrop.
Before you begin, you will need to determine the size of the space you are decorating. One box of six shades decorated this 4′ x 8′ backdrop. The paper window shade is 36″ wide and 72″ long. Each large paper rosette shown is 36″ wide and is made from one window shade. To make the smaller 12″ rosettes, the shades were cut into three 12″ wide pieces at 72″ long. The shades are made of a lightweight white paper that is easy to cut plus they come already pleated.
Steps for the DIY Paper Rosettes Using Paper Window Shades.
Lay the paper shade flat on a surface. Expand the paper shade and extend the top of the shade to touch the bottom of the shade forming a circle (see image). Each window shade comes with an adhesive strip on the top. Peel off the protective backing and adhere the edges of the shade closed. You have now made a round paper rosette!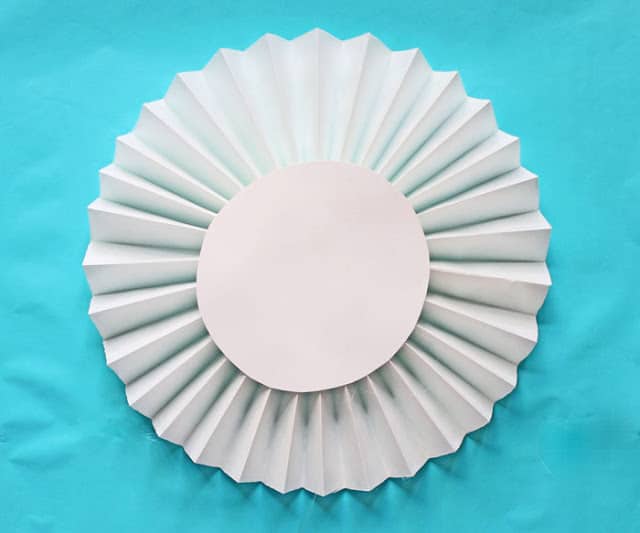 This rosette is off to a good start but without a little stability it will lose shape. Hot glue a round of poster board to the back.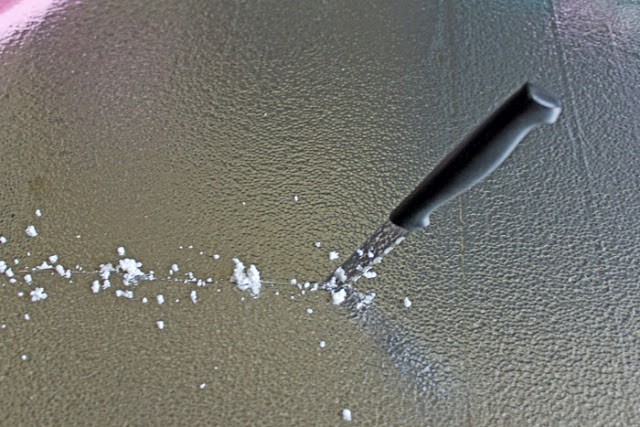 Next it's time to consider how to turn this one rosette into a beautiful backdrop. I've used polystyrene insulation sheets for craft projects for years. This 1/2″ x 4′ x 8′ sheet of foam was only $7 …perfect for craft and hobby projects. You can purchase it at Lowe's or Home Depot. Foam sheets are really lightweight so it's an easy setup without scratching furniture or breaking your back. I used this board to hot glue the paper rosettes. If you need a smaller size to fit your space, polystyrene insulation sheets are easy to trim with a kitchen knife. Or you can purchase a similar product in a smaller size by the name Insulfoam or Expanded Polystyrene Foam Sheet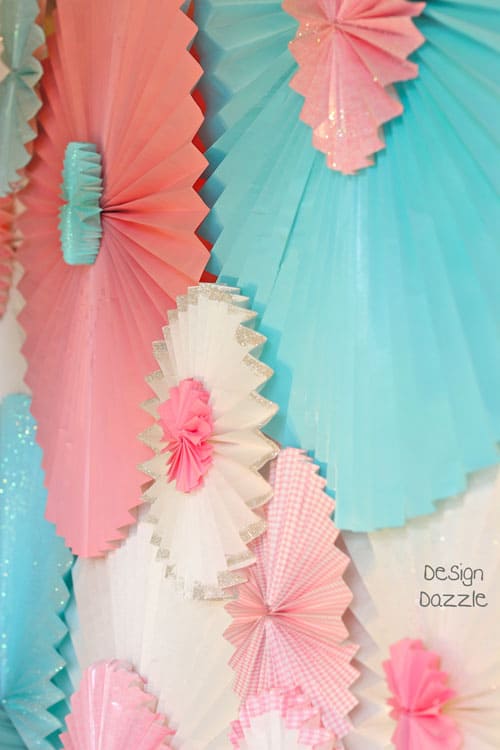 Spray paint the rosette to match your color scheme. I used glitter and ribbon to jazz up the rosettes and the hot glue gun to attach it to the "polystyrene board". Scrapbook paper was used to create some of the smaller rosettes.
Here's the finished product. I think the rosettes add stunning texture and visual appeal. How about you? I'd love to hear how yours turn out. Look for more projects on Kirkland's Pinning Parlor. Here are a few more tutorials you might be interested in…
Giant Bubbles Kit
How To Make a Diaper Cake
How To Make Tissue Pom Flowers
Oh…and one last thing. To help kick off the Pinning Parlor, Kirkland's is hosting a Pin + Win Sweepstakes. To play, go to the Pinning Parlor. Pin any image to your Pinterest boards by clicking the "Pin it" button for a chance at a $2000 prize pack. The first time you "Pin it" you will receive a great coupon for $25 off a $75 purchase. All of the images located in the Pinning Parlor are the items you can pin to be entered to win the weekly prizes. So everything that you see at the link is eligible for pinning and winning.
The "pin it" button is located within the Pinning Parlor site. It is an actual button that you click. You must use the "Pin it" buttons on the site to pin images in order to be eligible for the sweepstakes. Using the bookmarklet will not enter you. After you successfully complete your first pin to your Pinterest boards, you'll be prompted to fill out an entry form to be entered to win our $2,000 weekly prize pack. Each pin equals an entry, so the more you pin, the more chances you have to win. Each week until May 13th, one lucky entrant will win a $2,000 prize pack from Kirkland's and Formica® Flooring. Kirkland's will add new inspiration to the Pinning Parlor each week of the promotion so be sure to check back for more inspiration and chances to win! You need a Pinterest account to participate. If you aren't a member of Pinterest visit https://pinterest.com/landing/ to request an invite. You can also leave me a comment or send me an email and I will send you an invite.