This post may contain affiliate links that, at no additional cost to you, I may earn a small commission. Read our Disclosure Policy.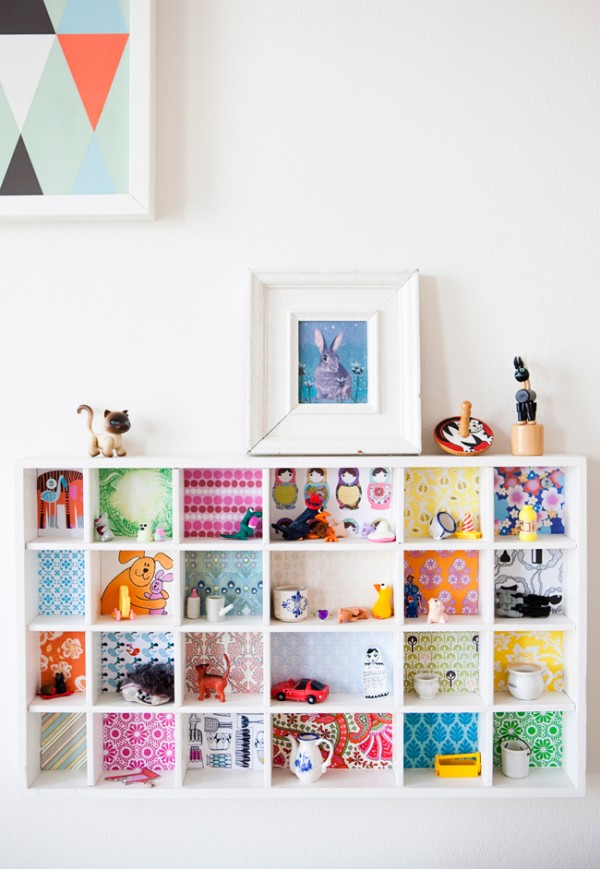 Shelves are so easily overlooked in a kids room. There are many possibilities to add some style and spice to a room with unique shelves. We've rounded up a few DIY kids room shelving ideas that are just exceptional. The shelf above contrasts so well with the white walls of a room. The back of the cubbies are lined with different colored fabrics or paper for a brilliant splash of color.
For a boys room you can make these skateboard shelves. Put some decorations on them that represent what your kid likes and you have some great room decor.
It looks like you just use some shelving supports under the skateboard, its as easy as that!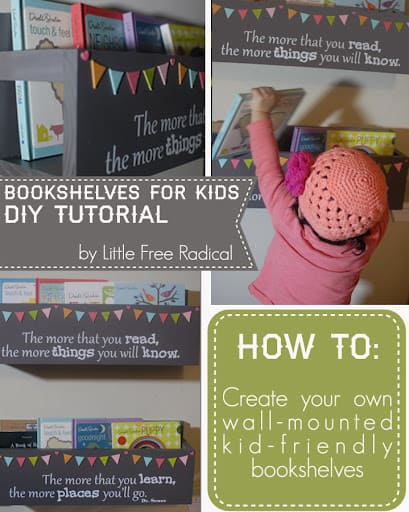 A mom made these Dr. Seuss inspired bookshelves for her little daughter.
The grey shelves make the colorful banner across the top pop so much more. Here is a post from our site of a room for little explorers that has some really creative ideas for bookshelves as well.
Here is a project for dad (or mom with some good skills). Go get some wooden shipping pallets from really any local store (usually you can get them for free). Arrange the pallets into a collage of shelves and even a little desk for your kids as shown.
If your kids love video games I'd be willing to bet they would love some Super Mario shelves. the tree painted in the background of the shelves is a great idea to bring all the different pieces together. Also take a look at the side table that looks like one of the pipes from the video game.
These hanging wall shelves are cheap and quick to make. All you need is some ribbon, metal hoops, and some boards for shelves. Just a little bit of sewing and you can hang these simple shelves up for your kids stuffed animals. Finding ribbon that will match the theme of the room could be just the right feel for the room.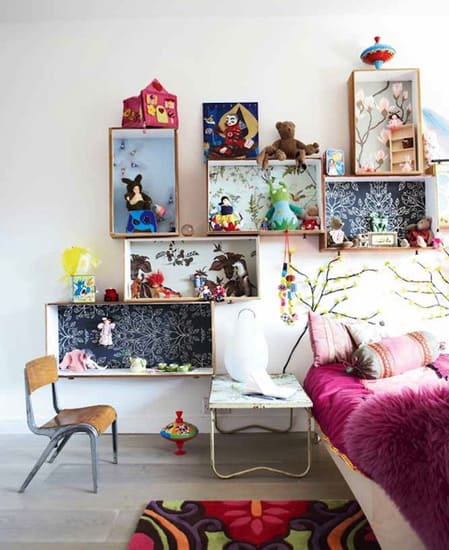 These shelves are made out of drawers also lined with different patterned and colored paper. Hanging up these drawer shelves in an asymmetrical order really showcases the room decor. Also look at our post for Unique Shelving Options for some more ideas.