This post may contain affiliate links that, at no additional cost to you, I may earn a small commission. Read our Disclosure Policy.
There is nothing I love better than to store my crafts, things, junk, plants and whatever in unique containers. Sharing a few ideas on how and what to store in fun and unusual containers for the craft room.
Craft Room: Unique Storage Containers
First up, how I store my glitter.
Glitter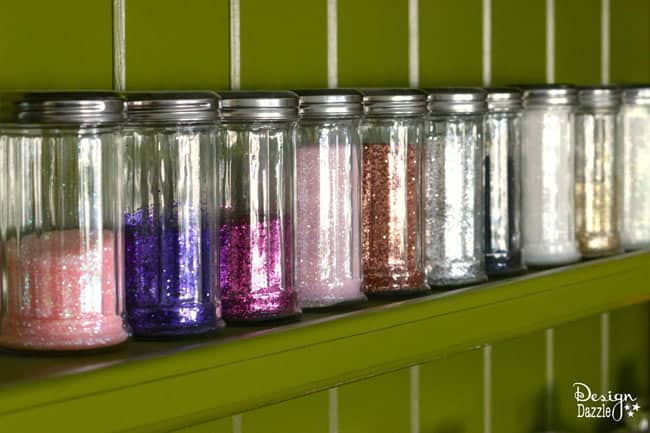 I do use glitter in lots of my projects. Because I purchase glitter in bulk, I needed to find a great way to store them. Bulk containers are ugly and sometimes bulk glitter comes in plastic bags. Which is not convenient to store. So my solution…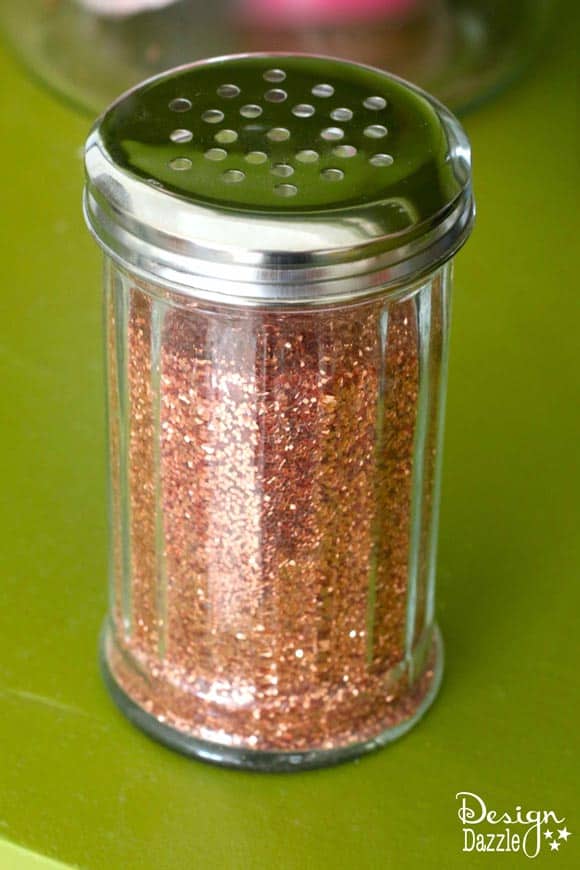 Cheese dispensers/shakers from the dollar store. They're cheap and look great!!
This post contains affiliate links at no additional cost to you. For further information, please see our disclosure policy.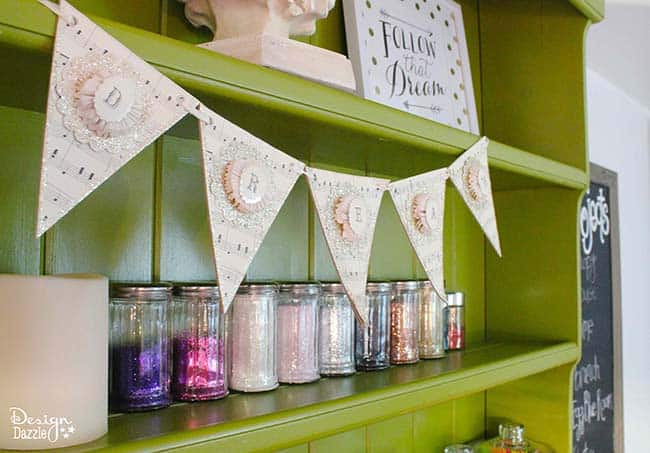 I love how pretty they look, too!
Here is a set of inexpensive glass dispensers that are smaller than mine, but you still want a cohesive and cute look…
Set of 12 glass cheese dispensers
The green hutch paint color is Sherwin Williams Verdant. I love to add bright pops of color and fun any way I can! The furniture use to be my dining room hutch. I've had it for 20+ years. When I got new furniture, I painted it a couple of years ago for my last craft room.
Next up is clear glass canisters!
Clear Glass Canisters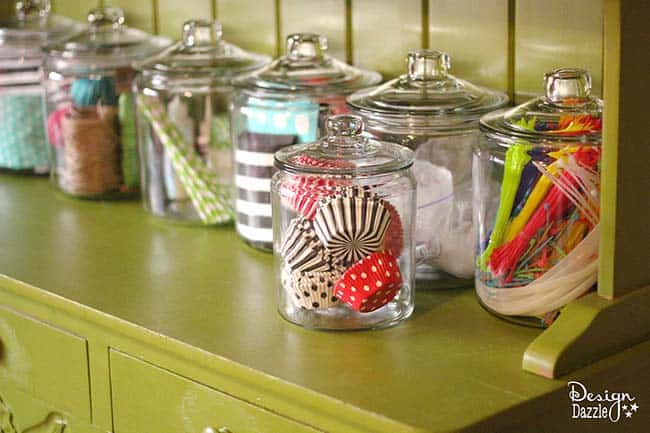 Storing random supplies in clear canisters/jars is great because you can see exactly where everything is and it looks organized and neat!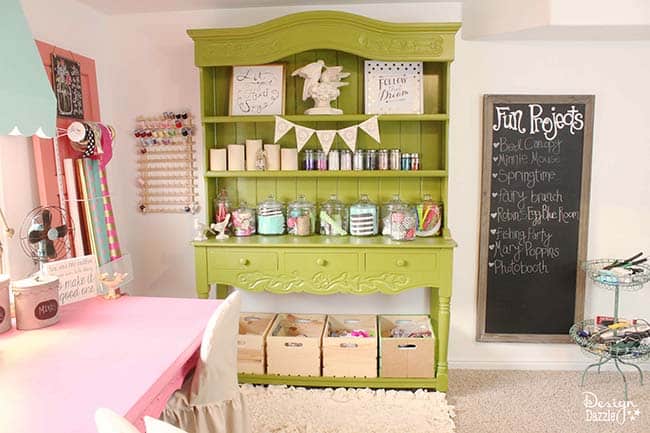 Metal Suitcase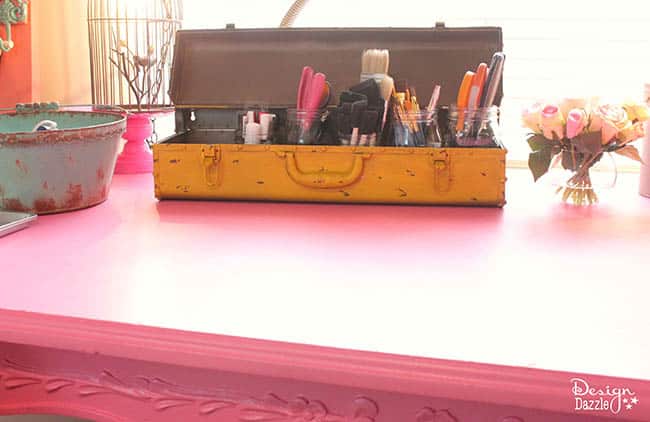 Is this not the cutest craft supply holder ever? I love this metal suitcase, the pop of color and how it helps keep me organized. I use glass canning jars to keep the supplies organized inside the suitcase – such as paint brushes, scissors, pens, etc. This suitcase was designed to resemble a vintage travel case.
Here are a few I found online – you could always spray paint a color you need:
Brown travelers suitcase shelf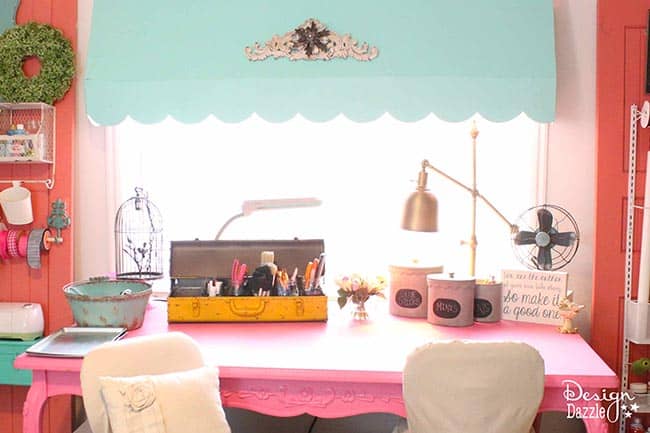 Tiered Wire Basket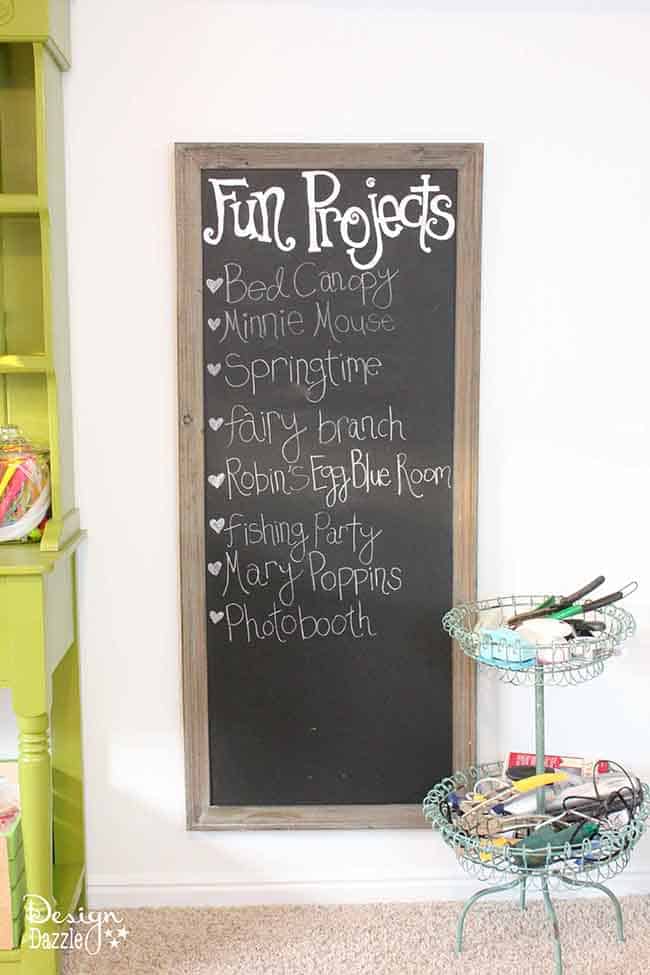 I like to keep bigger, more heavy duty tools in this tiered wire basket so that they are easily accessible. This is where I keep hole punches, heat gun, curling iron, etc. Are you wondering why a curling iron would be in my craft room? Check it out here.
Here are a few tiered baskets. I really like the farmhouse look ones…
If you would like to see more details of my craft room, visit my craft room post. I hope you like my ides on unique storage containers for the craft room.


Save
Save
Save
Save