This post may contain affiliate links that, at no additional cost to you, I may earn a small commission. Read our Disclosure Policy.
Hi! I'm Jennifer from The Party Teacher and I'm thrilled to be invited back for Toni's Christmas series to show you Christmas Chairs 4 Ways! These 4 ways to decorate your Christmas chairs are easy and fun to do!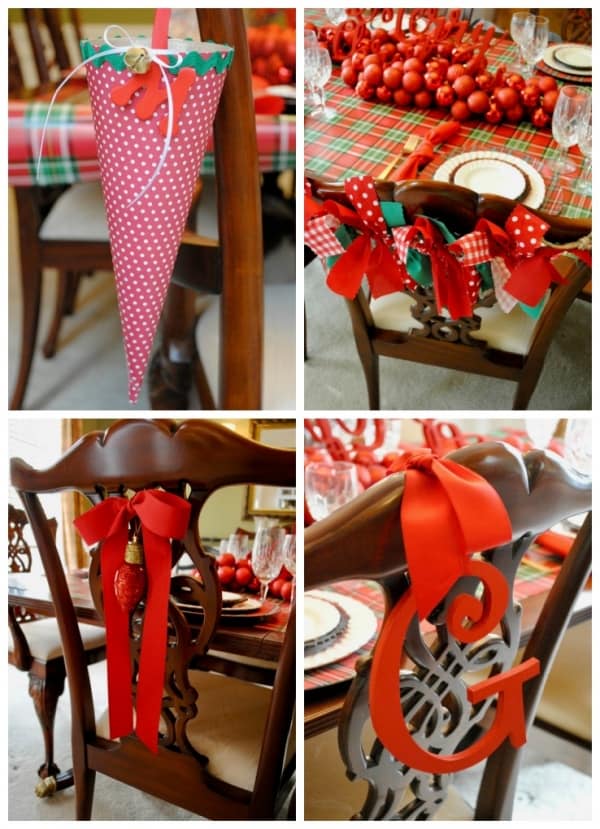 Your Christmas table doesn't have to be elaborate or expensive or time consuming. This year, I have a sick kiddo at home, so I had just one chance to shop locally for décor and picked up:
Merry Christmas wood sign (local antique dealer)
Wood letters, red craft paint and plaid wrapping paper (WalMart)
10-inch cardboard cones (by Darice on Amazon)
Everything else came from my Christmas and crafting stashes. I focused on red, since my dining room is already green.
Christmas paper cone
The cone is a great way to give your guests a few sweets and create a placecard.
Position the cone point at the edge of 12 x 12 scrapbooking paper.
Glue the long edge of the paper in place.
Roll the cone in paper, fold back the excess paper and trim it off.
Glue the second edge of the paper in place and secure with gift wrapping tape.
Trace the inside edge of the cone top on your paper, then trim off the paper.
Decorate however you like. This is a great project for kids and each cone could be different!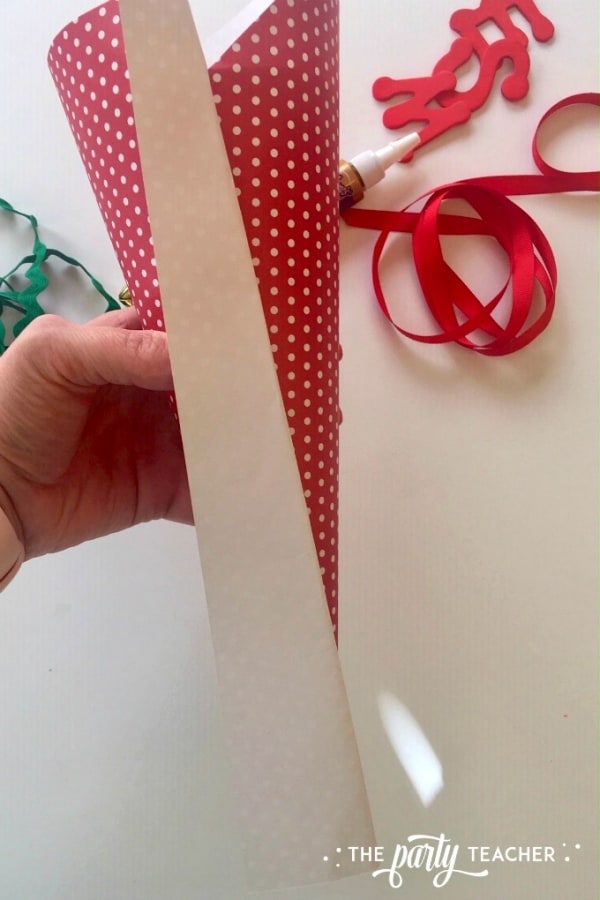 Christmas chair bunting
Make chair bunting from fabric scraps and decorate in a jif for any holiday or birthday party.
Make a loop with jute cord to fit the corner of your chair.
Knot the loop.
Pull the cord straight across the chair back (but not too tight) and knot another loop.
Cut fabric in 2-inch wide x 11-inch long strips.
Knot the fabric onto the cord, keeping some space between the knots.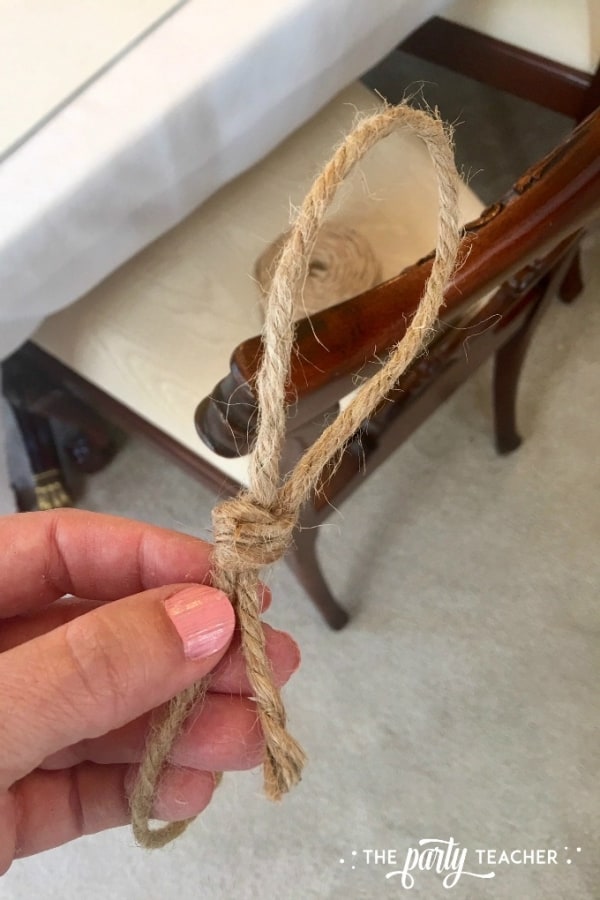 Christmas ornament bow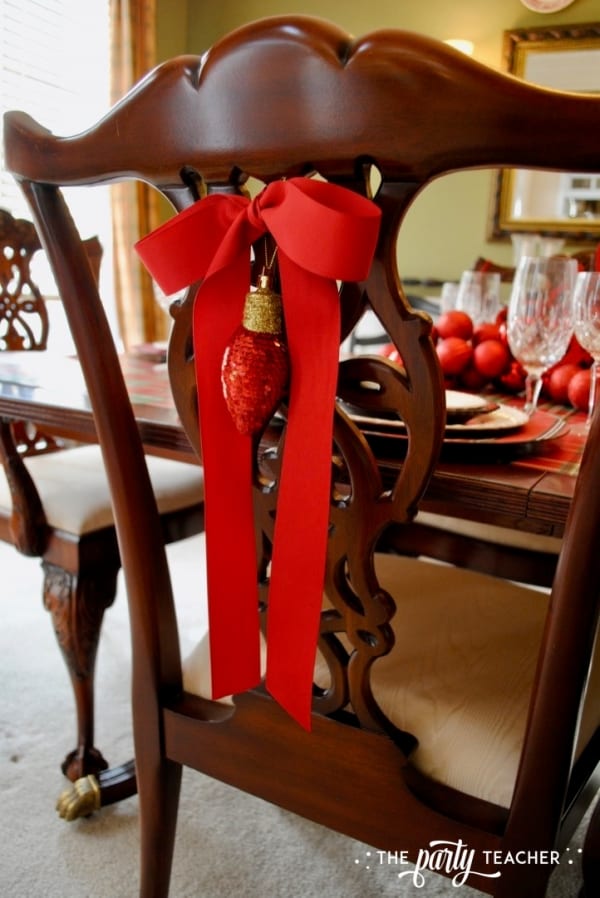 If you already have your next birthday party theme in mind, grab matching Christmas ornaments now, and then use this technique. I saw pink glittered ballet slipper ornaments at WalMart that would be great with a big pink ribbon for a ballet-themed birthday.
Choose a 1.5-inch grosgrain ribbon. Double it over, then cut it the length of your chair back.
Heat seal the edge of your ribbon with a lighter.
Thread the ribbon through two holes in your chair back so the loop is on the inside of your chair.
Pull the ribbon ends even, then slip your ornament onto both ribbons and push the ornament up against the chair.
Knot your ribbon and tie a bow.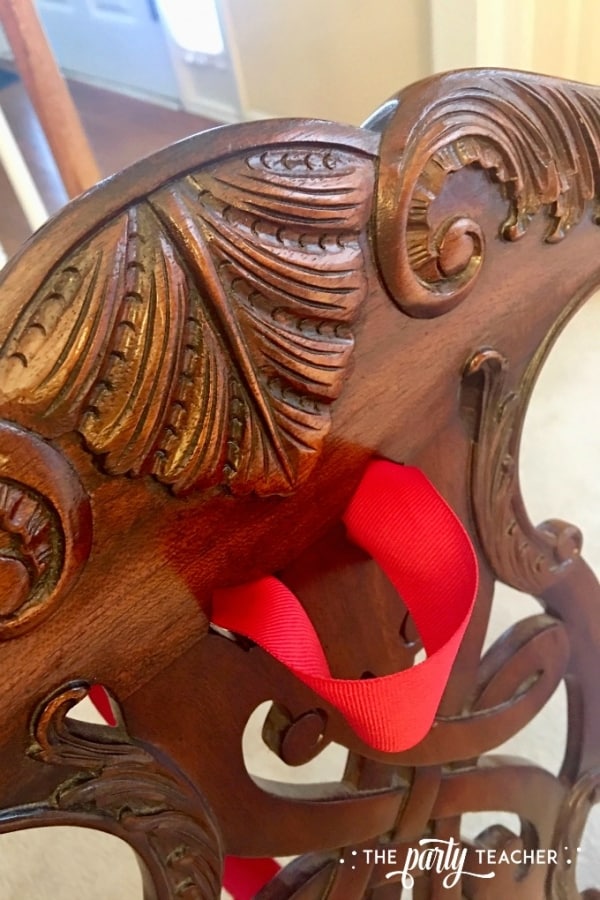 Christmas initial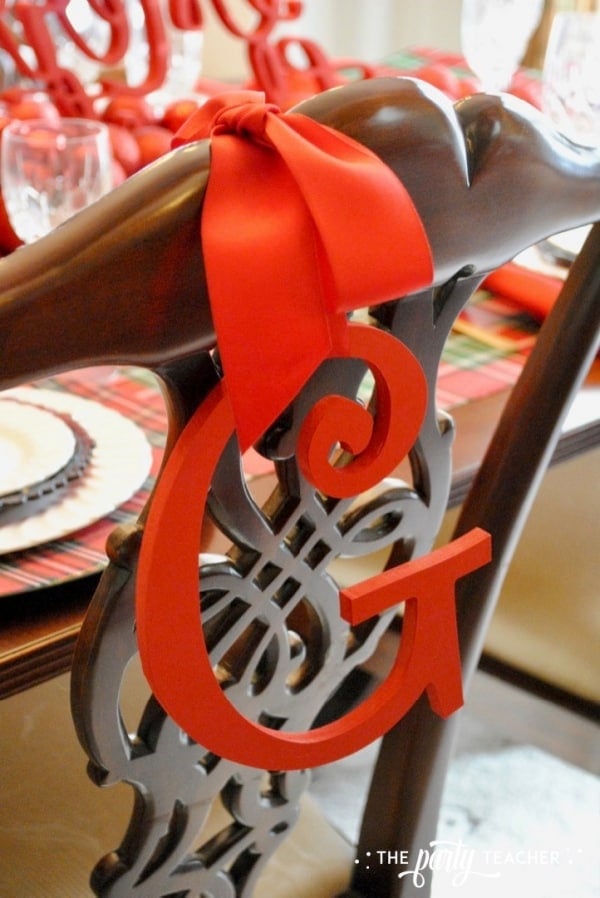 This is the decoration I finally choose for all my chairs. We picked the initials of each guest and my girls helped me paint them red. I liked how they coordinated with the Merry Christmas sign centerpiece.
Paint your letters.
Choose a 1.5-inch grosgrain ribbon. Cut it so it's the full length of your chair.
Heat seal the edge of your ribbon with a lighter.
Thread the ribbon through a hole in your chair back. Pull up the two ends so they are even.
Hang your letter from the ribbon, then tie a bow.
Christmas tablescape
The rest of the table is a bit of a high-low approach. You could add brass candle sticks or individual evergreen and berry arrangements down the center of the table, if you wanted a fuller look. This is really all about layering.
Use the wrapping paper as a table runner.
Add a charger, then dinner plate, salad plate and dessert place to each place setting.
Add water and wine glasses (or Santa mugs for the kids).
Knot red napkins and add gold flatware.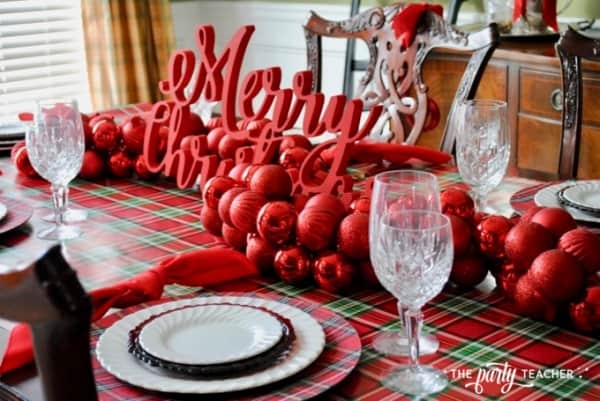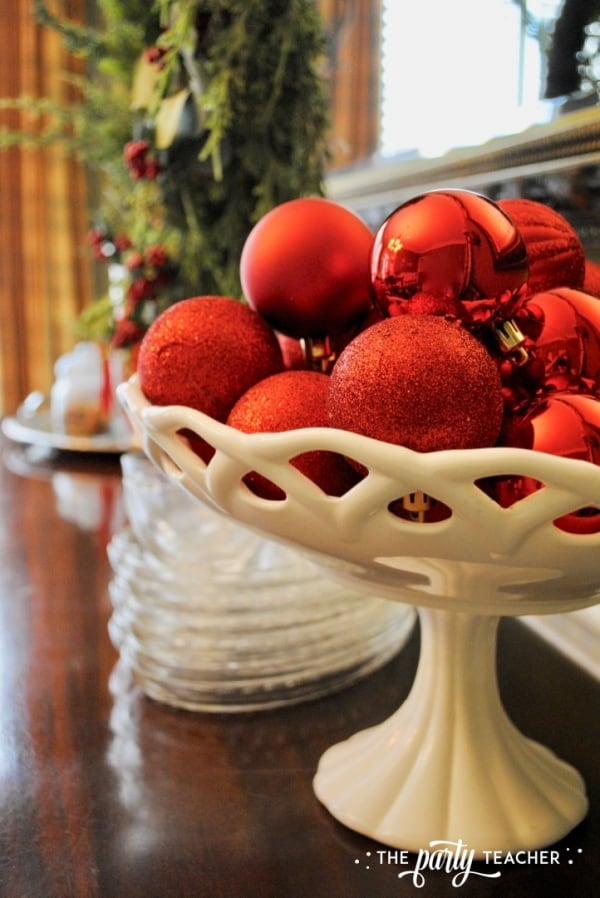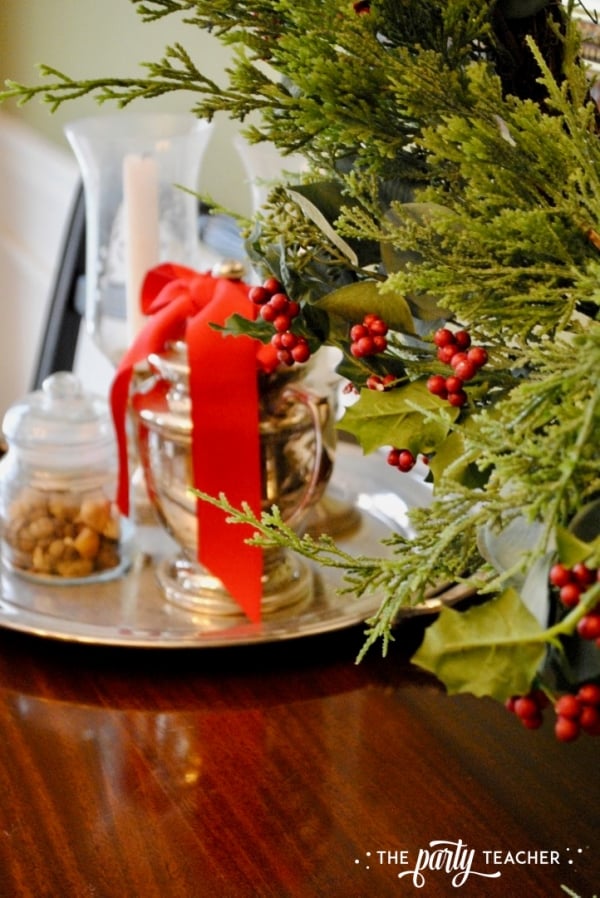 How to make ornament garlands
To make the ornament garlands, pick up several 24-piece shatterproof ornament sets. You'll get about two feet of garland out of 40 ornaments. Slide the hanger of the ornaments onto thin ribbon or floral wire. Keep the ornaments about ¼-inch to ½-inch apart and turn them in different directions as you go. Then twist the garland into the shape you want on your table.
The Party Teacher is your home for all things birthday and holiday parties. I hope you'll hop over and pick up your free copy of my party planning cheat sheets. For even more holiday party ideas, check out the holiday's page on my blog.
Merry Christmas to you and many thanks to Toni!
If you are looking for more gorgeous and easy Christmas chairs decor and other holiday decor ideas, check out my Christmas decor which was featured in a magazine!