This post may contain affiliate links that, at no additional cost to you, I may earn a small commission. Read our Disclosure Policy.
From chocolate frogs to pink coconut ice this Honeydukes Sweet Shop will be absolutely adorable for your next bridal shower, or possibly a baby shower or birthday party. Since Harry Potter was one of my daughter's favorite book series growing up – I wanted to make sure to plan a darling bridal shower with a Honeydukes Sweet Shop! How can you have a bridal shower without some sweets? What better than an adorable take on the Honeydukes Sweet Shop from Hogsmeade in Harry Potter.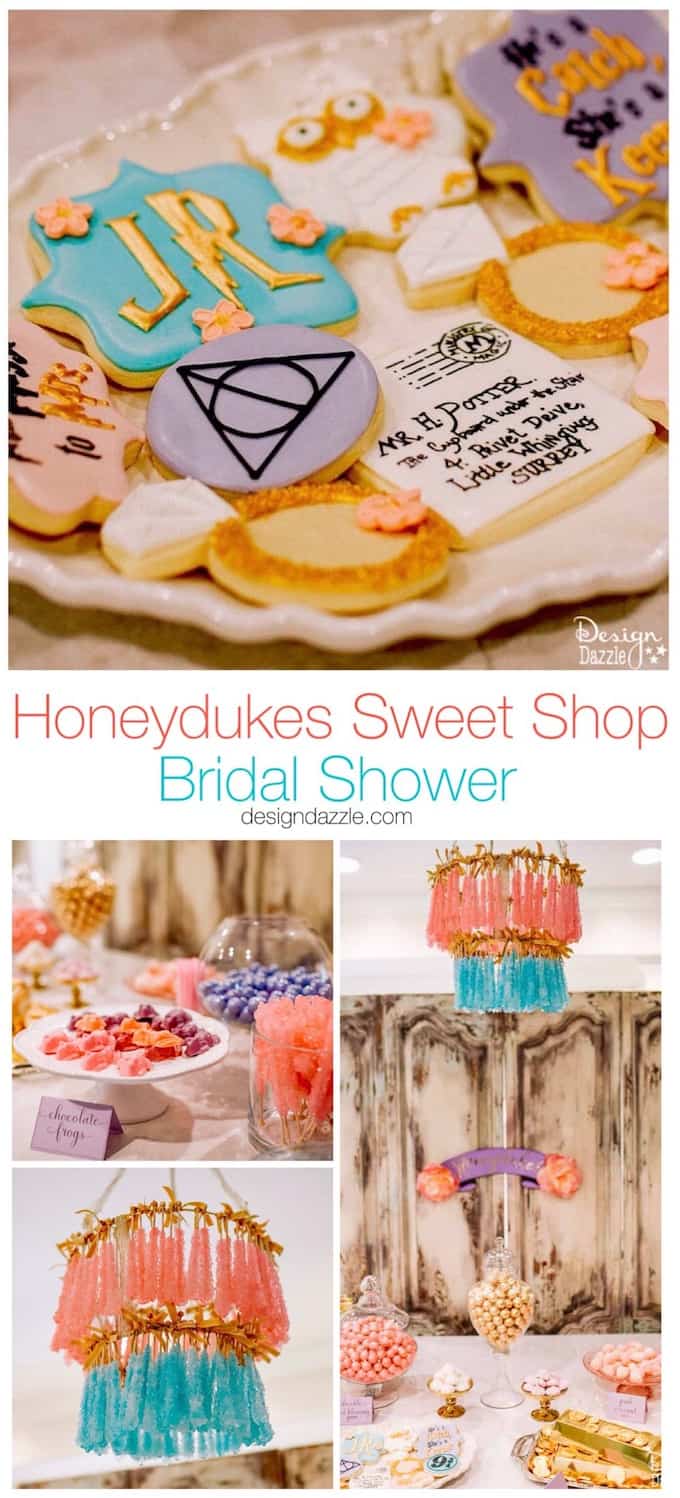 Honeydukes Sweet Shop is a legendary sweet shop known for it's wonderful sweets, chocolate and candies located in the all wizarding community of Hogsmeade. When adapting this into a bridal shower I wanted to go with a lighter, prettier and sophisticated theme over the old world take. I made some items like the chocolate frogs, sugar quills and pink coconut ice, but the majority of this candy is from Candy Warehouse. Which has an amazing selection of various candies, colors and flavors. I was so happy with how my candy was packaged for shipment, the selection and the quality!! I will definitely use them again for our next event.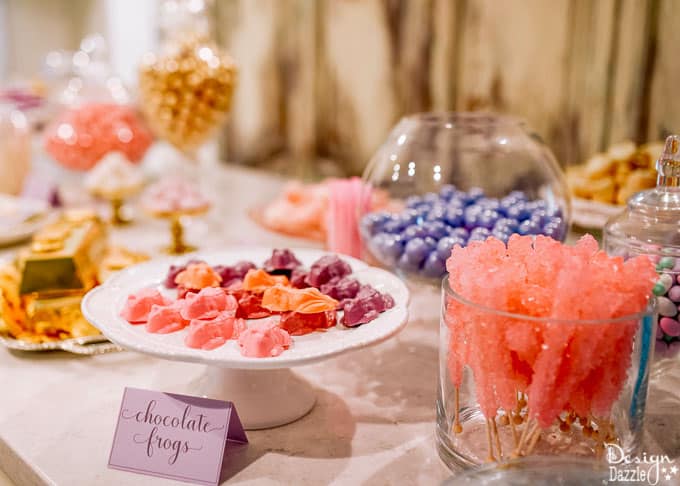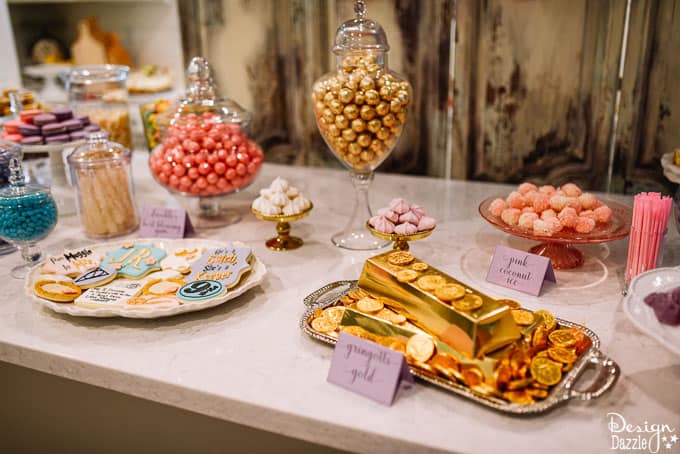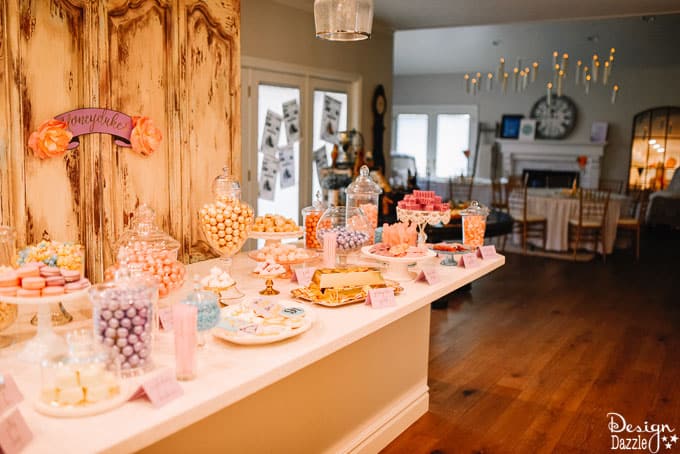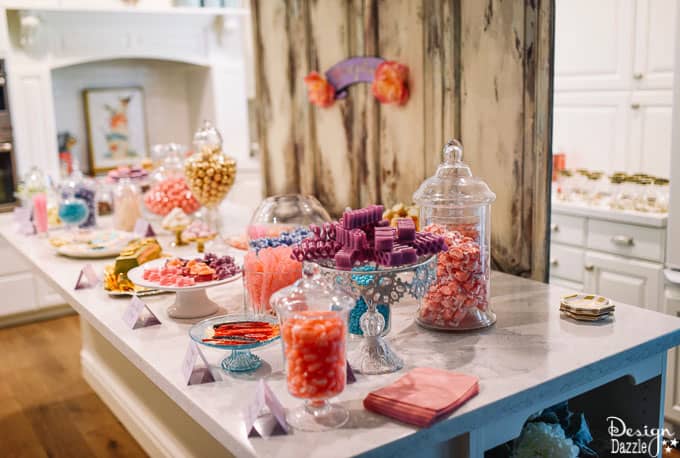 To add to the look you may use apothecary jars and cake stand in different arrays of colors to set the mood. You can set these up on a bar, table, or even a makeshift Honeydukes express trolley for added fun. Add some Bertie Botts Beans for a tasting contest.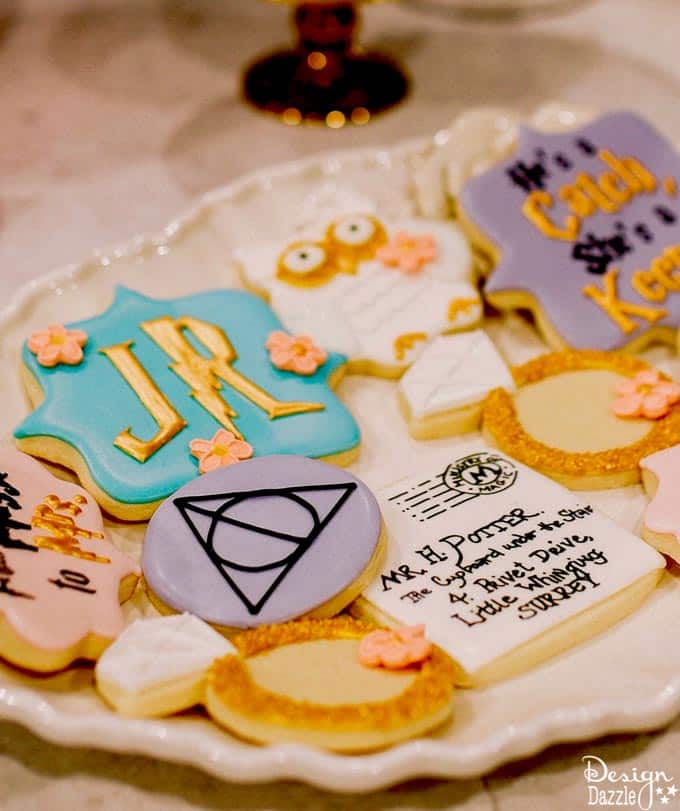 Along with those we served sugar cookies that featured 9 ¾ the infamous station and hedwig with hogwarts letter cookies. My favorite phrases on the cookies – "He's a catch, She's a keeper" and "Muggle to Mrs".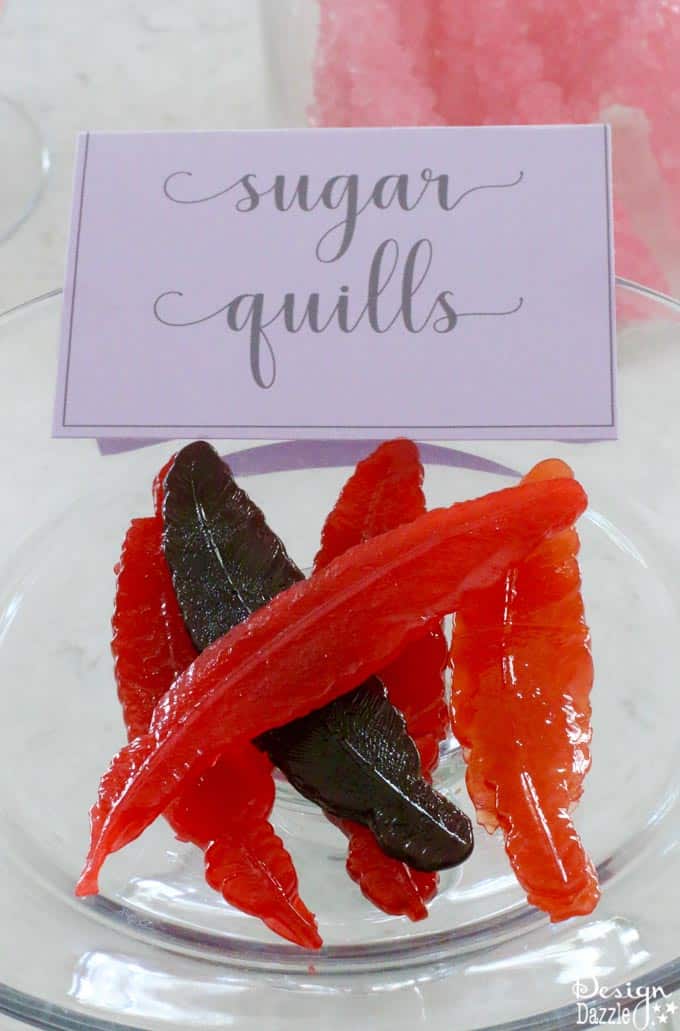 Don't forget the sugar quills! I made these edible sugar quills from melting jolly ranchers in the microwave and then scooping into his feather mold with a spoon. I wish the mold was larger because these are small (about 4 inches) but they are SUPER cute.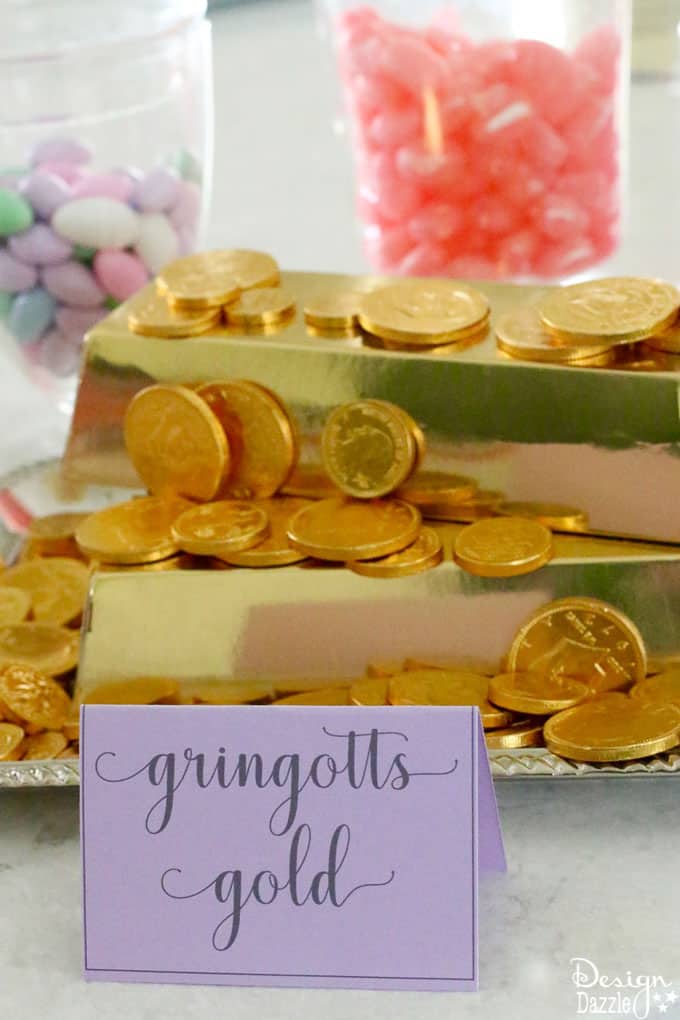 And for tasty measure Gringott's gold!. The chocolate gold coins came inside the gold bar box. Such a perfect way to display on a tray.
Other great ideas to add to your Harry Potter bridal shower could be exploding bon bons, chocolate wands, jelly slugs and even crystallised pineapple; which can be found in the real world.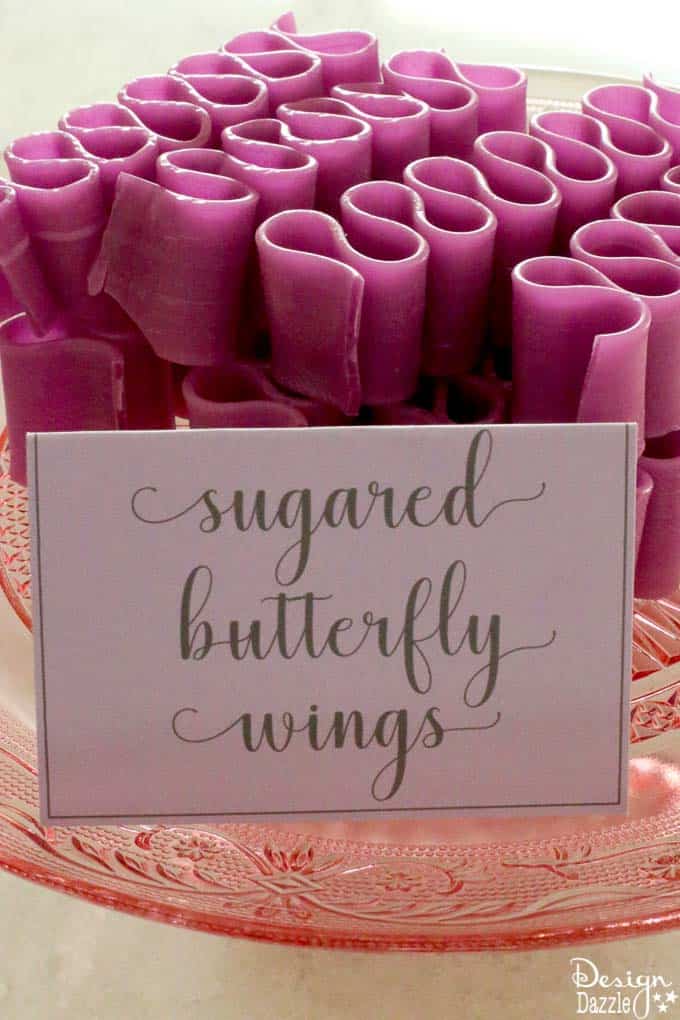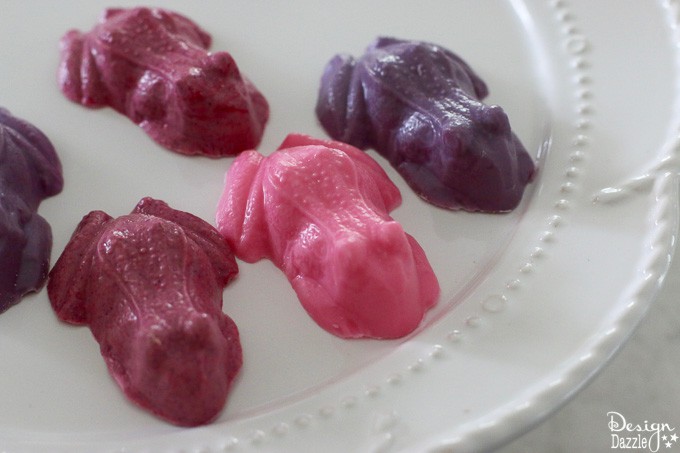 The pink coconut ice is dangerously delicious. I will have to share the recipe!
How much fun are the brightly colored chocolate frogs? I made the frogs using a candy mold and melting candies in various colors (even mixing some melting candy colors)!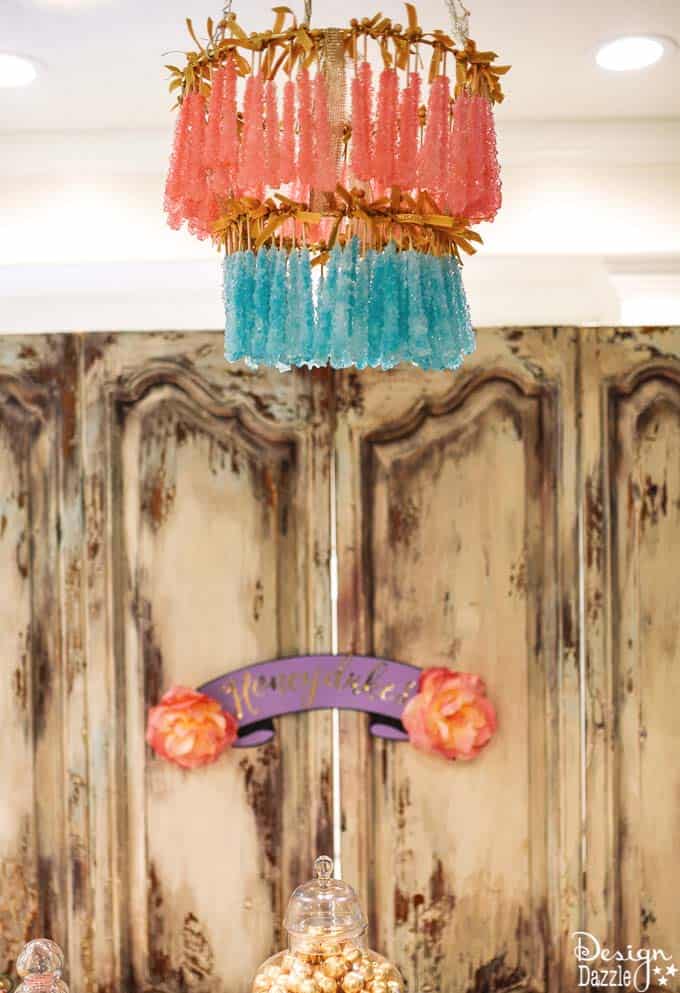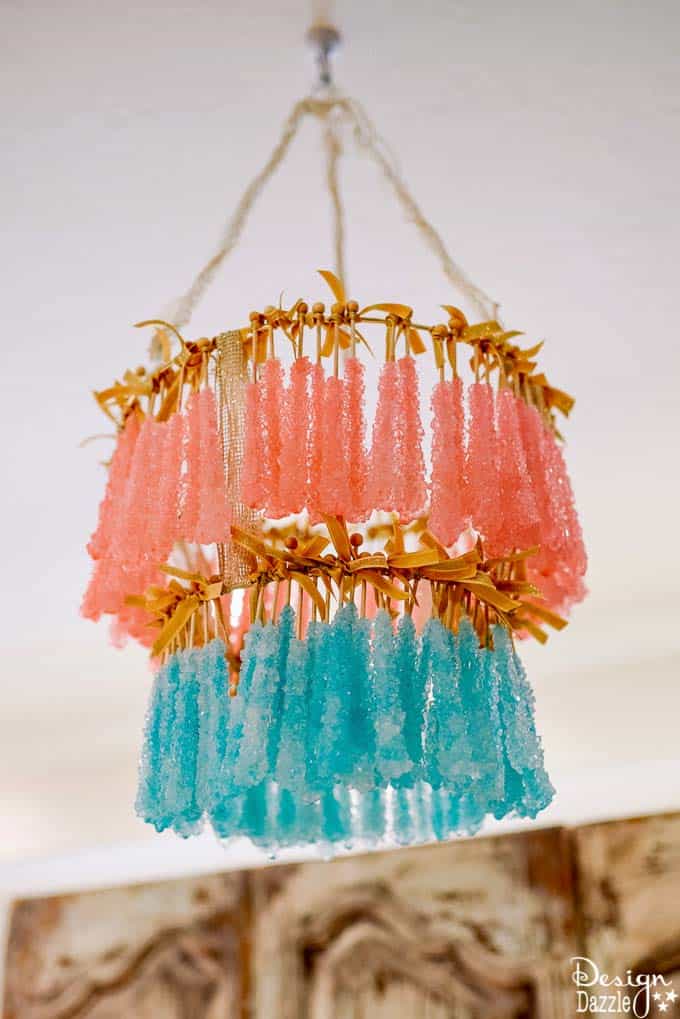 Hang a rock candy chandelier to top off the look! Because what screams sweet shop more than a candy chandelier! More details to come soon on how to make the rock candy chandelier. Which, by the way, I love how it turned out (using pink and light blue crystal sticks from Candy Warehouse.)
You can see the list of candy that I served form Candy Warehouse
Item No: 132715 Gold Bars (Gringott's gold)
Item No: 132897 Rock Candy Sticks – Light Blue (chandelier)
Item No: 132899 Rock Candy Sticks – Pink (chandelier)
Item No: 129279 Sugar Plums Candy
Item No: 132653 Purple Ribbon Candy (sugared butterfly wings)
Item No: 130035 Lavender Gumballs (droobles)
Item No: 127893 Chocolate Caramel balls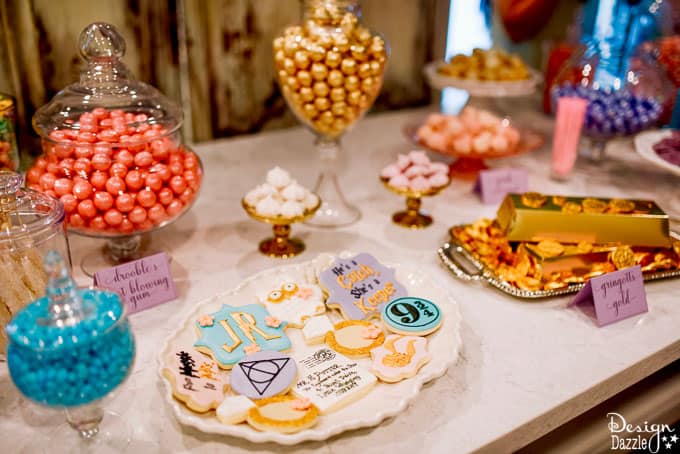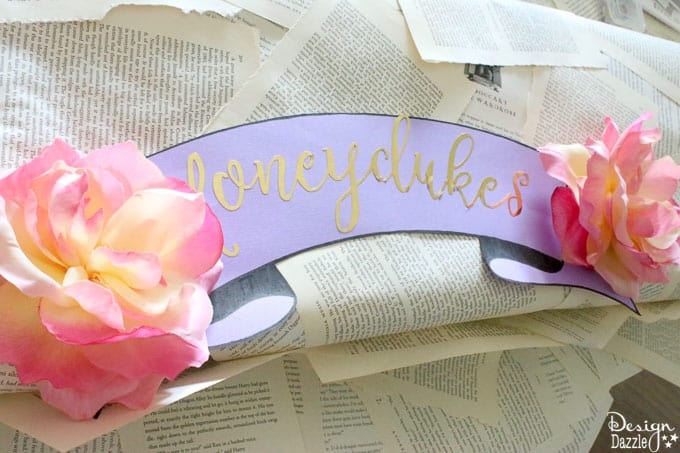 Close-up of the Honeydukes sign.
Whether you make the candy or buy it to match some of the candy names above it will be such a hit! Who doesn't love Harry Potter and some Honeydukes sweets? For more on how to complete this bridal shower look check out two other posts I have for The Harry Potter Bridal Shower and How to make Quidditch Centerpieces.
Many thanks to Candy Warehouse for supplying some of the candies. All opinions, as always, are my own. For further information, please see our disclosure policy.


Save
Save
Save
Save
Save
SaveSave