This post may contain affiliate links that, at no additional cost to you, I may earn a small commission. Read our Disclosure Policy.
I love that the
bObi
fits right in with the decor in my house!
This is a sponsored post. All text and opinions are 100% my own. #ad
Do you know how nice it is to sit down relax and read all while your home is being vacuumed? Yep, that's what happened when I turned on my bObi. I sat on my COUCH all while this little girl worked! ; ) It is a powerful little machine that likes to get in all the nooks and crannies. It just goes and goes! One time it did get tangled in my window blind cord that reaches the floor. Within a few seconds the bObi turned off automatically because the cord got tangled up. I love that it knew how to turn it's self off. I can't wait to set-up the traffic pattern for the bObi. Also, I have an attachment called the block. The block creates a boundary line that bObi will not cross. Perfect for stairs and rooms you don't want vacuumed.
See my video of my first time turning on the bObi…
Be sure to subscribe to my YouTube page for some more fun videos, tips, and tricks!
I checked the cleaning tray – were my floors clean or dirty? Find out in the video below!
In each box everything you need for hassle free cleaning is included:
The bObi
charging station
adapter
her remote
her block- creates a boundary line that bObi will not cross.
her battery
a mop attachment
two microfiber moping cloths
two side brushes
a spare main brush
and a bunch of other cool attachments
The process to get the bObi working is as simple as can be. All you need is a screwdriver. You place the battery inside the cover on the back, charge the bObi completely, flip her power switch on, press go on the either the cover or the remote, and viola! She's ready to start cleaning your floors!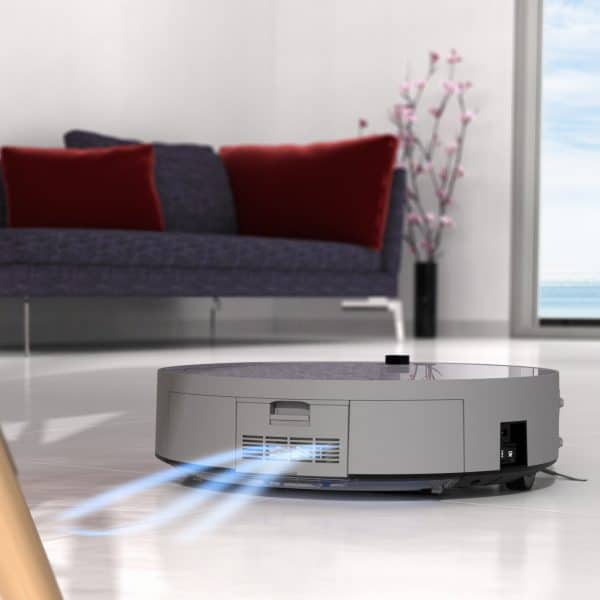 Here's a picture of the bottom of the
bObi
with the mop head attached. I feel like it's a really small mop head to clean a large area with. It would only work for a very small room or a small spill.
Talk about a powerful little machine! She is also easily programmable so she can self start at any time. She has three different buttons to help further customize your clean:
GO! – This is the one you want to use regularly. It covers a wide area and eliminates every trace of dirt, pet hair, debris, you name it, in your home.
WAFFLE – This is the setting you choose for a small accident or spill that is localized in one spot.
JUICE – This setting is where the bObi re charges. The best part about bObi is that when she reaches the battery level of 15% she finds charging station and plugs in to refuel all by herself! You don't have to lift a finger.
Here's a video of bObi charging herself!
My bObi in action!
So what do you think? Would you use a bObi Pet to clean your house?


Save
Save