This post may contain affiliate links that, at no additional cost to you, I may earn a small commission. Read our Disclosure Policy.
This is a sponsored conversation written by me on behalf of
Banana Boat® and OFF! ® . The opinions and text are all mine.
My husband and I enjoy taking our beach cruiser and old vintage Schwinn out for bike rides around our home. We don't live near the beach but we do live near a fun park and the beautiful Jordan River Parkway Trail which is ideal for walking, jogging, and bike riding! The park near our home is new and a great place to spend the evening. We enjoy people watching, playing sand volleyball and pickleball, or just enjoying the beautiful mountain views.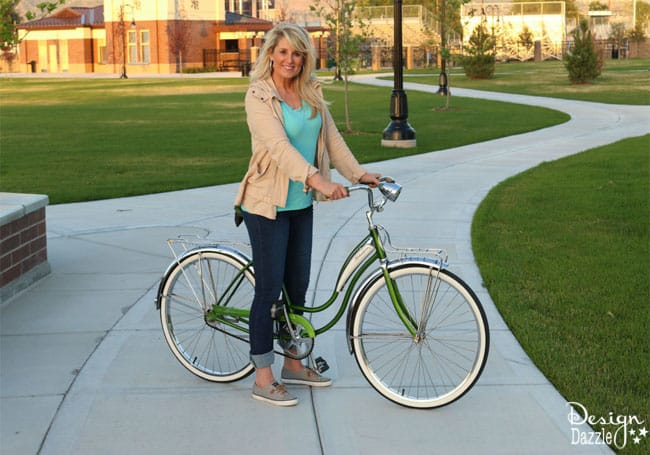 This bike was one of my Christmas presents. My hubby bought it for me off of eBay. It's a vintage original bike that is 47 years old. The chrome handlebar was scratched so he had it re-chromed before I got it. I like the old style bike and especially the horn. All parts are original except for the headlight.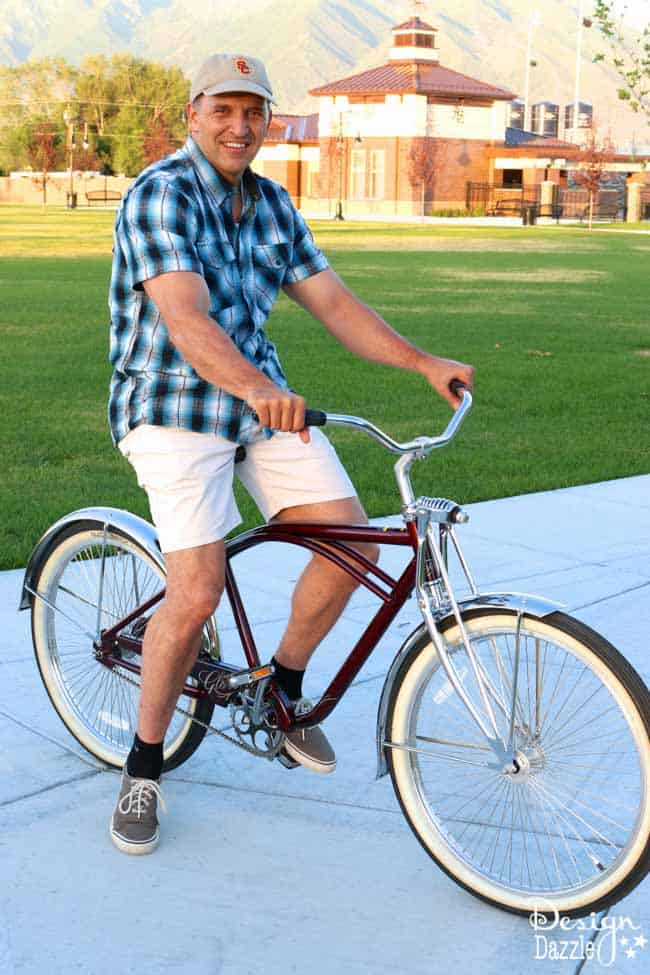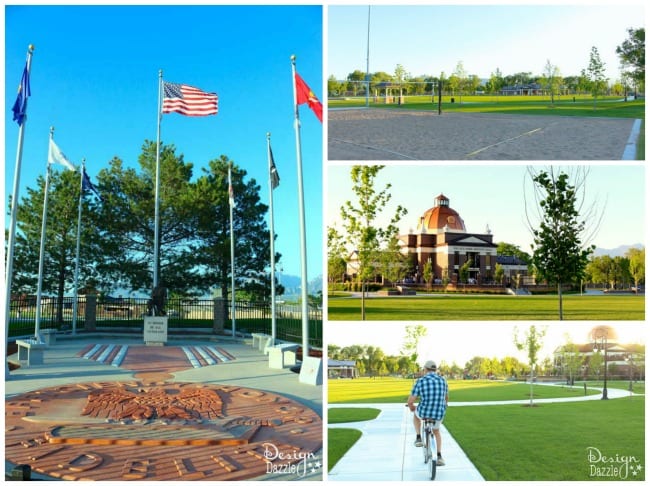 The beauty of our local park. I love the veterans memorial, sport courts, playground, water park, pavilions and the stunning copper-roofed town center.
I was recently asked by Banana Boat® and OFF!® to share a few ways I enjoy a better bike ride.
Some tips to consider:
Bicycle care: Avoid leaving your bike outside for long periods (overnight). We take very good care of our bikes – especially my husband. Our bicycles are always garaged and wiped down from dust/dirt.
Preventing theft: Make sure to have proper bike locks with you when out for a ride. Always lock up your bike if you need to leave it unattended. The wheel and bike frame both need to be secured to a bike rack.
Obey the laws: When riding your bike obey all traffic laws and signs. Our local laws "bicycles" are considered vehicles and cyclists are subject to the same laws as an operator of a vehicle.
Lights/reflectors: If you are riding early morning before sunset or at dusk, cyclists are required to have lights or reflectors. Check your local laws for requirements.
Weather: Riding bikes during the extreme heat of the day is not something we do. We prefer mornings, late afternoons or early evenings. Pay attention to what the weather will be for the day you are riding. If you can plan around the heat, electrical storms and the kind of weather you don't want to be outside in.
We plan to take many bike rides this summer with sunscreen and insect repellent.
Banana Boat® SunComfort™ sunscreen protects us from sunburns during the morning and afternoon and OFF! Deep Woods® Insect Repellent protecting us from insect bites at night! Both Banana Boat® sunscreen and OFF!® insect repellent can both be purchased at Walmart.
Utah summers are bright and sunny so I make sure to wear sunscreen when we ride bikes during the day. Banana Boat® SunComfort™ has some great formulas that are water resistant (up to 80 minutes), allow sand to brush off, moisturize to relieve dryness, and provide safe and effective broad spectrum UVA and UVB protection. I bought the SPF 50+ formula but you can also get it in SPF 30.
Just about anywhere you live you'll find that the bugs, especially mosquitoes, come out on warm summer evenings. To protect against insect bites I like using OFF! Deep Woods®. It does a great job repelling insects whether I'm enjoying an evening bike ride through the park or the thicker vegetation near the river.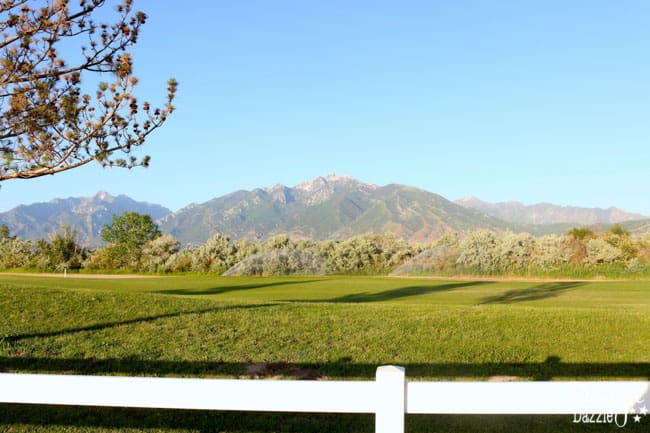 I never spray insect repellent directly onto kid's faces or my own face. Make sure to spray onto the palms of your hands and then apply it to the face.
Always shake the OFF!® insect repellent well before use. Hold it 6-8 inches away from exposed skin and clothing and apply it in a slow sweeping motion. Be careful to not apply insect repellent in enclosed spaces or on skin that is cut, irritated, or burned. Use just enough to cover exposed skin and on top of clothing, not under. Avoid over-application and frequent reapplication.
Wash treated skin with soap and water upon returning indoors.
How will you be enjoying the outdoors this summer? I hope I've inspired you to get out and ride with your family, kids, spouse, friends and whoever will go with you!
Save
Save
Save
Save
Save
Save
Save