This post may contain affiliate links that, at no additional cost to you, I may earn a small commission. Read our Disclosure Policy.

I love my kitchen!! I remodeled it over the summer and just LOVE how it turned out. I will be sharing details soon. The one thing I noticed about kitchen cabinets is when you open them it's a pretty boring place – the INSIDE is plain and quite dull. I decided to create a fun surprise when you open the doors! Yes, it's a kitchen cabinet surprise. My kitchen is white with pops of color here and there but the kitchen cabinet surprise just makes it pure prettiness!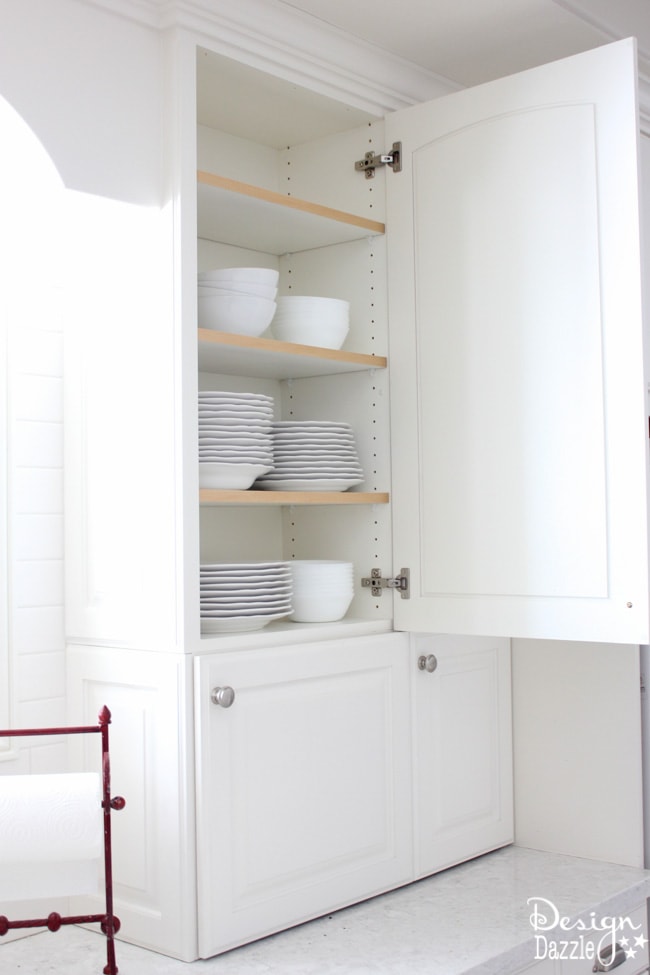 It went from boring and plain – to a party on the inside! Using contact paper, paint and a really awesome quote, this is what happened…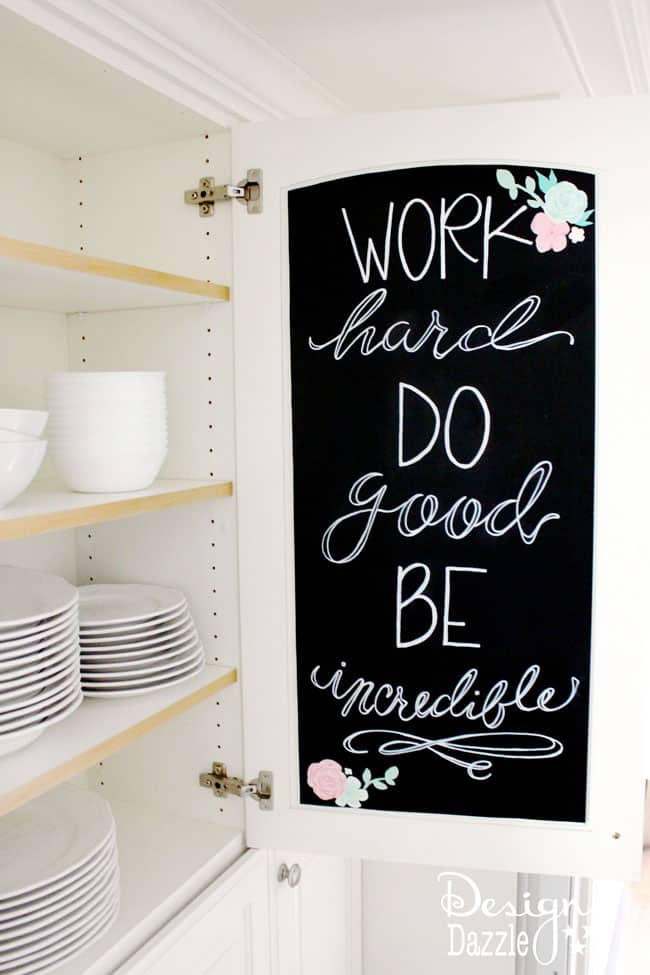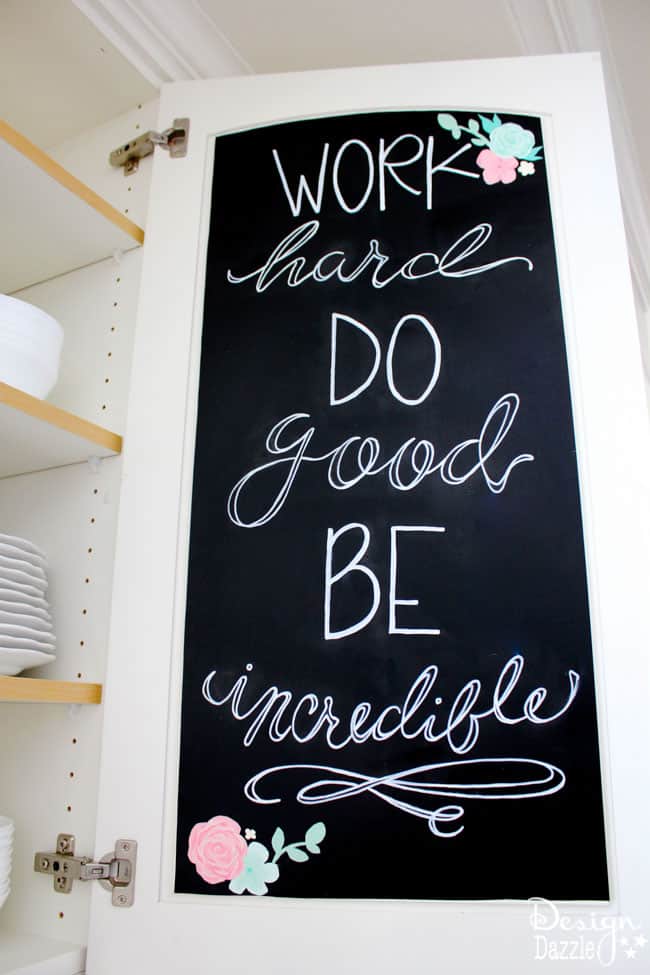 This post contains affiliate links at no additional cost to you. For further information, please see our disclosure policy.
Supplies and Tools:
acrylic craft paints
paint brush
scissors
pencil
How-to:
Step 1.
Figure out a quote or scripture you would like to use on the inside of your cabinet.
Step 2.
A template was traced on the inside of the cabinet door with parchment paper. This template was used to cut a pattern out of the chalkboard contact paper.
Step 3.
With a pencil, write out the quote and get it looking how you want it. Trace over with a chalk pen or just freehand it out.
Step 4.
Using inexpensive craft paints – paint something fun or artwork that matched your kitchen. Flowers were painted in the corners of the poster. Let it dry.
Step 5.
Remove the back corner of the liner of the contact paper. Position the poster in place and slowly remove the liner while place the poster in the right spot. Smooth out any bubbles. Keep the liner backing if you will be changing out your cabinet posters.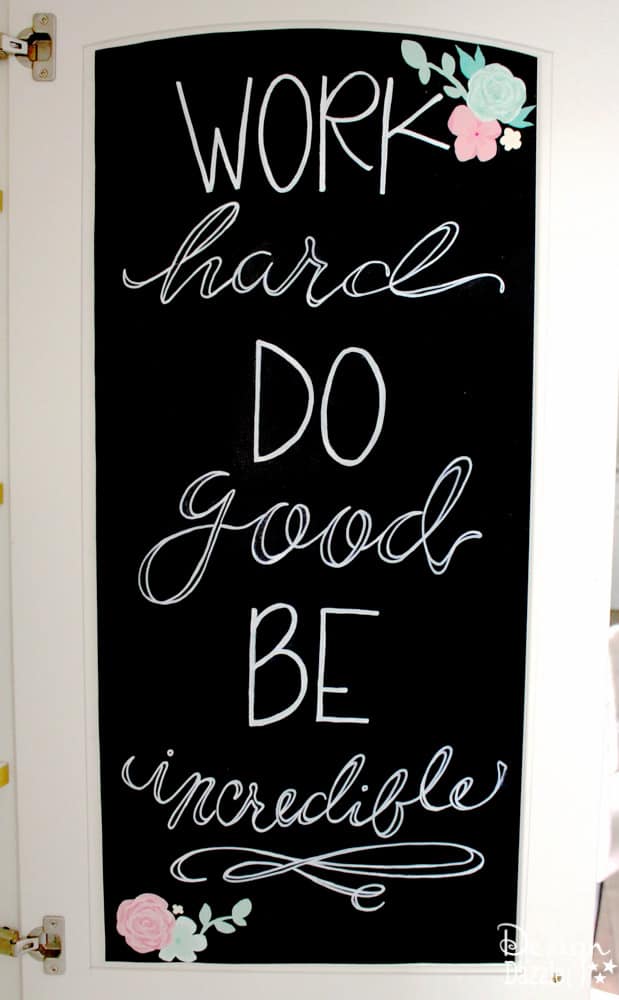 Step 6.
Enjoy!!
The reason I used contact chalkboard paper is because I want to change out the cabinet posters occasionally. If I painted chalkboard paint on the inside of the cabinet, I would need to erase this beautiful artwork to make something new. So, by keeping the back of the liner to the cabinet poster, you can remove this poster (place it back on the liner backing) and add a new cabinet poster. I might change out the posters twice a year. So nothing major but certainly a great way to get some difference quotes or scriptures on the inside of the cabinet door. I did try removing 1/3 of the poster to see how the chalk and paint would hold up by pulling hard on the poster. There was a little bit of "chalk dust" (where the text is) that came up with removing the poster. So this isn't something that could be removed and put back frequently unless you found a type of paint pen that wouldn't do this.
I used this brand of Con-Tact Brand Self-Adhesive Chalkboard Liner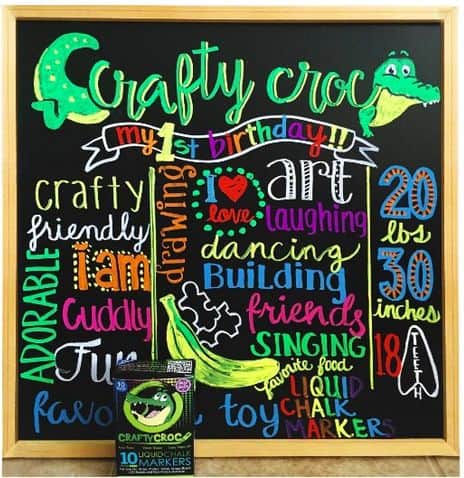 Bright chalk Markers With Unique Reversible Tip, Pack of 10,
Have fun with this idea. The possibilities are endless! Creating cabinet posters for bathrooms, craft rooms, bedrooms would be awesome. What quote would you use??? I would love to hear your ideas?


Save
Save
Title:
A Kitchen Cabinet Surprise
Keywords:
Kitchen Cabinet Surprise
Last Updated:
February 16, 2018