This shop has been compensated by Collective Bias, Inc. and its advertiser. All opinions are mine alone. #MinionsMovieNight #CollectiveBias
My family was super excited when the summer blockbuster hit – Minions movie came out on December 8th. Minions © 2015 Universal Studios. All rights reserved. This was one of our favorite summer movies with our favorite little yellow goggle-wearing guys and we couldn't wait to have a Minions family movie night complete with minions movie snacks! Have a family movie night! The Minions movie Blu-Ray/DVD combo pack can be ordered here. #MinionsMovieNight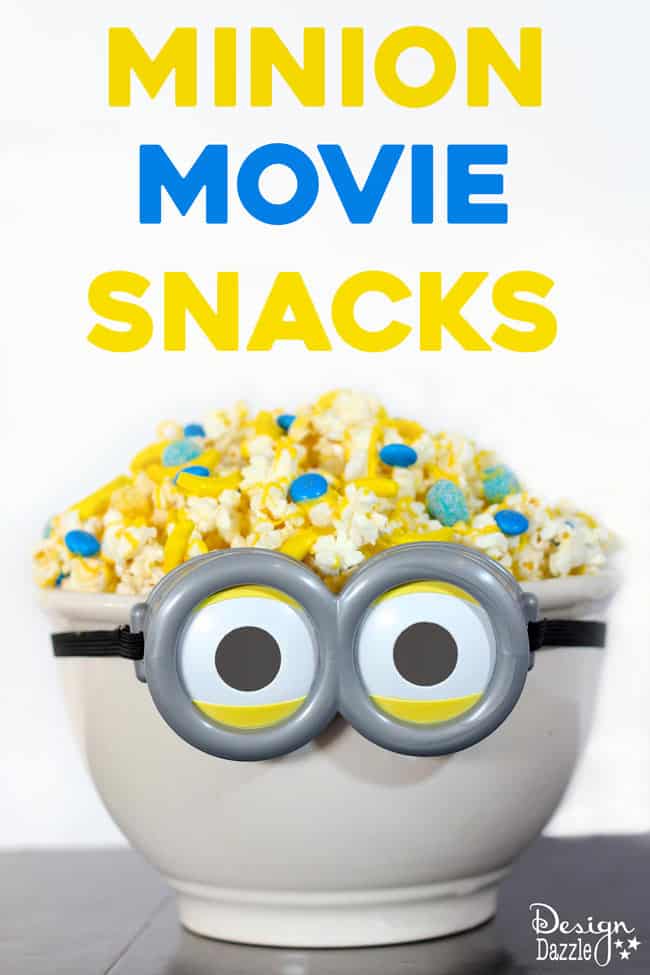 Did you know that Illumination Entertainment is the animation film production company that created the Despicable Me franchise! Woot, woot! Thanks to this amazing company I was inspired to create fun minion snacks and have a family movie night. So glad they believed in these cute little guys.
I wanted to put together some fun snacks for our Minions movie night that wouldn't take all day to prepare. I needed 5 minute minion movie snacks! So I came up with a couple of snacks my family would love and that would be quick and easy to make for our #MinionsMovieNight!
What movie night is complete without popcorn?! I decided we had to have popcorn, but not just any popcorn. We had minionized popcorn!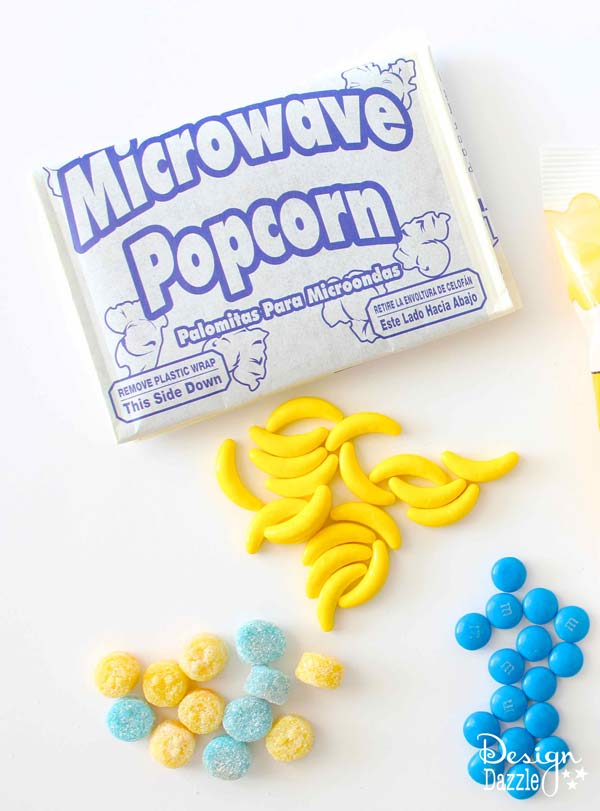 Recipe:
Sweet and salty kettle corn microwave popcorn
Yellow candy melts
Banana candies
Blue chocolate coated candies
any other blue and yellow candies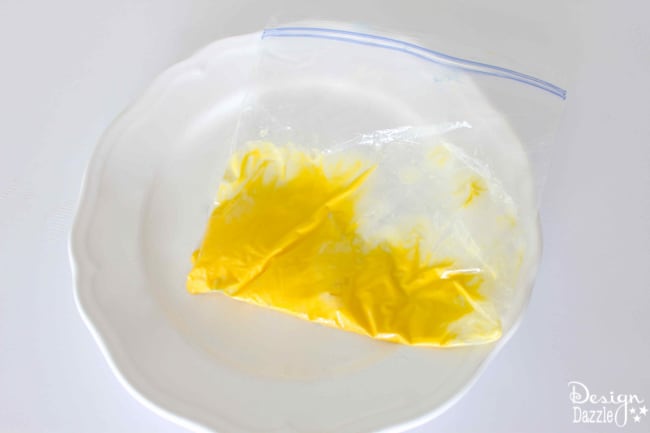 I simply  popped the popcorn! Then I melted the yellow candy melts in a plastic bag, snipped the edge off one of the corners and drizzled it over the popcorn.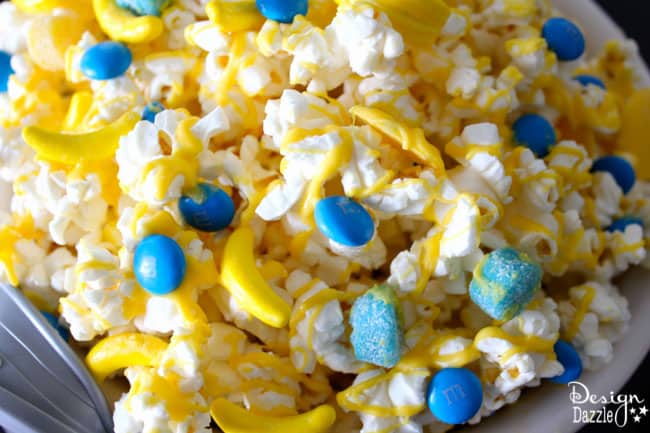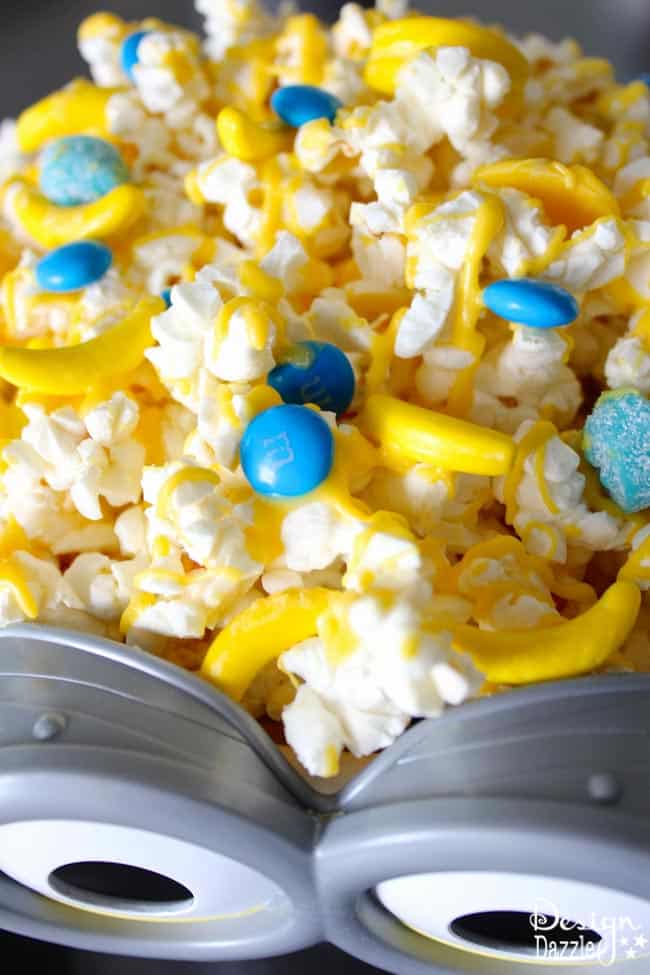 Pour the candies over the popcorn. The melted candy melts help the candy stick to the popcorn. Place the popcorn in a cute minionized popcorn bowl complete with minion Googles.
I also made some freeze ray banana milkshakes! Earlier in the day I had placed peeled bananas into the freezer. I cut the bananas into bite size pieces ( this can be done before frozen or after). When it was time for our movie night I just pulled the bananas out of the freezer and popped them into my blender for a yummy and healthy movie snack!
Recipe:
for each CUP of banana milkshake:
2 peeled and frozen bananas (peel before freezing and cut into bite size pieces)
3/4 cup milk or non dairy milk
Place in blender and blend!
optional: I also squirted a bit of whipped cream on top with some candies! If you forgo the whipped cream it's a very healthy snack – just bananas and milk.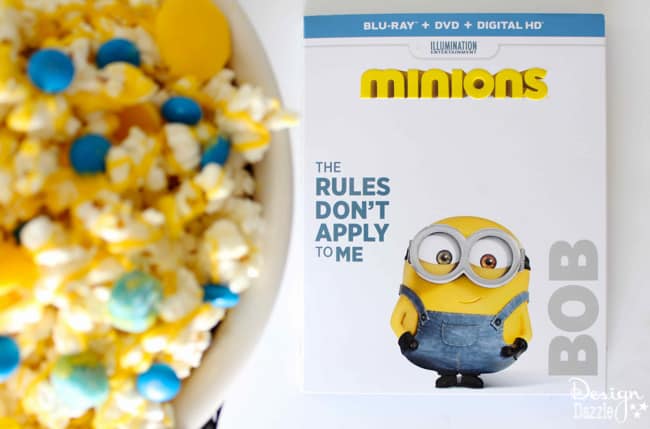 If you love the minions as much as I do, host a fun family night with simple snacks and a great way to cuddle and enjoy each others company watching a clever movie – perfect for kids and adults! For more information on #MinionsMovieNight check out the website here
I enjoyed the bonus 3 mini movies included in the DVD. Make sure to check them out…
Do you have family movie nights? What is your favorite snack to eat while watching a movie?


Save