This post may contain affiliate links that, at no additional cost to you, I may earn a small commission. Read our Disclosure Policy.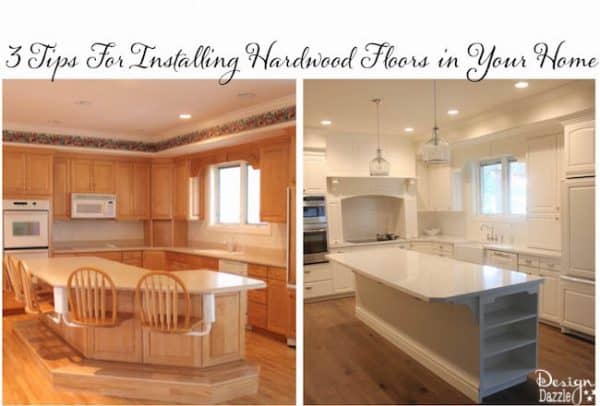 I have had hardwood floors in almost every home that I have lived in and I have absolutely loved them! In three of the houses that I lived I even installed them in my kitchen. People typically prefer not to put wood flooring in their kitchens but I absolutely love the seamless look it creates in my house. Not only does it look beautiful, the durability of the hardwood in my kitchen is fantastic! I have never regretted it.
Shaw Floors offers amazing flooring called Epic+ that is the most durable and impact-resistant hardwood flooring on the market. The top layer is hardwood veneer and its finished with UV-cured polyurethane and aluminum oxide that resists scuffs up to 6X better than any other hardwood you can find! This would be absolutely perfect to put in your kitchen if you want the hardwood look but are worried about durability!
When I moved into the house that I currently live in the floors were maple but I didn't like the color and staining maple floors can be difficult. Here's a picture of what my floors looked like when I moved in.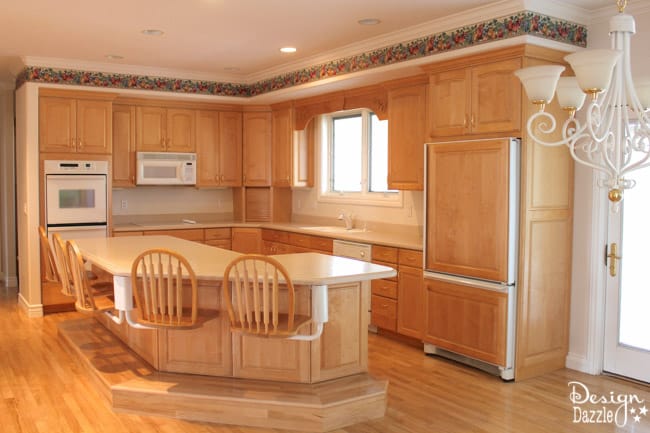 Flooring is so important to a room. It can make or break the whole entire feel of your house so I decided that I needed to upgrade the floors to something that suited my family and I better!
Here's what my kitchen looked like after my floors were done! I was so happy with the transformation.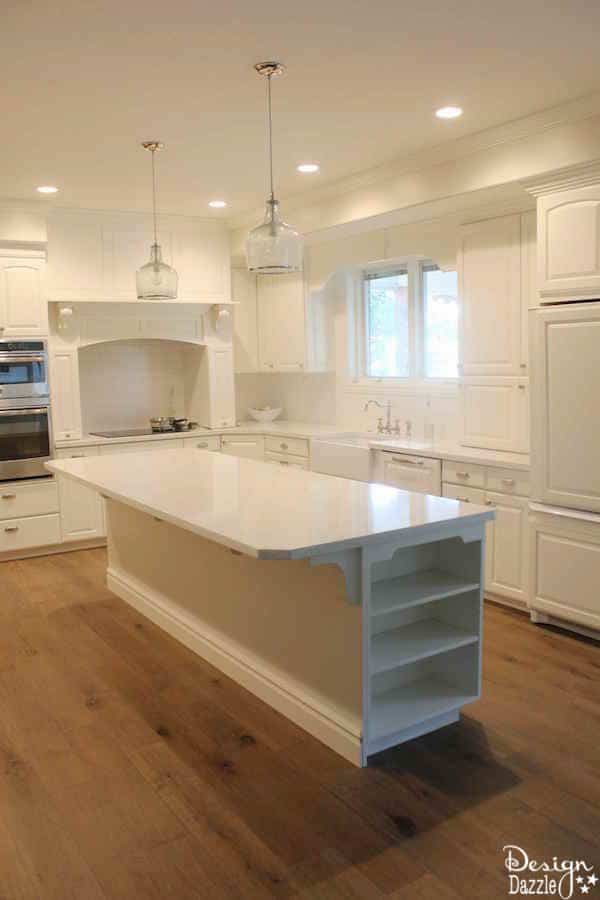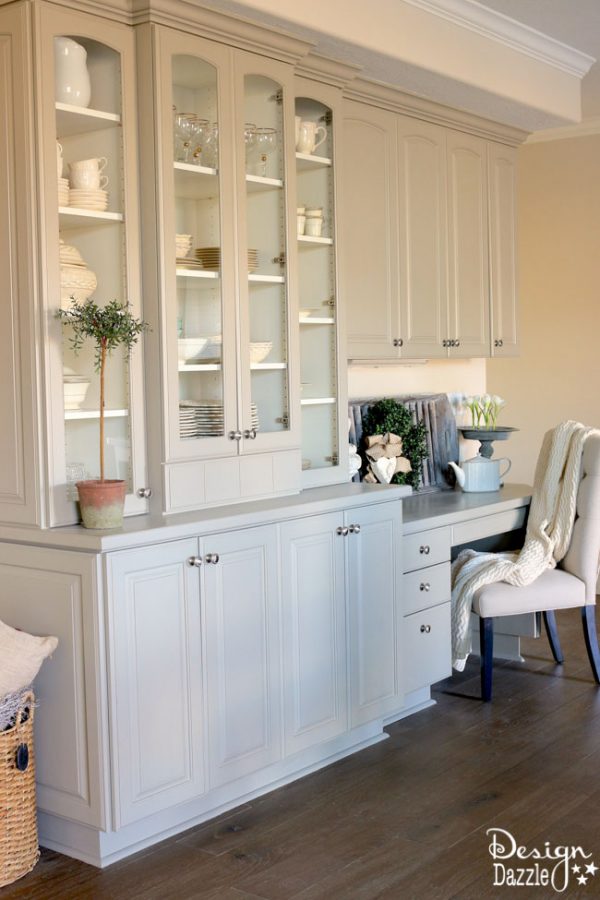 Here's the other side of my kitchen. I love the way these hardwood floors compliment my kitchen hutch!
The process of ripping out my maple floors and installing hardwood ones was long, hard, and I learned a lot! I have combined what I learned into my 3 best tips.
1. Have other construction and painting done before installing your floors (if needed).
When I was re-doing my floors I was also renovating the rest of my house. The floors were the very last thing I put in after the painting and building of other things. I wanted my floors to be in pristine condition. It's also important to let the floors acclimate to their environment. So I let the hardwood floor pieces sit in my house for a few days before I installed them. In the picture below you can see how we finished painting everything before we installed the floors.
2. Get samples of different shades of wood flooring and paint colors to color match.
This is one of the most important steps to take. Everyone is different and it is crucial to find something that suits you. It's also nice to be able to look at the paint on your walls compared to your flooring to make sure that you love the way they look together. How I color matched is I painted different sections of my walls with different shades of paint and laid the hardwood flooring out in front of them so I could compare. I went with a lighter, French Oak wood, that hides dirt, dust, and scratches extremely well. I found that the darker wood like the color espresso – really shows every imperfection, especially the dirt and dust. Shiny wood also gives a more formal appearance and seems to show scratches and everything! The finish on my wood is a matte.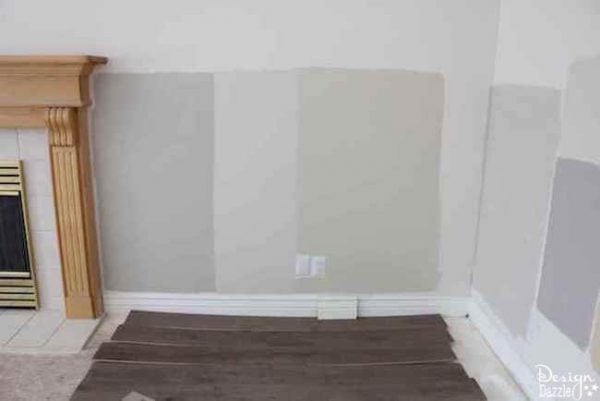 Here is a picture of the wood (before installation) laid out in front of my paint samples.
3. Choose quality materials, it will save you in the long run.
Yes, installing hardwood floors like the ones at Shaw Floors is an investment but it adds so much value to your home! If you buy quality hardwood floors to put in your house it will actually save you money in the long run because quality hardwood floors last and last and last.
Not only will the hardwood floors last but they provide such a warmth to your home both virtually and physically. Virtually, your house will look more high end and provide a gorgeous flow to your living space! Physically, well…I live in Utah and it's definitely not warm all year long. I love that I can walk on my floors with my bare feet in the winter and not freeze to death!
This is what my living room looked like when we moved in. The flooring was carpet. And this is what it looked like after my renovation!
As if all of those aren't reasons enough, Shaw Floors are rated #1 year after year by independent retailers all over the country in quality, service, support, price, availability, training, and customer preference. They really are the whole package!
I went to a conference last year and was able to meet with one of the Shaw Flooring representatives. I was so impressed by how knowledgable they were. They seemed know exactly what type of floor would suit me best! I even found this gorgeous Shaw hardwood floor sample while I was there.
Hardwood floors also look gorgeous with a rug over the top to create an even more classic look! I love the rug that I put in my living room over my hardwood.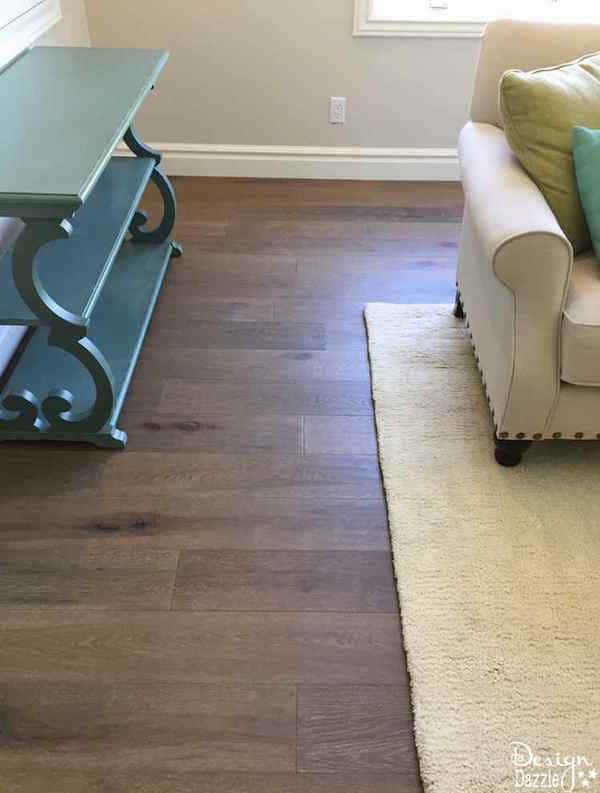 Shaw
Floors offers a one of a kind program called
Cut a Rug
. It's a custom rug program that allows you to create a rug that is perfect for you and your tastes (because we all know everyone is different). You get to choose the style, color border, shape, and size.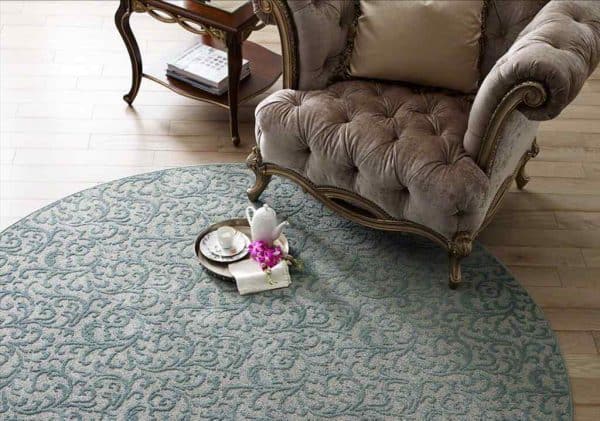 I love this picture courtesy of
Shaw
Floors! You can find more beautiful floor inspiration from
Shaw
here
.
So what do you think? Would you have hardwood floors in your home? Better yet, would you install them in your kitchen?


This is a sponsored conversation written by me on behalf of Shaw Floors. The opinions and text are all mine.
Save
Save