This post may contain affiliate links that, at no additional cost to you, I may earn a small commission. Read our Disclosure Policy.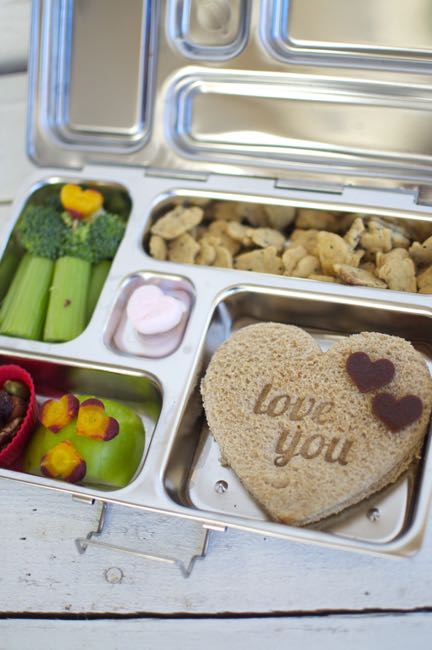 Hi guys! I'm Shannon with Bunches O Lunches. I've been making bento style lunches since my oldest son was 2. I have three boys and a crazy fun husband. I started my blog last July because I love packing lunch and teaching others how to do it as well. I figured if I was making lunch anyway, why not write about it?
I want to thank Toni so much for having me here today!
When I was thinking about what I wanted to do for this Valentine's Day lunch for kids, I knew that I wanted to show that cute, fun and healthy lunches don't have to be super complicated or use a ton of tools.
I opted to make a ham and cheese sandwich (it's my son's favorite) on Whole Wheat Bread. I used Tillamook Cheddar Cheese and Applegate Farms Ham for the filling.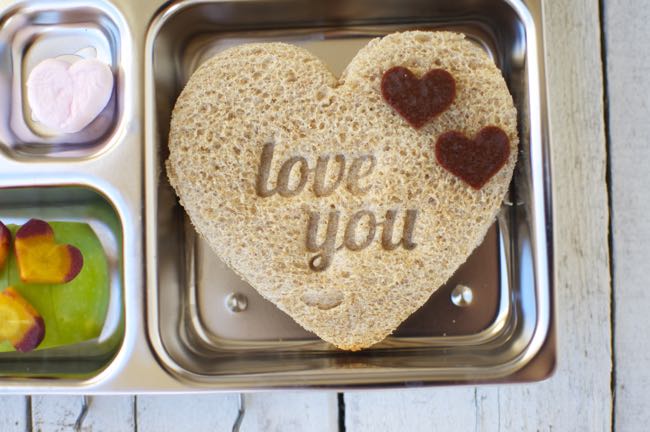 TIP: To keep costs down on deli meats and cheeses, I buy Tillamook sliced packages at Costco. It's about $10 but lasts me about a month. The Applegate Farms meat I buy on sale at Target or Whole Foods (don't forget to use Cartwheel App for you phone! They usually have an extra 5% off). I usually only put one slice of meat per sandwich for the kiddos.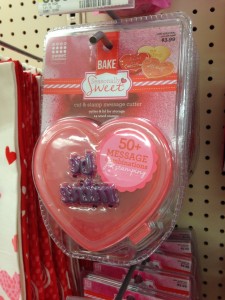 To cut out the sandwich I bought this cookie cutter from Joann's (40% coupon baby!), but then I found it at Target! Score! So keep an eye out and you can get one too. I love that it is a nice large size for sandwiches (or cookies) and it has interchangeable messages you can imprint on the bread. You can also find it online here, Cookie Cutter with Message
TIP: I try and pack at least 5 colors per lunch in order to hit all the major food groups.
The mini red hearts were cut out using a mini heart cookie cutter and are fruit leather.
I used Annie's Organic Bunny Crackers for the sweet and carb portion (in addition to the bread). I also packed a pink marshmallow heart. I always try and include one (small) sweet treat.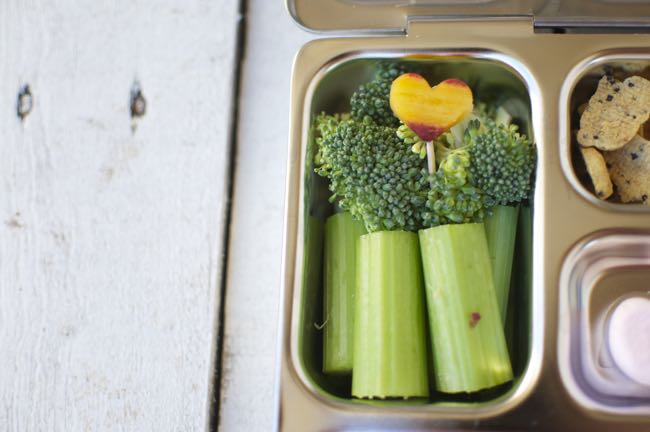 For the veggies, I packed Organic Broccoli, and Organic Celery. I used the mini heart cutter to cut out Organic Purple Carrots.
I have a lot of fun food picks and rings, but if that's not your thing, that's cool. I made my own food pick using a toothpick and a carrot I cut out with the cutter. It's fast and easy and uses what you already have (keep it age appropriate though- probably not the best idea for a 2 year old lunch…or a kid who likes to poke people…)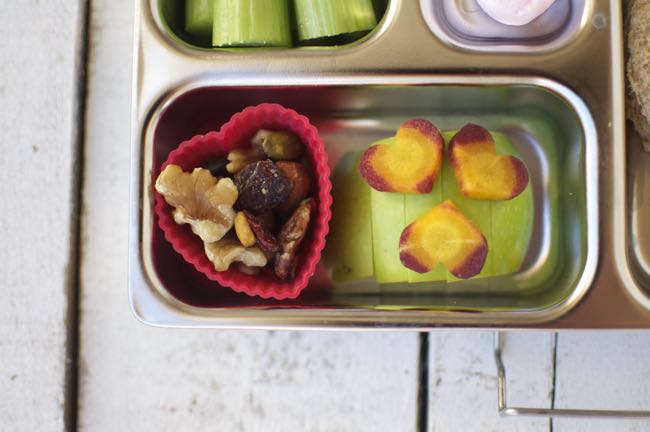 For the fruit and nuts (keep in mind school rules for allergies), I packed sliced green apples and a nut mixture. The hearts on top of the apples are extra carrots.
TIP: Silicone (or paper) cups are a great way to keep food separated and add a pop of color.
TIP: Keep in mind what your kids like (a list by your lunch packing station if you don't want to keep a mental one) and try to add one new thing every so often. It's good to offer variety so you don't get bored, and they don't get bored.
A few extra seconds to cut out the shapes made this lunch super fun and cute without a lot of hassle. Thanks so much for having me. Happy Valentine's Day! You can find and use  Bento Lunch Tools
 to help make lunches fun to eat!
This post contains affiliate links.